This website uses cookies to ensure you get the best experience while browsing it. By clicking 'Got It' you're accepting these terms.
Monsanto's Stock Becoming High Risk as Youth Demand GMO Labeling
Aug. 14, 2013 09:32AM EST
GMO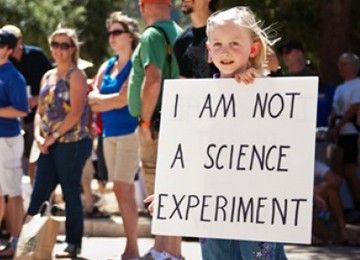 Whether you believe genetically engineered (GE) foods ought to be labeled or you believe they ought to be outright banned, this very debate means bad news for notorious Big Ag biotech giant Monsanto.
In a recent article published by conservative Canadian newspaper The Globe and Mail, well-known growth investor and columnist Chris Umiastowski, P.Eng., MBA, wrote about the instability of Monsanto's longterm stock value in light of the swelling demand for GE labeling. Citing his focus on long term stocks, he notes:
... it's just as important to know what stocks to avoid as it is to know which ones to invest in. Most growth trends don't last forever and you don't want to be stuck holding the bag when growth disappears or reverses.
While mandatory GE labeling has been implemented in some European countries, Umiastowski acknowledges that the lack of GE labeling in the U.S. and Canada has "played to Monsanto's advantage," especially since their glyphosate-resistant GE crops must be sold along with the company's blockbuster herbicide, RoundUp.
But considering that there have been more than 90 pieces of proposed legislation to label GE ingredients in at least 26 different states across the U.S. over the last year, Umiastowski sees the trend leaning towards more GE labeling. He comments on the growing risk of owning Monsanto's stock:
Their reliance on selling genetically modified seeds is quite high, especially with over half of sales happening in the U.S. market. Consumer awareness over potential health issues is on the rise, as evidenced by the company's actions in Europe. If this consumer behaviour [sic] grows around the world, Monsanto's growth suffers, as does the share price. Personally, I'd rather own a business that is not only growing at a solid clip, but feels good to hold in my portfolio. For me, Monsanto doesn't cut it.
One such measure is Washington State's ballot initiative 522, which allows voters to decide on GE labeling this November without the interference of state or federal officials potentially watering down the legislation. Threatened by the potential for this initiative to set further precedents for more labeling, pro-industry groups are already pouring money from out of state into the "No" campaign.
The concerns over the potential health risks of GE industrial agriculture are also growing among those who are most vulnerable to them: Children. Recently, fourteen-year-old Rachel Parent, founder of Kids Right to Know—a group dedicated to the youth movement to label GE foods—discussed the issue on the prime-time Canadian business news program, The Lang and O'Leary Exchange.
"I believe it's our future. If you are going to do something to our food, we should definitely know about it, and we are the ones who might have to live with these consequences. So why not be informed about it?" said Parent in response to why she feels so strongly on the issue.
Watch Rachel Parent debate Canadian Broadcasting Corporation's senior business correspondent Amanda Lang and entrepreneur/investor Kevin O'Leary, the hosts of The Lang and O'Leary Exchange, on the issue of mandatory GE labeling:
Visit EcoWatch's GE FOOD page for more related news on this topic.

EcoWatch Daily Newsletter
By Anita Desikan
The Trump administration is routinely undermining your ability — and mine, and everyone else's in this country — to exercise our democratic rights to provide input on the administration's proposed actions through the public comment process. Public comments are just what they sound like: an opportunity for anyone in the public, both individuals and organizations, to submit a comment on a proposed rule that federal agencies are required by law to read and take into account. Public comments can raise the profile of an issue, can help amplify the voices of affected communities, and can show policymakers whether a proposal has broad support or is wildly unpopular.
Alena Gamm / EyeEm / Getty Images
Picture this: a world where chocolate is as rare as gold. No more five-dollar bags of candy on Halloween. No more boxes of truffles on Valentine's day. No more roasting s'mores by the campfire. No more hot chocolate on a cold winter's day.
Who wants to live in a world like that?
Fabian Krause / EyeEm / Getty Images
Water protectors of all persuasions gathered in talking circles at Borderland Ranch in Pe'Sla, the heart of the sacred Black Hills, during the first Sovereign Sisters Gathering. At the center are Cheryl Angel in red and white and on her left, Lyla June. Tracy Barnett
By Tracy L. Barnett
Sources reviewed this article for accuracy.
For Sicangu Lakota water protector Cheryl Angel, Standing Rock helped her define what she stands against: an economy rooted in extraction of resources and exploitation of people and planet. It wasn't until she'd had some distance that the vision of what she stands for came into focus.
Hedges, 2019 © Hugh Hayden. All photos courtesy of Lisson Gallery
By Patrick Rogers
"I'm really into trees," said the sculptor Hugh Hayden. "I'm drawn to plants."
BruceBlock / iStock / Getty Images
Thanks to their high concentration of powerful plant compounds, foods with a natural purple hue offer a wide array of health benefits.