Monsanto's Roundup Ready Crop System Puts Monarch Butterflies at Brink of Extinction
Center for Food Safety (CFS) released today a detailed, 80-page scientific report, Monarchs in Peril: Herbicide-Resistant Crops and the Decline of Monarch Butterflies in North America. The comprehensive report reveals the severe impacts of herbicide-resistant genetically engineered (GE) crops on the monarch population, which has plummeted over the past twenty years. The report makes it abundantly clear: two decades of Roundup Ready crops have nearly eradicated milkweed—the monarch caterpillar's sole source of food—in cropland of the monarch's vital Midwest breeding ground. At the urgent request of scientists and public interest groups, the U.S. Fish and Wildlife Service is currently considering listing the monarch as a threatened species under the Endangered Species Act.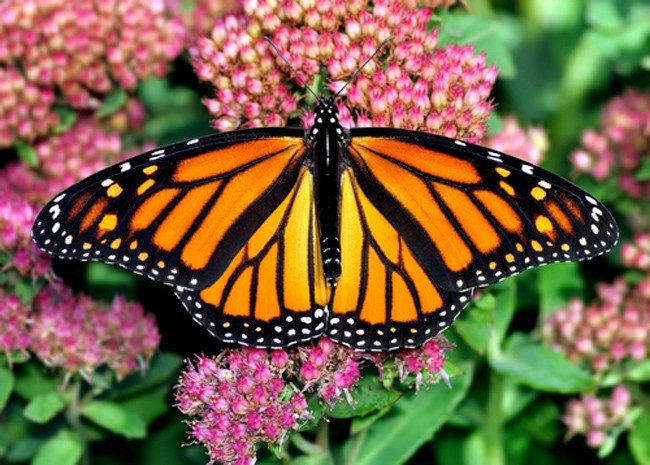 Photo credit: Shutterstock
The report is being presented to Congress today at an expert briefing on the decline of monarchs.
"This report is a wake-up call. This iconic species is on the verge of extinction because of Monsanto's Roundup Ready crop system," said Andrew Kimbrell, executive director at Center for Food Safety. "To let the monarch butterfly die out in order to allow Monsanto to sell its signature herbicide for a few more years is simply shameful."
Monarch population numbers have fallen by 90 percent in less than 20 years. This year's population was the second lowest since careful surveys began two decades ago. The critical driver of monarch decline is the loss of larval host plants in their main breeding habitat, the Midwestern Corn Belt. Monarchs lay eggs exclusively on plants in the milkweed family, the only food their larvae will eat.
Monarch butterflies have long coexisted with agriculture, but the proliferation of herbicide-resistant GE crops is threatening that balance. Monsanto's glyphosate-resistant Roundup Ready corn and soybeans have radically altered farming practices, sharply increasing the extent, frequency and intensity of glyphosate use on farm land. Glyphosate—one of the very few herbicides that kills common milkweed—was little used two decades ago, but has become by far the most heavily used herbicide in America thanks to GE Roundup Ready crops. As a result, corn and soybean fields in the Corn Belt have lost 99 percent of their milkweed since just 1999.
"The alarming decline of monarchs is driven in large part by the massive spraying of glyphosate herbicide on genetically engineered crops, which has virtually eliminated monarch habitat in the corn and soybean fields that dominates the Midwest landscape," said Bill Freese, Center for Food Safety science policy analyst and co-author of the report. "Glyphosate is the monarch's enemy number one. To save this remarkable species, we must quickly boost milkweed populations and curtail the use of herbicide-resistant crop systems."
Milkweed does grow outside of cropland, but there is too little habitat to support a viable monarch population. First, corn and soybeans dominate the Midwest landscape, leaving little area in roadsides, pastures, and other land where milkweed grows. Second, monarchs produce almost four times more eggs per plant on milkweed within agricultural fields than on milkweed growing elsewhere.
"Milkweed growing in Midwest cropland is essential to the monarch's continued survival. Without milkweed, we'll have no monarchs," said Dr. Martha Crouch, biologist with Center for Food Safety and co-author of the report. "Very few of us fully understand the ecological impacts of our food system, but we need to pay attention. The decline of the monarch is a stark reminder that the way we farm matters."
As the monarch population declines other threats have greater impacts, and the butterflies are less likely to bounce back from adversity. For example, a winter storm in 2002 killed an estimated 468-500 million monarchs. A similar storm today could completely eliminate today's much reduced monarch population.
Center for Food Safety and the Center for Biological Diversity, along with the Xerces Society for Invertebrate Conservation and renowned monarch scientist Dr. Lincoln Brower, filed a legal petition with the U.S. Fish and Wildlife Service to protect monarchs as threatened under the Endangered Species Act (ESA). In December 2014, the Service responded to this petition request and announced that ESA listing may be warranted, an important first step towards securing stronger protections for monarch butterflies. While obtaining ESA listing is paramount, numerous interim and additional policy recommendations are listed at the end of Center for Food Safety's report, starting on page 73.
YOU MIGHT ALSO LIKE
Diane Rehm Examines the Dangers of Monsanto's Roundup and Dow's Enlist Duo Herbicides
7 Edible Plants You Wouldn't Think You Could Grow Inside in the Winter
Monsanto, the maker of the glyphosate-based herbicide Roundup, filed a motion June 16 in U.S. District Court, Northern District of California to reconsider the chemical's addition to California's Proposition 65 list of agents known to cause cancer.
The agrochemical giant made this move based on a June 14 Reuters investigation of Dr. Aaron Blair, a lead researcher on the World Health Organization's International Agency for Research on Cancer (IARC) committee, that classified glyphosate as a "2A probable human carcinogen" in March 2015.
Keep reading...
Show less
By Avery Friedman
Algae is often considered a nuisance, but for Sweden, the rapidly growing sea plant is now an asset.
As the Scandinavian country works to cut all of its greenhouse gas emissions by 2045, it's using algae to sop up the carbon emissions from cement.
Keep reading...
Show less
Jun. 24, 2017 01:35PM EST
By Itai Vardi
A recent intensification in protests against Williams Partners' planned Atlantic Sunrise pipeline in Pennsylvania prompted a state senator to propose legislation aimed at limiting demonstrations.
Last month, Pennsylvania Sen. Scott Martin (R-Norman) announced his intention to introduce legislation that would pass the costs of law enforcement responding to protests onto the demonstrators. Martin also helped introduce a different bill that would criminalize protests at natural gas facilities.
Keep reading...
Show less
Jun. 24, 2017 01:29PM EST
Black Shogun / iStock
The Federal Energy Regulatory Commission (FERC) released its Final Environmental Impact Statement Friday for the Mountain Valley Pipeline, a controversial 303-mile pipeline that would carry two billion cubic feet of fracked gas per day from West Virginia through Virginia.
Keep reading...
Show less
Jun. 24, 2017 01:46PM EST
Falcon PEV
The so-called "first and last mile" problem is one of the biggest hurdles with public transportation. How do you encourage more people to take Earth-friendlier commutes when their homes are miles away from the train or bus station?
One solution, as this Estonian electric scooter company proposes, is to simply take your commute with you—literally. Tallinn-based Stigo has developed a compact e-scooter that folds to the size of a rolling suitcase in about two seconds.
Keep reading...
Show less
Jun. 24, 2017 05:12PM EST
Connect4Climate
[Editor's note: I'm still in shock after hearing the news that Lucia Grenna passed away in her sleep last week. When we first met in April of 2014 at a Copenhagen hotel, I was immediately taken by here powerful presence. We spent the next couple days participating in a Sustainia climate change event where Lucia presented her audacious plans to connect people to the climate issue. I had the chance to partner with Lucia on several other projects throughout the years and work with her incredible Connect4Climate team. I was always in awe of her ability to "make the impossible possible." Her spirit will live on forever. — Stefanie Spear]
It is with a heavy heart that Connect4Climate announces the passing of its founder and leading light, Lucia Grenna. Lucia passed peacefully in her sleep on June 15, well before her time. We remember her for her leadership and extraordinary ability to motivate people to take on some of the greatest challenges of our time, not least climate change.
Keep reading...
Show less
Jun. 23, 2017 07:29PM EST
Wikimedia Commons
By Stacy Malkan
Neil deGrasse Tyson has inspired millions of people to care about science and imagine themselves as participants in the scientific process. What a hopeful sign it is to see young girls wearing t-shirts emblazoned with the words, "Forget princess, I want to be an astrophysicist."
Keep reading...
Show less
Jun. 23, 2017 01:57PM EST
www.youtube.com
By Andy Rowell
Any day now we will truly witness climate change in action. Within days at worst, maybe weeks at best, scientists predict that a huge section of the Larsen C ice shelf in Antarctica will break off into the ocean, in what is called a major "carving" event.
Keep reading...
Show less
Jun. 23, 2017 02:27PM EST
www.youtube.com
President Trump visited Cedar Rapids, Iowa on June 21 to speak to a large crowd in the U.S. Cellular Center at a political rally organized by his campaign.
As Trevor Noah noted during The Daily Show episode last night (starts at 2:25), the real reason Trump has these rallies is to "get back in front of his loyal crowds and feed of their energy." Noah believes that "Trump supporters are so on board with their dude he can say anything and they'll come along for the ride."
Keep reading...
Show less