This website uses cookies to ensure you get the best experience while browsing it. By clicking 'Got It' you're accepting these terms.
Monsanto's Roundup Ready Crop System Puts Monarch Butterflies at Brink of Extinction
Feb. 05, 2015 03:38PM EST
Food
Center for Food Safety (CFS) released today a detailed, 80-page scientific report, Monarchs in Peril: Herbicide-Resistant Crops and the Decline of Monarch Butterflies in North America. The comprehensive report reveals the severe impacts of herbicide-resistant genetically engineered (GE) crops on the monarch population, which has plummeted over the past twenty years. The report makes it abundantly clear: two decades of Roundup Ready crops have nearly eradicated milkweed—the monarch caterpillar's sole source of food—in cropland of the monarch's vital Midwest breeding ground. At the urgent request of scientists and public interest groups, the U.S. Fish and Wildlife Service is currently considering listing the monarch as a threatened species under the Endangered Species Act.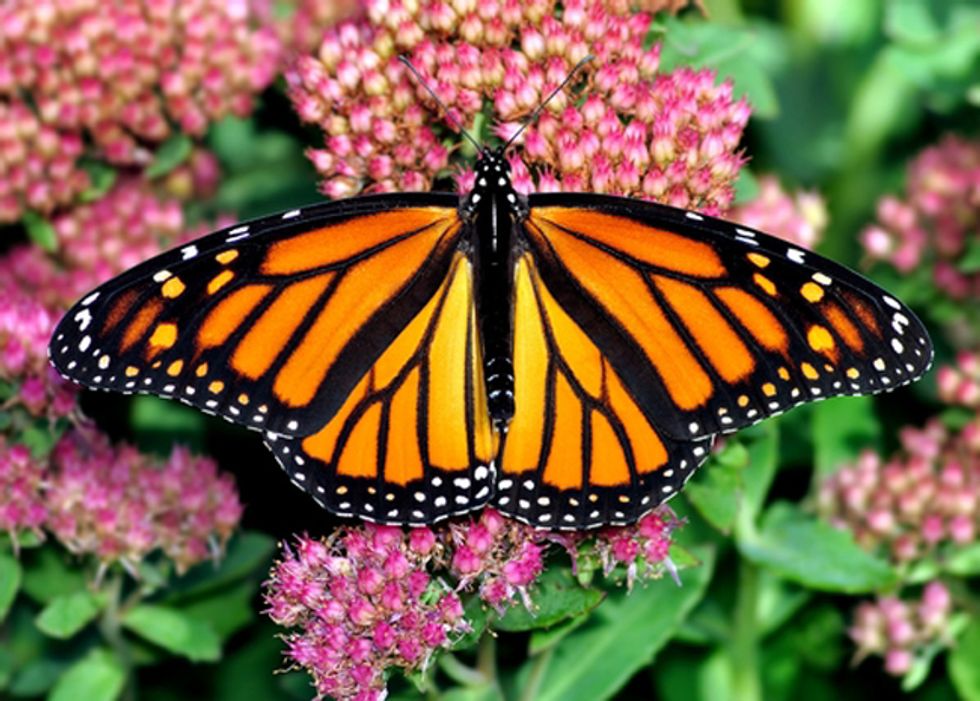 Photo credit: Shutterstock
The report is being presented to Congress today at an expert briefing on the decline of monarchs.
"This report is a wake-up call. This iconic species is on the verge of extinction because of Monsanto's Roundup Ready crop system," said Andrew Kimbrell, executive director at Center for Food Safety. "To let the monarch butterfly die out in order to allow Monsanto to sell its signature herbicide for a few more years is simply shameful."
Monarch population numbers have fallen by 90 percent in less than 20 years. This year's population was the second lowest since careful surveys began two decades ago. The critical driver of monarch decline is the loss of larval host plants in their main breeding habitat, the Midwestern Corn Belt. Monarchs lay eggs exclusively on plants in the milkweed family, the only food their larvae will eat.
Monarch butterflies have long coexisted with agriculture, but the proliferation of herbicide-resistant GE crops is threatening that balance. Monsanto's glyphosate-resistant Roundup Ready corn and soybeans have radically altered farming practices, sharply increasing the extent, frequency and intensity of glyphosate use on farm land. Glyphosate—one of the very few herbicides that kills common milkweed—was little used two decades ago, but has become by far the most heavily used herbicide in America thanks to GE Roundup Ready crops. As a result, corn and soybean fields in the Corn Belt have lost 99 percent of their milkweed since just 1999.
"The alarming decline of monarchs is driven in large part by the massive spraying of glyphosate herbicide on genetically engineered crops, which has virtually eliminated monarch habitat in the corn and soybean fields that dominates the Midwest landscape," said Bill Freese, Center for Food Safety science policy analyst and co-author of the report. "Glyphosate is the monarch's enemy number one. To save this remarkable species, we must quickly boost milkweed populations and curtail the use of herbicide-resistant crop systems."
Milkweed does grow outside of cropland, but there is too little habitat to support a viable monarch population. First, corn and soybeans dominate the Midwest landscape, leaving little area in roadsides, pastures, and other land where milkweed grows. Second, monarchs produce almost four times more eggs per plant on milkweed within agricultural fields than on milkweed growing elsewhere.
"Milkweed growing in Midwest cropland is essential to the monarch's continued survival. Without milkweed, we'll have no monarchs," said Dr. Martha Crouch, biologist with Center for Food Safety and co-author of the report. "Very few of us fully understand the ecological impacts of our food system, but we need to pay attention. The decline of the monarch is a stark reminder that the way we farm matters."
As the monarch population declines other threats have greater impacts, and the butterflies are less likely to bounce back from adversity. For example, a winter storm in 2002 killed an estimated 468-500 million monarchs. A similar storm today could completely eliminate today's much reduced monarch population.
Center for Food Safety and the Center for Biological Diversity, along with the Xerces Society for Invertebrate Conservation and renowned monarch scientist Dr. Lincoln Brower, filed a legal petition with the U.S. Fish and Wildlife Service to protect monarchs as threatened under the Endangered Species Act (ESA). In December 2014, the Service responded to this petition request and announced that ESA listing may be warranted, an important first step towards securing stronger protections for monarch butterflies. While obtaining ESA listing is paramount, numerous interim and additional policy recommendations are listed at the end of Center for Food Safety's report, starting on page 73.
YOU MIGHT ALSO LIKE
Diane Rehm Examines the Dangers of Monsanto's Roundup and Dow's Enlist Duo Herbicides
7 Edible Plants You Wouldn't Think You Could Grow Inside in the Winter
EcoWatch Daily Newsletter
In this view from an airplane rivers of meltwater carve into the Greenland ice sheet near Sermeq Avangnardleq glacier on Aug. 4 near Ilulissat, Greenland. Climate change is having a profound effect in Greenland, where over the last several decades summers have become longer and the rate that glaciers and the Greenland ice cap are retreating has accelerated. Sean Gallup / Getty Images
The rate that Greenland's ice sheet is melting surpassed scientists' expectations and has raised concerns that their worst-case scenario predictions are coming true, Business Insider reported.
An Alagoas curassow in captivity. Luís Fábio Silveira / Agência Alagoas / Mongabay
By Pedro Biondi
Extinct in its habitat for at least three decades, the Alagoas curassow (Pauxi mitu) is now back in the jungle and facing a test of survival, thanks to the joint efforts of more than a dozen institutions to pull this pheasant-like bird back from the brink.

Elizabeth Warren's Blue New Deal aims to expand offshore renewable energy projects, like the Block Island Wind Farm in Rhode Island.
Luke H. Gordon / Flickr
By Julia Conley
Sen. Elizabeth Warren expanded her vision for combating the climate crisis on Tuesday with the release of her Blue New Deal — a new component of the Green New Deal focusing on protecting and restoring the world's oceans after decades of pollution and industry-caused warming.
Former U.S. Secretary of State Rex Tillerson leaves the courthouse after testifying in the Exxon Mobil trial on Oct. 30, 2019 in New York. DON EMMERT / AFP via Getty Images
A judge in New York's Supreme Court sided with Exxon in a case that accused the fossil fuel giant of lying to investors about the true cost of the climate crisis. The judge did not absolve Exxon from its contribution to the climate crisis, but insisted that New York State failed to prove that the company intentionally defrauded investors, as NPR reported.
By Sharon Elber
You may have heard that giving a pet for Christmas is just a bad idea. Although many people believe this myth, according to the ASPCA, 86 percent of adopted pets given as gifts stay in their new homes. These success rates are actually slightly higher than average adoption/rehoming rates. So, if done well, giving an adopted pet as a Christmas gift can work out.