This website uses cookies to ensure you get the best experience while browsing it. By clicking 'Got It' you're accepting these terms.


The best of EcoWatch, right in your inbox. Sign up for our email newsletter!
Monsanto's Roundup Ready Crop System Puts Monarch Butterflies at Brink of Extinction
Feb. 05, 2015 03:38PM EST
Food
Center for Food Safety (CFS) released today a detailed, 80-page scientific report, Monarchs in Peril: Herbicide-Resistant Crops and the Decline of Monarch Butterflies in North America. The comprehensive report reveals the severe impacts of herbicide-resistant genetically engineered (GE) crops on the monarch population, which has plummeted over the past twenty years. The report makes it abundantly clear: two decades of Roundup Ready crops have nearly eradicated milkweed—the monarch caterpillar's sole source of food—in cropland of the monarch's vital Midwest breeding ground. At the urgent request of scientists and public interest groups, the U.S. Fish and Wildlife Service is currently considering listing the monarch as a threatened species under the Endangered Species Act.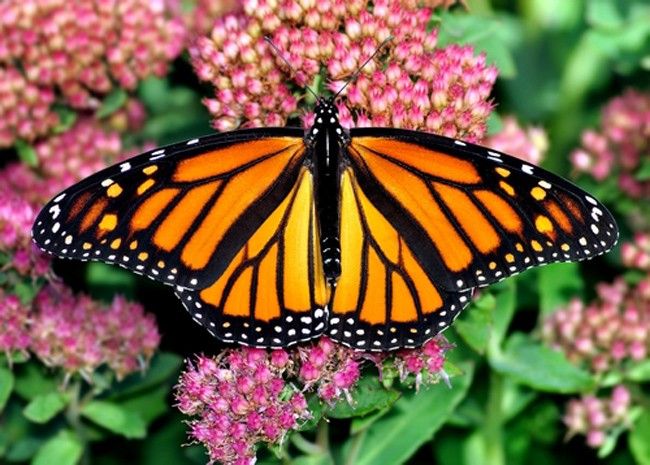 Photo credit: Shutterstock
The report is being presented to Congress today at an expert briefing on the decline of monarchs.
"This report is a wake-up call. This iconic species is on the verge of extinction because of Monsanto's Roundup Ready crop system," said Andrew Kimbrell, executive director at Center for Food Safety. "To let the monarch butterfly die out in order to allow Monsanto to sell its signature herbicide for a few more years is simply shameful."
Monarch population numbers have fallen by 90 percent in less than 20 years. This year's population was the second lowest since careful surveys began two decades ago. The critical driver of monarch decline is the loss of larval host plants in their main breeding habitat, the Midwestern Corn Belt. Monarchs lay eggs exclusively on plants in the milkweed family, the only food their larvae will eat.
Monarch butterflies have long coexisted with agriculture, but the proliferation of herbicide-resistant GE crops is threatening that balance. Monsanto's glyphosate-resistant Roundup Ready corn and soybeans have radically altered farming practices, sharply increasing the extent, frequency and intensity of glyphosate use on farm land. Glyphosate—one of the very few herbicides that kills common milkweed—was little used two decades ago, but has become by far the most heavily used herbicide in America thanks to GE Roundup Ready crops. As a result, corn and soybean fields in the Corn Belt have lost 99 percent of their milkweed since just 1999.
"The alarming decline of monarchs is driven in large part by the massive spraying of glyphosate herbicide on genetically engineered crops, which has virtually eliminated monarch habitat in the corn and soybean fields that dominates the Midwest landscape," said Bill Freese, Center for Food Safety science policy analyst and co-author of the report. "Glyphosate is the monarch's enemy number one. To save this remarkable species, we must quickly boost milkweed populations and curtail the use of herbicide-resistant crop systems."
Milkweed does grow outside of cropland, but there is too little habitat to support a viable monarch population. First, corn and soybeans dominate the Midwest landscape, leaving little area in roadsides, pastures, and other land where milkweed grows. Second, monarchs produce almost four times more eggs per plant on milkweed within agricultural fields than on milkweed growing elsewhere.
"Milkweed growing in Midwest cropland is essential to the monarch's continued survival. Without milkweed, we'll have no monarchs," said Dr. Martha Crouch, biologist with Center for Food Safety and co-author of the report. "Very few of us fully understand the ecological impacts of our food system, but we need to pay attention. The decline of the monarch is a stark reminder that the way we farm matters."
As the monarch population declines other threats have greater impacts, and the butterflies are less likely to bounce back from adversity. For example, a winter storm in 2002 killed an estimated 468-500 million monarchs. A similar storm today could completely eliminate today's much reduced monarch population.
Center for Food Safety and the Center for Biological Diversity, along with the Xerces Society for Invertebrate Conservation and renowned monarch scientist Dr. Lincoln Brower, filed a legal petition with the U.S. Fish and Wildlife Service to protect monarchs as threatened under the Endangered Species Act (ESA). In December 2014, the Service responded to this petition request and announced that ESA listing may be warranted, an important first step towards securing stronger protections for monarch butterflies. While obtaining ESA listing is paramount, numerous interim and additional policy recommendations are listed at the end of Center for Food Safety's report, starting on page 73.
YOU MIGHT ALSO LIKE
Diane Rehm Examines the Dangers of Monsanto's Roundup and Dow's Enlist Duo Herbicides
7 Edible Plants You Wouldn't Think You Could Grow Inside in the Winter
EcoWatch Daily Newsletter
Climate change activists gather in front of the stage at the Extinction Rebellion group's environmental protest camp at Marble Arch in London on April 22, on the eighth day of the group's protest calling for political change to combat climate change. TOLGA AKMEN / AFP / Getty Images
Pexels
By Alina Petre, MS, RD (CA)
Veganism refers to a way of living that attempts to minimize animal exploitation and cruelty. For this reason, vegans aim to exclude all foods containing meat, poultry, fish, eggs, dairy and honey from their diet (1).
American farmers use chlorpyrifos, a pesticide tied to brain and nervous system issues, on crops such as apples, broccoli, corn and strawberries. Stephanie Chapman / Flickr / CC BY 2.0
By Jessica Corbett
In a ruling welcomed by public health advocates, a federal court on Friday ordered the Trump administration to stop stalling a potential ban on a pesticide linked to brain damage in children, giving regulators until mid-July to make a final decision.
fstop123 / iStock / Getty Images Plus
At EcoWatch, our team knows that changing personal habits and taking actions that contribute to a better planet is an ongoing journey. Earth Day, happening on April 22, is a great reminder for all of us to learn more about the environmental costs of our behaviors like food waste or fast fashion.
To offer readers some inspiration this Earth Day, our team rounded up their top picks for films to watch. So, sit back and take in one of these documentary films this Earth Day. Maybe it will spark a small change you can make in your own life.
NASA
By Shuchi Talati
Solar geoengineering describes a set of approaches that would reflect sunlight to cool the planet. The most prevalent of these approaches entails mimicking volcanic eruptions by releasing aerosols (tiny particles) into the upper atmosphere to reduce global temperatures — a method that comes with immense uncertainty and risk. We don't yet know how it will affect regional weather patterns, and in turn its geopolitical consequences. One way we can attempt to understand potential outcomes is through models.
Maria Gunnoe Flight, courtesy of southwings.org
By Julia Conley
Green groups on Saturday celebrated the latest federal ruling aimed at preventing President Donald Trump from rolling back environmental regulations that were put in place by his predecessor.
NASA scientists flew over the Kuskokwim river in southwest Alaska in 2017 to investigate how water levels in the Arctic landscape change as permafrost thaws. Peter Griffith, NASA
Youtube screenshot
A woman has been caught on camera dumping a bag of puppies near a dumpster in Coachella, California, CNN reported Sunday.