Monsanto's Roundup Found in 75% of Air and Rain Samples
A new U.S. Geological Survey has concluded that pesticides can be found in, well, just about anything.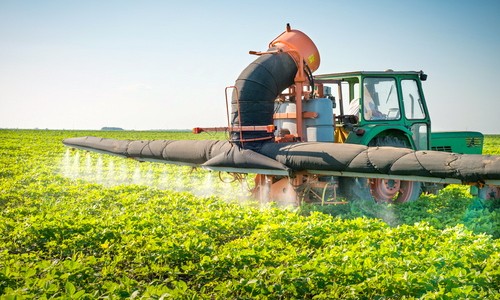 Photo courtesy of Shutterstock
Roundup herbicide, Monsanto's flagship weed killer, was present in 75 percent of air and rainfall test samples, according to the study, which focused on Mississippi's highly fertile Delta agricultural region.
GreenMedInfo reports new research, soon to be published by Environmental Toxicology and Chemistry journal, discovered the traces over a 12-year span from 1995-2007.
In recent years, Roundup was found to be even more toxic than it was when first approved for agricultural use, though that discovery has not led to any changes in regulation of the pesticide. Moreover, Roundup's overuse has enabled weeds and insects to build an immunity to its harsh toxins.
To deal with the immunity issue, Monsanto's solution has been to spray more and stronger pesticides to eliminate the problem.
The health effects of Roundup are also hard to ignore as research has linked exposure to the pesticide to
Parkinson's disease
and various cancers.
For instance, 
children in Argentina
, where Roundup is used in high concentrations, struggle with health problems, with 80 percent showing signs of the toxins in their bloodstreams.
However, Roundup isn't the only widespread threat to public health. The U.S. Geological Survey, along with others, have identified additional pesticides in the air and water that become more toxic as they mix and come in contact with people. 
Spraying Roundup may have short-term economic benefits for Monsanto, but the potential long-term risks could present significant challenges to people in affected regions of the country.

www.elysee.fr
By Andy Rowell
There is a growing feeling within European capitals that a quiet, but deeply positive, revolution is happening under Emmanuel Macron in France.
Macron's opinion poll rating is high, especially boosted in how the young French president has reacted to Donald Trump on the international stage.
Keep reading...
Show less
www.facebook.com
Keep reading...
Show less
Keep reading...
Show less
www.youtube.com
According to Bloomberg, "SeaWorld Entertainment Inc. received a subpoena earlier this month from regulators investigating disclosures and public statements by executives, including comments about the Blackfish documentary that caused a public backlash against the confinement of orcas.
Keep reading...
Show less
By Mary Mazzoni
In 2013, shoppers were reacquainted with the tragic story of their clothing when a massive factory collapse claimed the lives of more than 1,100 Bangladeshi garment workers.
The nonprofit Fashion Revolution, formed in response to that disaster, continues to track the apparel industry's progress on environmental stewardship and human rights. But four years later, big brands are still not doing enough to disclose their efforts to customers, the organization concluded in a recent report.
Keep reading...
Show less
Hawaii Renewable Energy Alliance
The latest issue of the U.S. Energy Information's "Electric Power Monthly" (with data through April 30) reveals that—for the first time since the beginning of the nuclear era—renewable energy sources (i.e., biomass, geothermal, hydropower, solar—inc. small-scale PV, wind) are now providing a greater share of the nation's electrical generation than nuclear power.
Keep reading...
Show less
www.youtube.com
Check out this great 360° virtual reality video by NowThis on the world's largest indoor vertical farm, AeroFarms. Located in Newark, New Jersey, AeroFarms grows more than 2 million pounds of greens a year without sunlight, soil or pesticides.
As reported by EcoWatch in July 2105, the $30 million, 70,000-square-foot AeroFarms headquarters dwarfs Japan's (already impressive) 25,000-square-foot vertical indoor farm, which had been the world's largest until now.
www.facebook.com
"There's no such thing as clean coal," according to this ATTN: video.
Watch above as ATTN: explains the many hazards of coal beyond carbon emissions, that no matter what there's no reviving the coal industry and how investment in renewable energy is the best way forward.
Share this video if you think America needs real energy solutions.
Wikipedia
By Franziska Spritzler, RD, CDE
Boosting your metabolic rate can help you lose body fat. However, most "fat-burning" supplements on the market are either unsafe, ineffective or both.
Fortunately, several natural foods and beverages have been shown to increase your metabolism and promote fat loss.
Keep reading...
Show less


Get EcoWatch in your inbox