This website uses cookies to ensure you get the best experience while browsing it. By clicking 'Got It' you're accepting these terms.
Monsanto's Roundup Found in 75% of Air and Rain Samples
Feb. 27, 2014 03:52PM EST
A new U.S. Geological Survey has concluded that pesticides can be found in, well, just about anything.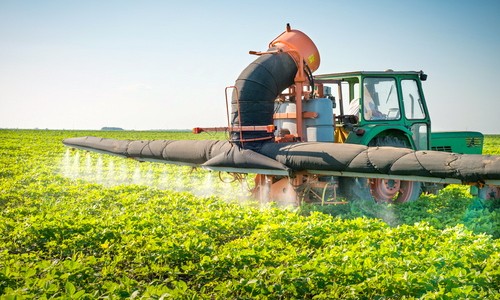 Photo courtesy of Shutterstock
Roundup herbicide, Monsanto's flagship weed killer, was present in 75 percent of air and rainfall test samples, according to the study, which focused on Mississippi's highly fertile Delta agricultural region.
GreenMedInfo reports new research, soon to be published by Environmental Toxicology and Chemistry journal, discovered the traces over a 12-year span from 1995-2007.
In recent years, Roundup was found to be even more toxic than it was when first approved for agricultural use, though that discovery has not led to any changes in regulation of the pesticide. Moreover, Roundup's overuse has enabled weeds and insects to build an immunity to its harsh toxins.
To deal with the immunity issue, Monsanto's solution has been to spray more and stronger pesticides to eliminate the problem.
The health effects of Roundup are also hard to ignore as research has linked exposure to the pesticide to
Parkinson's disease
and various cancers.
For instance, 
children in Argentina
, where Roundup is used in high concentrations, struggle with health problems, with 80 percent showing signs of the toxins in their bloodstreams.
However, Roundup isn't the only widespread threat to public health. The U.S. Geological Survey, along with others, have identified additional pesticides in the air and water that become more toxic as they mix and come in contact with people. 
Spraying Roundup may have short-term economic benefits for Monsanto, but the potential long-term risks could present significant challenges to people in affected regions of the country.

AleksandarNakic / Getty Images
By Kate Murphy
No matter the time of year, there's always a point in each season when my skin decides to cause me issues. While these skin issues can vary, I find the most common issues to be dryness, acne and redness.

David Woodfall / The Image Bank / Getty Images
By Sam Nickerson
The U.S. Environmental Protection Agency (EPA) in April 2018 proposed relaxing standards related to how it assesses the effects of exposure to low levels of toxic chemicals on public health.
Now, correspondence obtained by the LA Times revealed just how deeply involved industry lobbyists and a controversial, industry-funded toxicologist were in drafting the federal agency's proposal to scrap its current, protective approach to regulating toxin exposure.
Steve Irwin poses with a three foot long alligator at the San Francisco Zoo on June 26, 2002. Justin Sullivan / Getty Images
February 22 is the birthday of conservationist and beloved TV personality "Crocodile Hunter" Steve Irwin, who would have been 57 years old today.
Irwin's life was tragically cut short when the barb from a stingray went through his chest while he was filming in 2006, but his legacy of loving and protecting wildlife lives on, most recently in a Google Doodle today honoring his birthday.
Left: Youtube / Screenshot, Right: alle12 / Getty Images
By Dan Nosowitz
That video showed the extrusion of a bubblegum-pink substance oozing into a coiled pile, something between Play-Doh, sausage and soft-serve strawberry ice cream. Branded "pink slime"—the name came from an email sent by a USDA microbiologist in 2002—this stuff was actually beef, destined for supermarkets and fast-food burgers.
Climate activist Greta Thunberg addresses the European Commission on Feb. 21 in Brussels, Belgium. Sylvain Lefevre / Getty Images
By Julia Conley
Sixteen-year-old climate action leader Greta Thunberg stood alongside European Commission President Jean-Claude Juncker Thursday in Brussels as he indicated—after weeks of climate strikes around the world inspired by the Swedish teenager—that the European Union has heard the demands of young people and pledged a quarter of $1 trillion budget over the next seven years to address the crisis of a rapidly heating planet.

In the financial period beginning in 2021, Juncker said, the EU will devote a quarter of its budget to solving the crisis.