This website uses cookies to ensure you get the best experience while browsing it. By clicking 'Got It' you're accepting these terms.
Monsanto's Glyphosate Found in California Wines, Even Wines Made With Organic Grapes
Mar. 27, 2016 09:31AM EST
Popular
By Zen Honeycutt
Shortly after the release of a report showing 14 beers testing positive for glyphosate in Germany, a concerned supporter of Moms Across America approached me at a convention with disturbing news. He said he had test results from Microbe Inotech Lab of St.Louis showing 10 different wines, from large and small vineyards, contained the chemical glyphosate, the active ingredient in Monsanto's Roundup weedkiller, including wine made with organic grapes.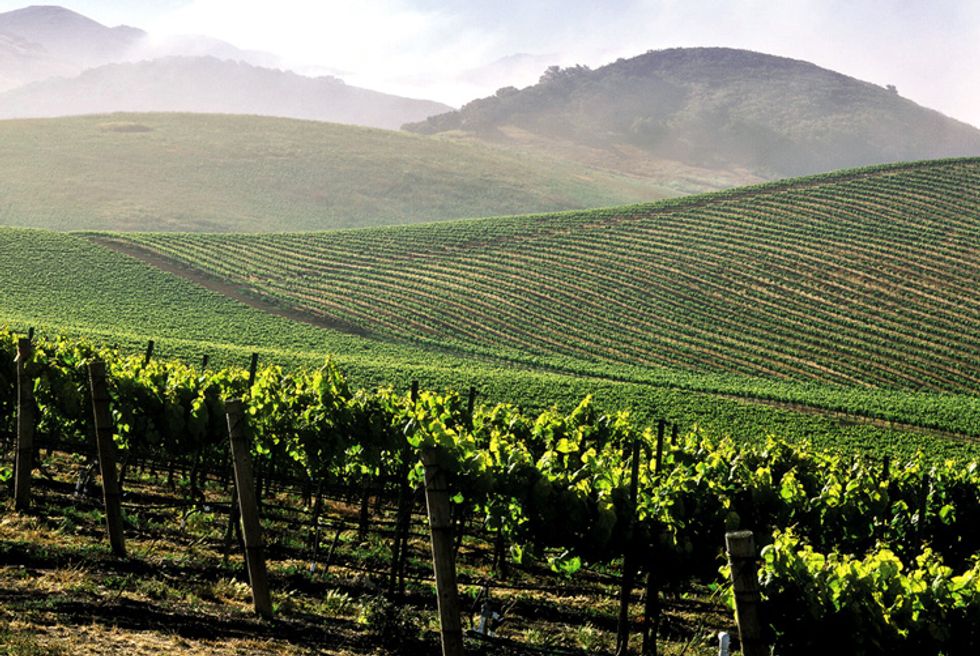 The contamination of conventional wine was 28 times higher than organic wine, with levels ranging from 0.659 ppb in organic to 18.74 ppb in conventional wine.
The wines tested came from Napa Valley, Sonoma and Mendocino counties in California. The brand names of the wines were not revealed, and frankly, the brands are not the issue. The real issue is the widespread contamination of glyphosate based herbicides in consumer products.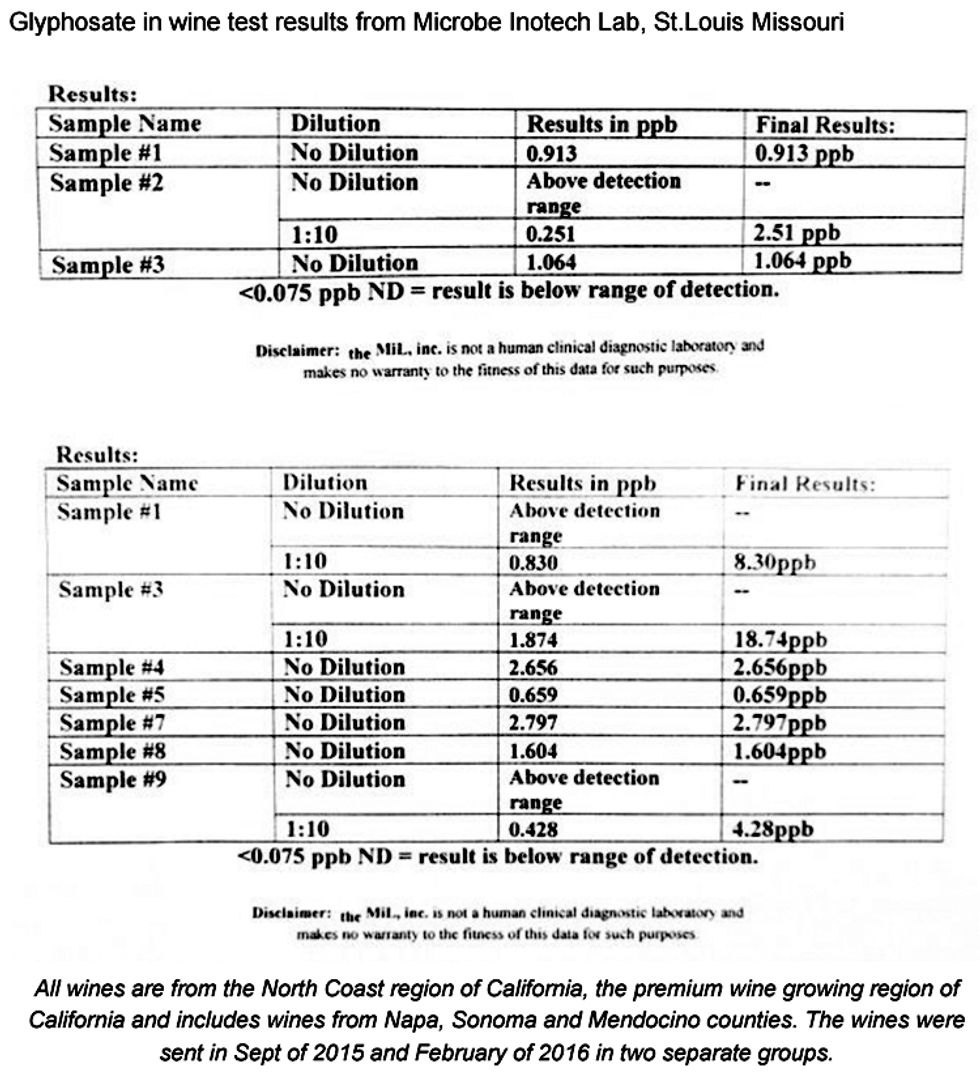 Here are my five reasons why Roundup/glyphosate should never be sprayed on any crops, including vineyards:
1. According to farmers like John Kempf of AdvancingEcoAg.com, glyphosate based herbicides are showing up in irrigation water, are likely present in manure/fertilizer from animals fed genetically modified grains and drift from spraying. Glyphosate residues have been detected in many foods, cotton products, breast milk, beers and wines.
2. Wine growers of conventional farms report that their family businesses use to be able to harvest from their vines for 100 years. Today, with chemical farming, vines are lasting 10-12 years. Glyphosate is a chelator, which makes the vital nutrients and minerals of any living thing it touches unavailable. Taking the risk of depleting the vitality of important crops is not a good long term decision for farmers of any kind. Instead, Regenerative agriculture enriches the soil, supports longevity of the farm and does not use toxic chemicals.
3. Glyphosate has been deemed a probable carcinogen by the World Health Organization. Even the small amount of 0.1ppt of glyphosate has been shown to stimulate the growth of breast cancer cells. According to the California Department of Health, breast cancer rates in the Sonoma, Napa and Mendocino counties are 10 to 20 percent higher than the national average. There are many pending lawsuits against Monsanto for the connection between non-Hodgkin's lymphoma and Roundup.
4. The pig study by Pedersen and Krueger showed a repeated 30 percent increase of birth defects and stillborn with the introduction of glyphosate-sprayed grains. The infertility and sterility in America is exactly correlated to the pig study results, at 30 percent, the highest in recorded U.S. history.
5. French scientist Gilles-Éric Seralini and his team have discovered that the co-formulants of Roundup are 1,000 times more toxic than glyphosate and are hormone disruptors, which can lead to breast cancer, miscarriages, birth defects and many other health issues.
YOU MIGHT ALSO LIKE
Is Bill Gates Right About GMOs?
Big Food Says They Will Label GMOs … But Is There More to the Story?
Huge Victory: Senate Rejects the DARK Act
Read This if You Love Eating Fish But Worry Your Getting Too Much Mercury Exposure
EcoWatch Daily Newsletter
A harbour seal on an ice floe in Glacier Bay, Alaska. A new study shows that the climate crisis has warmed waters, changing ecosystems and crippling sea ice growth. Janette Hill / robertharding / Getty Images Plus
Doctors report that only 1 in 4 children are getting the recommended 60 minutes of physical activity per day. Ronnie Kaufman / DigitalVision / Getty Images
By Dan Gray
Pediatricians are being urged to start writing "exercise prescriptions" for the children they see in their office.
A First Nations protester walks in front of a train blockade in Tyendinaga, near Belleville, Ontario, Canada on Feb. 21, 2020. LARS HAGBERG / AFP via Getty Images
An indigenous rail blockade that snarled train travel in Canada for more than two weeks came to an end Monday when police moved in to clear protesters acting in solidarity with another indigenous community in British Columbia (B.C.), which is fighting to keep a natural gas pipeline off its land.
A rainbow snake, a rare reptile spotted in a Florida county for the first time in more than 50 years, seen here on July 5, 2013.
Kevin Enge / FWC Fish and Wildlife Research Institute / Flickr
A Florida hiker recently stumbled across a slithering surprise — a rare snake that hadn't been spotted in the area for more than 50 years.
We need our government to do everything it can to stop PFAS contamination and exposure from wreaking havoc in communities across the country. LuAnn Hun /
Unsplash
By Genna Reed
The EPA announced last week that it is issuing a preliminary regulatory determination for public comment to set an enforceable drinking water standard to two of the most common and well-studied PFAS, PFOA and PFOS.
This decision is based on three criteria:
PFOA and PFOS have an adverse effect on public health
PFOA and PFOS occur in drinking water often enough and at levels of public health concern;
regulation of PFOA and PFOS is a meaningful opportunity for reducing the health risk to those served by public water systems.