This website uses cookies to ensure you get the best experience while browsing it. By clicking 'Got It' you're accepting these terms.
Monsanto's Genetically Engineered Roundup Ready Alfalfa Has Gone Wild
Jan. 21, 2016 08:47AM EST
GMO
By Bill Freese
A recent study by U.S. Department of Agriculture (USDA) scientists shows that genetically engineered (GE) alfalfa has gone wild, in a big way, in alfalfa-growing parts of the West. This feral GE alfalfa may help explain a number of transgenic contamination episodes over the past few years that have cost American alfalfa growers and exporters millions of dollars in lost revenue. And it also exposes the failure of USDA's "coexistence" policy for GE and traditional crops.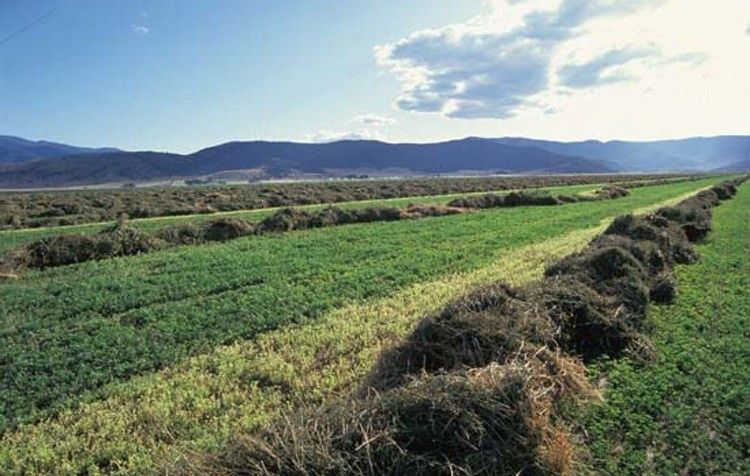 The USDA has long maintained that GE crops can co-exist with traditional and organic agriculture. According to this "co-existence" narrative, if neighboring GE and traditional farmers just sort things out among themselves and follow "best management practices," transgenes will be confined to GE crops and the fields where they are planted.
The latest evidence refuting USDA's co-existence fairytale comes from a recently published study by a team of USDA scientists. The study involved Monsanto′s Roundup Ready alfalfa, which, like most GE crops in the U.S. is engineered to survive direct spraying with Roundup, Monsanto's flagship herbicide.
In 2011 and 2012, USDA Scientist Stephanie Greene and her team scouted the roadsides of three important alfalfa-growing areas—in California, Idaho and Washington—for feral (wild) alfalfa stands. Because alfalfa is a hardy perennial plant, it readily forms self-sustaining feral populations that persist for years wherever the crop is grown.
Greene and colleagues found 404 feral alfalfa populations on roadsides. Testing revealed that over one-quarter (27 percent) of them contained transgenic alfalfa—that is, plants that tested positive for the Roundup Ready gene. They believe that most of these feral populations likely grew from seeds spilled during alfalfa production or transport.
However, the researchers also found clear evidence that the Roundup Ready gene was being spread by bees, which are known to cross-pollinate alfalfa populations separated by up to several miles. Their results suggested that "transgenic plants could spread transgenes to neighboring feral plants and potentially to neighboring non-GE fields." While they did not test this latter possibility, there is no doubt that non-GE alfalfa has in fact been transgenically contaminated—not just once, but on many occasions.
In 2013, a Washington State farmer's alfalfa was rejected by a broker after testing revealed transgenic contamination. In 2014, China rejected numerous U.S. alfalfa shipments that tested positive for the Roundup Ready gene. Alfalfa exports to China, a major market that has zero tolerance for GE alfalfa, fell dramatically. U.S. hay prices fell and at least three U.S. alfalfa exporters suffered many millions of dollars in losses.
Both the Washington State farmer and those who sold to the exporters intended to grow only traditional alfalfa. It is not clear how their produce became contaminated. Besides cross-pollination from GE feral or cultivated alfalfa, possible explanations include inadvertent mixing during harvest or storage or (most insidiously) transgenic contamination of the conventional alfalfa seed they planted.
What makes the high (27 percent) GE contamination rate found in this study so remarkable is how little GE alfalfa produced it. The USDA first approved Roundup Ready alfalfa in 2005 and it occupied just 1 percent of national alfalfa acreage in 2006. A federal court prohibited new plantings starting in 2007, but allowed what had already been planted to remain in the ground (an alfalfa stand is typically grown for about five years). Because this study was conducted just a few months after the re-approval of GE alfalfa in 2011, all of the feral GE alfalfa the researchers detected arose from the comparatively few fields planted in 2005 and 2006. There is much more GE alfalfa being grown now (Monsanto says 30 percent of alfalfa seed sold is GE). So there is likely much more feral GE alfalfa today than is suggested by this study.
It's important to note that the study's major finding—that feral GE alfalfa is present and poses a contamination risk—has been known for at least six years. Oregon alfalfa seed grower Phillip Geertson presented the USDA with documented evidence of feral GE alfalfa in Idaho and Oregon in 2009, but was ignored. More broadly, the USDA exhaustively discussed this and other modes of transgenic contamination in its voluminous 2010 Environmental Impact Statement (EIS) on Roundup Ready alfalfa. In fact, buried in that EIS is data showing still earlier episodes of transgenic contamination of alfalfa dating back to the crop's first commercial introduction in 2005.
What's needed now is not more studies to tell us in finer detail what we already know, but regulatory action. Yet the USDA—which is embarrassingly subservient to the biotechnology industry—has failed to voluntarily enact a single restriction on GE crop growers. This forces traditional farmers to bear the entire burden of preventing transgenic contamination.
The ineffectiveness of this policy is shown by contamination-induced losses of billions of dollars in corn exports to competitors like Brazil. It is also suggested by the absurd spectacle of the U.S. (the world's leading corn and soybean producer) importing organic corn and soy from countries like Romania and India. Fear of transgenic contamination is one factor deterring more U.S. farmers from meeting America's growing demand for organic foods.
Because of federal inaction, citizens have taken action to protect their traditional agriculture at the county level and Center for Food Safety has provided critical assistance to these efforts. For instance, in 2014 voters in Jackson County, Oregon, overwhelmingly passed an ordinance prohibiting cultivation of GE crops in their county. Center for Food Safety helped the County and its farmers fend off a lawsuit seeking to invalidate the Ordinance brought by two GE alfalfa growers with financial backing from the biotechnology industry.
Similar "GE-free zones" have been created with Center for Food Safety assistance in at least seven other counties in California, Washington, Hawaii and a second county in Oregon. Center for Food Safety is also proud to support a new ordinance introduced in November of last year in Costilla County, Colorado, that would establish a GMO-Free Zone to protect locally bred heirloom maize from transgenic contamination.
YOU MIGHT ALSO LIKE
Demand for Non-GMO Products Hits the Seed Industry
59 Indigenous Corn Varieties at Risk as Monsanto Eyes Mexico
FDA Approves Genetically Engineered Potato
Why Doesn't the USDA Test for Residues on Food From Monsanto's 'Cancer Causing' Glyphosate?
EcoWatch Daily Newsletter
MStudioImages / E+ / Getty Images
Backpacking is an exciting way to explore the wilderness or travel to foreign countries on a budget.
Tim P. Whitby / 21st Century Fox / Getty Images
The beauty products we put on our skin can have important consequences for our health. Just this March, the U.S. Food and Drug Administration (FDA) warned that some Claire's cosmetics had tested positive for asbestos. But the FDA could only issue a warning, not a recall, because current law does not empower the agency to do so.
Michelle Pfeiffer wants to change that.
The actress and Environmental Working Group (EWG) board member was spotted on Capitol Hill Thursday lobbying lawmakers on behalf of a bill that would increase oversight of the cosmetics industry, The Washington Post reported.
By Collin Rees
We know that people power can stop dangerous fossil fuel projects like the proposed Line 3 tar sands oil pipeline in Minnesota, because we've proved it over and over again — and recently we've had two more big wins.

Scientists released a study showing that a million species are at risk for extinction, but it was largely ignored by the corporate news media. Danny Perez Photography / Flickr / CC
By Julia Conley
Scientists at the United Nations' intergovernmental body focusing on biodiversity sounded alarms earlier this month with its report on the looming potential extinction of one million species — but few heard their calls, according to a German newspaper report.
DoneGood
By Cullen Schwarz
Ethical shopping is a somewhat new phenomenon. We're far more familiar with the "tried and tested" methods of doing good, like donating our money or time.
Pixabay
Summer is fast approaching, which means it's time to stock up on sunscreen to ward off the harmful effects of sun exposure. Not all sunscreens are created equally, however.
Mark Wallheiser / Getty Images
The climate crisis is a major concern for American voters with nearly 40 percent reporting the issue will help determine how they cast their ballots in the upcoming 2020 presidential election, according to a report compiled by the Yale Program on Climate Change Communication.
Of more than 1,000 registered voters surveyed on global warming, climate and energy policies, as well as personal and collective action, 38 percent said that a candidate's position on climate change is "very important" when it comes to determining who will win their vote. Overall, democratic candidates are under more pressure to provide green solutions as part of their campaign promises with 64 percent of Democrat voters saying they prioritize the issue compared with just 34 percent of Independents and 12 percent of Republicans.
Flooding in Winfield, Missouri this month. Jonathan Rehg / Getty Images
President Donald Trump has agreed to sign a $19.1 billion disaster relief bill that will help Americans still recovering from the flooding, hurricanes and wildfires that have devastated parts of the country in the past two years. Senate Republicans said they struck a deal with the president to approve the measure, despite the fact that it did not include the funding he wanted for the U.S.-Mexican border, CNN reported.
"The U.S. Senate has just approved a 19 Billion Dollar Disaster Relief Bill, with my total approval. Great!" the president tweeted Thursday.