This website uses cookies to ensure you get the best experience while browsing it. By clicking 'Got It' you're accepting these terms.
Monsanto's Genetically Engineered Roundup Ready Alfalfa Has Gone Wild
Jan. 21, 2016 08:47AM EST
By Bill Freese
A recent study by U.S. Department of Agriculture (USDA) scientists shows that genetically engineered (GE) alfalfa has gone wild, in a big way, in alfalfa-growing parts of the West. This feral GE alfalfa may help explain a number of transgenic contamination episodes over the past few years that have cost American alfalfa growers and exporters millions of dollars in lost revenue. And it also exposes the failure of USDA's "coexistence" policy for GE and traditional crops.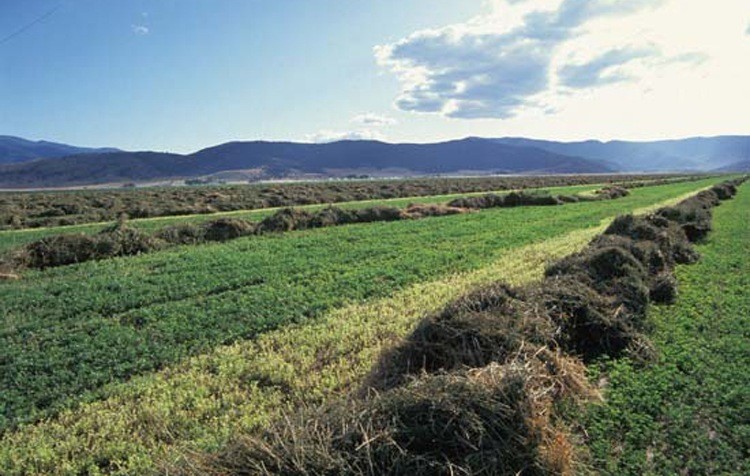 The USDA has long maintained that GE crops can co-exist with traditional and organic agriculture. According to this "co-existence" narrative, if neighboring GE and traditional farmers just sort things out among themselves and follow "best management practices," transgenes will be confined to GE crops and the fields where they are planted.
The latest evidence refuting USDA's co-existence fairytale comes from a recently published study by a team of USDA scientists. The study involved Monsanto′s Roundup Ready alfalfa, which, like most GE crops in the U.S. is engineered to survive direct spraying with Roundup, Monsanto's flagship herbicide.
In 2011 and 2012, USDA Scientist Stephanie Greene and her team scouted the roadsides of three important alfalfa-growing areas—in California, Idaho and Washington—for feral (wild) alfalfa stands. Because alfalfa is a hardy perennial plant, it readily forms self-sustaining feral populations that persist for years wherever the crop is grown.
Greene and colleagues found 404 feral alfalfa populations on roadsides. Testing revealed that over one-quarter (27 percent) of them contained transgenic alfalfa—that is, plants that tested positive for the Roundup Ready gene. They believe that most of these feral populations likely grew from seeds spilled during alfalfa production or transport.
However, the researchers also found clear evidence that the Roundup Ready gene was being spread by bees, which are known to cross-pollinate alfalfa populations separated by up to several miles. Their results suggested that "transgenic plants could spread transgenes to neighboring feral plants and potentially to neighboring non-GE fields." While they did not test this latter possibility, there is no doubt that non-GE alfalfa has in fact been transgenically contaminated—not just once, but on many occasions.
In 2013, a Washington State farmer's alfalfa was rejected by a broker after testing revealed transgenic contamination. In 2014, China rejected numerous U.S. alfalfa shipments that tested positive for the Roundup Ready gene. Alfalfa exports to China, a major market that has zero tolerance for GE alfalfa, fell dramatically. U.S. hay prices fell and at least three U.S. alfalfa exporters suffered many millions of dollars in losses.
Both the Washington State farmer and those who sold to the exporters intended to grow only traditional alfalfa. It is not clear how their produce became contaminated. Besides cross-pollination from GE feral or cultivated alfalfa, possible explanations include inadvertent mixing during harvest or storage or (most insidiously) transgenic contamination of the conventional alfalfa seed they planted.
What makes the high (27 percent) GE contamination rate found in this study so remarkable is how little GE alfalfa produced it. The USDA first approved Roundup Ready alfalfa in 2005 and it occupied just 1 percent of national alfalfa acreage in 2006. A federal court prohibited new plantings starting in 2007, but allowed what had already been planted to remain in the ground (an alfalfa stand is typically grown for about five years). Because this study was conducted just a few months after the re-approval of GE alfalfa in 2011, all of the feral GE alfalfa the researchers detected arose from the comparatively few fields planted in 2005 and 2006. There is much more GE alfalfa being grown now (Monsanto says 30 percent of alfalfa seed sold is GE). So there is likely much more feral GE alfalfa today than is suggested by this study.
It's important to note that the study's major finding—that feral GE alfalfa is present and poses a contamination risk—has been known for at least six years. Oregon alfalfa seed grower Phillip Geertson presented the USDA with documented evidence of feral GE alfalfa in Idaho and Oregon in 2009, but was ignored. More broadly, the USDA exhaustively discussed this and other modes of transgenic contamination in its voluminous 2010 Environmental Impact Statement (EIS) on Roundup Ready alfalfa. In fact, buried in that EIS is data showing still earlier episodes of transgenic contamination of alfalfa dating back to the crop's first commercial introduction in 2005.
What's needed now is not more studies to tell us in finer detail what we already know, but regulatory action. Yet the USDA—which is embarrassingly subservient to the biotechnology industry—has failed to voluntarily enact a single restriction on GE crop growers. This forces traditional farmers to bear the entire burden of preventing transgenic contamination.
The ineffectiveness of this policy is shown by contamination-induced losses of billions of dollars in corn exports to competitors like Brazil. It is also suggested by the absurd spectacle of the U.S. (the world's leading corn and soybean producer) importing organic corn and soy from countries like Romania and India. Fear of transgenic contamination is one factor deterring more U.S. farmers from meeting America's growing demand for organic foods.
Because of federal inaction, citizens have taken action to protect their traditional agriculture at the county level and Center for Food Safety has provided critical assistance to these efforts. For instance, in 2014 voters in Jackson County, Oregon, overwhelmingly passed an ordinance prohibiting cultivation of GE crops in their county. Center for Food Safety helped the County and its farmers fend off a lawsuit seeking to invalidate the Ordinance brought by two GE alfalfa growers with financial backing from the biotechnology industry.
Similar "GE-free zones" have been created with Center for Food Safety assistance in at least seven other counties in California, Washington, Hawaii and a second county in Oregon. Center for Food Safety is also proud to support a new ordinance introduced in November of last year in Costilla County, Colorado, that would establish a GMO-Free Zone to protect locally bred heirloom maize from transgenic contamination.
YOU MIGHT ALSO LIKE
Demand for Non-GMO Products Hits the Seed Industry
59 Indigenous Corn Varieties at Risk as Monsanto Eyes Mexico
FDA Approves Genetically Engineered Potato
Why Doesn't the USDA Test for Residues on Food From Monsanto's 'Cancer Causing' Glyphosate?
Prince William and British naturalist David Attenborough attend converse during the World Economic Forum annual meeting, on January 22 in Davos, Switzerland. Fabrice Cofferini /AFP / Getty Images
Britain's Prince William interviewed famed broadcaster David Attenborough on Tuesday at the World Economic Forum's annual meeting in Switzerland.
During the sit-down, the 92-year-old naturalist advised the world leaders and business elite gathered in Davos this week that we must respect and protect the natural world, adding that the future of its survival—as well as humanity's survival—is in our hands.
Electric vehicle sales took off in 2018, with a record two million units sold around the world, according to a new Deloitte analysis.
What's more, the accounting firm predicts that another 21 million electric cars will be on the road globally over the next decade due to growing market demand for clean transportation, government subsidies, as well as bans on fossil fuel cars.
Teenager Alex Weber and friends collected nearly 40,000 golf balls hit into the ocean from a handful of California golf courses.
Alex Weber /
CC BY-ND
Southwest Greenland had the most consistent ice loss from 2003 to 2012. Eqalugaarsuit, Ostgronland, Greenland on Aug. 1, 2018.
Rob Oo / CC BY 2.0
Greenland is melting about four times faster than it was in 2003, a new study published Monday in the Proceedings of the National Academy of Sciences found, a discovery with frightening implications for the pace and extent of future sea level rise.
"We're going to see faster and faster sea level rise for the foreseeable future," study lead author and Ohio State University geodynamics professor Dr. Michael Bevis said in a press release. "Once you hit that tipping point, the only question is: How severe does it get?"
Finally, some good news about the otherwise terrible partial government shutdown. A federal judge ruled that the Trump administration cannot issue permits to conduct seismic testing during the government impasse.
The Justice Department sought to delay—or stay—a motion filed by a range of coastal cities, businesses and conservation organizations that are suing the Trump administration over offshore oil drilling, Reuters reported. The department argued that it did not have the resources it needed to work on the case due to the shutdown.
Most people have heard of the Amazon, South America's famed rainforest and hub of biological diversity. Less well known, though no less critical, is the Pantanal, the world's largest tropical wetland.
Like the Amazon, the Pantanal is ecologically important and imperiled. Located primarily in Brazil, it also stretches into neighboring Bolivia and Paraguay. Covering an area larger than England at more than 70,000 square miles, the massive wetland provides irreplaceable ecosystem services that include the regulation of floodwaters, nutrient renewal, river flow for navigability, groundwater recharge and carbon sequestration. The wetland also supports the economies of the four South American states it covers.
Demonstrators participate in a protest march over agricultural policy on Jan. 19 in Berlin, Germany. Carsten Koall / Getty Images Europe
By Andrea Germanos
Organizers said 35,000 people marched through the streets of the German capital on Saturday to say they're "fed up" with industrial agriculture and call for a transformation to a system that instead supports the welfare of the environment, animals and rural farmers.

The fire that erupted after a pipeline explosion in Mexico Friday. FRANCISCO VILLEDA / AFP / Getty Images
By Patrick Rogers
If you have ever considered making the switch to an environmentally friendly electric vehicle, don't drag your feet. Though EV prices are falling, and states are unveiling more and more public charging stations and plug-in-ready parking spots, the federal government is doing everything it can to slam the brakes on our progress away from gas-burning internal combustion engines. President Trump, likely pressured by his allies in the fossil fuel industry, has threatened to end the federal tax credits that have already helped put hundreds of thousands of EVs on the road—a move bound to harm not only our environment but our economy, too. After all, the manufacturing and sale of EVs, hybrids, and plug-in hybrids supported 197,000 jobs in 2017, according to the most recent U.S. Energy and Employment Report.