This website uses cookies to ensure you get the best experience while browsing it. By clicking 'Got It' you're accepting these terms.
Monsanto's Genetically Engineered Roundup Ready Alfalfa Has Gone Wild
Jan. 21, 2016 08:47AM EST
GMO
By Bill Freese
A recent study by U.S. Department of Agriculture (USDA) scientists shows that genetically engineered (GE) alfalfa has gone wild, in a big way, in alfalfa-growing parts of the West. This feral GE alfalfa may help explain a number of transgenic contamination episodes over the past few years that have cost American alfalfa growers and exporters millions of dollars in lost revenue. And it also exposes the failure of USDA's "coexistence" policy for GE and traditional crops.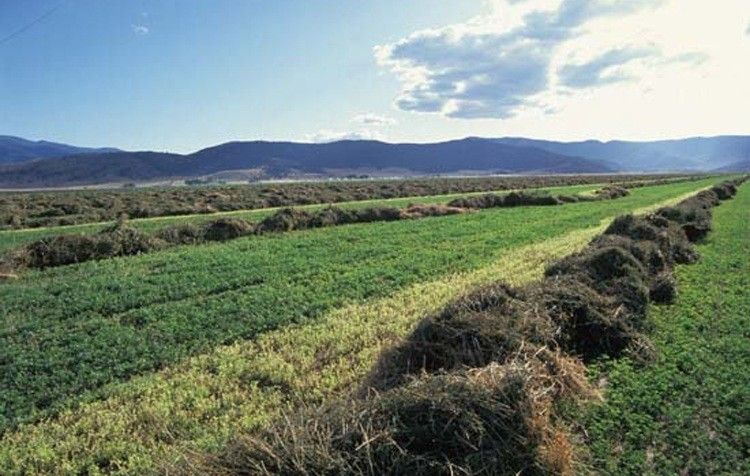 The USDA has long maintained that GE crops can co-exist with traditional and organic agriculture. According to this "co-existence" narrative, if neighboring GE and traditional farmers just sort things out among themselves and follow "best management practices," transgenes will be confined to GE crops and the fields where they are planted.
The latest evidence refuting USDA's co-existence fairytale comes from a recently published study by a team of USDA scientists. The study involved Monsanto′s Roundup Ready alfalfa, which, like most GE crops in the U.S. is engineered to survive direct spraying with Roundup, Monsanto's flagship herbicide.
In 2011 and 2012, USDA Scientist Stephanie Greene and her team scouted the roadsides of three important alfalfa-growing areas—in California, Idaho and Washington—for feral (wild) alfalfa stands. Because alfalfa is a hardy perennial plant, it readily forms self-sustaining feral populations that persist for years wherever the crop is grown.
Greene and colleagues found 404 feral alfalfa populations on roadsides. Testing revealed that over one-quarter (27 percent) of them contained transgenic alfalfa—that is, plants that tested positive for the Roundup Ready gene. They believe that most of these feral populations likely grew from seeds spilled during alfalfa production or transport.
However, the researchers also found clear evidence that the Roundup Ready gene was being spread by bees, which are known to cross-pollinate alfalfa populations separated by up to several miles. Their results suggested that "transgenic plants could spread transgenes to neighboring feral plants and potentially to neighboring non-GE fields." While they did not test this latter possibility, there is no doubt that non-GE alfalfa has in fact been transgenically contaminated—not just once, but on many occasions.
In 2013, a Washington State farmer's alfalfa was rejected by a broker after testing revealed transgenic contamination. In 2014, China rejected numerous U.S. alfalfa shipments that tested positive for the Roundup Ready gene. Alfalfa exports to China, a major market that has zero tolerance for GE alfalfa, fell dramatically. U.S. hay prices fell and at least three U.S. alfalfa exporters suffered many millions of dollars in losses.
Both the Washington State farmer and those who sold to the exporters intended to grow only traditional alfalfa. It is not clear how their produce became contaminated. Besides cross-pollination from GE feral or cultivated alfalfa, possible explanations include inadvertent mixing during harvest or storage or (most insidiously) transgenic contamination of the conventional alfalfa seed they planted.
What makes the high (27 percent) GE contamination rate found in this study so remarkable is how little GE alfalfa produced it. The USDA first approved Roundup Ready alfalfa in 2005 and it occupied just 1 percent of national alfalfa acreage in 2006. A federal court prohibited new plantings starting in 2007, but allowed what had already been planted to remain in the ground (an alfalfa stand is typically grown for about five years). Because this study was conducted just a few months after the re-approval of GE alfalfa in 2011, all of the feral GE alfalfa the researchers detected arose from the comparatively few fields planted in 2005 and 2006. There is much more GE alfalfa being grown now (Monsanto says 30 percent of alfalfa seed sold is GE). So there is likely much more feral GE alfalfa today than is suggested by this study.
It's important to note that the study's major finding—that feral GE alfalfa is present and poses a contamination risk—has been known for at least six years. Oregon alfalfa seed grower Phillip Geertson presented the USDA with documented evidence of feral GE alfalfa in Idaho and Oregon in 2009, but was ignored. More broadly, the USDA exhaustively discussed this and other modes of transgenic contamination in its voluminous 2010 Environmental Impact Statement (EIS) on Roundup Ready alfalfa. In fact, buried in that EIS is data showing still earlier episodes of transgenic contamination of alfalfa dating back to the crop's first commercial introduction in 2005.
What's needed now is not more studies to tell us in finer detail what we already know, but regulatory action. Yet the USDA—which is embarrassingly subservient to the biotechnology industry—has failed to voluntarily enact a single restriction on GE crop growers. This forces traditional farmers to bear the entire burden of preventing transgenic contamination.
The ineffectiveness of this policy is shown by contamination-induced losses of billions of dollars in corn exports to competitors like Brazil. It is also suggested by the absurd spectacle of the U.S. (the world's leading corn and soybean producer) importing organic corn and soy from countries like Romania and India. Fear of transgenic contamination is one factor deterring more U.S. farmers from meeting America's growing demand for organic foods.
Because of federal inaction, citizens have taken action to protect their traditional agriculture at the county level and Center for Food Safety has provided critical assistance to these efforts. For instance, in 2014 voters in Jackson County, Oregon, overwhelmingly passed an ordinance prohibiting cultivation of GE crops in their county. Center for Food Safety helped the County and its farmers fend off a lawsuit seeking to invalidate the Ordinance brought by two GE alfalfa growers with financial backing from the biotechnology industry.
Similar "GE-free zones" have been created with Center for Food Safety assistance in at least seven other counties in California, Washington, Hawaii and a second county in Oregon. Center for Food Safety is also proud to support a new ordinance introduced in November of last year in Costilla County, Colorado, that would establish a GMO-Free Zone to protect locally bred heirloom maize from transgenic contamination.
YOU MIGHT ALSO LIKE
Demand for Non-GMO Products Hits the Seed Industry
59 Indigenous Corn Varieties at Risk as Monsanto Eyes Mexico
FDA Approves Genetically Engineered Potato
Why Doesn't the USDA Test for Residues on Food From Monsanto's 'Cancer Causing' Glyphosate?
EcoWatch Daily Newsletter
Extreme weather events supercharged by climate change in 2012 led to nearly 1,000 more deaths, more than 20,000 additional hospitalizations, and cost the U.S. healthcare system $10 billion, a new report finds.
Giant sequoia trees at Sequoia National Park, California. lucky-photographer / iStock / Getty Images Plus
A Bay Area conservation group struck a deal to buy and to protect the world's largest remaining privately owned sequoia forest for $15.6 million. Now it needs to raise the money, according to CNN.
This aerial view shows the Ogasayama Sports Park Ecopa Stadium, one of the venues for 2019 Rugby World Cup. MARTIN BUREAU / AFP / Getty Images
The Rugby World Cup starts Friday in Japan where Pacific Island teams from Samoa, Fiji and Tonga will face off against teams from industrialized nations. However, a new report from a UK-based NGO says that when the teams gather for the opening ceremony on Friday night and listen to the theme song "World In Union," the hypocrisy of climate injustice will take center stage.
Vera_Petrunina / iStock / Getty Images Plus
By Wudan Yan
In June, New York Times journalist Andy Newman wrote an article titled, "If seeing the world helps ruin it, should we stay home?" In it, he raised the question of whether or not travel by plane, boat, or car—all of which contribute to climate change, rising sea levels, and melting glaciers—might pose a moral challenge to the responsibility that each of us has to not exacerbate the already catastrophic consequences of climate change. The premise of Newman's piece rests on his assertion that traveling "somewhere far away… is the biggest single action a private citizen can take to worsen climate change."

Volunteer caucasian woman giving grain to starving African children.
Bartosz Hadyniak / E+ / Getty Images
Food will be scarce, expensive and less nutritious," CNN warns us in its coverage of the UN's new "Climate Change and Land" report. The New York Times announces that "Climate Change Threatens the World's Food Supply."
By Adam Vaughan
Two-thirds of people in the UK think the amount people fly should be reined in to tackle climate change, polling has found.
Climate Week NYC
On Monday, Sept. 23, the Climate Group will kick off its 11th annual Climate Week NYC, a chance for governments, non-profits, businesses, communities and individuals to share possible solutions to the climate crisis while world leaders gather in the city for the UN Climate Action Summit.
By Pam Radtke Russell in New Orleans
Local TV weather forecasters have become foot soldiers in the war against climate misinformation. Over the past decade, a growing number of meteorologists and weathercasters have begun addressing the climate crisis either as part of their weather forecasts, or in separate, independent news reports to help their viewers understand what is happening and why it is important.