This website uses cookies to ensure you get the best experience while browsing it. By clicking 'Got It' you're accepting these terms.
Monsanto's Endless Pipeline of Bad Ideas
Mar. 23, 2012 10:24AM EST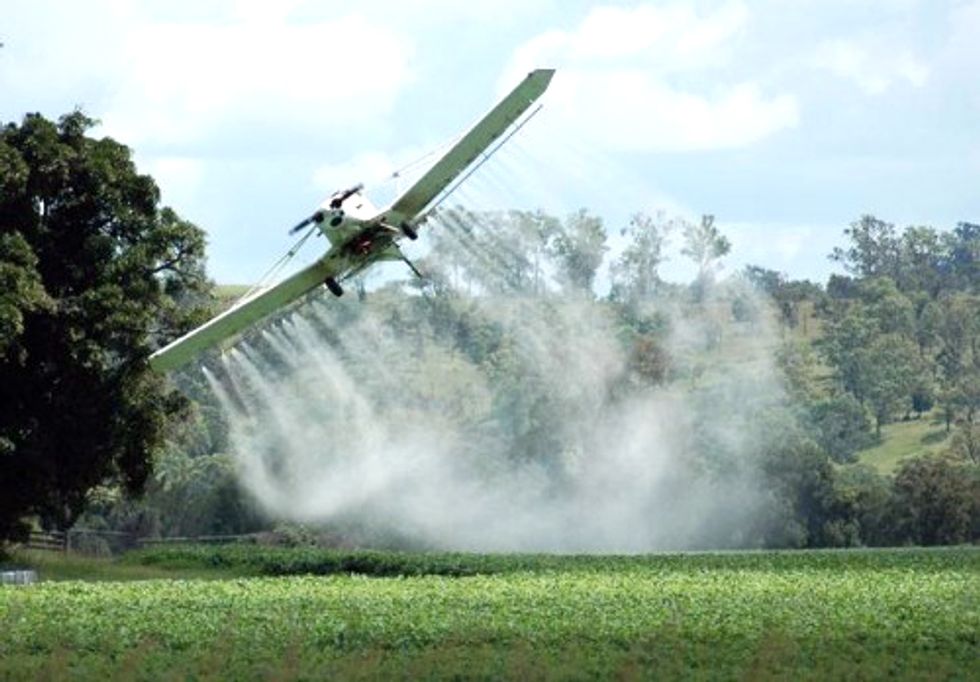 By Marcia Ishii-Eiteman
As if the disaster of RoundUp resistant superweeds sweeping our farmland weren't enough, Monsanto is now preparing to launch an even greater disaster—a new soybean engineered to be resistant to the older, more toxic weedkiller, dicamba. The seed—which Monsanto plans to market in 2014 if approved—will also come stacked with the company's RoundUp Ready gene, and is designed to be used with Monsanto's proprietary herbicide "premix" of dicamba and glyphosate.
More dicamba-tolerant crops (corn, cotton, canola) are all waiting in the wings. If this new generation of GE crops is approved, then dicamba use will surge, just as it did with RoundUp. And we all know how well that didn't work out. To the giant pesticide company, this chemical arms race is all part of the plan.
If you're thinking that pouring more chemicals onto already devastated farmland sounds a bit like pouring gasoline on a fire, I'd have to agree with you. So do some hefty farm businesses, as it turns out.
Farm business rejects Monsanto's answer
The Big 6 pesticide companies' pipeline of new herbicide-tolerant crops poses a serious risk to farmers' livelihood and rural economies. Weedkillers like dicamba and 2,4-D drift far and can easily destroy other farmers' crops of tomatoes, grapes, beans, cotton, non-GE soy—just about any broadleaf plant. That's why farmers and some large agriculture companies are getting worried. As Steve Smith, director of agriculture for Red Gold, the largest canned tomato processor in the U.S., testified before Congress in 2010:
I am convinced that in all of my years serving the agriculture industry, the widespread use of dicamba herbicide [poses] the single most serious threat to the future of the specialty crop industry in the Midwest.
Smith warns of the damaging surge in dicamba use that would accompany introduction of dicamba-tolerant GE crops—both over more acreage and throughout the season. He predicts widespread crop damage, harm to non-target plants that would result from spray and volatilization drift, and financial loss—not only to growers but also to processing companies like his that would suffer major supply disruption, even conflicts erupting between neighbors eroding the social fabric of rural community life. His testimony concluded:
The introduction of dicamba tolerant soybeans is a classic case of short-sighted enthusiasm over a new technology, blinding us to the reality that is sure to come. Increased dicamba usage, made possible through the introduction of dicamba tolerant soybeans, is poor public policy and should not be allowed.
We can choose to get off the pesticide treadmill
We've just witnessed an incredible victory with the removal of the infamous cancer-causing pesticide methyl iodide from the entire U.S. marketplace. So we know that we can win. And we know that the threat that pesticides pose to farm sustainability, our water and air quality, our communities' and our children's health can be blocked. But we have to be dedicated and smart.
Right now, companies like Monsanto, BASF and Dow are planning to drive up their pesticide sales by introducing a new generation of herbicide-tolerant crops, designed to be used with their proprietary weedkillers. The test case before us—the first of this new generation up for review and currently awaiting USDA approval—is Dow's 2,4-D GE corn ("a very bad idea" as my colleague Margaret Reeves explains). The most effective thing we can do to protect farmers and consumers from dicamba-tolerant crops is to shut down the pipeline of herbicide-tolerant crops—beginning with 2,4-D-resistant corn. 
Tell USDA that we want off the GE-pesticide treadmill. This dangerous and antiquated herbicide shouldn't be on the market, and we certainly should not be giving Dow license to profit from driving up use. Sign our petition to USDA by clicking here.
For more information, click here.
EcoWatch Daily Newsletter
In Germany's Hunsrück village of Schorbach, numerous photovoltaic systems are installed on house roofs, on Sept. 19, 2019. Thomas Frey / Picture Alliance via Getty Images
Germany's target for renewable energy sources to deliver 65% of its consumed electricity by 2030 seemed on track Wednesday, with 52% of electricity coming from renewables in 2020's first quarter. Renewable energy advocates, however, warned the trend is imperiled by slowdowns in building new wind and solar plants.
In many parts of the U.S., family farms are disappearing and being replaced by suburban sprawl.
General view of the empty Alma bridge, in front of the Eiffel tower, while the city imposes emergency measures to combat the Coronavirus COVID-19 outbreak, on March 17, 2020 in Paris, France. Edward Berthelot / Getty Images
Half the world is on lockdown. So, the constant hum of cars, trucks, trains and heavy machinery has stopped, drastically reducing the intensity of the vibrations rippling through the Earth's crust. Seismologists, who use highly sensitive equipment, have noticed a difference in the hum caused by human activity, according to Fast Company.
The current rate of CO2 emissions is a major event in the recorded history of Earth. EPA
At several points in the history of our planet, increasing amounts of carbon dioxide in the atmosphere have caused extreme global warming, prompting the majority of species on Earth to die out.
The "Earthrise" photograph that inspired the first Earth Day. NASA / Bill Anders
For EcoWatchers, April usually means one thing: Earth Day. But how do you celebrate the environment while staying home to prevent the spread of the new coronavirus?