This website uses cookies to ensure you get the best experience while browsing it. By clicking 'Got It' you're accepting these terms.
Monsanto's Endless Pipeline of Bad Ideas
Mar. 23, 2012 09:24AM EST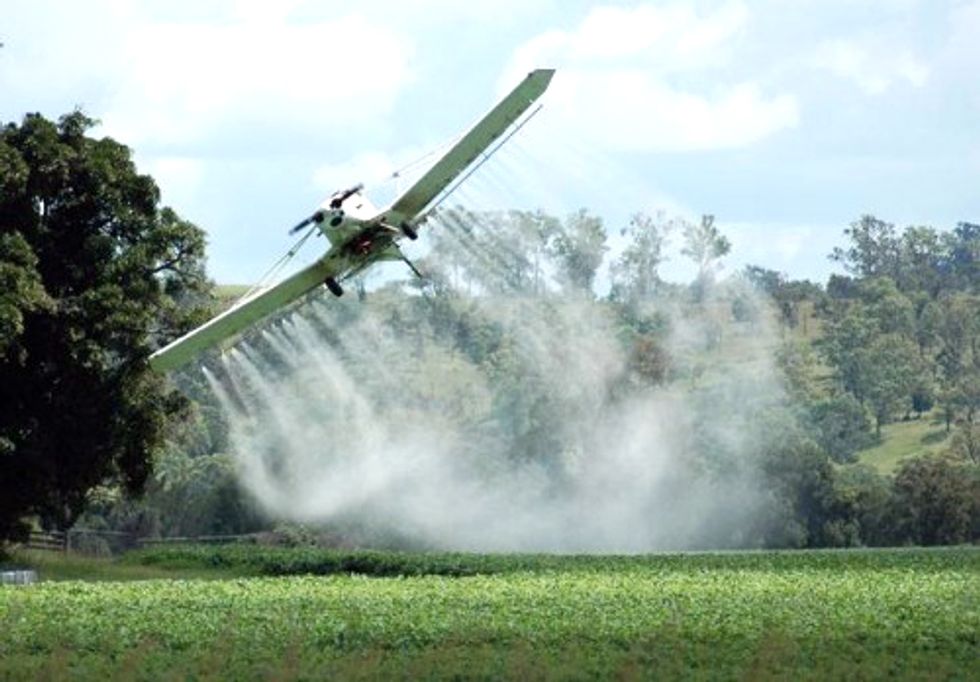 By Marcia Ishii-Eiteman
As if the disaster of RoundUp resistant superweeds sweeping our farmland weren't enough, Monsanto is now preparing to launch an even greater disaster—a new soybean engineered to be resistant to the older, more toxic weedkiller, dicamba. The seed—which Monsanto plans to market in 2014 if approved—will also come stacked with the company's RoundUp Ready gene, and is designed to be used with Monsanto's proprietary herbicide "premix" of dicamba and glyphosate.
More dicamba-tolerant crops (corn, cotton, canola) are all waiting in the wings. If this new generation of GE crops is approved, then dicamba use will surge, just as it did with RoundUp. And we all know how well that didn't work out. To the giant pesticide company, this chemical arms race is all part of the plan.
If you're thinking that pouring more chemicals onto already devastated farmland sounds a bit like pouring gasoline on a fire, I'd have to agree with you. So do some hefty farm businesses, as it turns out.
Farm business rejects Monsanto's answer
The Big 6 pesticide companies' pipeline of new herbicide-tolerant crops poses a serious risk to farmers' livelihood and rural economies. Weedkillers like dicamba and 2,4-D drift far and can easily destroy other farmers' crops of tomatoes, grapes, beans, cotton, non-GE soy—just about any broadleaf plant. That's why farmers and some large agriculture companies are getting worried. As Steve Smith, director of agriculture for Red Gold, the largest canned tomato processor in the U.S., testified before Congress in 2010:
I am convinced that in all of my years serving the agriculture industry, the widespread use of dicamba herbicide [poses] the single most serious threat to the future of the specialty crop industry in the Midwest.
Smith warns of the damaging surge in dicamba use that would accompany introduction of dicamba-tolerant GE crops—both over more acreage and throughout the season. He predicts widespread crop damage, harm to non-target plants that would result from spray and volatilization drift, and financial loss—not only to growers but also to processing companies like his that would suffer major supply disruption, even conflicts erupting between neighbors eroding the social fabric of rural community life. His testimony concluded:
The introduction of dicamba tolerant soybeans is a classic case of short-sighted enthusiasm over a new technology, blinding us to the reality that is sure to come. Increased dicamba usage, made possible through the introduction of dicamba tolerant soybeans, is poor public policy and should not be allowed.
We can choose to get off the pesticide treadmill
We've just witnessed an incredible victory with the removal of the infamous cancer-causing pesticide methyl iodide from the entire U.S. marketplace. So we know that we can win. And we know that the threat that pesticides pose to farm sustainability, our water and air quality, our communities' and our children's health can be blocked. But we have to be dedicated and smart.
Right now, companies like Monsanto, BASF and Dow are planning to drive up their pesticide sales by introducing a new generation of herbicide-tolerant crops, designed to be used with their proprietary weedkillers. The test case before us—the first of this new generation up for review and currently awaiting USDA approval—is Dow's 2,4-D GE corn ("a very bad idea" as my colleague Margaret Reeves explains). The most effective thing we can do to protect farmers and consumers from dicamba-tolerant crops is to shut down the pipeline of herbicide-tolerant crops—beginning with 2,4-D-resistant corn. 
Tell USDA that we want off the GE-pesticide treadmill. This dangerous and antiquated herbicide shouldn't be on the market, and we certainly should not be giving Dow license to profit from driving up use. Sign our petition to USDA by clicking here.
For more information, click here.
EcoWatch Daily Newsletter
A new report spotlights a U.N. estimate that at least 275 million people rely on healthy coral reefs. A sea turtle near the Heron Island in the Great Barrier Reef is seen above. THE OCEAN AGENCY / XL CATLIN SEAVIEW SURVEY
In a new report about how the world's coral reefs face "the combined threats of climate change, pollution, and overfishing" — endangering the future of marine biodiversity — a London-based nonprofit calls for greater global efforts to end the climate crisis and ensure the survival of these vital underwater ecosystems.
Half of the extracted resources used were sand, clay, gravel and cement, seen above, for building, along with the other minerals that produce fertilizer. Cavan Images / Cavan / Getty Images
The world is using up more and more resources and global recycling is falling. That's the grim takeaway from a new report by the Circle Economy think tank, which found that the world used up more than 110 billion tons, or 100.6 billion metric tons, of natural resources, as Agence France-Presse (AFP) reported.
By Gero Rueter
Heating with coal, oil and natural gas accounts for around a quarter of global greenhouse gas emissions. But that's something we can change, says Wolfgang Feist, founder of the Passive House Institute in the western German city of Darmstadt.

By George Citroner
Recent research finds that official government figures may be underestimating drug deaths by half.
Researchers estimate that 142,000 people died due to drug use in 2016.
Drug use decreases life expectancy after age 15 by 1.4 years for men and by just under 1 year for women, on average.
Government records may be severely underreporting how many Americans die from drug use, according to a new study by researchers from the University of Pennsylvania and Georgetown University.
Water coolers in front of shut-off water fountains at Center School in Stow, MA on Sept. 4, 2019 after elevated levels of PFAS were found in the water. David L. Ryan / The Boston Globe via Getty Images
In a new nationwide assessment of drinking water systems, the Environmental Working Group found that toxic fluorinated chemicals known as PFAS are far more prevalent than previously thought.