This website uses cookies to ensure you get the best experience while browsing it. By clicking 'Got It' you're accepting these terms.
Monsanto's 'Director of Millennial Engagement' Says GMOs Are Really Cool
Nov. 03, 2014 02:27PM EST
Food
Monsanto, clearly worried about increasing concern for climate change and personal health among young people, hired a "director of millennial engagement," to convince them that GMOs are great and Monsanto is cooler than the latest hipster band out of Brooklyn.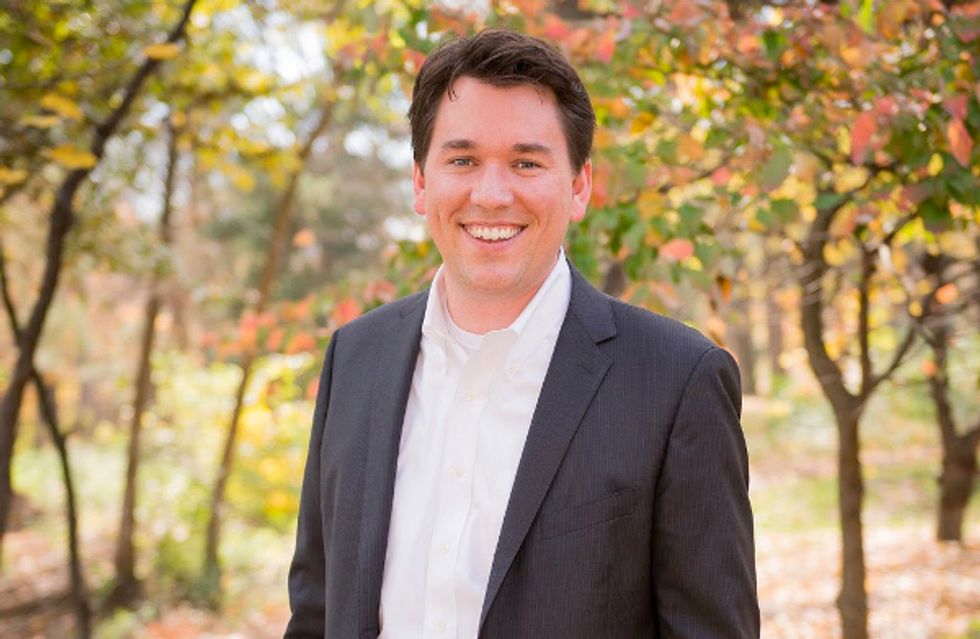 Thirty-two-year-old Vance Crowe has his work cut out for him. But he sounded like a good little "better living through (big corporate) science" soldier in an NPR interview last week. Monsanto is just a really, really cool place to work, he told the NPR audience.
"Monsanto is a place, just like many companies, where if you don't actually know someone from the company, the only thing you see is the brand," said Crowe. "Before I started working here, I thought everyone would be wearing dark suits and Matrix-style sunglasses. When I came for my job interview, I was greeted at the door by a woman in a sweater and ponytail, who eventually became my boss."
The company is filled with hip young people from top to bottom too.
"One of the first things I did on the job was ride along with a Monsanto seed salesman," said Crowe. "He is in his 30s, and has a big handlebar mustache and college education on breeding corn. He took me around and introduced me to farmers he's been selling to. Many of the farmers were 50-plus years old, but they had a son or nephew learning from them. These are the millennial farmers who grew up on the farm and went away to school. When they come back to the farm, they're pushing limits with more technology, and different ideas about cover crops."
When the interviewer asked Crowe, "Are you charged with trying to change millennials' perceptions of GMOs? If so, how will you do it?," he responded, "We are listening and making sure the concerns we are trying to address are the ones people have. To me the science on GMOs is very clear, so why do people have trouble with this?"
Possibly they "have trouble," because clear science on GMOs doesn't exist, and they're resistant to a company with a financial stake saying science has been settled on their side. In fact, science has already shown that some of the claims about GMOs super-productivity are overblown and that they have led to "superweeds" and increased pesticide use. As for whether GMO foods themselves are harmful to those who ingest them, there's little solid science yet either way.
Another issue Crowe may have trouble with is Monsanto's reputation for suing farmers, including some whose fields have been accidentally contaminated by GMO seeds, and a high-profile battle that ended up in the Supreme Court between Monsanto and farmers trying to ward off its aggressive tactics.
"A lot of people believe Monsanto is in the habit of suing farmers," he said. "But it's not true. We have sued farmers who violated contracts, but it's something we hate to do. So one of the ways Monsanto has tried to demonstrate this is by explaining that all the money that's adjudicated to us in a settlement is donated to the communities where the former customers are. We've taken zero dollars in profit from the cases that we win."
Crowe's attitude that GMO opponents are merely "loud" and a little irrational and just need some friendly conversation to make them see things Monsanto's way hardly seems in line with his claim that "we are listening" and addressing peoples' concerns.
"It's been pretty clear for a long time that Monsanto has been really good at talking to and selling seeds to farmers and talking to Wall Street about our progress and growth," he said. "But in between those two poles are consumers, and the company didn't have a robust strategy for talking to them. It's clear consumers have some strong feelings about how food should be produced and what sustainability is. And the tenor has gotten kind of loud."
He said he found while attending this year's SXSW Eco conference in Austin, Texas that "some people have really strong views against GMOs and some people are very comfortable with them. There were over 100 hours of programming, but people got worked up over GMOs. The challenge with something like SXSW Eco is that it doesn't do anybody any good if people are so passionate that they're yelling. The challenge is how can we enter the conversation so that people don't feel like they have to yell to be heard?"
Maybe not treating them like they're merely "worked up" and "so passionate that they're yelling" for no good reason and really exploring why this issue was the one that engaged them would help.
But in Crowe's world, all is going as planned. He implies that he was treated like a rock star when he and a colleague attended another panel there. "[We] went to a panel on sustainable fashion. Afterward, a huge group wanted to talk with him and how it was that he came to work at Monsanto. They invited us to go to a party, and by the end of it they were saying, 'You need to get out and make sure people know your side of that story.'"
The problem is that for many people, millennials and otherwise, that side of the story doesn't ring true.
YOU MIGHT ALSO LIKE
5 Reasons Monsanto's 'Science' Doesn't Add Up
GMO Crops Accelerate Herbicide and Insecticide Use While Mainstream Media Gets It Wrong
7 Ways to Fight Back Against Monsanto and Other Corporate Bullies of the GMA
EcoWatch Daily Newsletter
A Starbucks barista prepares a drink at a Starbucks Coffee Shop location in New York. Ramin Talaie / Corbis via Getty Images
By Cathy Cassata
Are you getting your fill of Starbucks' new Almondmilk Honey Flat White, Oatmilk Honey Latte, and Coconutmilk Latte, but wondering just how healthy they are?
By Sharon Kelly
Back in April last year, the Trump administration's Environmental Protection Agency decided it was "not necessary" to update the rules for toxic waste from oil and gas wells. Torrents of wastewater flow daily from the nation's 1.5 million active oil and gas wells and the agency's own research has warned it may pose risks to the country's drinking water supplies.
Swedish climate activist Greta Thunberg takes part in a "Friday for Future" youth demonstration in a street of Davos on Jan. 24, 2020 on the sideline of the World Economic Forum annual meeting. FABRICE COFFRINI / AFP via Getty Images
Treasury Secretary Steven Mnuchin pretended not to know who Greta Thunberg is, and then he told her to get a degree in economics before giving world leaders advice, as The Guardian reported.
The Visible Infrared Imaging Radiometer Suite on the Suomi NPP satellite acquired this image of forest fire smoke hovering over North America on Aug. 15, 2018. NASA Earth Observatory
New York City isn't known for having the cleanest air, but researchers traced recent air pollution spikes there to two surprising sources — fires hundreds of miles away in Canada and the southeastern U.S.
If temperatures continue to rise, the world is at risk from global
sea-level rise
, which will flood many coastal cities as seen above in Bangladesh. NurPhoto / Contributor / Getty Images
The mounting climate emergency may spur the next global financial crisis and the world's central banks are woefully ill equipped to handle the consequences, according to a new book-length report by the Bank for International Settlements (BIS), as S&P Global reported. Located in Basel, Switzerland, the BIS is an umbrella organization for the world's central banks.