This website uses cookies to ensure you get the best experience while browsing it. By clicking 'Got It' you're accepting these terms.
Monsanto Protection Act Dies in Senate
Sep. 26, 2013 09:58AM EST
Food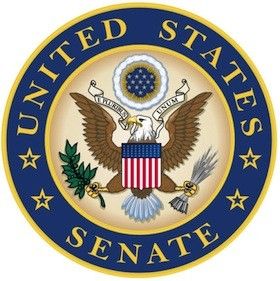 The controversial legislative rider added at the behest of Monsanto to the U.S. Department of Agriculture (USDA) budget bill last spring, dubbed the "Monsanto Protection Act," will no longer be effective after Sept. 30 under a new stopgap government funding bill being drafted by Senate Democrats. Just last week, to the dismay of many concerned groups and individuals, the House approved the extension of the provision, which protects genetically-engineered (GE) seed manufacturers from litigation. The provision was included in last spring's six month long continuing resolution (CR) spending bill
The House approved a three-month extension to the rider in its own short-term Fiscal Year 14 CR spending bill, which was approved last week to fund the federal government past September. But the Senate version, overseen by Senate Appropriations Committee Chairwoman Barbara Mikulski (D-MD), will explicitly say that the Monsanto-backed provision will end this month on Sept. 30 before sending the bill back to the House for final approval.
Wrapped in a "farmer-friendly" package, the "Monsanto Protection Act" touched off a storm last spring as critics accused Monsanto of trying to protect its sales of GE seeds, by overriding any court-mandated intervention of the use of GE crops based on environmental or economic risks. Essentially, the provision strips federal courts of their authority to halt the sale and planting of illegal, potentially hazardous GE crops and compel the USDA to allow continued planting of the crop, thereby putting industry completely in charge through a "back door approval" mechanism. It also represents an unprecedented attack on U.S. judicial review, which is an essential element of U.S. law and a critical check on government decisions that may adversely affect human health, the environment or livelihoods.
Beyond Pesticides joined the Center for Food Safety (CFS) and more than 120 of the nation's top organizations and businesses in sending a letter to Senate Majority Leader Harry Reid and Chairwoman Mikulski on Sept. 12 calling on them to strip the rider from the bill. These groups welcomed the decision as "a major victory for the food movement."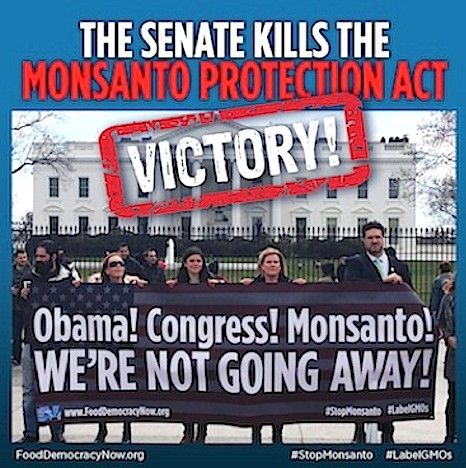 Food Democracy Now
Sen. Mikulski, who inherited legislative agreements made under her predecessor, the late Sen. Inouye (D-HI), promised that she would do everything she could to terminate the provision with the new fiscal year. But the CR posed its own challenges since typically the leadership simply extends current spending and related provisions for the life of the resolution. Under the current House version, the CR will run through Dec. 15, but Sen. Mikulski and Sen. Pryor (D-AR) chairman of the agriculture appropriations subcommittee, chose to act and take it out after the end of the month. This was aided by the fact that early proponents in the House Appropriations Committee appear to have backed off of supporting the measure.
According to Politico, the whole dispute has been overshadowed by the larger fight over Republican efforts to use the same CR to cut off funding needed by President Obama to implement the health care reform law. But for many environmental and food safety groups, the "Monsanto Protection Act" became a major cause last spring, generating a huge amount of Internet traffic and calls on the President to veto the agriculture budget.
Largely as a result of prior lawsuits, the USDA is required to complete environmental impact statements (EIS) to assess risks prior to both the planting and sale of GE crops. The extent and effectiveness to which the USDA carries out this requirement is in itself a source of serious dispute. Past failures to adequately review GE plantings led to legal challenges, with many court decisions calling for a moratorium on plantings until an environmental review is conducted. Monsanto and its allies have argued that what the company sought was no more than what some federal courts have done themselves in the past —allow farmers to continue to use GE seed –under environmental guidelines—while the court review continues.
Just recently, GE alfalfa was confirmed to have contaminated non-GE alfalfa in Washington State. Wheat in Oregon that was also contaminated with unapproved GE wheat, which has spurred several lawsuits claiming this incident has led to economic losses, confirming the ability of this technology to indiscriminately contaminate non-GE crops and other wild plant species, and questions the fitness of the USDA's review. While the USDA claims the contamination is a "commercial issue" and should be addressed by the marketplace and not the government, GE contamination has a dramatic impact on farmers.
Major export countries like Japan, that restrict GE material and insist on GE labeling, have refused to purchase American GE contaminated crops, and the European Union has begun to run additional tests on U.S. shipments. In addition to contamination issues, concerns about harm to human health and the environment have prompted several state legislatures to consider bills that would require labeling of products with GE ingredients so consumers know what they are eating.
Given the recent GE contamination episodes of wheat and alfalfa in Oregon and Washington, it is imperative that existing safeguards not be undermined for the sake of industry interests, and the authority of federal courts should be protected.
Visit EcoWatch's GE FOOD page for more related news on this topic.
———

EcoWatch Daily Newsletter

georgeclerk / E+ / Getty Images
By Jennifer Molidor
One million species are at risk of extinction from human activity, warns a recent study by scientists with the United Nations. We need to cut greenhouse gas pollution across all sectors to avoid catastrophic climate change — and we need to do it fast, said the Intergovernmental Panel on Climate Change.
This research should serve as a rallying cry for polluting industries to make major changes now. Yet the agriculture industry continues to lag behind.
Edwin Remsburg / VW Pics / Getty Images
Botswana, home to one third of Africa's elephants, announced Wednesday that it was lifting its ban on the hunting of the large mammals.
"The Ministry of Environment, Natural Resources Conservation and Tourism wishes to inform the public that following extensive consultations with all stakeholders, the Government of Botswana has taken a decision to lift the hunting suspension," the government announced in a press release shared on social media.
Pxhere
By Richard Denison
Readers of this blog know how concerned EDF is over the Trump EPA's approval of many dozens of new chemicals based on its mere "expectation" that workers across supply chains will always employ personal protective equipment (PPE) just because it is recommended in the manufacturer's non-binding safety data sheet (SDS).
By Grant Smith
From 2009 to 2012, Gregory Jaczko was chairman of the Nuclear Regulatory Commission, which approves nuclear power plant designs and sets safety standards for plants. But he now says that nuclear power is too dangerous and expensive — and not part of the answer to the climate crisis.
A lake in Rocky Mountain National Park. Brett Walton / Circle of Blue
By Brett Walton
When Greg Wetherbee sat in front of the microscope recently, he was looking for fragments of metals or coal, particles that might indicate the source of airborne nitrogen pollution in Rocky Mountain National Park. What caught his eye, though, were the plastics.
Gabriele Holtermann Gorden / Pacific Press / LightRocket / Getty Images
In a big victory for animals, Prada has announced that it's ending its use of fur! It joins Coach, Jean Paul Gaultier, Giorgio Armani, Versace, Ralph Lauren, Vivienne Westwood, Michael Kors, Donna Karan and many others PETA has pushed toward a ban.
This is a victory more than a decade in the making. PETA and our international affiliates have crashed Prada's catwalks with anti-fur signs, held eye-catching demonstrations all around the world, and sent the company loads of information about the fur industry. In 2018, actor and animal rights advocate Pamela Anderson sent a letter on PETA's behalf urging Miuccia Prada to commit to leaving fur out of all future collections, and the iconic designer has finally listened.
Amer Ghazzal / Barcroft Media / Getty Images
If people in three European countries want to fight the climate crisis, they need to chill out more.
That's the conclusion of a new study from think tank Autonomy, which found that Germany, the UK and Sweden all needed to drastically reduce their workweeks to fight climate change.
Amazon Employees for Climate Justice held a press conference after the annual shareholder meeting on May 22. Amazon Employees for Climate Justice