This website uses cookies to ensure you get the best experience while browsing it. By clicking 'Got It' you're accepting these terms.
Monsanto Protection Act Dies in Senate
Sep. 26, 2013 09:58AM EST
Food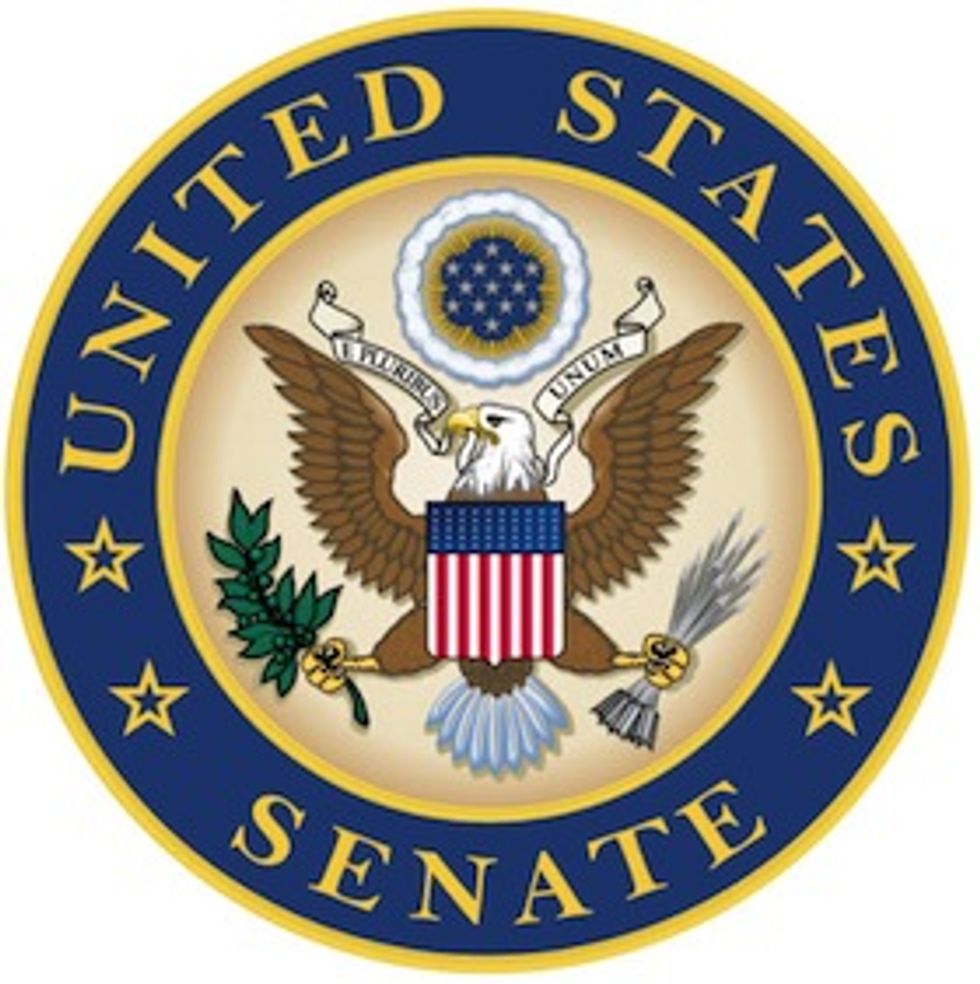 The controversial legislative rider added at the behest of Monsanto to the U.S. Department of Agriculture (USDA) budget bill last spring, dubbed the "Monsanto Protection Act," will no longer be effective after Sept. 30 under a new stopgap government funding bill being drafted by Senate Democrats. Just last week, to the dismay of many concerned groups and individuals, the House approved the extension of the provision, which protects genetically-engineered (GE) seed manufacturers from litigation. The provision was included in last spring's six month long continuing resolution (CR) spending bill
The House approved a three-month extension to the rider in its own short-term Fiscal Year 14 CR spending bill, which was approved last week to fund the federal government past September. But the Senate version, overseen by Senate Appropriations Committee Chairwoman Barbara Mikulski (D-MD), will explicitly say that the Monsanto-backed provision will end this month on Sept. 30 before sending the bill back to the House for final approval.
Wrapped in a "farmer-friendly" package, the "Monsanto Protection Act" touched off a storm last spring as critics accused Monsanto of trying to protect its sales of GE seeds, by overriding any court-mandated intervention of the use of GE crops based on environmental or economic risks. Essentially, the provision strips federal courts of their authority to halt the sale and planting of illegal, potentially hazardous GE crops and compel the USDA to allow continued planting of the crop, thereby putting industry completely in charge through a "back door approval" mechanism. It also represents an unprecedented attack on U.S. judicial review, which is an essential element of U.S. law and a critical check on government decisions that may adversely affect human health, the environment or livelihoods.
Beyond Pesticides joined the Center for Food Safety (CFS) and more than 120 of the nation's top organizations and businesses in sending a letter to Senate Majority Leader Harry Reid and Chairwoman Mikulski on Sept. 12 calling on them to strip the rider from the bill. These groups welcomed the decision as "a major victory for the food movement."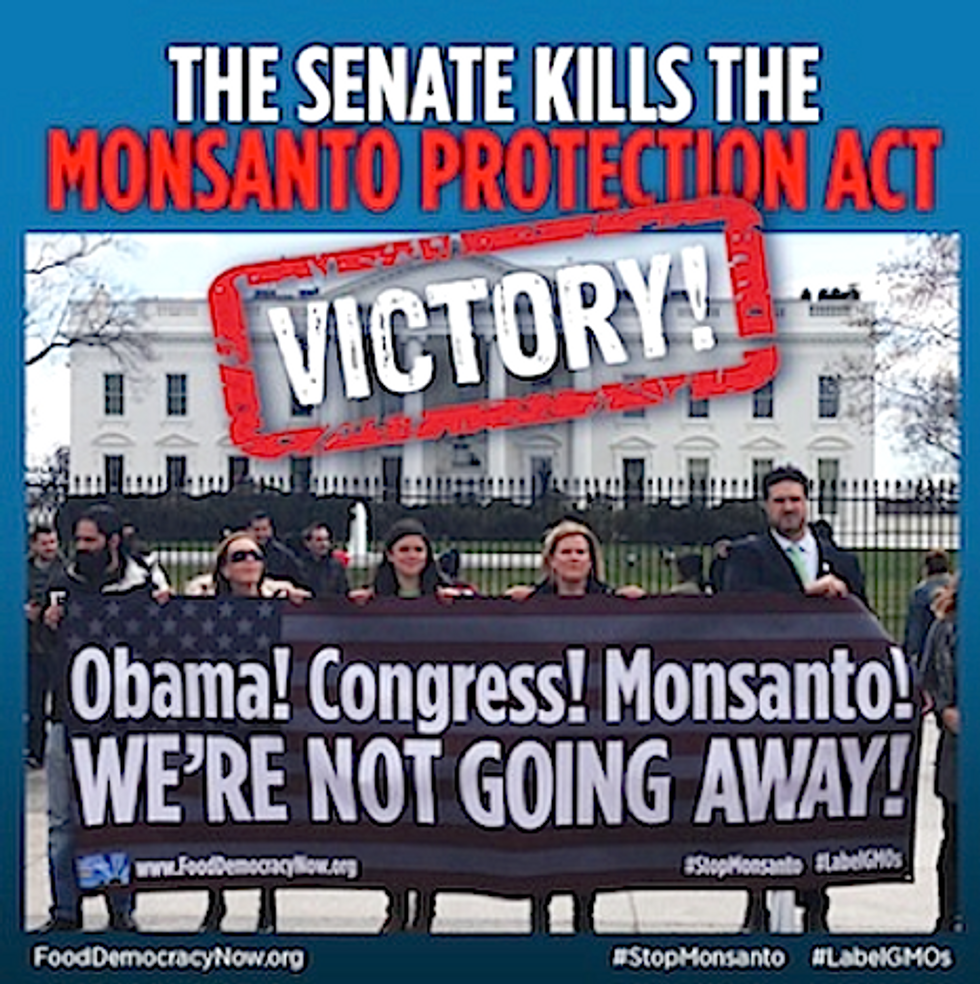 Food Democracy Now
Sen. Mikulski, who inherited legislative agreements made under her predecessor, the late Sen. Inouye (D-HI), promised that she would do everything she could to terminate the provision with the new fiscal year. But the CR posed its own challenges since typically the leadership simply extends current spending and related provisions for the life of the resolution. Under the current House version, the CR will run through Dec. 15, but Sen. Mikulski and Sen. Pryor (D-AR) chairman of the agriculture appropriations subcommittee, chose to act and take it out after the end of the month. This was aided by the fact that early proponents in the House Appropriations Committee appear to have backed off of supporting the measure.
According to Politico, the whole dispute has been overshadowed by the larger fight over Republican efforts to use the same CR to cut off funding needed by President Obama to implement the health care reform law. But for many environmental and food safety groups, the "Monsanto Protection Act" became a major cause last spring, generating a huge amount of Internet traffic and calls on the President to veto the agriculture budget.
Largely as a result of prior lawsuits, the USDA is required to complete environmental impact statements (EIS) to assess risks prior to both the planting and sale of GE crops. The extent and effectiveness to which the USDA carries out this requirement is in itself a source of serious dispute. Past failures to adequately review GE plantings led to legal challenges, with many court decisions calling for a moratorium on plantings until an environmental review is conducted. Monsanto and its allies have argued that what the company sought was no more than what some federal courts have done themselves in the past —allow farmers to continue to use GE seed –under environmental guidelines—while the court review continues.
Just recently, GE alfalfa was confirmed to have contaminated non-GE alfalfa in Washington State. Wheat in Oregon that was also contaminated with unapproved GE wheat, which has spurred several lawsuits claiming this incident has led to economic losses, confirming the ability of this technology to indiscriminately contaminate non-GE crops and other wild plant species, and questions the fitness of the USDA's review. While the USDA claims the contamination is a "commercial issue" and should be addressed by the marketplace and not the government, GE contamination has a dramatic impact on farmers.
Major export countries like Japan, that restrict GE material and insist on GE labeling, have refused to purchase American GE contaminated crops, and the European Union has begun to run additional tests on U.S. shipments. In addition to contamination issues, concerns about harm to human health and the environment have prompted several state legislatures to consider bills that would require labeling of products with GE ingredients so consumers know what they are eating.
Given the recent GE contamination episodes of wheat and alfalfa in Oregon and Washington, it is imperative that existing safeguards not be undermined for the sake of industry interests, and the authority of federal courts should be protected.
Visit EcoWatch's GE FOOD page for more related news on this topic.
———

EcoWatch Daily Newsletter
Mapping Urban Heat through Portland State University /
video
Concrete and asphalt absorb the sun's energy. So when a heat wave strikes, city neighborhoods with few trees and lots of black pavement can get hotter than other areas — a lot hotter.
The Rio San Antonio, in the headwaters basin of the Rio Grande in New Mexico, will lose federal protections under a new rule. Bob Wick / BLM California
By Tara Lohan
The Santa Fe River starts high in the forests of New Mexico's Sangre de Cristo mountains and flows 46 miles to the Rio Grande. Along the way it plays important roles for wildlife, irrigation, recreation and other cultural uses, and provides 40 percent of the water supply for the city of Santa Fe's 85,000 residents.
Climate activists protest Chase Bank's continued funding of the fossil fuel industry on May 16, 2019 by setting up a tripod-blockade in midtown Manhattan, clogging traffic for over an hour. Michael Nigro / Pacific Press / LightRocket / Getty Images
By Julia Conley
Climate campaigners on Friday expressed hope that policymakers who are stalling on taking decisive climate action would reconsider their stance in light of new warnings from an unlikely source: two economists at J.P. Morgan Chase.
Protesters holding signs in solidarity with the Wet'suwet'en Nation outside the Canadian Consulate in NYC. The Indigenous Peoples Day NYC Committee (IPDNYC), a coalition of 13 Indigenous Peoples and indigenous-led organizations gathered outside the Canadian Consulate and Permanent Mission to the UN to support the Wet'suwet'en Nation in their opposition to a Coastal GasLink pipeline scheduled to enter their traditional territory in British Columbia, Canada. Erik McGregor / LightRocket / Getty Images
Tensions are continuing to rise in Canada over a controversial pipeline project as protesters enter their 12th day blockading railways, demonstrating on streets and highways, and paralyzing the nation's rail system