This website uses cookies to ensure you get the best experience while browsing it. By clicking 'Got It' you're accepting these terms.
Monsanto Ordered to Pay $46.5 Million in PCB Lawsuit in Rare Win for Plaintiffs
May. 26, 2016 10:32AM EST
A St. Louis jury has awarded three plaintiffs a total of $46.5 million in damages in a lawsuit alleging that Monsanto and three other companies were negligent in its handling of polychlorinated biphenyls, or PCBs, a highly toxic and carcinogenic group of chemicals.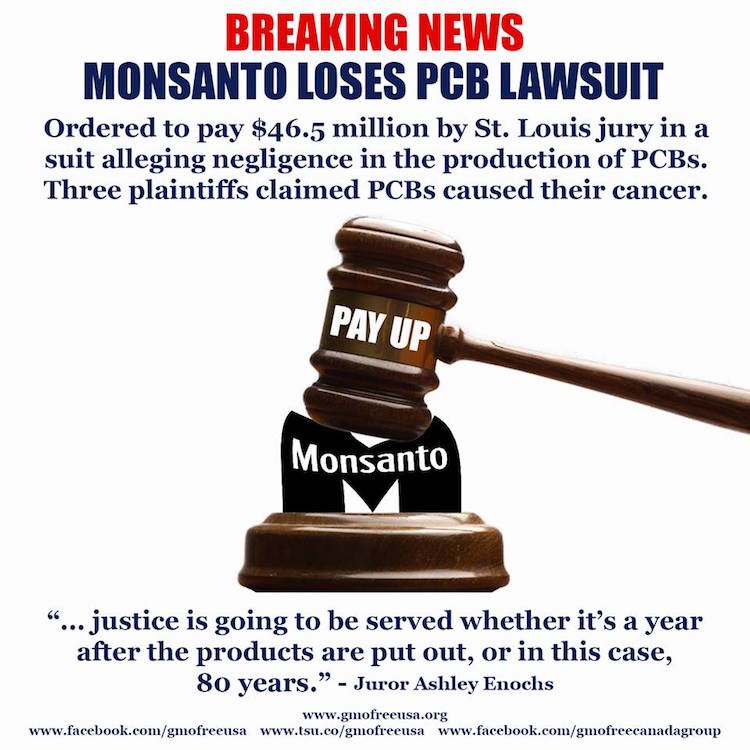 This case, which went on trial April 28, involved only three of nearly 100 plaintiffs claiming that exposure to polychlorinated biphenyls, or PCBs, caused non-Hodgkin lymphoma. Photo credit: GMO Free USA
Yesterday's 10-2 verdict in St. Louis Circuit Court awarded $17.5 million in damages to the three plaintiffs and assessed an additional $29 million in punitive damages against Monsanto, Solutia, Pharmacia and Pfizer, the St. Louis Dispatch reported.
PCBs were used to insulate electronics decades ago. Before switching operations to agriculture, Monsanto was the sole manufacturer of the compound from 1935 until 1977. The U.S. Environmental Protection Agency (EPA) banned PCBs in 1979, due to its link to birth defects and cancer in laboratory animals. PCBs can also have adverse skin and liver effects in humans. PCBs linger in the environment for many decades.
The lawsuit claims that Monsanto continued to sell the compounds even after it learned about its dangers and falsely told the public they were safe. Indeed, internal documents have surfaced showing that Monsanto knew about the health risks of PCBs long before they were banned. A document, dated Sept. 20, 1955, stated: "We know Aroclors [PCBs] are toxic but the actual limit has not been precisely defined."
The verdict is the first such victory in the city of St. Louis and a seemingly rare win overall. Monsanto has historically prevailed in similar lawsuits filed against the company over deaths and illnesses related to PCBs, as MintPress News noted.
"This is the future," plaintiffs' lawyer Steven Kherkher of Houston told EcoWatch.
"The only reason why this victory is rare is because no one has had the money to fight Monsanto," explaining that his law firm, Williams Kherkher, and other law firms pooled their resources to get the case off the ground.
"It's not going to be rare anymore," he said as his law firm has accumulated about 1,000 plaintiffs surrounding PCBs.
As more cases mount against the company, Kherkher said, "every judge allows us to acquire more and more information from Monsanto and discover their documents. There is a lot more information out there that has yet to be mined."
Monsanto has issued a statement following the verdict, saying they are planning to appeal:
We have deep sympathy for the plaintiffs but we are disappointed by the jury's decision and plan to immediately appeal today's ruling. Previous juries in four straight similar trials rejected similar claims by attorneys that those plaintiffs contracted non-Hodgkin lymphoma as a result of eating food containing PCBs. The evidence simply does not support today's verdict, including the fact that scientists say more than 90 percent of non-Hodgkin lymphoma cases have no known cause.
Kherkher represented three families from Oklahoma, Michigan and Alaska in the personal injury lawsuit saying PCBs caused non-Hodgkin lymphoma.
"The man from Oklahoma died at the age of 58 and had no health problems at all," Kherkher said. "He wasn't a smoker or a drinker and he exercised, but his body was filled with Monsanto's PCBs. He grew up in Michigan and Monsanto polluted the waters of Michigan and he suffered and died."
"A lot people just don't know that Monsanto's PCBs are in the orange juice you drank this morning and the pizza you'll eat tonight. The air that you're breathing has PCBs in it," Kherkher said. "Monsanto has discounted it, saying it's only parts per billion or parts per trillion, but it adds up."
He also disputes Monsanto's claim that most non-Hodgkin lymphoma cases have no known cause, citing a 2013 decision from the International Agency for Research on Cancer classifying PCBs as carcinogenic to humans. The agency found limited evidence from some studies suggesting that exposure is linked to increased risks of non-Hodgkin lymphoma and breast cancer.
Juror Nathan Nevius told the St. Louis Dispatch after the ruling, "All of us could pretty much agree that Monsanto was negligent."
Another juror, Ashley Enochs said, "I think it goes to show that large companies can put stuff out there that's harmful and they can do it for along time but that justice is going to be served whether it's a year after the products are put out, or in this case, 80 years."
As far as the environmental footprint of PCBs, ThinkProgress explained that the sheer number of lawsuits that have surfaced across the country in the last three decades against Monsanto over the chemical proves how difficult it is to hold a polluter accountable.
Still, a growing number of West Coast cities have slammed lawsuits against the St. Louis-based corporation for cleanup costs of the compound. On May 19, the city of Long Beach in California became the eighth city to sue the biotech giant, joining Portland, Seattle, Spokane, Berkeley, San Diego, San Jose and Oakland. These cases are pending.
According to Courthouse News Service, Long Beach says in its federal lawsuit that Monsanto knew for decades that PCBs are "widely contaminating all natural resources and living organisms" including marine life, plants, animals, birds and humans."
The complaint further states: "PCBs regularly leach, leak, off-gas, and escape their intended applications, causing runoff during naturally occurring storm and rain events, after being released into the environment. The runoff originates from multiple sources and industries and enters Long Beach Waters with stormwater and other runoff."
Long Beach says it has "incurred substantial costs" cleaning up the chemicals and is seeking compensatory and punitive damages for public nuisance and costs of suit.
In response, Scott Partridge, Monsanto's vice president of global strategy, said that the city's lawsuit was "instigated by trial lawyers who have been aggressively shopping their services to local government officials," Courthouse News Service reported.
"The speculative legal theories being advanced have no basis in the law, and should ultimately be rejected by the courts in California," he continued. "The facts are clear: There's no evidence that Monsanto discharged a single PCB molecule into the waters of Long Beach, as Monsanto never had a PCB manufacturing facility in Long Beach or anywhere else in California. Any PCBs that may exist were introduced by unidentified third parties or by the city itself.
"Monsanto takes seriously its own environmental responsibilities. But in this case, there is no valid claim against Monsanto. If the city wants to deal with these PCBs, it should seek out those who allowed PCBs into the Long Beach water."
Monsanto company could gain further legal protection after Congressional Republicans snuck in the so-called "Monsanto Rider" in the Toxic Substances Control Act reauthorization bill that will give the chemical giant permanent immunity from liability for injuries caused by PCBs, the New York Times reported in February.
YOU MIGHT ALSO LIKE
Ground-Breaking Agreement Marks First Voluntarily Limits to Industrial Fishing in Arctic
Lake Mead Drops to Lowest Level in History
Leonardo DiCaprio, Ralph Lauren Recipients of 'Big Fish' Award at Riverkeeper's Fishermen's Ball
Will Congress End the Era of Unlimited, Untested Chemicals and Reform TSCA?
EcoWatch Daily Newsletter
Mizina / iStock / Getty Images
Oats are widely regarded as one of the healthiest grains you can eat, as they're packed with many important vitamins, minerals, and fiber.
JPMorgan Chase building in New York City. Ben Sutherland / CC BY 2.0
By Sharon Kelly
A report published Wednesday names the banks that have played the biggest recent role in funding fossil fuel projects, finding that since 2016, immediately following the Paris agreement's adoption, 33 global banks have poured $1.9 trillion into financing climate-changing projects worldwide.
Sriram Madhusoodanan of Corporate Accountability speaking on conflict of interest demand of the People's Demands at a defining action launching the Demands at COP24. Corporate Accountability
By Patti Lynn
2018 was a groundbreaking year in the public conversation about climate change. Last February, The New York Times reported that a record percentage of Americans now believe that climate change is caused by humans, and there was a 20 percentage point rise in "the number of Americans who say they worry 'a great deal' about climate change."
The head of England's Environment Agency has urged people to stop watering their lawns as a climate-induced water shortage looms. Pexels
England faces an "existential threat" if it does not change how it manages its water, the head of the country's Environment Agency warned Tuesday.
Pexels
By Jessica Corbett
A new analysis revealed Tuesday that over the past two decades heat records across the U.S. have been broken twice as often as cold ones—underscoring experts' warnings about the increasingly dangerous consequences of failing to dramatically curb planet-warming emissions.
A flock of parrots in Telegraph Hill, San Francisco.
~dgies / Flickr
By Madison Dapcevich
Ask any resident of San Francisco about the waterfront parrots, and they will surely tell you a story of red-faced conures squawking or dive-bombing between building peaks. Ask a team of researchers from the University of Georgia, however, and they will tell you of a mysterious string of neurological poisonings impacting the naturalized flock for decades.
Fire burns in the North Santiam State Recreational Area on March 19. Oregon Department of Forestry
An early-season wildfire near Lyons, Oregon burned 60 acres and forced dozens of homes to evacuate Tuesday evening, the Oregon Department of Forestry (ODF) said, as KTVZ reported.
The initial cause of the fire was not yet known, but it has been driven by the strong wind and jumped the North Santiam River, The Salem Statesman Journal reported. As of Tuesday night, it threatened around 35 homes and 30 buildings, and was 20 percent contained.
Edwin Hardeman is the plaintiff in the first U.S. federal trial claiming that Roundup causes cancer. NOAH BERGER / AFP / Getty Images
A second U.S. jury has ruled that Roundup causes cancer.
The unanimous verdict was announced Tuesday in San Francisco in the first federal case to be brought against Monsanto, now owned by Bayer, alleging that repeated use of the company's glyphosate-containing weedkiller caused the plaintiff's cancer. Seventy-year-old Edwin Hardeman of Santa Rosa, California said he used Roundup for almost 30 years on his properties before developing non-Hodgkin's lymphoma.
The decision comes less than a year after a jury awarded $289 million to Bay-area groundskeeper Dewayne Johnson over similar claims. The amount was later reduced to $78 million.
"Today's verdict reinforces what another jury found last year, and what scientists with the state of California and the World Health Organization have concluded: Glyphosate causes cancer in people," Environmental Working Group President Ken Cook said in a statement. "As similar lawsuits mount, the evidence will grow that Roundup is not safe, and that the company has tried to cover it up."
Judge Vince Chhabria has split Hardeman's trial into two phases. The first, decided Tuesday, focused exclusively on whether or not Roundup use caused the plaintiff's cancer. The second, to begin Wednesday, will assess if Bayer is liable for damages.

"We are disappointed with the jury's initial decision, but we continue to believe firmly that the science confirms glyphosate-based herbicides do not cause cancer," Bayer spokesman Dan Childs said in a statement reported by The Guardian. "We are confident the evidence in phase two will show that Monsanto's conduct has been appropriate and the company should not be liable for Mr. Hardeman's cancer."
Some legal experts said that Chhabria's decision to split the trial was beneficial to Bayer, Reuters reported. The company had complained that the jury in Johnson's case had been distracted by the lawyers' claims that Monsanto had sought to mislead scientists and the public about Roundup's safety.

However, a remark made by Chhabria during the trial and reported by The Guardian was blatantly critical of the company.
"Although the evidence that Roundup causes cancer is quite equivocal, there is strong evidence from which a jury could conclude that Monsanto does not particularly care whether its product is in fact giving people cancer, focusing instead on manipulating public opinion and undermining anyone who raises genuine and legitimate concerns about the issue," he said.
Many regulatory bodies, including the U.S. Environmental Protection Agency, have ruled that glyphosate is safe for humans, but the World Health Organization's International Agency for Research on Cancer found it was "probably carcinogenic to humans" in 2015. A university study earlier this year found that glyphosate use increased cancer risk by as much as 41 percent.
Hardeman's lawyers Jennifer Moore and Aimee Wagstaff said they would now reveal Monsanto's efforts to mislead the public about the safety of its product.
"Now we can focus on the evidence that Monsanto has not taken a responsible, objective approach to the safety of Roundup," they wrote in a statement reported by The Guardian.
Hardeman's case is considered a "bellwether" trial for the more than 760 glyphosate cases Chhabria is hearing. In total, there are around 11,200 such lawsuits pending in the U.S., according to Reuters.
University of Richmond law professor Carl Tobias told Reuters that Tuesday's decision showed that the verdict in Johnson's case was not "an aberration," and could possibly predict how future juries in the thousands of pending cases would respond.