This website uses cookies to ensure you get the best experience while browsing it. By clicking 'Got It' you're accepting these terms.
Monsanto Handed 'Double Whammy' by Mexican Courts Over Planting GMOs
Nov. 09, 2015 11:03AM EST
Opponents of genetically modified organisms (GMOs) have claimed victory after Mexico's Supreme Court blocked last week a move that would allow the cultivation of GMO soy in the Mexican states of Campeche and Yucatan. In a separate appeals court decision, a federal judge upheld a 2013 ruling that barred companies such as Monsanto and DuPont/Pioneer from planting or selling their GMO corn within the country's borders.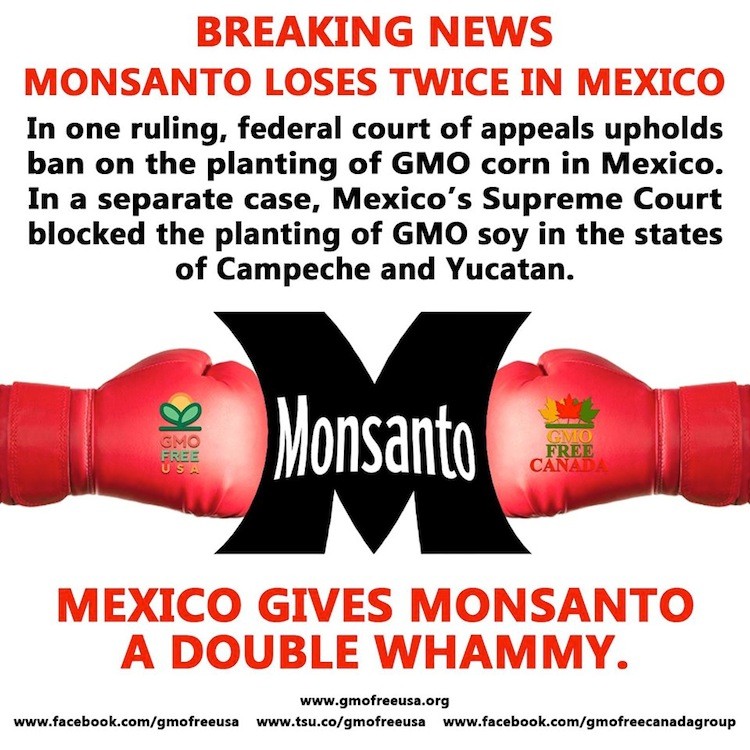 The court decisions were heralded as a "double whammy" against agribusiness giant Monsanto, according to a celebratory Facebook post from sustainable food advocacy organization GMO Free USA.
According to a report from Mexico News Daily, the ruling on Wednesday favored an injunction filed by Maya beekeepers on the Yucatán peninsula, where honey production and collection is its main industry.
"The decision suspends a permit granted to the agrichemical firm Monsanto to farm genetically modified soybeans on over 250,000 hectares in the region and instructs a federal agency it must first consult with indigenous communities before granting any future permits for transgenic soy farming," the report said.
Environmental organizations such as Greenpeace, Indignación and Litiga OLE reportedly said that farming GMO soybeans in the region would put honey production and approximately 15,000 Maya farm families at risk due to the use of the herbicide glyphosate (which has been linked to cancer). It was also claimed that soy production would lead to deforestation in Campeche.
Monsanto has since given a response to the decision, denying that its GMO soy has impacted bees, causes deforestation or damages the honey industry in the two states, Reuters reported.
"We do not accept accusations that put us as responsible for deforestation and illegal logging in the municipality of Hopelchén, Campeche, or any place of the Republic, because our work is rigidly attached to the guidelines provided by law," the company said in a statement.
As for GMO corn, Sustainable Pulse reported that federal judge Benjamin Soto Sánchez, head of the second Unitarian Court in Civil and Administrative Matters of the First Circuit, "upheld a provisional suspension prohibiting pertinent federal agencies from processing and granting the privilege of sowing or releasing into the environment of transgenic maize in the country."
This decision came despite 100 challenges by transnational agribusiness interests and the federal government, according to Sustainable Pulse.
According to Al Jazeera, "Fewer than 30 percent of Mexican farmers even use conventional hybrid maize—high-yielding, single-use seeds, which need to be purchased every year," and prefer "to stick with seeds they can save year to year, often varieties of the native 'landraces' of maize the injunction is intended to protect." Still, Monsanto "has the Mexican market for yellow maize seeds; 90 percent of U.S. maize is in GM seeds, and that is the source for Mexico's imports of yellow maize."
Mexico's initial ban of GMO corn in September 2013 was overturned in August 2015, which opened the door for more business opportunities for Monsanto pending favorable later court decisions, as Telesurtv noted. The multinational company announced that it was seeking to double its sales in the country over the next five years.
However, this latest ruling from the appellate court could drive Monsanto's ambitions to the ground.
A staunch anti-GMO movement has swelled in the country in order to preserve the country's unique biodiversity of its staple crop. Lawyer Bernardo Bátiz, advisor to the lead plaintiffs' organization, Demanda Colectiva, spoke about the significance of the two separate cases.
He said that Mexico is "a country of great biological, cultural, agricultural diversity and [therefore the courts should consider the impact of] planting GMO corn, soybeans or other crops."
He added, "in a country like ours, among other negative effects that would result, is that Mexican honey would be difficult to keep organic."
YOU MIGHT ALSO LIKE
Is GMO Pork the Future of Our Food?
Exclusive: Food Fight Continues Over GMO Labeling
Donald Trump Blames Intern for Tweet Insulting Monsanto, Ben Carson and Iowa Republicans
Lawsuits Mount Against Monsanto's 'Cancer-Causing' Weedkiller
Climate activist Greta Thunberg addresses the European Commission on Feb. 21 in Brussels, Belgium. Sylvain Lefevre / Getty Images
By Julia Conley
Sixteen-year-old climate action leader Greta Thunberg stood alongside European Commission President Jean-Claude Juncker Thursday in Brussels as he indicated—after weeks of climate strikes around the world inspired by the Swedish teenager—that the European Union has heard the demands of young people and pledged more than $1 trillion over the next seven years to address the crisis of a rapidly heating planet.

In the financial period beginning in 2021, Juncker said, the EU will devote a quarter of its budget to solving the crisis.
A new study reveals the health risks posed by the making, use and disposal of plastics. Jeffrey Phelps / Getty Images
With eight million metric tons of plastic entering the world's oceans every year, there is growing concern about the proliferation of plastics in the environment. Despite this, surprisingly little is known about the full impact of plastic pollution on human health.
But a first-of-its-kind study released Tuesday sets out to change that. The study, Plastic & Health: The Hidden Costs of a Plastic Planet, is especially groundbreaking because it looks at the health impacts of every stage in the life cycle of plastics, from the extraction of the fossil fuels that make them to their permanence in the environment. While previous studies have focused on particular products, manufacturing processes or moments in the creation and use of plastics, this study shows that plastics pose serious health risks at every stage in their production, use and disposal.
IKEA is working on a specially-designed, air-purifying curtain called the GUNRID. IKEA
Air pollution within the home causes 3.8 million deaths a year, according to the World Health Organization. A recent University of Colorado in Boulder study reported by The Guardian found that cooking a full Thanksgiving meal could raise levels of particulate matter 2.5 in the house higher than the levels averaged in New Delhi, the world's sixth most polluted city.
But soon, you will be able to shop for a solution in the same place you buy your budget roasting pans. IKEA is working on a specially-designed, air-purifying curtain called the GUNRID.
The first member of the giant tortoise species Chelonoidis phantasticus to be seen in more than 100 years. RODRIGO BUENDIA / AFP / Getty Images
A rare species of giant tortoise, feared extinct for more than 100 years, was sighted on the Galápagos island of Fernandina Sunday, the Ecuadorian government announced.