This website uses cookies to ensure you get the best experience while browsing it. By clicking 'Got It' you're accepting these terms.


The best of EcoWatch, right in your inbox. Sign up for our email newsletter!
Monsanto GE Sweet Corn to Hit Walmart Shelves
Aug. 07, 2012 07:30AM EST
GMO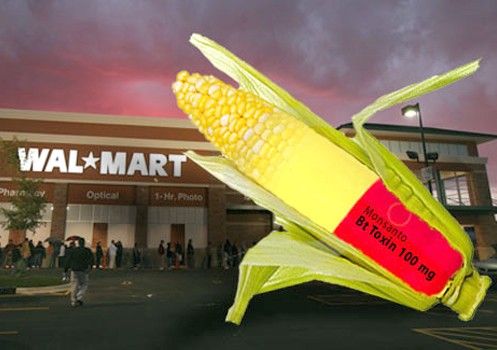 Like it or not, Monsanto's genetically modified sweet corn will soon be arriving on grocery store shelves of the world's largest retailer, Walmart Stores, Inc., and will not be labeled as such. Despite an onslaught of consumer pressure, the company confirmed late last week with the Chicago Tribune that it has no objection to selling the new crop of Monsanto's genetically modified (GE) sweet corn.
Other retailers, including the grocery chains Safeway and Kroger, have not responded on the issue, however Whole Foods, Trader Joes and General Mills have all vowed to not carry or use the GE sweet corn. As the country's largest grocery retailer, Walmart sells $129 billion worth of food a year, giving it unmatched power in shaping the food supply chain.
The GE sweet corn is the first consumer product developed by Monsanto that will go straight from the farm to the consumer's plate, rather than first being processed into animal feed, sugars, oils, fibers and other ingredients found in a wide variety of conventional food. It is engineered to be resistant to Monsanto's Roundup herbicide, the active ingredient of which is glyphosate. The product is also designed to produce a Bt toxin that will kill insects that feed on the plant. Monsanto's new sweet corn is being harvested in the Midwest, Northwest, Southeast and Texas.
"After closely looking at both sides of the debate and collaborating with a number of respected food safety experts, we see no scientifically validated safety reasons to implement restrictions on this product," Walmart officials told the Tribune.
However, there has been growing concern over the increasing prevalence of insect resistance to Bt crops. Earlier this year, a group of prominent entomologists sent a letter to the U.S. Environmental Protection Agency (EPA) urging caution in the agency's approach to Bt crops. Additionally, in April researchers at Portland State University found that GE corn modified to express Bt negatively impacts beneficial soil life. Their results reveal a decreased presence of beneficial mycorrhizal fungi, which are important for nutrient and water uptake, in the roots of Bt corn when compared to non-Bt corn. Experts have recently warned EPA that "rufuges" of non-GE crops should be increased due to the growing threat of insect resistance to Bt corn.
Furthermore, GE crops present a unique risk to organic growers. Wind-pollinated and bee-pollinated crops, such as corn and alfalfa, have higher risks of cross pollination between GE crops and unmodified varieties. Pollen from GE crops can potentially drift and wreak havoc on both the surrounding ecosystem and for organic and non-GE farms. If organic farmers' crops become polluted with GE pollen, they may be subject to loss of their organic certification and financial losses. Unfortunately, the burden to protect against genetic drift falls on organic farmers and conventional farmers who do not use GE products.
Labeling GE products is a crucial way to identify products containing GE ingredients in an effort to sway consumer demand. The European Union, Japan, Australia, Brazil, Russia and China, require labeling for GE foods. Earlier this year, the German corporation BASF announced that it would stop developing genetically engineered products targeting the European market, in part due to low consumer demand. Given that 93 percent of Americans support mandatory labeling of genetically engineered (GE) foods, Beyond Pesticides believes that we can have the same impact here as in Europe. Enough signatures have been collected to put on the California ballot Prop 37—Genetically Engineered Foods. Mandatory Labeling. Initiative Statute—to require labeling of food produced with GE ingredients, and the industry is now fighting back with a well-funded campaign campaign. More information on the campaign for PROP 37 can be found at the California Right-to-Know website.
However, the only sure-fire way you can avoid the genetically modified food is to buy and support organic. Genetically modified crops are not permitted in organic food production. Researchers are continuing to discover the environmental and health benefits of eating and growing organic food.
For more information about why organic is the right choice, see our Organic Food: Eating with a Conscience guide and the Organic Program page.
Visit EcoWatch's GENETICALLY MODIFIED ORGANISM page for more related news on this topic.
EcoWatch Daily Newsletter
The 18th century St. Catherine of Alexandria church is seen after its bell tower was destroyed following a 6.3 magnitude earthquake that struck the town of Porac, pampanga province on April 23. TED ALJIBE / AFP / Getty Images
At least 16 people have died, 81 are injured and 14 are still missing after an earthquake struck Luzon island in the Philippines Monday, according to the latest figures from the National Disaster Risk Reduction and Management Council, as the Philippine Star tweeted Tuesday.
Climate change activists gather in front of the stage at the Extinction Rebellion group's environmental protest camp at Marble Arch in London on April 22, on the eighth day of the group's protest calling for political change to combat climate change. TOLGA AKMEN / AFP / Getty Images
Pexels
By Alina Petre, MS, RD (CA)
Veganism refers to a way of living that attempts to minimize animal exploitation and cruelty. For this reason, vegans aim to exclude all foods containing meat, poultry, fish, eggs, dairy and honey from their diet (1).
American farmers use chlorpyrifos, a pesticide tied to brain and nervous system issues, on crops such as apples, broccoli, corn and strawberries. Stephanie Chapman / Flickr / CC BY 2.0
By Jessica Corbett
In a ruling welcomed by public health advocates, a federal court on Friday ordered the Trump administration to stop stalling a potential ban on a pesticide linked to brain damage in children, giving regulators until mid-July to make a final decision.
fstop123 / iStock / Getty Images Plus
At EcoWatch, our team knows that changing personal habits and taking actions that contribute to a better planet is an ongoing journey. Earth Day, happening on April 22, is a great reminder for all of us to learn more about the environmental costs of our behaviors like food waste or fast fashion.
To offer readers some inspiration this Earth Day, our team rounded up their top picks for films to watch. So, sit back and take in one of these documentary films this Earth Day. Maybe it will spark a small change you can make in your own life.
NASA
By Shuchi Talati
Solar geoengineering describes a set of approaches that would reflect sunlight to cool the planet. The most prevalent of these approaches entails mimicking volcanic eruptions by releasing aerosols (tiny particles) into the upper atmosphere to reduce global temperatures — a method that comes with immense uncertainty and risk. We don't yet know how it will affect regional weather patterns, and in turn its geopolitical consequences. One way we can attempt to understand potential outcomes is through models.
Maria Gunnoe Flight, courtesy of southwings.org
By Julia Conley
Green groups on Saturday celebrated the latest federal ruling aimed at preventing President Donald Trump from rolling back environmental regulations that were put in place by his predecessor.
NASA scientists flew over the Kuskokwim river in southwest Alaska in 2017 to investigate how water levels in the Arctic landscape change as permafrost thaws. Peter Griffith, NASA