This website uses cookies to ensure you get the best experience while browsing it. By clicking 'Got It' you're accepting these terms.
Monsanto GE Sweet Corn to Hit Walmart Shelves
Aug. 07, 2012 07:30AM EST
GMO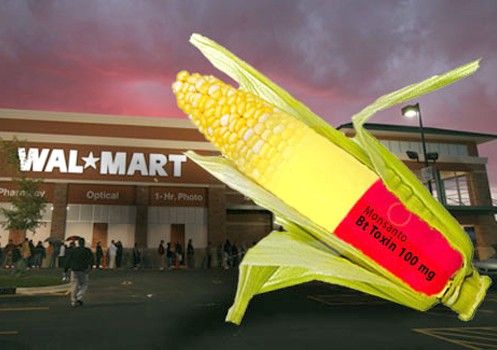 Like it or not, Monsanto's genetically modified sweet corn will soon be arriving on grocery store shelves of the world's largest retailer, Walmart Stores, Inc., and will not be labeled as such. Despite an onslaught of consumer pressure, the company confirmed late last week with the Chicago Tribune that it has no objection to selling the new crop of Monsanto's genetically modified (GE) sweet corn.
Other retailers, including the grocery chains Safeway and Kroger, have not responded on the issue, however Whole Foods, Trader Joes and General Mills have all vowed to not carry or use the GE sweet corn. As the country's largest grocery retailer, Walmart sells $129 billion worth of food a year, giving it unmatched power in shaping the food supply chain.
The GE sweet corn is the first consumer product developed by Monsanto that will go straight from the farm to the consumer's plate, rather than first being processed into animal feed, sugars, oils, fibers and other ingredients found in a wide variety of conventional food. It is engineered to be resistant to Monsanto's Roundup herbicide, the active ingredient of which is glyphosate. The product is also designed to produce a Bt toxin that will kill insects that feed on the plant. Monsanto's new sweet corn is being harvested in the Midwest, Northwest, Southeast and Texas.
"After closely looking at both sides of the debate and collaborating with a number of respected food safety experts, we see no scientifically validated safety reasons to implement restrictions on this product," Walmart officials told the Tribune.
However, there has been growing concern over the increasing prevalence of insect resistance to Bt crops. Earlier this year, a group of prominent entomologists sent a letter to the U.S. Environmental Protection Agency (EPA) urging caution in the agency's approach to Bt crops. Additionally, in April researchers at Portland State University found that GE corn modified to express Bt negatively impacts beneficial soil life. Their results reveal a decreased presence of beneficial mycorrhizal fungi, which are important for nutrient and water uptake, in the roots of Bt corn when compared to non-Bt corn. Experts have recently warned EPA that "rufuges" of non-GE crops should be increased due to the growing threat of insect resistance to Bt corn.
Furthermore, GE crops present a unique risk to organic growers. Wind-pollinated and bee-pollinated crops, such as corn and alfalfa, have higher risks of cross pollination between GE crops and unmodified varieties. Pollen from GE crops can potentially drift and wreak havoc on both the surrounding ecosystem and for organic and non-GE farms. If organic farmers' crops become polluted with GE pollen, they may be subject to loss of their organic certification and financial losses. Unfortunately, the burden to protect against genetic drift falls on organic farmers and conventional farmers who do not use GE products.
Labeling GE products is a crucial way to identify products containing GE ingredients in an effort to sway consumer demand. The European Union, Japan, Australia, Brazil, Russia and China, require labeling for GE foods. Earlier this year, the German corporation BASF announced that it would stop developing genetically engineered products targeting the European market, in part due to low consumer demand. Given that 93 percent of Americans support mandatory labeling of genetically engineered (GE) foods, Beyond Pesticides believes that we can have the same impact here as in Europe. Enough signatures have been collected to put on the California ballot Prop 37—Genetically Engineered Foods. Mandatory Labeling. Initiative Statute—to require labeling of food produced with GE ingredients, and the industry is now fighting back with a well-funded campaign campaign. More information on the campaign for PROP 37 can be found at the California Right-to-Know website.
However, the only sure-fire way you can avoid the genetically modified food is to buy and support organic. Genetically modified crops are not permitted in organic food production. Researchers are continuing to discover the environmental and health benefits of eating and growing organic food.
For more information about why organic is the right choice, see our Organic Food: Eating with a Conscience guide and the Organic Program page.
Visit EcoWatch's GENETICALLY MODIFIED ORGANISM page for more related news on this topic.
EcoWatch Daily Newsletter
David Gilmour performs at Anfiteatro Scavi di Pomei on July 7, 2016 in Pompei, Italy. Francesco Prandoni / Redferns / Getty Images
David Gilmour, guitarist, singer and songwriter in the rock band Pink Floyd, set a record last week when he auctioned off 126 guitars and raised $21.5 million for ClientEarth, a non-profit environmental law group dedicated to fighting the global climate crisis, according to CNN.
U.S. Secretary of Agriculture Sonny Perdue speaks during a forum April 18, 2018 in Washington, DC. Alex Wong / Getty Images
The Trump administration ratcheted up its open hostility to climate science in a move that may hide essential information from the nation's farmers.
Simple swaps that cut down on kitchen trash.
Sponsored
By Kayla Robbins
Along with the bathroom, the kitchen is one of the most daunting areas to try and make zero waste.
Protestors and police stand on ether side of railway tracks. dpa / picture-alliance
Police have cleared 250 climate activists who stayed overnight at the Garzweiler brown coal mine in western Germany, officials said Sunday.
Cecilie_Arcurs / E+ / Getty Images
By Megan Jones and Jennifer Solomon
The #MeToo movement has caused profound shake-ups at organizations across the U.S. in the last two years. So far, however, it has left many unresolved questions about how workplaces can be more inclusive and equitable for women and other diverse groups.

Cigarette butts are the most-littered item found at beach clean ups. John R. Platt
By Tara Lohan
By now it's no secret that plastic waste in our oceans is a global epidemic. When some of it washes ashore — plastic bottles, plastic bags, food wrappers — we get a stark reminder. And lately one part of this problem has been most glaring to volunteers who comb beaches picking up trash: cigarette butts.

Andrea Rodgers, second from the right, takes notes during a hearing in the Juliana v. U.S. case before the 9th Circuit Court of Appeals in Portland, Oregon on June 4. Colleague Elizabeth Brown sits to her left, while colleague Julia Olson sits on her right, with co-council Philip Gregory on Julia's right. Robin Loznak / Our Children's Trust
By Fran Korten
On June 4, Andrea Rodgers was in the front row of attorneys sitting before a three-judge panel of the 9th Circuit Court. The court session, held in Portland, Oregon, was to determine whether the climate change lawsuit (Juliana v. United States) brought by 21 young plaintiffs should be dismissed, as requested by the U.S. government, or go on to trial.
Seventy Extinction Rebellion protesters were arrested outside The New York Times building Saturday.
SCOOTERCASTER / YouTube screenshot