Monsanto Files Lawsuit to Stop California From Listing Glyphosate as Known Carcinogen
Monsanto has filed a lawsuit to prevent California from listing glyphosate—the main ingredient in its widely used weedkiller, Roundup—as a known carcinogen.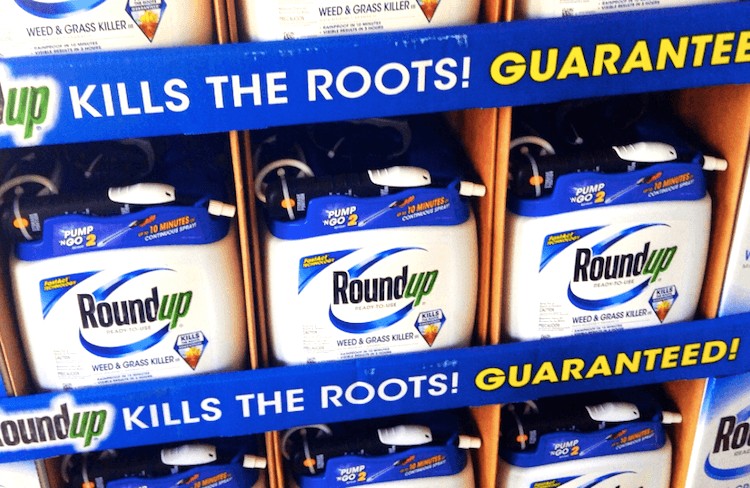 Flickr
Last September, California's Office of Environmental Health Hazard Assessment (OEHHA) issued plans to add glyphosate to the state's list of chemicals known to cause cancer, making it the first state in the country to do so. The state agency's decision came after the International Agency for Research on Cancer's (IARC), the World Health Organization's cancer research arm, infamously declared that glyphosate was a "possible carcinogen" in March 2015.
Monsanto has long maintained the safety of their flagship product and has vehemently denied glyphosate's link to cancer. The agribusiness giant has also demanded a retraction of the IARC's report.
Monsanto is now suing OEHHA and the agency's acting director, Lauren Zeise, in California state court, citing a 2007 study by OEHHA that concluded the chemical was unlikely to cause cancer, Reuters reported.
"The IARC classification of glyphosate is inconsistent with the findings of regulatory bodies in the United States and around the world, and it is not a sound basis for any regulatory action," Phil Miller, Monsanto's vice president of regulatory affairs, told Reuters.
OEHHA's effort to list glyphosate as a known carcinogen falls under California's Proposition 65, in which the state is required to publish a list of chemicals known to cause cancer or birth defects or other reproductive harm. The same law, otherwise known as the Safe Drinking Water and Toxic Enforcement Act of 1986, also requires that certain substances identified by the IARC be listed as known to cause cancer.
The case, known as Monsanto Company v. Office of Environmental Health Hazard Assessment, et al, case number 16-CECG-00183, was filed in the Superior Court of the State of California, County of Fresno.
According to the lawsuit, the St. Louis-based company is accusing OEHHA of delegating law-making authority to "an unelected, undemocratic, unaccountable, and foreign body without providing intelligible principles or procedural safeguards to define the boundaries of that authority or prevent its arbitrary exercise."
Monsanto claims that OEHHA has violated the company's right to procedural due process under the California and United States Constitutions.
The lawsuit claims that listing glyphosate under Proposition 65 would violate Monsanto's right to free speech and compel it to affix "false and/or misleading" statements to its products: "If glyphosate is added to the Proposition 65 list, Monsanto will be required to provide a 'clear and reasonable warning' on its glyphosate-based products that states that the products contain a chemical 'known to the state to cause cancer.'" Monsanto argues that this label would damage its reputation and violate its First Amendment rights.
Citing conclusions from U.S. Environmental Protection Agency and the European Food Safety Authority, Monsanto maintains that glyphosate does not cause cancer.
Listing glyphosate as a carcinogen would cause irreparable injury to Monsanto and the public, and would require Monsanto to spend significant sums of money to re-label and re-shelf its products, the lawsuit said.
OEHHA has yet to issue a response to the lawsuit. Scientists and advocacy groups, however, have spoken out against the litigation.
"Monsanto's decision to sue California and attack the most well-respected cancer research agency in the world, the IARC, is absurd," Dr. Nathan Donley, scientist at the Center for Biological Diversity, told EcoWatch via email. "Why would California use anything other than the gold standard to inform its public health decisions?"
Roundup, which generated Monsanto $4.8 billion in 2015 revenue, is the world's most popular herbicide. The chemical is applied onto "Roundup Ready" crops that are genetically modified to resist applications of the spray.
Monsanto, however, is facing a slew of criticism from environmentalists as well as mounting class-action lawsuits over the controversial chemical.
In September, two separate U.S. agricultural workers slapped Monsanto with lawsuits, alleging that the company caused their cancers. They also argued that the company "falsified data" and "led a prolonged campaign of misinformation" to convince the public, farm workers and government agencies about the safety of the Roundup.
A coalition of conservation groups and others announced Thursday that a historic number of comments and petitions of support have been submitted to the U.S. Department of the Interior in support of Bears Ears National Monument. Despite the entirely inadequate 15-day comment period ending on May 26, more than 685,000 comments in support of Bears Ears National Monument have been collected.
Keep reading...
Show less
Rink Glacier in western Greenland, with a meltwater lake visible center. NASA/OIB
Scientists have had their eyes on Greenland as its iconic glaciers have begun disappearing due to a warming climate. But, what they didn't expect to see was a whole new type of melting.
Keep reading...
Show less
Mountain View Fire
By Lena Moffitt
An oil tanker in Mead, Colorado exploded, killing one and injuring three on Thursday. Authorities are continuing to investigate the cause of the explosion.
Keep reading...
Show less
Banner created by Alliance for Climate Education
Keep reading...
Show less
Twenty-two GOP senators sent a letter Thursday urging Donald Trump to pull out of the Paris agreement. They argued remaining in the deal could "upend" the administration's ability "to fulfill its goal of rescinding the Clean Power Plan."
Keep reading...
Show less
By Cheryl Johncox
The Federal Energy Regulatory Commission (FERC) rejected on Thursday Energy Transfer Partners' request to resume horizontal directional drilling at two sites for its Rover fracked gas pipeline. This rejection comes after numerous leaks into Ohio's wetlands, and Clean Air and Clean Water act violations. FERC has halted the process at only eight locations of the 32 where drilling is taking place under Ohio's wetlands and streams.
Keep reading...
Show less
By Nadia Prupis
A majority of people in eight countries say they are ready to change their lifestyles if it would prevent climate catastrophe, a survey on global threats released Wednesday found.
Keep reading...
Show less
May. 25, 2017 01:55PM EST
Bill Maher is sick of billionaires' obsession with Mars, more like "Mars-a-Lago," he said.
In a new animation produced by ATTN:, the popular talk show host of Real Time, discusses the perils of our planet, including how "climate change is killing us."
Keep reading...
Show less