This website uses cookies to ensure you get the best experience while browsing it. By clicking 'Got It' you're accepting these terms.


The best of EcoWatch, right in your inbox. Sign up for our email newsletter!
Monsanto Files Lawsuit to Stop California From Listing Glyphosate as Known Carcinogen
Jan. 22, 2016 12:10PM EST
GMO
Monsanto has filed a lawsuit to prevent California from listing glyphosate—the main ingredient in its widely used weedkiller, Roundup—as a known carcinogen.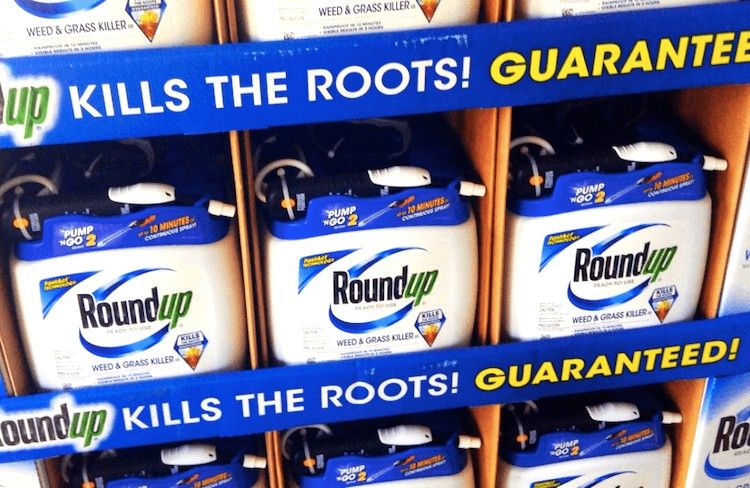 Flickr
Last September, California's Office of Environmental Health Hazard Assessment (OEHHA) issued plans to add glyphosate to the state's list of chemicals known to cause cancer, making it the first state in the country to do so. The state agency's decision came after the International Agency for Research on Cancer's (IARC), the World Health Organization's cancer research arm, infamously declared that glyphosate was a "possible carcinogen" in March 2015.
Monsanto has long maintained the safety of their flagship product and has vehemently denied glyphosate's link to cancer. The agribusiness giant has also demanded a retraction of the IARC's report.
Monsanto is now suing OEHHA and the agency's acting director, Lauren Zeise, in California state court, citing a 2007 study by OEHHA that concluded the chemical was unlikely to cause cancer, Reuters reported.
"The IARC classification of glyphosate is inconsistent with the findings of regulatory bodies in the United States and around the world, and it is not a sound basis for any regulatory action," Phil Miller, Monsanto's vice president of regulatory affairs, told Reuters.
OEHHA's effort to list glyphosate as a known carcinogen falls under California's Proposition 65, in which the state is required to publish a list of chemicals known to cause cancer or birth defects or other reproductive harm. The same law, otherwise known as the Safe Drinking Water and Toxic Enforcement Act of 1986, also requires that certain substances identified by the IARC be listed as known to cause cancer.
The case, known as Monsanto Company v. Office of Environmental Health Hazard Assessment, et al, case number 16-CECG-00183, was filed in the Superior Court of the State of California, County of Fresno.
According to the lawsuit, the St. Louis-based company is accusing OEHHA of delegating law-making authority to "an unelected, undemocratic, unaccountable, and foreign body without providing intelligible principles or procedural safeguards to define the boundaries of that authority or prevent its arbitrary exercise."
Monsanto claims that OEHHA has violated the company's right to procedural due process under the California and United States Constitutions.
The lawsuit claims that listing glyphosate under Proposition 65 would violate Monsanto's right to free speech and compel it to affix "false and/or misleading" statements to its products: "If glyphosate is added to the Proposition 65 list, Monsanto will be required to provide a 'clear and reasonable warning' on its glyphosate-based products that states that the products contain a chemical 'known to the state to cause cancer.'" Monsanto argues that this label would damage its reputation and violate its First Amendment rights.
Citing conclusions from U.S. Environmental Protection Agency and the European Food Safety Authority, Monsanto maintains that glyphosate does not cause cancer.
Listing glyphosate as a carcinogen would cause irreparable injury to Monsanto and the public, and would require Monsanto to spend significant sums of money to re-label and re-shelf its products, the lawsuit said.
OEHHA has yet to issue a response to the lawsuit. Scientists and advocacy groups, however, have spoken out against the litigation.
"Monsanto's decision to sue California and attack the most well-respected cancer research agency in the world, the IARC, is absurd," Dr. Nathan Donley, scientist at the Center for Biological Diversity, told EcoWatch via email. "Why would California use anything other than the gold standard to inform its public health decisions?"
Roundup, which generated Monsanto $4.8 billion in 2015 revenue, is the world's most popular herbicide. The chemical is applied onto "Roundup Ready" crops that are genetically modified to resist applications of the spray.
Monsanto, however, is facing a slew of criticism from environmentalists as well as mounting class-action lawsuits over the controversial chemical.
In September, two separate U.S. agricultural workers slapped Monsanto with lawsuits, alleging that the company caused their cancers. They also argued that the company "falsified data" and "led a prolonged campaign of misinformation" to convince the public, farm workers and government agencies about the safety of the Roundup.
EcoWatch Daily Newsletter
Christine Zenino / Wikimedia Commons / CC BY 2.0

The 18th century St. Catherine of Alexandria church is seen after its bell tower was destroyed following a 6.3 magnitude earthquake that struck the town of Porac, pampanga province on April 23. TED ALJIBE / AFP / Getty Images
At least 16 people have died, 81 are injured and 14 are still missing after an earthquake struck Luzon island in the Philippines Monday, according to the latest figures from the National Disaster Risk Reduction and Management Council, as the Philippine Star tweeted Tuesday.
Climate change activists gather in front of the stage at the Extinction Rebellion group's environmental protest camp at Marble Arch in London on April 22, on the eighth day of the group's protest calling for political change to combat climate change. TOLGA AKMEN / AFP / Getty Images
Pexels
By Alina Petre, MS, RD (CA)
Veganism refers to a way of living that attempts to minimize animal exploitation and cruelty. For this reason, vegans aim to exclude all foods containing meat, poultry, fish, eggs, dairy and honey from their diet (1).
American farmers use chlorpyrifos, a pesticide tied to brain and nervous system issues, on crops such as apples, broccoli, corn and strawberries. Stephanie Chapman / Flickr / CC BY 2.0
By Jessica Corbett
In a ruling welcomed by public health advocates, a federal court on Friday ordered the Trump administration to stop stalling a potential ban on a pesticide linked to brain damage in children, giving regulators until mid-July to make a final decision.
fstop123 / iStock / Getty Images Plus
At EcoWatch, our team knows that changing personal habits and taking actions that contribute to a better planet is an ongoing journey. Earth Day, happening on April 22, is a great reminder for all of us to learn more about the environmental costs of our behaviors like food waste or fast fashion.
To offer readers some inspiration this Earth Day, our team rounded up their top picks for films to watch. So, sit back and take in one of these documentary films this Earth Day. Maybe it will spark a small change you can make in your own life.
NASA
By Shuchi Talati
Solar geoengineering describes a set of approaches that would reflect sunlight to cool the planet. The most prevalent of these approaches entails mimicking volcanic eruptions by releasing aerosols (tiny particles) into the upper atmosphere to reduce global temperatures — a method that comes with immense uncertainty and risk. We don't yet know how it will affect regional weather patterns, and in turn its geopolitical consequences. One way we can attempt to understand potential outcomes is through models.
Maria Gunnoe Flight, courtesy of southwings.org
By Julia Conley
Green groups on Saturday celebrated the latest federal ruling aimed at preventing President Donald Trump from rolling back environmental regulations that were put in place by his predecessor.