This website uses cookies to ensure you get the best experience while browsing it. By clicking 'Got It' you're accepting these terms.
Monsanto Files Lawsuit to Stop California From Listing Glyphosate as Known Carcinogen
Jan. 22, 2016 12:10PM EST
Monsanto has filed a lawsuit to prevent California from listing glyphosate—the main ingredient in its widely used weedkiller, Roundup—as a known carcinogen.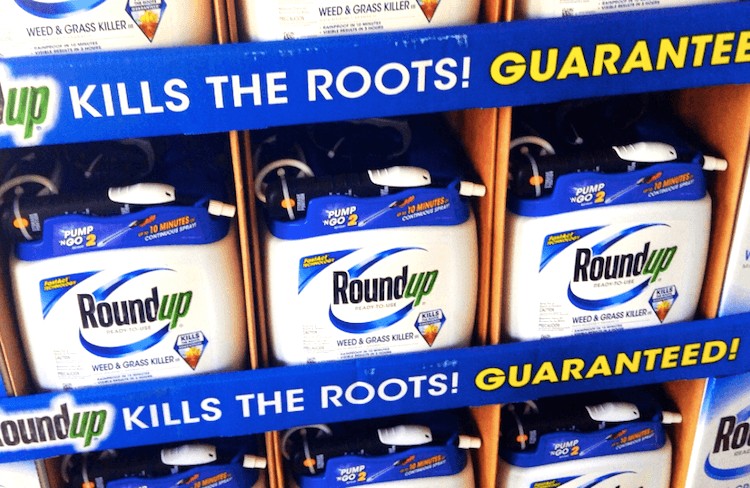 Flickr
Last September, California's Office of Environmental Health Hazard Assessment (OEHHA) issued plans to add glyphosate to the state's list of chemicals known to cause cancer, making it the first state in the country to do so. The state agency's decision came after the International Agency for Research on Cancer's (IARC), the World Health Organization's cancer research arm, infamously declared that glyphosate was a "possible carcinogen" in March 2015.
Monsanto has long maintained the safety of their flagship product and has vehemently denied glyphosate's link to cancer. The agribusiness giant has also demanded a retraction of the IARC's report.
Monsanto is now suing OEHHA and the agency's acting director, Lauren Zeise, in California state court, citing a 2007 study by OEHHA that concluded the chemical was unlikely to cause cancer, Reuters reported.
"The IARC classification of glyphosate is inconsistent with the findings of regulatory bodies in the United States and around the world, and it is not a sound basis for any regulatory action," Phil Miller, Monsanto's vice president of regulatory affairs, told Reuters.
OEHHA's effort to list glyphosate as a known carcinogen falls under California's Proposition 65, in which the state is required to publish a list of chemicals known to cause cancer or birth defects or other reproductive harm. The same law, otherwise known as the Safe Drinking Water and Toxic Enforcement Act of 1986, also requires that certain substances identified by the IARC be listed as known to cause cancer.
The case, known as Monsanto Company v. Office of Environmental Health Hazard Assessment, et al, case number 16-CECG-00183, was filed in the Superior Court of the State of California, County of Fresno.
According to the lawsuit, the St. Louis-based company is accusing OEHHA of delegating law-making authority to "an unelected, undemocratic, unaccountable, and foreign body without providing intelligible principles or procedural safeguards to define the boundaries of that authority or prevent its arbitrary exercise."
Monsanto claims that OEHHA has violated the company's right to procedural due process under the California and United States Constitutions.
The lawsuit claims that listing glyphosate under Proposition 65 would violate Monsanto's right to free speech and compel it to affix "false and/or misleading" statements to its products: "If glyphosate is added to the Proposition 65 list, Monsanto will be required to provide a 'clear and reasonable warning' on its glyphosate-based products that states that the products contain a chemical 'known to the state to cause cancer.'" Monsanto argues that this label would damage its reputation and violate its First Amendment rights.
Citing conclusions from U.S. Environmental Protection Agency and the European Food Safety Authority, Monsanto maintains that glyphosate does not cause cancer.
Listing glyphosate as a carcinogen would cause irreparable injury to Monsanto and the public, and would require Monsanto to spend significant sums of money to re-label and re-shelf its products, the lawsuit said.
OEHHA has yet to issue a response to the lawsuit. Scientists and advocacy groups, however, have spoken out against the litigation.
"Monsanto's decision to sue California and attack the most well-respected cancer research agency in the world, the IARC, is absurd," Dr. Nathan Donley, scientist at the Center for Biological Diversity, told EcoWatch via email. "Why would California use anything other than the gold standard to inform its public health decisions?"
Roundup, which generated Monsanto $4.8 billion in 2015 revenue, is the world's most popular herbicide. The chemical is applied onto "Roundup Ready" crops that are genetically modified to resist applications of the spray.
Monsanto, however, is facing a slew of criticism from environmentalists as well as mounting class-action lawsuits over the controversial chemical.
In September, two separate U.S. agricultural workers slapped Monsanto with lawsuits, alleging that the company caused their cancers. They also argued that the company "falsified data" and "led a prolonged campaign of misinformation" to convince the public, farm workers and government agencies about the safety of the Roundup.
EcoWatch Daily Newsletter
Offutt Air Force Base after flooding on March 17. U.S. Air Force / TSgt. Rachelle Blake
A regenerating stand of rainforest in northern Costa Rica. Matthew Fagan / CC BY-ND
By Matthew Fagan, Leighton Reid and Margaret Buck Holland
Tropical forests globally are being lost at a rate of 61,000 square miles a year. And despite conservation efforts, the global rate of loss is accelerating. In 2016 it reached a 15-year high, with 114,000 square miles cleared.
At the same time, many countries are pledging to restore large swaths of forests. The Bonn Challenge, a global initiative launched in 2011, calls for national commitments to restore 580,000 square miles of the world's deforested and degraded land by 2020. In 2014 the New York Declaration on Forests increased this goal to 1.35 million square miles, an area about twice the size of Alaska, by 2030.
Compassion Over Killing
By Cheryl Leahy
Do you think almond milk comes from a cow named Almond? Or that almonds lactate? The dairy industry thinks you do, and that's what it's telling the Food and Drug Administration (FDA).
For years, the dairy industry has been flexing its lobbying muscle, pressuring states and the federal government to restrict plant-based companies from using terms like "milk" on their labels, citing consumer confusion.
By Jeremy Deaton
A driver planning to make the trek from Denver to Salt Lake City can look forward to an eight-hour trip across some of the most beautiful parts of the country, long stretches with nary a town in sight. The fastest route would take her along I-80 through southern Wyoming. For 300 miles between Laramie and Evanston, she would see, according to a rough estimate, no fewer than 40 gas stations where she could fuel up her car. But if she were driving an electric vehicle, she would see just four charging stations where she could recharge her battery.
d3sign / Moment / Getty Images
Common sense should not be taken for granted when people are discussing nutrition.
A fire erupted Sunday at a petrochemical plant in Deer Park, Texas.
NowThis News / YouTube screenshot
By Andrea Germanos
A petrochemical plant near Houston continued to burn for a second day on Monday, raising questions about the quality and safety of the air.

The Deer Park facility is owned by Intercontinental Terminals Company (ITC), which said the fire broke out at roughly 10:30 a.m. Sunday. Seven tanks are involved, the company said, and they contain naptha, xylene, "gas blend stocks" and "base oil."
"It's going to have to burn out at the tank," Ray Russell, communications officer for Channel Industries Mutual Aid, which is aiding the response effort, said at a news conference. It could take "probably two days" for that to happen, he added.
The hillsides dyed orange with poppies may look like something out of a dream, but for the Southern California town of Lake Elsinore, that dream quickly turned into a nightmare.
The town of 66,000 people was inundated with around 50,000 tourists coming to snap pictures of the golden poppies growing in Walker Canyon as part of a superbloom of wildfires caused by an unusually wet winter, BBC News reported. The visitors trampled flowers and caused hours of traffic, The Guardian reported.
The Humane Society of the United States uncovered a one-year pesticide test on 36 beagles contracted by Dow AgroSciences at a Michigan lab.
The Humane Society of the United States / YouTube screenshot
A controversial pesticide test that would have resulted in the deaths of 36 beagles has been stopped, the Humane Society of the United States (HSUS) and the company behind the test announced Monday. The announcement comes less than a week after HSUS made the test public when it released the results of an investigation into animal testing at Charles River Laboratories in Michigan.
"We have immediately ended the study that was the subject of attention last week and will make every effort to rehome the animals that were part of the study," Corteva Agriscience, the agriculture division of DowDupont, said in a statement announcing its decision.