This website uses cookies to ensure you get the best experience while browsing it. By clicking 'Got It' you're accepting these terms.


The best of EcoWatch, right in your inbox. Sign up for our email newsletter!
Monsanto Faces Rejection in U.S. Over GMO Soybean
May. 11, 2016 07:35AM EST
Food
Monsanto, the controversial biotech seed giant, keeps running into trouble on the lucrative GMO soybean market this year.
Although 94 percent of U.S. soybean crops come from genetically modified seeds, Monsanto's latest offering isn't meeting with the approval of grain traders in the U.S. Called "Roundup Ready 2 Xtend," the Wall Street Journal reported on May 2 that major grain corporations like Archer Daniels Midland Co. and Cargill Inc. are rejecting the soybean because it lacks important regulatory approval in the European Union and could disrupt international trade.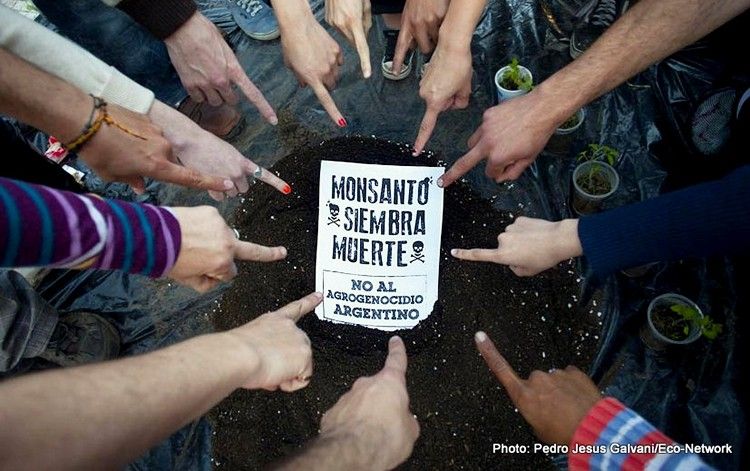 "The grain companies' stance is a potential blow to a product that Monsanto has touted as a blockbuster for U.S. farm fields," wrote Jacob Bunge.
Trade groups for the grain companies attacked Monsanto for attempting to sell the seeds without obtaining EU approval first. "Monsanto's actions with respect to RR2X soybeans are an unacceptable and very troubling development and we urge that it not be repeated," the groups wrote in a letter quoted by the Journal.
According to the Journal:
"The letter comes after Bunge [Ltd., a food company], Archer Daniels Midland and Louis Dreyfus Co. recently notified farmers that their U.S. facilities wouldn't buy soybeans grown from seeds that contain Monsanto's new crop genes. The companies sent letters and posted signs at grain elevators."
Soybean planting began early this month and farmers could be out of luck if Monsanto is unable to obtain the necessary approvals before the fall harvest.
Trade groups are understandably nervous about unapproved genetic components since China began rejecting shipments of genetically-modified corn in 2013, causing grain traders to lose hundreds of millions of dollars.
The setback in U.S. markets comes as Monsanto continues its years-long battle to collect royalties in Argentina, where farmers frequently plant seeds harvested from previous crops rather than pay for new seeds each year.
Although the former method represents an ancient agricultural tradition, Monsanto's lawyers argue that international law enables its representatives to collect payments from any farm where genetic testing found crops containing the company's patented genes from its Intacta brand soybean.
Bloomberg reported on Saturday that the corporation "was expecting to collect royalties for about 15 percent of this season's Argentine soybean crop, which is forecast by the Buenos Aires Grains Exchange to be 56 million metric tons."
But the Argentine government would have to first approve the Intacta patent, a process which they now claim could take months. Argentina's science and technology minister, Lino Baranao, told Bloomberg:
"The Monsanto issue is very distinctive as Argentina still hasn't granted the company a patent for Intacta … A final decision must emerge soon, but I am not sure this will happen for the 2015-16 crop. We have asked the Institute for Property Rights to speed up the process, but it may take months."
The government also declined to use Monsanto's genetic testing labs, insisting on instead using labs approved by the Agriculture Ministry.
It's the latest round of maneuvering between the government and the agribusiness giant since Argentina requested in April that Monsanto waive its royalty requirements.
"Monsanto rejected that waiver without comment, but agreed to cut the royalties from the equivalent of fifteen dollars per hectare to some nine dollars per hectare, for growers who use Monsanto technology but who do not purchase seeds directly from the corporation," Sputnik News reported.
YOU MIGHT ALSO LIKE
'Mistaken' Release of Glyphosate Report Raises Questions Over EPA's Ties to Monsanto
Big Ag Forces Firing of Long-Time Farm News Cartoonist
EcoWatch Daily Newsletter
Ice-rich permafrost has been exposed due to coastal erosion, National Petroleum Reserve, Alaska. Brandt Meixell / USGS
By Jake Johnson
An alarming study released Tuesday found that melting Arctic permafrost could add nearly $70 trillion to the global cost of climate change unless immediate action is taken to slash carbon emissions.
According to the new research, published in the journal Nature Communications, melting permafrost caused by accelerating Arctic warming would add close to $70 trillion to the overall economic impact of climate change if the planet warms by 3°C by 2100.
Jeff Reed / NYC Council
The New York City Council on Thursday overwhelmingly passed one of the most ambitious and innovative legislative packages ever considered by any major city to combat the existential threat of climate change.

Ghazipur is a neighborhood in East Delhi. It has been one of the largest dumping site for Delhi. India is one of many countries where global warming has dragged down economic growth. Frédéric Soltan / Corbis / Getty Images
Global inequality is worse today because of climate change, finds a new study published Monday by Stanford University professors Noah Diffenbaugh and Marshall Burke in the Proceedings of the National Academy of Sciences.
A child playing with a ball from planet earth during Extinction Rebellion rally on April 18 in London, England. Brais G. Rouco / Barcroft Media / Getty Images
Earth Day 2019 just passed, but planning has already begun for Earth Day 2020, and it's going to be a big deal.
Geneva Vanderzeil, A Pair & A Spare / Flickr / CC BY 2.0
Is your closet filled with clothes you don't wear (and probably don't like anymore)? Are you buying cheap and trendy clothing you only wear once or twice? What's up with all the excess? Shifting to a more Earth-conscious wardrobe can help simplify your life, as well as curb fast fashion's toll on people and the planet.
Christine Zenino / Wikimedia Commons / CC BY 2.0

The 18th century St. Catherine of Alexandria church is seen after its bell tower was destroyed following a 6.3 magnitude earthquake that struck the town of Porac, pampanga province on April 23. TED ALJIBE / AFP / Getty Images
At least 16 people have died, 81 are injured and 14 are still missing after an earthquake struck Luzon island in the Philippines Monday, according to the latest figures from the National Disaster Risk Reduction and Management Council, as the Philippine Star tweeted Tuesday.
Climate change activists gather in front of the stage at the Extinction Rebellion group's environmental protest camp at Marble Arch in London on April 22, on the eighth day of the group's protest calling for political change to combat climate change. TOLGA AKMEN / AFP / Getty Images