This website uses cookies to ensure you get the best experience while browsing it. By clicking 'Got It' you're accepting these terms.
Monsanto Faces Rejection in U.S. Over GMO Soybean
May. 11, 2016 07:35AM EST
Food
Monsanto, the controversial biotech seed giant, keeps running into trouble on the lucrative GMO soybean market this year.
Although 94 percent of U.S. soybean crops come from genetically modified seeds, Monsanto's latest offering isn't meeting with the approval of grain traders in the U.S. Called "Roundup Ready 2 Xtend," the Wall Street Journal reported on May 2 that major grain corporations like Archer Daniels Midland Co. and Cargill Inc. are rejecting the soybean because it lacks important regulatory approval in the European Union and could disrupt international trade.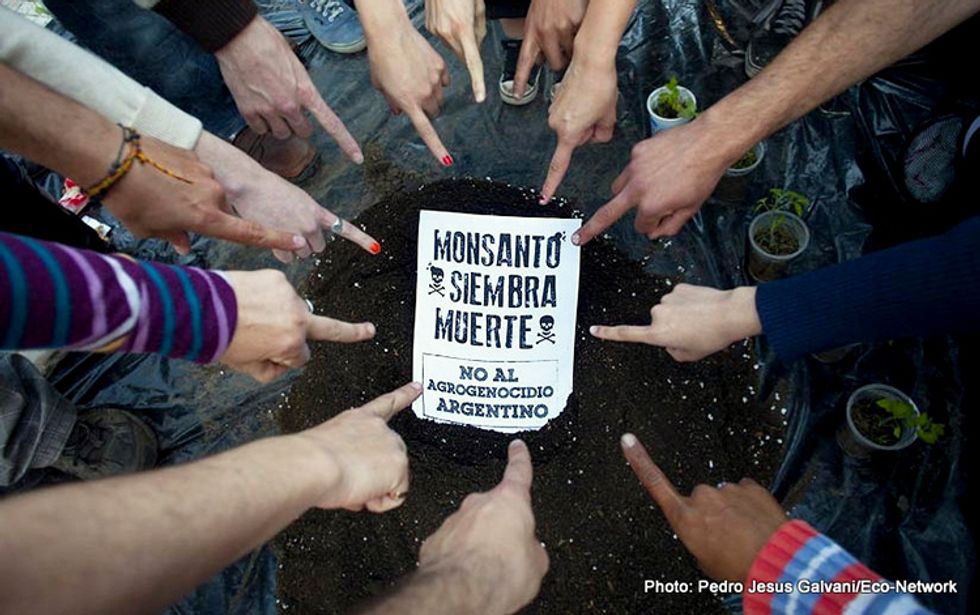 "The grain companies' stance is a potential blow to a product that Monsanto has touted as a blockbuster for U.S. farm fields," wrote Jacob Bunge.
Trade groups for the grain companies attacked Monsanto for attempting to sell the seeds without obtaining EU approval first. "Monsanto's actions with respect to RR2X soybeans are an unacceptable and very troubling development and we urge that it not be repeated," the groups wrote in a letter quoted by the Journal.
According to the Journal:
"The letter comes after Bunge [Ltd., a food company], Archer Daniels Midland and Louis Dreyfus Co. recently notified farmers that their U.S. facilities wouldn't buy soybeans grown from seeds that contain Monsanto's new crop genes. The companies sent letters and posted signs at grain elevators."
Soybean planting began early this month and farmers could be out of luck if Monsanto is unable to obtain the necessary approvals before the fall harvest.
Trade groups are understandably nervous about unapproved genetic components since China began rejecting shipments of genetically-modified corn in 2013, causing grain traders to lose hundreds of millions of dollars.
The setback in U.S. markets comes as Monsanto continues its years-long battle to collect royalties in Argentina, where farmers frequently plant seeds harvested from previous crops rather than pay for new seeds each year.
Although the former method represents an ancient agricultural tradition, Monsanto's lawyers argue that international law enables its representatives to collect payments from any farm where genetic testing found crops containing the company's patented genes from its Intacta brand soybean.
Bloomberg reported on Saturday that the corporation "was expecting to collect royalties for about 15 percent of this season's Argentine soybean crop, which is forecast by the Buenos Aires Grains Exchange to be 56 million metric tons."
But the Argentine government would have to first approve the Intacta patent, a process which they now claim could take months. Argentina's science and technology minister, Lino Baranao, told Bloomberg:
"The Monsanto issue is very distinctive as Argentina still hasn't granted the company a patent for Intacta … A final decision must emerge soon, but I am not sure this will happen for the 2015-16 crop. We have asked the Institute for Property Rights to speed up the process, but it may take months."
The government also declined to use Monsanto's genetic testing labs, insisting on instead using labs approved by the Agriculture Ministry.
It's the latest round of maneuvering between the government and the agribusiness giant since Argentina requested in April that Monsanto waive its royalty requirements.
"Monsanto rejected that waiver without comment, but agreed to cut the royalties from the equivalent of fifteen dollars per hectare to some nine dollars per hectare, for growers who use Monsanto technology but who do not purchase seeds directly from the corporation," Sputnik News reported.
YOU MIGHT ALSO LIKE
'Mistaken' Release of Glyphosate Report Raises Questions Over EPA's Ties to Monsanto
Big Ag Forces Firing of Long-Time Farm News Cartoonist
EcoWatch Daily Newsletter
A worker sorts out plastic bottles for recycling in Dong Xiao Kou village. China also announced Sunday that it would work to promote the use of recycled plastics. FRED DUFOUR / AFP via Getty Images
Catherine Flessen / Flickr / CC BY-NC-ND 2.0
Non-perishable foods, such as canned goods and dried fruit, have a long shelf life and don't require refrigeration to keep them from spoiling. Instead, they can be stored at room temperature, such as in a pantry or cabinet.
Tero Vesalainen / iStock / Getty Images
By Julia Ries
Two flu strains are overlapping each other this flu season.
This means you can get sick twice from different flu strains.
While the flu vaccine isn't a perfect match, it's the best defense against the flu.
To say this flu season has been abnormal is an understatement.
Arx0nt / Moment / Getty Images
Vitamin D, also known as the sunshine vitamin, is a fat-soluble vitamin essential for optimal health.