Monsanto Faces Rejection in U.S. Over GMO Soybean
Monsanto, the controversial biotech seed giant, keeps running into trouble on the lucrative GMO soybean market this year.
Although 94 percent of U.S. soybean crops come from genetically modified seeds, Monsanto's latest offering isn't meeting with the approval of grain traders in the U.S. Called "Roundup Ready 2 Xtend," the Wall Street Journal reported on May 2 that major grain corporations like Archer Daniels Midland Co. and Cargill Inc. are rejecting the soybean because it lacks important regulatory approval in the European Union and could disrupt international trade.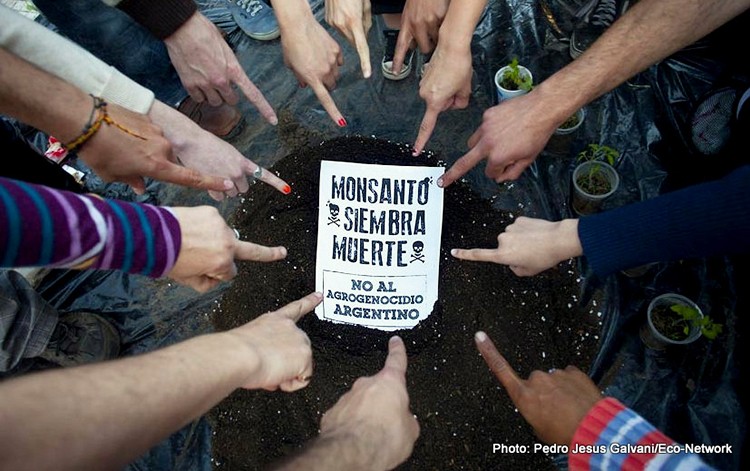 "The grain companies' stance is a potential blow to a product that Monsanto has touted as a blockbuster for U.S. farm fields," wrote Jacob Bunge.
Trade groups for the grain companies attacked Monsanto for attempting to sell the seeds without obtaining EU approval first. "Monsanto's actions with respect to RR2X soybeans are an unacceptable and very troubling development and we urge that it not be repeated," the groups wrote in a letter quoted by the Journal.
According to the Journal:
"The letter comes after Bunge [Ltd., a food company], Archer Daniels Midland and Louis Dreyfus Co. recently notified farmers that their U.S. facilities wouldn't buy soybeans grown from seeds that contain Monsanto's new crop genes. The companies sent letters and posted signs at grain elevators."
Soybean planting began early this month and farmers could be out of luck if Monsanto is unable to obtain the necessary approvals before the fall harvest.
Trade groups are understandably nervous about unapproved genetic components since China began rejecting shipments of genetically-modified corn in 2013, causing grain traders to lose hundreds of millions of dollars.
The setback in U.S. markets comes as Monsanto continues its years-long battle to collect royalties in Argentina, where farmers frequently plant seeds harvested from previous crops rather than pay for new seeds each year.
Although the former method represents an ancient agricultural tradition, Monsanto's lawyers argue that international law enables its representatives to collect payments from any farm where genetic testing found crops containing the company's patented genes from its Intacta brand soybean.
Bloomberg reported on Saturday that the corporation "was expecting to collect royalties for about 15 percent of this season's Argentine soybean crop, which is forecast by the Buenos Aires Grains Exchange to be 56 million metric tons."
But the Argentine government would have to first approve the Intacta patent, a process which they now claim could take months. Argentina's science and technology minister, Lino Baranao, told Bloomberg:
"The Monsanto issue is very distinctive as Argentina still hasn't granted the company a patent for Intacta … A final decision must emerge soon, but I am not sure this will happen for the 2015-16 crop. We have asked the Institute for Property Rights to speed up the process, but it may take months."
The government also declined to use Monsanto's genetic testing labs, insisting on instead using labs approved by the Agriculture Ministry.
It's the latest round of maneuvering between the government and the agribusiness giant since Argentina requested in April that Monsanto waive its royalty requirements.
"Monsanto rejected that waiver without comment, but agreed to cut the royalties from the equivalent of fifteen dollars per hectare to some nine dollars per hectare, for growers who use Monsanto technology but who do not purchase seeds directly from the corporation," Sputnik News reported.
YOU MIGHT ALSO LIKE
'Mistaken' Release of Glyphosate Report Raises Questions Over EPA's Ties to Monsanto
Big Ag Forces Firing of Long-Time Farm News Cartoonist
Glyphosate, the main ingredient in Monsanto's widely used herbicide Roundup, will be added July 7 to California's list of chemicals known to the state to cause cancer, according to a Reuters report Tuesday. This news comes after the company's unsuccessful attempt to block the listing in trial court and requests for stay were denied by a state appellate court and California's Supreme Court.
California's Office of Environmental Health Hazard Assessment (OEHHA) announced the designation on Monday under the Safe Drinking Water and Toxic Enforcement Act of 1986, or Proposition 65.
Keep reading...
Show less
www.facebook.com
Keep reading...
Show less
Researchers from the Marine Animal Response Society examine one of the dead right whales. Marine Animal Response Society
Canadian government officials and marine biologists are investigating the mysterious deaths of six North American right whales. The endangered animals all turned up dead between June 6 and June 23 in the Gulf of St. Lawrence, off Canada's southeastern coast.
North Atlantic right whales are the rarest of all large whale species and among the rarest of all marine mammal species, with only about 450 right whales in the North Atlantic.
Keep reading...
Show less
Scott Pruitt testifies during his Senate confirmation hearing for EPA administrator, January 2017.
The U.S. Environmental Protection Agency's (EPA) chief of staff pressured the leader of its Board of Scientific Counselors to change her congressional testimony to downplay the impact of the agency's mass dismissal of scientists from the board, the New York Times reports.
Keep reading...
Show less
By Jason Mark
Sequoiadendron giganteum. That's the scientific name for the giant sequoia: the mammoth trees found in California's Sierra Nevada that are the largest organisms on Earth, and among the longest-lived. Biologists estimate that about half of all sequoias live in Giant Sequoia National Monument, a 328,000-acre preserve in the Southern Sierra Nevada established by President Clinton in 2000.
Now that national monument is in jeopardy.
Keep reading...
Show less
By Andy Rowell
Donald Trump this week is launching an "energy week," pushing the argument that the U.S. will become a net exporter of oil and gas.
The president and his cronies are talking about a new era of "U.S. energy dominance," which could stretch for decades to come. However, no one believes the president anymore.
Keep reading...
Show less
UN
By Colleen Curry
The United Nations has designated 23 new sites around the world to its World Network of Biosphere reserves—stunning natural landscapes that balance environmental and human concerns and strive for sustainability.
The forests, beaches and waterways were added to the list this year at the International Coordinating Council of the Man and the Biosphere Programme meeting in Paris earlier this month.
Keep reading...
Show less
Jun. 26, 2017 01:48PM EST
www.elysee.fr
By Andy Rowell
There is a growing feeling within European capitals that a quiet, but deeply positive, revolution is happening under Emmanuel Macron in France.
Macron's opinion poll rating is high, especially boosted in how the young French president has reacted to Donald Trump on the international stage.
Keep reading...
Show less
Jun. 26, 2017 12:32PM EST
www.facebook.com
Keep reading...
Show less