This website uses cookies to ensure you get the best experience while browsing it. By clicking 'Got It' you're accepting these terms.


The best of EcoWatch, right in your inbox. Sign up for our email newsletter!
Monsanto Demands World Health Organization Retract Report That Says Roundup Is Linked to Cancer
Mar. 26, 2015 01:17PM EST
GMO
Last week, the UN's World Health Organization (WHO) released a report, compiled by a team of scientists, that said glyphosate—sold by Monsanto in the herbicide Roundup—was probably linked to cancer.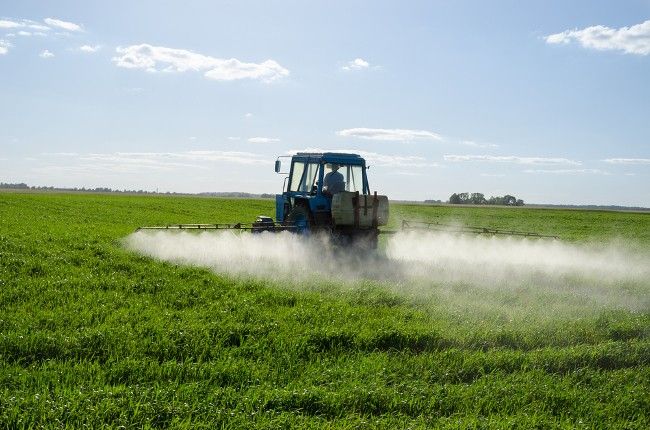 Photo credit: Shutterstock
This week, Monsanto is demanding the WHO retract the report, essentially repudiating years of research by multiple scientists. Monsanto is claiming the report was biased and that glyphosate products like Roundup are safe when the directions are followed. The company says that the WHO report contradicts regulatory findings, which can, of course, be influenced by politics and lobbying. So far, WHO has not responded.
"We question the quality of the assessment," Philip Miller, Monsanto vice president of global regulatory affairs, told Reuters. "The WHO has something to explain."
Miller claimed that the WHO's International Agency for Research on Cancer (IARC) was provided by Monsanto with information on glyphosate's safety, and that it ignored Monsanto's input.
That response indicates a level of panic on Monsanto's part because the report could hit it where it hurts—its profits. Its Roundup, formulated to be used on GMO or "Roundup Ready" crops engineered to be resistant to it, is the most widely used herbicide in the world. Originally introduced in the early '70s to control weeds, it took off when the planting of GMO crops skyrocketed in the last 15 years. The U.S. Geological Survey (USGS) estimated that glyphosate use in the U.S. increased from about 20 million pounds in 1992 to 110 million pounds in 2002 to more than 280 million pounds in 2012.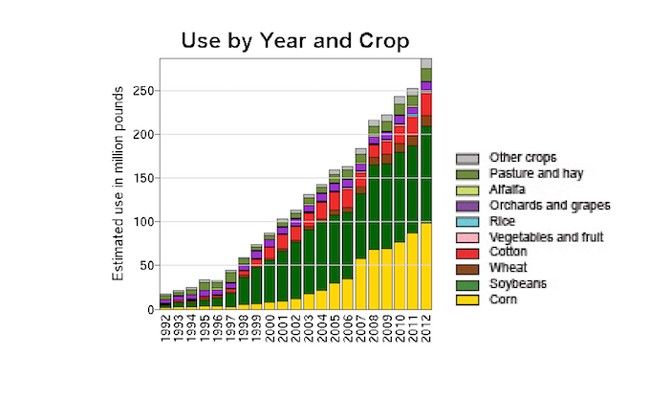 What Monsanto is demanding is the equivalent of declaring a person innocent because there is insufficient evidence to prove his guilt. The WHO report did not claim definitely the glyphosate causes cancer, but rather that multiple scientific studies have suggested a link.
"For the herbicide glyphosate, there was limited evidence of carcinogenicity in humans for non-Hodgkin lymphoma," the study said. "The evidence in humans is from studies of exposures, mostly agricultural, in the U.S., Canada and Sweden published since 2001. In addition, there is convincing evidence that glyphosate also can cause cancer in laboratory animals. Glyphosate also caused DNA and chromosomal damage in human cells. One study in community residents reported increases in blood markers of chromosomal damage after glyphosate formulations were sprayed nearby."
It points out that "limited" does not mean "nonexistent" as Monsanto wants it to declare. When a substance is categorized as "probably" carcinogenic to humans, it says "there is limited evidence of carcinogenicity in humans and sufficient evidence of carcinogenicity in experimental animals. Limited evidence means that a positive association has been observed between exposure to the agent and cancer but that other explanations for the observations could not be ruled out. This category is also used when there is limited evidence of carcinogenicity in humans and strong data on how the agent causes cancer."
And, as the Reuters article points out, Monsanto says such studies are invalid, but critics say they merit attention. According to Dave Schubert, head of the cellular neurobiology laboratory at the Salk Institute for Biological Studies in La Jolla, California, "There are a number of independent, published manuscripts that clearly indicate that glyphosate ... can promote cancer and tumor growth. It should be banned."
Several leading public interest organizations agree with Schubert and today urged the Obama administration to "weigh heavily" the WHO's recent conclusion that glyphosate is a "probable human carcinogen." The groups believes that "As a result of WHO's rigorous and independent review, the link between glyphosate and cancer has now been greatly strengthened."
In a letter to Gina McCarthy, administrator of the U.S. Environmental Protection Agency, JLI, Consumers Union, Center for Food Safety, Environmental Working Group and Natural Resources Defense Council, among others, called the WHO announcement "extremely timely, as EPA is preparing to issue its preliminary risk assessment of the widely used herbicide under the Federal Insecticide, Fungicide and Rodenticide Act."
"Consumers deserve to know which foods are made with GMOs considering it's their dollars that are largely driving the use of this dangerous herbicide," said Gary Hirshberg, the chairman of the board for the Just Label It campaign. "This new evidence that the main pesticide used on GMO crops is a 'probable human carcinogen' is even more reason consumers should have the right to know what's in their food."
One proponent of the "glyphosate is absolutely safe" narrative is former environmentalist/current environmental contrarian/sometime Monsanto consultant Dr. Patrick Moore, who was interviewed by filmmaker Paul Moreira for a French TV documentary. He not only insisted "[Roundup] is not dangerous to humans, he also said "You can drink a whole quart of it and it won't hurt you." But when Moreira said, "You want to drink some? We have some here," Moore responded "I'd be happy to ... not really, but I know it would't hurt me," and walked off the set when Moreira repeated his offer, calling the him an "idiot."
YOU MIGHT ALSO LIKE
Monsanto's Roundup—Most Popular Weed Killer in U.S.—'Probably' Causes Cancer, WHO Report Says
USDA Green-Lights Yet Another Monsanto GMO crop
EcoWatch Daily Newsletter
Mike Taube / Getty Images
A new EPA rule on asbestos does not say anything about the asbestos currently in the environment. Bob Allen / Getty Images
A mountain woodland caribou bull in the Muskwa-Kechika Wilderness area in northern British Columbia, Canada. John E Marriott / All Canada Photos / Getty Images
It's heartening, in the midst of the human-caused sixth mass extinction, to find good wildlife recovery news. As plant and animal species disappear faster than they have for millions of years, Russia's Siberian, or Amur, tigers are making a comeback. After falling to a low of just a few dozen in the mid-20th century, the tigers now number around 500, with close to 100 cubs — thanks to conservation measures that include habitat restoration and an illegal hunting crackdown.
Cavan Images / Getty Images
Earth Day is celebrated each year on April 22nd. The official theme of Earth Day 2019 is 'Protect Our Species.' In honor of Earth Day, EcoWatch has kicked off a second photo contest. Show us what 'Protect Our Species' means to you. Maybe there's a tree you've always loved, or perhaps it's a photo of the bird you adore that always visits your yard. We're excited to see what species means a lot to you. Capture a moment and send it our way!
Anton Petrus / Moment / Getty Images
By Jordan Davidson
The climate crisis humanity has caused has us spiraling towards higher temperatures while also knocking out marine life and insect species at an alarming rate that continues to accelerate. But, just how long will it take Earth to recover? A new study offers a sobering answer: millions of years.
Climate protesters read a newspaper as they stand with the Extinction Rebellion boat in the center of Oxford Circus on April 17 in London. Leon Neal / Getty Images
By Jeremy Lent
Facing oncoming climate disaster, some argue for "Deep Adaptation" — that we must prepare for inevitable collapse. However, this orientation is dangerously flawed. It threatens to become a self-fulfilling prophecy by diluting the efforts toward positive change. What we really need right now is Deep Transformation. There is still time to act: we must acknowledge this moral imperative.
By Julia Conley
The equipment was towed across millions of miles of ocean for six decades by marine scientists, meant to collect plankton — but its journeys have also given researchers a treasure trove of data on plastic pollution.
The continuous plankton reporter (CPR) was first deployed in 1931 to analyze the presence of plankton near the surface of the world's oceans. In recent decades, however, its travels have increasingly been disrupted by entanglements with plastic, according to a study published in Nature Communications on Tuesday.
A student carries a sign as he marches during the Youth Climate Strike on March 15 in San Francisco. Justin Sullivan / Getty Images
By Jake Johnson
A petition calling on 2020 Democratic presidential candidates to hold a climate-specific debate has garnered over 30,000 signatures in just around 48 hours, providing evidence of the widespread grassroots pressure on White House hopefuls to offer bold and detailed solutions to the ecological crisis.