This website uses cookies to ensure you get the best experience while browsing it. By clicking 'Got It' you're accepting these terms.
Monsanto Demands World Health Organization Retract Report That Says Roundup Is Linked to Cancer
Mar. 26, 2015 01:17PM EST
GMO
Last week, the UN's World Health Organization (WHO) released a report, compiled by a team of scientists, that said glyphosate—sold by Monsanto in the herbicide Roundup—was probably linked to cancer.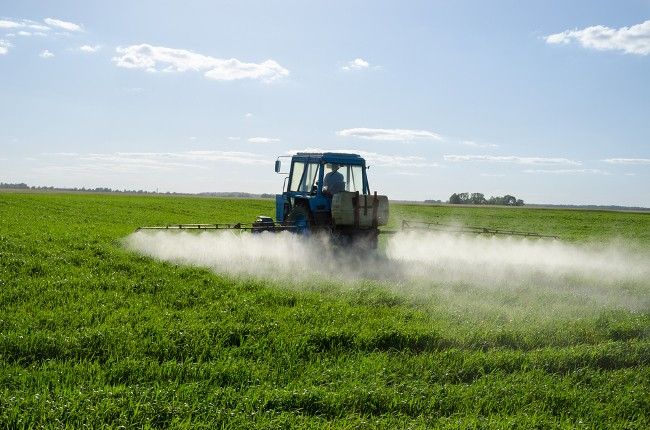 Photo credit: Shutterstock
This week, Monsanto is demanding the WHO retract the report, essentially repudiating years of research by multiple scientists. Monsanto is claiming the report was biased and that glyphosate products like Roundup are safe when the directions are followed. The company says that the WHO report contradicts regulatory findings, which can, of course, be influenced by politics and lobbying. So far, WHO has not responded.
"We question the quality of the assessment," Philip Miller, Monsanto vice president of global regulatory affairs, told Reuters. "The WHO has something to explain."
Miller claimed that the WHO's International Agency for Research on Cancer (IARC) was provided by Monsanto with information on glyphosate's safety, and that it ignored Monsanto's input.
That response indicates a level of panic on Monsanto's part because the report could hit it where it hurts—its profits. Its Roundup, formulated to be used on GMO or "Roundup Ready" crops engineered to be resistant to it, is the most widely used herbicide in the world. Originally introduced in the early '70s to control weeds, it took off when the planting of GMO crops skyrocketed in the last 15 years. The U.S. Geological Survey (USGS) estimated that glyphosate use in the U.S. increased from about 20 million pounds in 1992 to 110 million pounds in 2002 to more than 280 million pounds in 2012.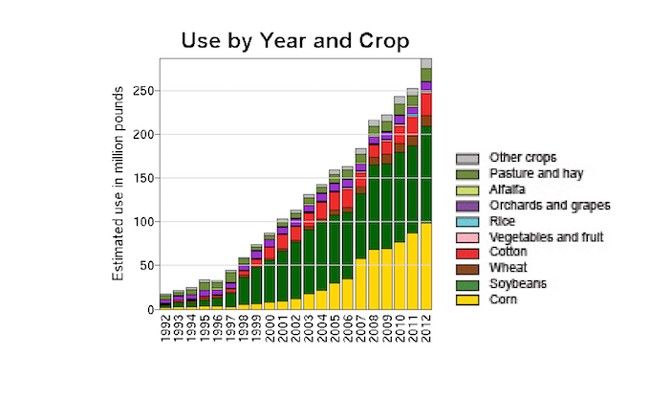 What Monsanto is demanding is the equivalent of declaring a person innocent because there is insufficient evidence to prove his guilt. The WHO report did not claim definitely the glyphosate causes cancer, but rather that multiple scientific studies have suggested a link.
"For the herbicide glyphosate, there was limited evidence of carcinogenicity in humans for non-Hodgkin lymphoma," the study said. "The evidence in humans is from studies of exposures, mostly agricultural, in the U.S., Canada and Sweden published since 2001. In addition, there is convincing evidence that glyphosate also can cause cancer in laboratory animals. Glyphosate also caused DNA and chromosomal damage in human cells. One study in community residents reported increases in blood markers of chromosomal damage after glyphosate formulations were sprayed nearby."
It points out that "limited" does not mean "nonexistent" as Monsanto wants it to declare. When a substance is categorized as "probably" carcinogenic to humans, it says "there is limited evidence of carcinogenicity in humans and sufficient evidence of carcinogenicity in experimental animals. Limited evidence means that a positive association has been observed between exposure to the agent and cancer but that other explanations for the observations could not be ruled out. This category is also used when there is limited evidence of carcinogenicity in humans and strong data on how the agent causes cancer."
And, as the Reuters article points out, Monsanto says such studies are invalid, but critics say they merit attention. According to Dave Schubert, head of the cellular neurobiology laboratory at the Salk Institute for Biological Studies in La Jolla, California, "There are a number of independent, published manuscripts that clearly indicate that glyphosate ... can promote cancer and tumor growth. It should be banned."
Several leading public interest organizations agree with Schubert and today urged the Obama administration to "weigh heavily" the WHO's recent conclusion that glyphosate is a "probable human carcinogen." The groups believes that "As a result of WHO's rigorous and independent review, the link between glyphosate and cancer has now been greatly strengthened."
In a letter to Gina McCarthy, administrator of the U.S. Environmental Protection Agency, JLI, Consumers Union, Center for Food Safety, Environmental Working Group and Natural Resources Defense Council, among others, called the WHO announcement "extremely timely, as EPA is preparing to issue its preliminary risk assessment of the widely used herbicide under the Federal Insecticide, Fungicide and Rodenticide Act."
"Consumers deserve to know which foods are made with GMOs considering it's their dollars that are largely driving the use of this dangerous herbicide," said Gary Hirshberg, the chairman of the board for the Just Label It campaign. "This new evidence that the main pesticide used on GMO crops is a 'probable human carcinogen' is even more reason consumers should have the right to know what's in their food."
One proponent of the "glyphosate is absolutely safe" narrative is former environmentalist/current environmental contrarian/sometime Monsanto consultant Dr. Patrick Moore, who was interviewed by filmmaker Paul Moreira for a French TV documentary. He not only insisted "[Roundup] is not dangerous to humans, he also said "You can drink a whole quart of it and it won't hurt you." But when Moreira said, "You want to drink some? We have some here," Moore responded "I'd be happy to ... not really, but I know it would't hurt me," and walked off the set when Moreira repeated his offer, calling the him an "idiot."
YOU MIGHT ALSO LIKE
Monsanto's Roundup—Most Popular Weed Killer in U.S.—'Probably' Causes Cancer, WHO Report Says
USDA Green-Lights Yet Another Monsanto GMO crop
EcoWatch Daily Newsletter
For the past seven years, the Anishinaabe people have been facing the largest tar sands pipeline project in North America. We still are. In these dying moments of the fossil fuel industry, Water Protectors stand, prepared for yet another battle for the water, wild rice and future of all. We face Enbridge, the largest pipeline company in North America, and the third largest corporation in Canada. We face it unafraid and eyes wide open, for indeed we see the future.
The climate crisis often intensifies systems of oppression. Rieko Honma / Stone / Getty Images Plus
By Mara Dolan
We see the effects of the climate crisis all around us in hurricanes, droughts, wildfires, and rising sea levels, but our proximity to these things, and how deeply our lives are changed by them, are not the same for everyone. Frontline groups have been leading the fight for environmental and climate justice for centuries and understand the critical connections between the climate crisis and racial justice, economic justice, migrant justice, and gender justice. Our personal experiences with climate change are shaped by our experiences with race, gender, and class, as the climate crisis often intensifies these systems of oppression.

Lana Del Rey: "call her Doris Doomsday." Darren Gerrish / BFC / Getty Images Entertainment
By Emer McHugh
Popular music has, and always will be, informed by the political and social contexts from which it emerges.
It was early in the morning last Thursday, and Jonathan Butler was standing on the Fred Hartman Bridge, helping 11 fellow Greenpeace activists rappel down and suspend themselves over the Houston Ship Channel. The protesters dangled in the air most of the day, shutting down a part of one of the country's largest ports for oil.
By C.J. Polychroniou
Climate change is by far the most serious crisis facing the world today. At stake is the future of civilization as we know it. Yet, both public awareness and government action lag way behind what's needed to avert a climate change catastrophe. In the interview below, Noam Chomsky and Robert Pollin discuss the challenges ahead and what needs to be done.
Food manufacturer General Mills issued a voluntary recall of more than 600,000 pounds, or about 120,000 bags, of Gold Medal Unbleached All Purpose Flour this week after a sample tested positive for a bacteria strain known to cause illness.
Imelda flooded highway 69 North in Houston Thursday. Thomas B. Shea / Getty Images
Extreme weather events supercharged by climate change in 2012 led to nearly 1,000 more deaths, more than 20,000 additional hospitalizations, and cost the U.S. healthcare system $10 billion, a new report finds.