This website uses cookies to ensure you get the best experience while browsing it. By clicking 'Got It' you're accepting these terms.
Monsanto Declared Worst Company of 2011
Dec. 27, 2011 09:22PM EST
GMO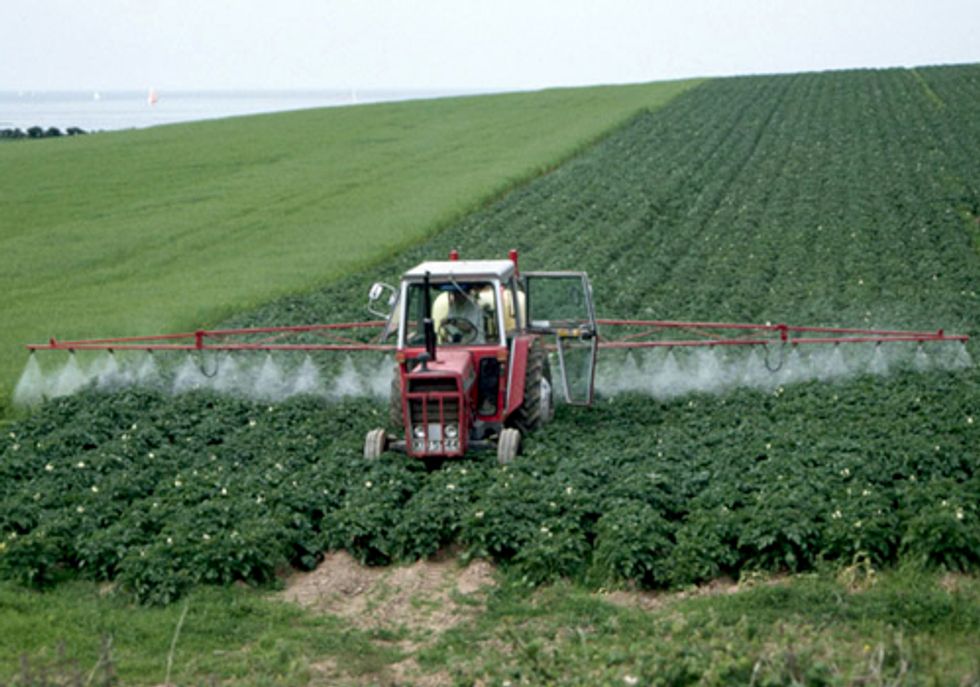 Biotech giant Monsanto has once again been declared the worst company of 2011 by NaturalSociety for threatening both human health and the environment. The leader in genetically modified (GM) seeds and crops, Monsanto is currently responsible for 90 percent of the genetically engineered seed on the U.S. market. Outside of GM seeds, Monsanto is also the creator of the best-selling herbicide Roundup, which has spawned more than 120 million hectacres of herbicide-resistant superweeds while damaging much of the soil. Despite hard evidence warning against the amplified usage of genetically modified crops, biopesticides, and herbicides, Monsanto continues to disregard all warning signs.
In a powerful review of 19 studies analyzing the dangers of GMO crops such as corn and soybeans, researchers revealed some shocking information regarding the safety of these popular food staples. Researchers found that consumption of GMO corn or soybeans may lead to significant organ disruptions in rats and mice—particularly in the liver and kidneys. This is particularly concerning due to the fact that 93 percent of U.S. soybeans are known to be genetically modified. Ignoring this evidence, Monsanto continues to expand their genetic manipulation.
Monsanto's 2011 crimes include:
• Poisoning people with an herbicide more dangerous than DDT.
• Spawning super-weeds and killer-bugs that reduce yields and destroy crops.
• Introducing a deadly new micro-monster into the environment that plagues plants with new diseases and renders animals (including humans) infertile.
The U.S. Environmental Protection Agency (EPA) is currently conducting a "Registration Review" of glyphosate, Monsanto's herbicide "RoundUp," which its "RoundUp Ready" crops are genetically engineered to tolerate. The U.S. EPA will be gathering data through the summer of 2012 and making a final decision no earlier than 2015.
Watch this documentary from Argentina on the dangers of glyphosate. The two-part video is in Spanish with English subtitles. If the subtitles do not appear automatically, start the video first, then click the arrow on the bottom right and select "Turn on captions."
Take action today and send a letter to the U.S. EPA that urges better review of glyphosate to protect human health and the environment, and help stop the re-approval of Monsanto's RoundUp.
For more information, click here.
EcoWatch Daily Newsletter
The buildings of downtown Los Angeles are partially obscured in the late afternoon on Nov. 5, 2019, as seen from Pasadena, California, a day when air quality for Los Angeles was predicted to be "unhealthy for sensitive groups." Mario Tama / Getty Images
The evidence continues to build that breathing dirty air is bad for your brain.
Wave power in Portugal. The oceans' energy potential is immense. Luis Ascenso, via Wikimedia Commons
By Paul Brown
The amount of energy generated by tides and waves in the last decade has increased tenfold. Now governments around the world are planning to scale up these ventures to tap into the oceans' vast store of blue energy.
Yellowstone National Park closed to visitors on March 24, 2020 because of the Covid-19 virus threat. William Campbell-Corbis via Getty Images
When the novel coronavirus started to sweep across the country, the National Park Service started to waive entrance fees. The idea was that as we started to practice social distancing, Americans should have unfettered access to the outdoors. Then the parking lots and the visitor centers started to fill up, worrying park employees.
Mike Pence and Donald Trump hold a press conference about the coronavirus outbreak in the press briefing room at the White House on March 23, 2020 in Washington, DC. Drew Angerer / Getty Images
By John R. Platt
Both eyes open. Look for potential threats coming from all sides. Be prepared to change course at a moment's notice.