This website uses cookies to ensure you get the best experience while browsing it. By clicking 'Got It' you're accepting these terms.
Monsanto Declared Worst Company of 2011
Dec. 27, 2011 09:22PM EST
GMO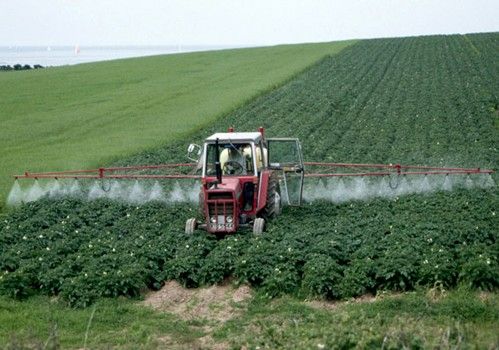 Biotech giant Monsanto has once again been declared the worst company of 2011 by NaturalSociety for threatening both human health and the environment. The leader in genetically modified (GM) seeds and crops, Monsanto is currently responsible for 90 percent of the genetically engineered seed on the U.S. market. Outside of GM seeds, Monsanto is also the creator of the best-selling herbicide Roundup, which has spawned more than 120 million hectacres of herbicide-resistant superweeds while damaging much of the soil. Despite hard evidence warning against the amplified usage of genetically modified crops, biopesticides, and herbicides, Monsanto continues to disregard all warning signs.
In a powerful review of 19 studies analyzing the dangers of GMO crops such as corn and soybeans, researchers revealed some shocking information regarding the safety of these popular food staples. Researchers found that consumption of GMO corn or soybeans may lead to significant organ disruptions in rats and mice—particularly in the liver and kidneys. This is particularly concerning due to the fact that 93 percent of U.S. soybeans are known to be genetically modified. Ignoring this evidence, Monsanto continues to expand their genetic manipulation.
Monsanto's 2011 crimes include:
• Poisoning people with an herbicide more dangerous than DDT.
• Spawning super-weeds and killer-bugs that reduce yields and destroy crops.
• Introducing a deadly new micro-monster into the environment that plagues plants with new diseases and renders animals (including humans) infertile.
The U.S. Environmental Protection Agency (EPA) is currently conducting a "Registration Review" of glyphosate, Monsanto's herbicide "RoundUp," which its "RoundUp Ready" crops are genetically engineered to tolerate. The U.S. EPA will be gathering data through the summer of 2012 and making a final decision no earlier than 2015.
Watch this documentary from Argentina on the dangers of glyphosate. The two-part video is in Spanish with English subtitles. If the subtitles do not appear automatically, start the video first, then click the arrow on the bottom right and select "Turn on captions."
Take action today and send a letter to the U.S. EPA that urges better review of glyphosate to protect human health and the environment, and help stop the re-approval of Monsanto's RoundUp.
For more information, click here.
EcoWatch Daily Newsletter
A vegan diet can improve your health, but experts say it's important to keep track of nutrients and protein. Getty Images
By Dan Gray
Research shows that 16 weeks of a vegan diet can boost the gut microbiome, helping with weight loss and overall health.
A healthy microbiome is a diverse microbiome. A plant-based diet is the best way to achieve this.
It isn't necessary to opt for a strictly vegan diet, but it's beneficial to limit meat intake.
New research shows that following a vegan diet for about 4 months can boost your gut microbiome. In turn, that can lead to improvements in body weight and blood sugar management.
Students gathered at the National Mall in Washington DC, Sept. 20. NRDC
By Jeff Turrentine
Nearly 20 years have passed since the journalist Malcolm Gladwell popularized the term tipping point, in his best-selling book of the same name. The phrase denotes the moment that a certain idea, behavior, or practice catches on exponentially and gains widespread currency throughout a culture. Having transcended its roots in sociological theory, the tipping point is now part of our everyday vernacular. We use it in scientific contexts to describe, for instance, the climatological point of no return that we'll hit if we allow average global temperatures to rise more than 2 degrees Celsius above preindustrial levels. But we also use it to describe everything from resistance movements to the disenchantment of hockey fans when their team is on a losing streak.
samael334 / iStock / Getty Images
Berries are small, soft, round fruit of various colors — mainly blue, red, or purple.
A glacier is seen in the Kenai Mountains on Sept. 6, near Primrose, Alaska. Scientists from the U.S. Geological Survey have been studying the glaciers in the area since 1966 and their studies show that the warming climate has resulted in sustained glacial mass loss as melting outpaced the accumulation of new snow and ice. Joe Raedle / Getty Images
By Mark Mancini
On Aug. 18, Iceland held a funeral for the first glacier lost to climate change. The deceased party was Okjökull, a historic body of ice that covered 14.6 square miles (38 square kilometers) in the Icelandic Highlands at the turn of the 20th century. But its glory days are long gone. In 2014, having dwindled to less than 1/15 its former size, Okjökull lost its status as an official glacier.
Members of Chicago Democratic Socialists of America table at the Logan Square Farmers Market on Aug. 18. Alex Schwartz
By Alex Schwartz
Among the many vendors at the Logan Square Farmers Market on Aug. 18 sat three young people peddling neither organic vegetables, gourmet cheese nor handmade crafts. Instead, they offered liberation from capitalism.
Hackney primary school students went to the Town Hall on May 24 in London after school to protest about the climate emergency. Jenny Matthews / In Pictures / Getty Images
Bird watching in the U.S. may be a lot harder than it once was, since bird populations are dropping off in droves, according to a new study.