This website uses cookies to ensure you get the best experience while browsing it. By clicking 'Got It' you're accepting these terms.
Monsanto Announces 'Global Center' for Developing GMO Corn
Oct. 01, 2014 08:07AM EST
Food
Monsanto announced this week that it is opening a new facility in Mexico to research and develop new hybrid types of corn resistant to disease and climate conditions. On the other side of the globe, the Chinese government has launched a media campaign on TV, in newspapers and on the Internet to convince a skeptical population that GMOs are beneficial.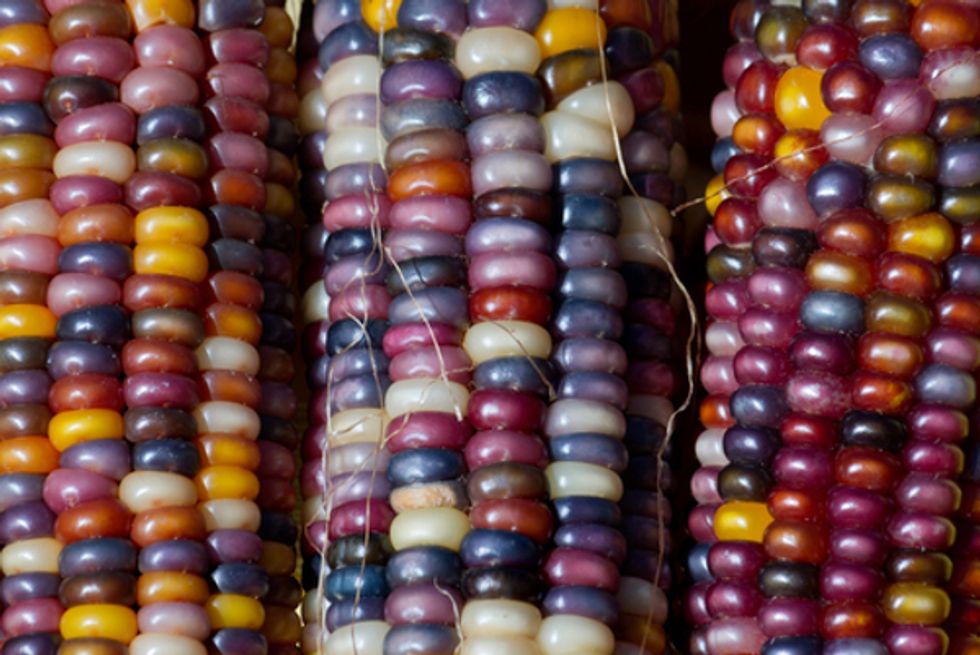 Photo credit: Shutterstock
While the Chinese government has long been pro-GMO and sees these crops as the key to feeding its large population, the public has been less than receptive. China imports millions of tons of GMO soybeans each year to feed pigs and make vegetable oil but has yet to cultivate its own GMOs. Scientific American reports that while the country has poured money into developing GMO varieties of corn and rice, they never went into production due in part to opposition and their safety certificates, issued in 2009, expired last month. The Chinese military banned GMOs from its food supply chain last spring.
The government's case wasn't helped when an unapproved GMO corn was found in shipments from the U.S. late last year. According to the Wall Street Journal, huge multinational commodity trader Cargill filed a lawsuit last month against seed-maker Syngenta, saying that Syngenta's push to sell the unapproved seeds cost Cargill $90 million. An unapproved genetically modified strain was found by Greenpeace China activists in samples of rice purchased at a supermarket in Wuhan last year; tests commissioned by state television repeated the experiment this summer and found more samples of the illegal rice.
Reception to GMO crops isn't any warmer in Mexico, where Monsanto plans to open a research facility dubbed a "global center" to develop GMO seed corn primarily for sale in the U.S. In doing so, it painted itself as a climate hero.
"The aim is to create new varieties tolerant to diseases and the stresses that affect maize cultivation all over the world due to growing negative conditions caused by global climate change," Monsanto said in a statement.
Last year, in response to a lawsuit filed by community organization Acción Colectiva, a federal judge in Mexico City issued a temporary order stopping the Mexican government from issuing new GMO corn permits. The activists said it would contaminate native corn and undermine its biodiversity. When it was upheld on appeal, Monsanto filed a request in April to remove the judge, saying he was biased. The ban is still in effect.
Update: While the initial reports from Reuters, picked up in several business publications including the St. Louis Business Journal, said Monsanto's global center would research and develop GMO varieties of corn, the company says that in fact it will be working on more disease- and climate-tolerant conventional hybrids. Reuters has updated its story.
YOU MIGHT ALSO LIKE
Renowned NYU Professor: GMOs Could Literally Destroy the Planet
Chinese Army Bans All GMO Grains and Oils
GMO Crops Accelerate Herbicide and Insecticide Use While Mainstream Media Gets It Wrong
EcoWatch Daily Newsletter
The Opera House is seen with smoke haze which enveloped Sydney Harbor on Dec. 10 in Sydney, Australia. Smoke haze hangs over the city as the New South Wales fire danger risk is raised from 'very high' to 'severe'. James D. Morgan / Getty Images
The brushfires raging through New South Wales have shrouded Australia's largest city in a blanket of smoke that pushed the air quality index 12 times worse than the hazardous threshold, according to the Australia Broadcast Corporation (ABC).
People walk across the bridge near Little Raven Court in downtown Denver. Younger Americans increasingly prefer to live in walkable neighborhoods. Helen H. Richardson / The Denver Post via Getty Images
By David B. Goldstein
Energy efficiency is the cornerstone of any country's plan to fight the climate crisis. It is the cheapest option available, and one that as often as not comes along with other benefits, such as job creation, comfort and compatibility with other key solutions such as renewable energy. This has been recognized by the International Energy Agency (IEA) for at least a decade.
Activists from Extinction Rebellion New York City engaged in nonviolent direct action to confront climate change outside City Hall on April 17, 2019. Erik McGregor / Pacific Press / LightRocket via Getty Images
By Andrea Germanos

Over 500 groups on Monday rolled out an an action plan for the next president's first days of office to address the climate emergency and set the nation on a transformative path towards zero emissions and a just transition in their first days in office.

The Ladakh region of India, pictured above, is a part of the Himalayan mountain region of the upper Indus Valley which is the most vulnerable water tower, according to researchers. Suttipong Sutiratanachai / Moment / Getty Images
Jet stream triggered heat waves could threaten food production in several important breadbaskets, including central North America.
Carl Wycoff /
CC BY 2.0
Researchers have pinpointed a previously underexamined threat to global food production, and they warn it will only get worse as the climate crisis intensifies.