This website uses cookies to ensure you get the best experience while browsing it. By clicking 'Got It' you're accepting these terms.
Monsanto and Cargill Aggressively Pursue GE Soy Feed for Factory Fish-Farming Industry
Jul. 03, 2012 01:39PM EST
GMO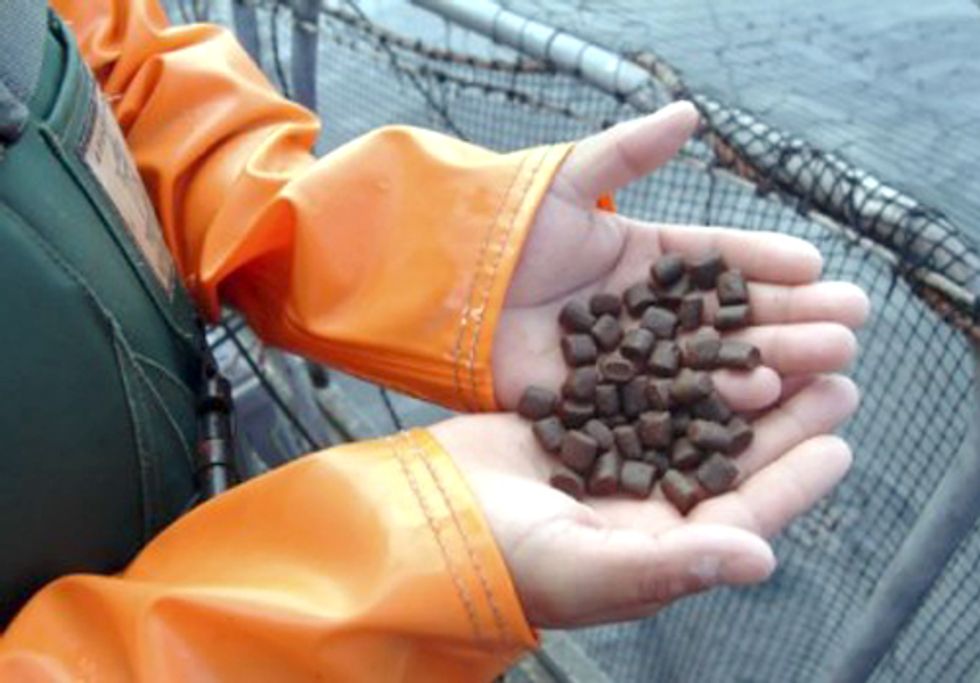 If proponents of soy in aquaculture have it their way, soy will be used to feed fish in open ocean pens in federal waters, a move that would negatively impact the marine environment as well as the diets of both fish and consumers.
Food & Water Watch and Food & Water Europe's new report, Factory-Fed Fish: How the Soy Industry is Expanding Into the Sea, shows how a collaboration between two of the most environmentally damaging industries on land and sea—the soy and open ocean aquaculture industries, respectively—could be devastating to ocean life and consumer health. And since much of the soy produced in the U.S. is genetically engineered (GE), consuming farmed fish would likely mean eating fish that are fed GE soy.
"Our seas are not Roundup ready," said Wenonah Hauter, executive director of Food & Water Watch. "Soy is being promoted as a better alternative to feed made from wild fish, but this model will not help the environment, and it will transfer massive industrial farming models into our oceans and further exacerbate the havoc wreaked by the soy industry on land—including massive amounts of dangerous herbicide use and massive deforestation."
The powerful soy industry, which is well represented in Washington, D.C. and Brussels, stands to gain more than $200 million (€160 million) each year by aggressively promoting the use of soy to feed farmed fish at a time when more and more consumers are eating seafood sourced from aquaculture or fish farms. Close to half of the seafood we consume globally comes from these factory fish farms.
Unfortunately, increased use of soy in fish feed could do greater harm to the health of fisheries by increasing the amount of soybeans grown. Like other monoculture crops, soybeans require large amounts of fertilizer for their production. Much of this fertilizer gets washed off the fields and into waterways that eventually lead to important fisheries such as the Gulf of Mexico or the Chesapeake Bay. The nitrogen and phosphorus from this fertilizer contributes to the dead zones in these fisheries, reducing the number of fish that live there and the ability of fishermen to catch them.
Relying on soy to feed farmed fish could also have devastating affects on consumer choice. In 2007, there were total of 279,110 soybean farms. A 2008 report indicated that only 1,336 soybean farms were certified organic, which do not allow the use of GE crops. This leaves a lot of room for non-organic soybean farms to produce crops from GE seeds. GE soy-fed fish would probably not need to be labeled, so consumers wouldn't know that they were eating fish fed with GE soy. Considering that Monsanto and Cargill would be big players—two agribusinesses that use GE seeds—this scenario seems likely.
While the soy industry is busy promoting soy as an environmentally friendly alternative to fish feed from wild fish, it is clear that soy is not a natural food for fish to eat, and that its use can be destructive to ocean ecosystems. Fish have a difficult time digesting it, and it causes nutrient deficiency. As a result, fish tend to produce excessive amounts of waste, which attracts disease and bacteria, and disrupts the normal ecology of the immediate marine environment.
Visit EcoWatch's GENETICALLY MODIFIED ORGANISM and FACTORY FARMING pages for more related news on these topics.
EcoWatch Daily Newsletter
We need our government to do everything it can to stop PFAS contamination and exposure from wreaking havoc in communities across the country. LuAnn Hun /
Unsplash
By Genna Reed
The EPA announced last week that it is issuing a preliminary regulatory determination for public comment to set an enforceable drinking water standard to two of the most common and well-studied PFAS, PFOA and PFOS.
This decision is based on three criteria:
PFOA and PFOS have an adverse effect on public health
PFOA and PFOS occur in drinking water often enough and at levels of public health concern;
regulation of PFOA and PFOS is a meaningful opportunity for reducing the health risk to those served by public water systems.
Charging EVs in Stockholm: But where does a dead battery go? Ranjithsiji / Wikimedia Commons
By Kieran Cooke
Driving an electric-powered vehicle (EV) rather than one reliant on fossil fuels is a key way to tackle climate change and improve air quality — but it does leave the old batteries behind as a nasty residue.
U.S. Secretary of the Treasure Steven Mnuchin arrives for a welcome dinner at the Murabba Palace in Riyadh, Saudi Arabia on Feb. 22, 2020 during the G20 finance ministers and central bank governors meeting. FAYEZ NURELDINE / AFP via Getty Images
Finance ministers from the 20 largest economies agreed to add a scant mention of the climate crisis in its final communiqué in Riyadh, Saudi Arabia on Sunday, but they stopped short of calling it a major economic risk, as Reuters reported. It was the first time the G20 has mentioned the climate crisis in its final communiqué since Donald Trump became president in 2017.
Aerial view of Parque da Cachoeira, which suffered the January 2019 dam collapse, in Brumadinho, state of Minas Gerais, Brazil — one of the country's worst industrial accidents that left 270 people dead. Millions of tons of toxic mining waste engulfed houses, farms and waterways, devastating the mineral-rich region. DOUGLAS MAGNO / AFP / Getty Images
Participants of the climate demonstration Fridays for Future walk through Hamburg, Germany on Feb. 21, 2020. Axel Heimken / picture alliance via Getty Images