This website uses cookies to ensure you get the best experience while browsing it. By clicking 'Got It' you're accepting these terms.
Monsanto: A Corporate Profile Sheds Light on GE Seed Giant's Dark History
Apr. 03, 2013 09:52AM EST
GMO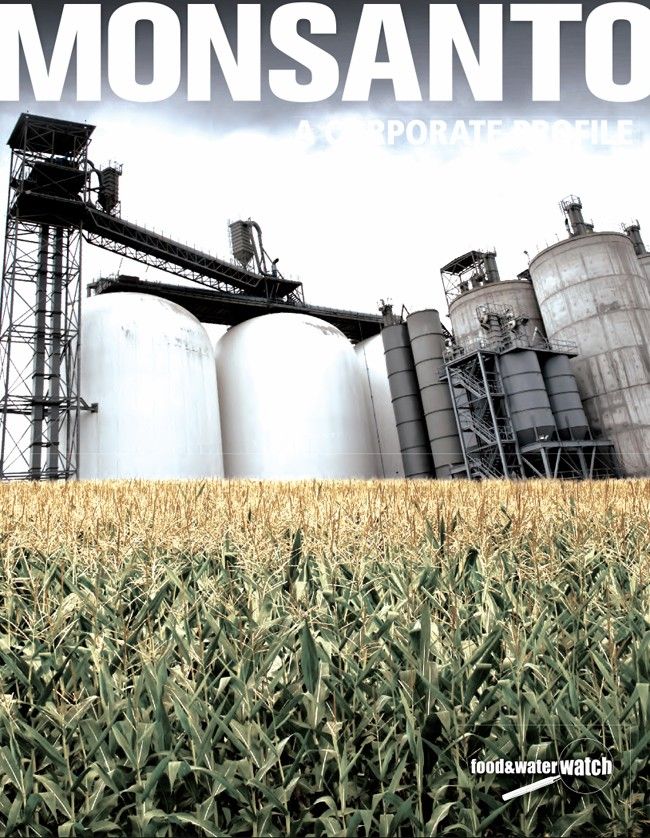 From its beginnings as a small chemical company in 1901, Monsanto has grown into the largest biotechnology seed company in the world with net sales of $11.8 billion, 404 facilities in 66 countries across six continents and products grown on more than 282 million acres worldwide. Today, the consumer advocacy nonprofit Food & Water Watch released its report, Monsanto: A Corporate Profile.
"There is a growing movement of people around the country who want to take on Monsanto's undue influence over lawmakers, regulators and the food supply," said Wenonah Hauter, executive director of Food & Water Watch and author of the book Foodopoly. "People need to know about Monsanto's history as a heavy industrial chemical manufacturer; a reality at odds with the environmentally friendly, feed-the-world image that the company spends millions trying to convey."
"At the end of March, the American public saw first hand the unjustifiable power that Monsanto holds over our elected officials when an unprecedented rider, dubbed the 'Monsanto Protection Act,' was tacked onto the spending bill to fund the federal government," said Dave Murphy, founder and executive director of Food Democracy Now! "This is an outrageous interference with our courts and separation of powers and we cannot sit back and allow our elected officials to continue to take orders from Monsanto at the expense of family farmers and consumers."
The report offers a timeline of milestones in the company's history including chemical disasters, mergers and acquisitions, and the first genetically modified plant cell.
"Despite its various marketing incarnations over the years, Monsanto is a chemical company that got its start selling saccharin to Coca-Cola, then Agent Orange to the U.S. military, and, in recent years, seeds genetically engineered to contain and withstand massive amounts of Monsanto herbicides and pesticides," said Ronnie Cummins, executive director of Organic Consumers Association. "Monsanto has become synonymous with the corporatization and industrialization of our food supply."
The report concludes with recommended actions for the federal government to take to temper Monsanto's anti-competitive practices and control over agricultural research and government policies. It also suggests steps that regulators should take to better protect consumers and the environment from the potentially harmful effects of genetically engineered (GE) crops.
"Even though you won't find the Monsanto brand on a food or beverage container at your local grocery store, the company holds vast power over our food supply," said Rebecca Spector, west coast director of Center for Food Safety. "This power is largely responsible for something else we cannot find on our grocery store shelves—labels on genetically engineered food. Not only has Monsanto's and other agribusinesses' efforts prevented the labeling of GE foods, but they spend millions to block grassroots efforts like California's Prop 37 in order to keep consumers in the dark."
"The chemical pesticide industry, with Monsanto leading the way, took over U.S. seed industry and engineered bacterial genes into food crops with the primary purpose of selling more weed killer that contaminates our food, water and bodies," said David Bronner, the CEO of Dr. Bronner's Magic Soaps and leader in GE food labeling campaigns across the country. "Just like the citizens of Europe, Japan and China, Americans deserve the right to opt out of the genetically engineered food science experiment."
Visit EcoWatch's GENETICALLY MODIFIED ORGANISM page for more related news on this topic.
——–
Tell the FDA to Deny Approval of GE Salmon:
EcoWatch Daily Newsletter
Cigarette butts are the most-littered item found at beach clean ups. John R. Platt
By Tara Lohan
By now it's no secret that plastic waste in our oceans is a global epidemic. When some of it washes ashore — plastic bottles, plastic bags, food wrappers — we get a stark reminder. And lately one part of this problem has been most glaring to volunteers who comb beaches picking up trash: cigarette butts.

Andrea Rodgers, second from the right, takes notes during a hearing in the Juliana v. U.S. case before the 9th Circuit Court of Appeals in Portland, Oregon on June 4. Colleague Elizabeth Brown sits to her left, while colleague Julia Olson sits on her right, with co-council Philip Gregory on Julia's right. Robin Loznak / Our Children's Trust
By Fran Korten
On June 4, Andrea Rodgers was in the front row of attorneys sitting before a three-judge panel of the 9th Circuit Court. The court session, held in Portland, Oregon, was to determine whether the climate change lawsuit (Juliana v. United States) brought by 21 young plaintiffs should be dismissed, as requested by the U.S. government, or go on to trial.
Seventy Extinction Rebellion protesters were arrested outside The New York Times building Saturday.
SCOOTERCASTER / YouTube screenshot
Explosions and a blaze at the Philadelphia Energy Solutions Refining Complex on June 21.
VOA News / YouTube screenshot
A fire broke out at a Philadelphia oil refinery Friday morning, starting with an explosion so massive it was felt as far away as South Jersey and Delaware County, Pennsylvania, CNN reported.
Asian elephants in Bandipur National Park, India. Mike Prince / CC BY 2.0
By John R. Platt
Some of the tiniest creatures in Myanmar benefit from living near the largest species in the area.
Eucador's Waorani indigenous people celebrated a court ruling against oil extraction on their ancestral lands.