Monsanto: A Corporate Profile Sheds Light on GE Seed Giant's Dark History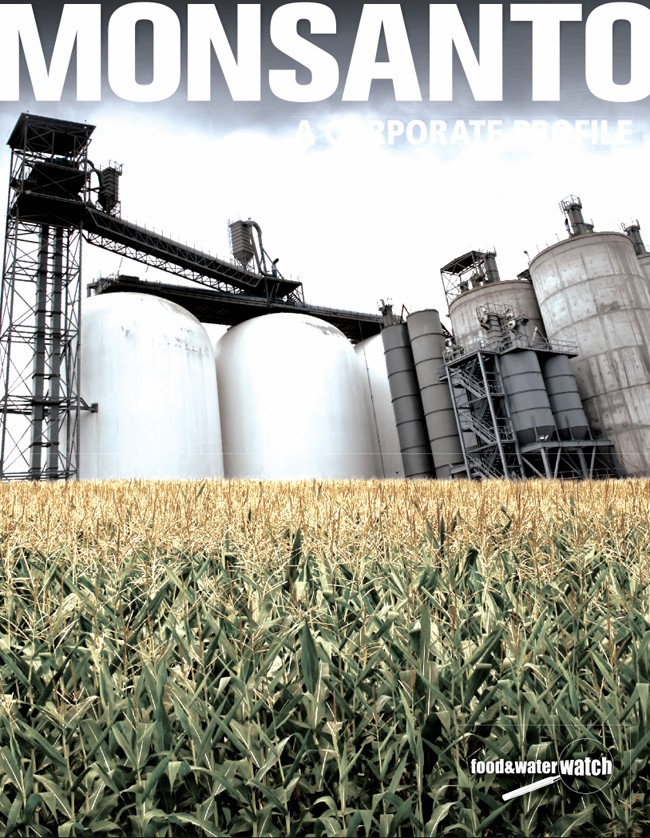 From its beginnings as a small chemical company in 1901, Monsanto has grown into the largest biotechnology seed company in the world with net sales of $11.8 billion, 404 facilities in 66 countries across six continents and products grown on more than 282 million acres worldwide. Today, the consumer advocacy nonprofit Food & Water Watch released its report, Monsanto: A Corporate Profile.
"There is a growing movement of people around the country who want to take on Monsanto's undue influence over lawmakers, regulators and the food supply," said Wenonah Hauter, executive director of Food & Water Watch and author of the book Foodopoly. "People need to know about Monsanto's history as a heavy industrial chemical manufacturer; a reality at odds with the environmentally friendly, feed-the-world image that the company spends millions trying to convey."
"At the end of March, the American public saw first hand the unjustifiable power that Monsanto holds over our elected officials when an unprecedented rider, dubbed the 'Monsanto Protection Act,' was tacked onto the spending bill to fund the federal government," said Dave Murphy, founder and executive director of Food Democracy Now! "This is an outrageous interference with our courts and separation of powers and we cannot sit back and allow our elected officials to continue to take orders from Monsanto at the expense of family farmers and consumers."
The report offers a timeline of milestones in the company's history including chemical disasters, mergers and acquisitions, and the first genetically modified plant cell.
"Despite its various marketing incarnations over the years, Monsanto is a chemical company that got its start selling saccharin to Coca-Cola, then Agent Orange to the U.S. military, and, in recent years, seeds genetically engineered to contain and withstand massive amounts of Monsanto herbicides and pesticides," said Ronnie Cummins, executive director of Organic Consumers Association. "Monsanto has become synonymous with the corporatization and industrialization of our food supply."
The report concludes with recommended actions for the federal government to take to temper Monsanto's anti-competitive practices and control over agricultural research and government policies. It also suggests steps that regulators should take to better protect consumers and the environment from the potentially harmful effects of genetically engineered (GE) crops.
"Even though you won't find the Monsanto brand on a food or beverage container at your local grocery store, the company holds vast power over our food supply," said Rebecca Spector, west coast director of Center for Food Safety. "This power is largely responsible for something else we cannot find on our grocery store shelves—labels on genetically engineered food. Not only has Monsanto's and other agribusinesses' efforts prevented the labeling of GE foods, but they spend millions to block grassroots efforts like California's Prop 37 in order to keep consumers in the dark."
"The chemical pesticide industry, with Monsanto leading the way, took over U.S. seed industry and engineered bacterial genes into food crops with the primary purpose of selling more weed killer that contaminates our food, water and bodies," said David Bronner, the CEO of Dr. Bronner's Magic Soaps and leader in GE food labeling campaigns across the country. "Just like the citizens of Europe, Japan and China, Americans deserve the right to opt out of the genetically engineered food science experiment."
Visit EcoWatch's GENETICALLY MODIFIED ORGANISM page for more related news on this topic.
——–
Tell the FDA to Deny Approval of GE Salmon:
Wikimedia Commons
By Stacy Malkan
Neil deGrasse Tyson has inspired millions of people to care about science and imagine themselves as participants in the scientific process. What a hopeful sign it is to see young girls wearing t-shirts emblazoned with the words, "Forget princess, I want to be an astrophysicist."
Keep reading...
Show less
www.youtube.com
By Andy Rowell
Any day now we will truly witness climate change in action. Within days at worst, maybe weeks at best, scientists predict that a huge section of the Larsen C ice shelf in Antarctica will break off into the ocean, in what is called a major "carving" event.
Keep reading...
Show less
www.youtube.com
President Trump visited Cedar Rapids, Iowa on June 21 to speak to a large crowd in the U.S. Cellular Center at a political rally organized by his campaign.
As Trevor Noah noted during The Daily Show episode last night (starts at 2:25), the real reason Trump has these rallies is to "get back in front of his loyal crowds and feed of their energy." Noah believes that "Trump supporters are so on board with their dude he can say anything and they'll come along for the ride."
Keep reading...
Show less
The Kamuthi solar plant in the southern Indian state of Tamil Nadu.
The rapid growth in renewable energy continues to put a dent in the demand for coal.
Coal India, the world's biggest coal mining company and producer of 82 percent of the country's coal, announced the closure of 37 mines that are financially "unviable."
Keep reading...
Show less
www.youtube.com
By Katie O'Reilly
Two years ago—long before coal became one of the most dominant and controversial symbols of the 2016 presidential election—Bloomberg Philanthropies approached production company RadicalMedia with the idea of creating a documentary exploring the U.S. coal mining industry. Last spring, they brought on Emmy-nominated director Michael Bonfiglio, tasked with forging a compelling story out of the multitudes of facts, statistics and narratives underlying the declining industry.
Keep reading...
Show less
Mayors for 100% Clean Energy
Keep reading...
Show less
www.youtube.com
Thanks to Newsy for their coverage on Thursday's news that the U.S. Fish and Wildlife Service removed grizzly bears in the Greater Yellowstone region from the Endangered Species List.
Watch above as Newsy explains that the decision comes despite serious concerns from the environmental and scientific community, and Tribal Nations about a declining, isolated grizzly bear population with diminishing food resources and record-high mortalities.
Keep reading...
Show less
www.facebook.com
By Francine Kershaw
Seismic airguns exploding in the ocean in search for oil and gas have devastating impacts on zooplankton, which are critical food sources for marine mammals, according to a new study in Nature. The blasting decimates one of the ocean's most vital groups of organisms over huge areas and may disrupt entire ecosystems.
And this devastating news comes on the heels of the National Marine Fisheries Service's proposal to authorize more than 90,000 miles of active seismic blasting. Based on the results of this study, the affected area would be approximately 135,000 square miles.
Keep reading...
Show less
By Jill Richardson
Is coconut oil:
good for you
bad for you
neither good nor bad
scientists don't know
The subject of this question is the source of a disagreement. Initially, the question was thought to be settled decades ago, when scientist Ancel Keys declared all saturated fats unhealthy. Coconut oil, which is solid at room temperature, is a saturated fat.
Keep reading...
Show less


Get EcoWatch in your inbox