This website uses cookies to ensure you get the best experience while browsing it. By clicking 'Got It' you're accepting these terms.
Moms, Health Professionals and Environmental Groups Call for Strong National Mercury Standards
Dec. 02, 2011 07:19AM EST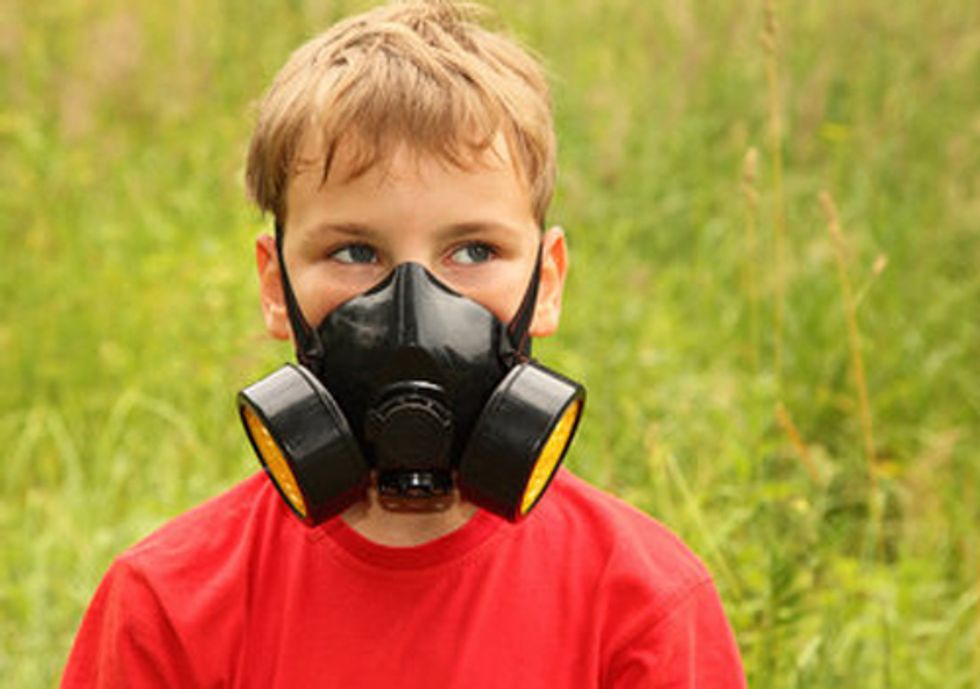 On Dec. 1, the Sierra Club joined with local families and environmental organizations to call upon President Barack Obama to enact strong mercury standards for our power plants. These first ever standards, proposed in March, would reduce mercury in our air and water by more than 90 percent.
Mercury has been linked with serious developmental disorders and learning disabilities and at the moment our power plants are allowed to spew this toxic pollution without limits. Ohio's coal plants are among the worst in country emitting more than 4,218 pounds of airborne mercury pollution every year, a leading factor in making Ohio number one for toxic air pollution in the country.
Theresa Davis-Bowling, a mother from Cleveland, who's son lives with chronic asthma, is now preparing to give her son Zolar shots which cost $1,200 each. "Initially he has to take a shot every week for a month and then every month thereafter, which will cost $4,800 the first month and a total of $18,000 for one year—he's only 13, you do the math."
The experience of Theresa's son is just one of many across the country, every year the coal industry causes more than $100 billion in health costs due to the toxic pollution of their coal plants. By reducing particle matter by 55 percent, these mercury standards would help curve Cuyahoga County's extreme incidence of asthma. In 2008, the asthma rate among Cleveland school children was more than double the national average.
Jesse Honsky, a registered nurse and expert on maternal and child health, lamented that "A child exposed to toxic levels of mercury faces not just health consequences, but also social, economic and quality of life consequences. The harmful effects of mercury can be permanent and the effects can last for years after the damage occurs."
The families of Northeast Ohio now urge Obama to bring us across the finish line with strong mercury standards. Nationally more than 900,000 public comments have demonstrated support for strong U.S. Environmental Protection Agency protections, while locally more than 1,000 postcards have been sent to the state calling for investments in cleaner alternatives. It is now up to Obama to finalize the standards and take a stand for the health of Ohio's families. Strong national mercury standards would result in 120,000 asthma attacks avoided, 12,200 emergency room visits avoided and 4,500 cases of chronic bronchitis avoided.
Rashay Layman of the Sierra Club reiterated these sentiments saying, "two-thirds of all airborne mercury pollution in our state comes from these old, dirty coal plants. From asthma attacks to developmental disabilities, coal makes people sick. Ohio needs President Obama to get us across the finish-line on these long awaited standards."
For more information, contact Rashay Layman at rashay.layman@sierraclub.org, 614-461-0734 x 307 or Alistair Hall at Alistair@greencorps.org, 862-324-2141.
EcoWatch Daily Newsletter
Penguins are seen near the Great Wall station in Antarctica, Feb. 9, days after the continent measured its hottest temperature on record at nearly 65 degrees Fahrenheit. Xinhua / Liu Shiping / Getty Images
By Richard Connor
Scientists have recorded Antarctica's first documented heat wave, warning that animal and plant life on the isolated continent could be drastically affected by climate change.
The Athos I tanker was carrying crude oil from Venezuela when a collision caused oil to begin gushing into the Delaware River.
U.S. Department of the Interior
A case that has bounced around the lower courts for 13 years was finally settled yesterday when the U.S. Supreme Court upheld a lower court decision, finding oil giant Citgo liable for a clean up of a 2004 oil spill in the Delaware River, according to Reuters.
The buildings of downtown Los Angeles are partially obscured in the late afternoon on Nov. 5, 2019, as seen from Pasadena, California, a day when air quality for Los Angeles was predicted to be "unhealthy for sensitive groups." Mario Tama / Getty Images
The evidence continues to build that breathing dirty air is bad for your brain.
Wave power in Portugal. The oceans' energy potential is immense. Luis Ascenso, via Wikimedia Commons
By Paul Brown
The amount of energy generated by tides and waves in the last decade has increased tenfold. Now governments around the world are planning to scale up these ventures to tap into the oceans' vast store of blue energy.
Yellowstone National Park closed to visitors on March 24, 2020 because of the Covid-19 virus threat. William Campbell-Corbis via Getty Images
When the novel coronavirus started to sweep across the country, the National Park Service started to waive entrance fees. The idea was that as we started to practice social distancing, Americans should have unfettered access to the outdoors. Then the parking lots and the visitor centers started to fill up, worrying park employees.