This website uses cookies to ensure you get the best experience while browsing it. By clicking 'Got It' you're accepting these terms.
Momentous Pressure on World Leaders as Climate Talks Begin in Lima
Dec. 01, 2014 09:28AM EST
Climate
The pressure is on for leaders to move forward on climate change as delegates descend into Peru for the two-week UN climate conference in Lima today.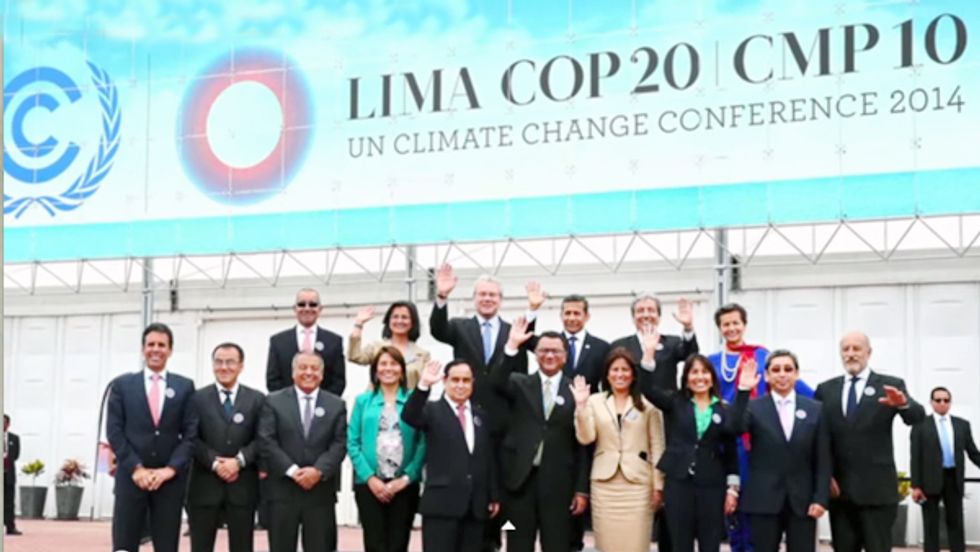 Diplomats are calling these negotiations "the best chance in a generation of striking a deal on global warming" according to the Guardian, with the U.S. and China's commitment to work together on carbon pollution bringing fresh momentum.
"There is some cautious optimism," said Leo Hickman, World Wildlife Fund's (WWF) chief advisor on climate change. "Things feel different than they did six months ago, one year ago, so we don't want to puncture that."
COP20 will be vital in setting the scene for next year's talks. At the end of these two weeks in Lima, it's hoped a draft deal will be produced that can be finalized in Paris.
But what exactly should we look out for and what can we expect from British delegates?
Climate Finance
According to a report by Bloomberg New Energy Finance "the issue of climate finance is central to the post-2020 talks."
This month has seen a slew of countries pledge contributions to the Green Climate Fund (GCF), including the UK which committed £720m.
While the fund is technically separate to the negotiations, many are pushing for wealthy nations to set a higher contribution target.
Both Greenpeace and WWF in their policy expectation briefing papers call for developed countries to make pledges to the GCF totaling at least USD$15bn and to "scale up financing flows through the GCF significantly in subsequent years."
However, the UK might not be keen on this for two reasons. As mentioned, Britain has very recently pledged money to the Green Climate Fund, so some will argue it has already done its part.
Secondly, there is an election coming up in May. Without knowing what the next government will look like, politicians might argue they cannot commit a new government to new finance commitments. The same goes for the U.S. whose 2016 election is a year after the Paris talks.
And as the Financial Times reports this morning, China and Brazil have already started criticising the amount of money wealthy countries have pledged to help poorer nations deal with global warming "in a sign that sealing a climate treaty next year still faces serious snags."
Loss and Damage
The loss and damage mechanism was created at COP19 in Warsaw last year with the aim to provide financial support for vulnerable countries affected by climate change.
It is a particularly contentious issue within the climate finance debate because wealthier countries—and historic emitters—see it as a compensation mechanism.
According Bloomberg New Energy Finance, "developing countries such as those facing existential threats from sea-level rise believe they are due significant compensation, but developed countries are cautious, saying that they are 'not willing to sign a blank cheque.'"
This will be a closely-watched space during negotiations. Many hope the red line drawn by countries such as the UK and U.S. will begin to soften.
Review Mechanisms
It is expected that the 2015 Paris deal will most likely be a hodgepodge of individual national post-2020 targets. These targets will come out of the Lima discussions and are expected to be announced next March.
Crucial to the lead up to Paris then, is assessing the targets set by each country. This means that any draft deal reached now must include a monitoring, reporting and verification (MRV) framework.
"A robust and transparent MRV framework is crucial to evaluating the ambition and progress towards each country's target under a new agreement," explains the BNEF report.
When it comes to setting national targets, "we need more detail and clarity rather than big statements," said Hickman.
Understanding how the national targets collectively fit together is key to securing a meaningful deal next year—where on the path to 2°C of warming, or how far off from it, do the targets put us?
As both Greenpeace and WWF argue, countries must not be allowed to set too many different timelines for their commitments. The timelines should be focused around five-year commitment periods—targets for 2025 not just 2030—with a ratcheting-up mechanism so that countries cannot slip back on their pledges.
"We really want to see a proper, decent draft for Paris," said Hickman. "So a framework or foundation of what that'll look like and what will its legal status be? It would really help progress to come out with a draft deal."
Maintaining momentum on climate action in Peru is critical. As energy secretary, Ed Davey told the Telegraph: "These are the last major annual talks before we hit our deadline in Paris next year. We need a deal in Paris–there is no alternative that will protect our national security, our economy and the way of life we take for granted."
YOU MIGHT ALSO LIKE
Extreme Weather Will Be 'New Climate Normal' Without Immediate Action, Warns World Bank
Hottest October on Record Puts Planet on Track for Hottest Year Ever
Stunning NASA Video Illustrates a Year's Worth of Global Carbon Emissions
EcoWatch Daily Newsletter
Pro-environment demonstrators on the streets of Washington, DC during the Jan. 20, 2017 Trump inauguration.
Mobilus In Mobili
/ Flickr /
CC BY-SA 2.0
By Dr. Brian R. Shmaefsky
One year after the Flint Water Crisis I was invited to participate in a water rights session at a conference hosted by the US Human Rights Network in Austin, Texas in 2015. The reason I was at the conference was to promote efforts by the American Association for the Advancement of Science (AAAS) to encourage scientists to shine a light on how science intersects with human rights, in the U.S. as well as in the context of international development. My plan was to sit at an information booth and share my stories about water quality projects I spearheaded in communities in Bangladesh, Colombia, and the Philippines. I did not expect to be thrown into conversations that made me reexamine how scientists use their knowledge as a public good.
Mt. Rainier and Reflection Lake on Sept. 10, 2015. Crystal Geyser planned to open a bottling plant near Mt. Rainier, emails show.
louelke - on and off / Flickr
Bottled water manufacturers looking to capture cool, mountain water from Washington's Cascade Mountains may have to look elsewhere after the state senate passed a bill banning new water permits, as The Guardian reported.
Large storage tank of Ammonia at a fertilizer plant in Cubatão, Sao Paulo State, Brazil. Luis Veiga / The Image Bank / Getty Images
The shipping industry is coming to grips with its egregious carbon footprint, as it has an outsized contribution to greenhouse gas emissions and to the dumping of chemicals into open seas. Already, the global shipping industry contributes about 2 percent of global carbon emissions, about the same as Germany, as the BBC reported.
At high tide, people are forced off parts of the pathway surrounding DC's Tidal Basin. Andrew Bossi /
Wikimedia
The Jefferson Memorial in Washington, DC overlooks the Tidal Basin, a man-made body of water surrounded by cherry trees. Visitors can stroll along the water's edge, gazing up at the stately monument.
But at high tide, people are forced off parts of the path. Twice a day, the Tidal Basin floods and water spills onto the walkway.
Lioness displays teeth during light rainstorm in Kruger National Park, South Africa. johan63 / iStock / Getty Images
Ahead of government negotiations scheduled for next week on a global plan to address the biodiversity crisis, 23 former foreign ministers from various countries released a statement on Tuesday urging world leaders to act "boldly" to protect nature.