Mock Wedding Illustrates Misguided Marriage Between Fracking Industry and Environmental Groups
Apr. 15, 2013 04:55PM EST
Energy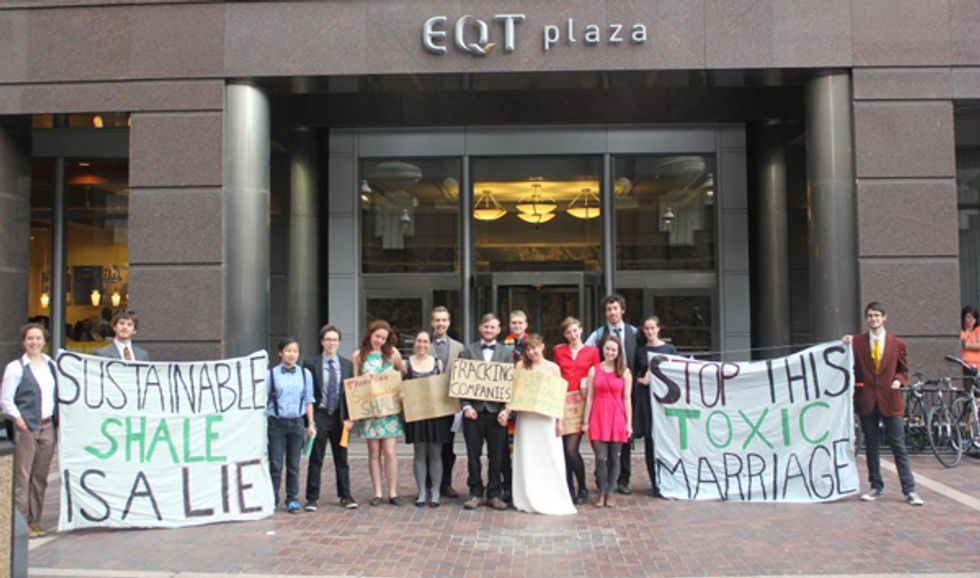 Oberlin Anti-Frack
A coalition of Pennsylvania and Ohio students and residents staged a mock wedding today at the EQT Plaza in downtown Pittsburgh, PA, to condemn the misguided union of corporations and environmental nonprofits through the Center for Sustainable Shale Development (CSSD).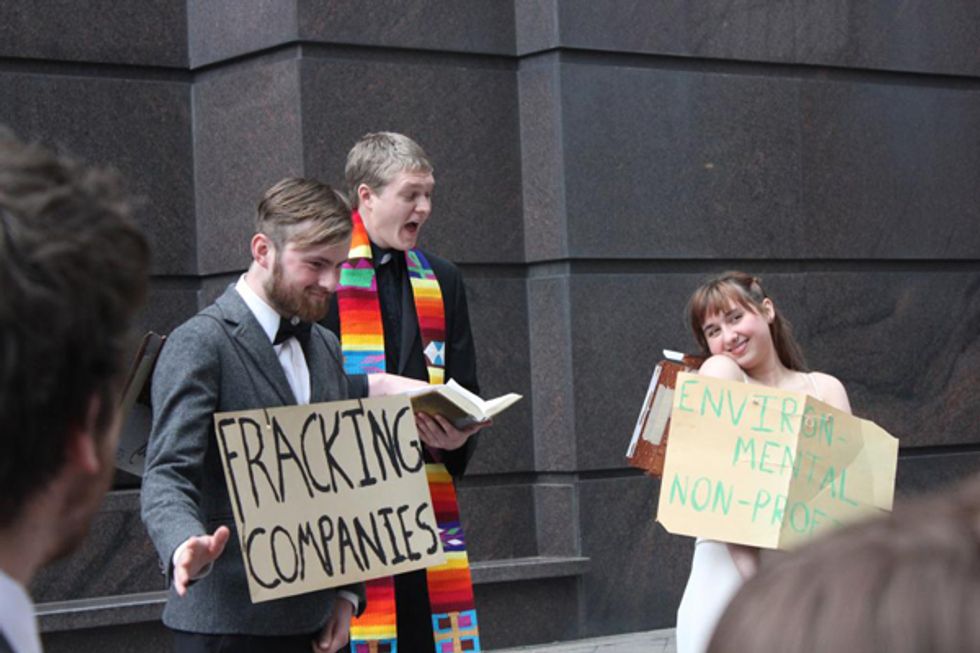 Oil and gas companies, including Shell, Chevron and CONSOL Energy, and environmental nonprofits, such as the Environmental Defense Fund (EDF), Pennsylvania Environmental Council (PEC) and Group Against Smog and Pollution (GASP), began working together in March of 2013 in order to create a set of voluntary regulations for fracking. The demonstrators have asked all environmental nonprofits to divorce themselves from CSSD due to irreconcilable differences.
CSSD's central mission is to promote the idea of "sustainable shale," but fracking is fundamentally unsustainable. Burning fossil fuels is the primary driver of climate destabilization, and oil and gas are finite resources. The concept of sustainable shale is an oxymoron. The gas industry is using their partnership with environmental nonprofits to co-opt the brand of sustainability and hide the destruction caused by fracking.
"CSSD is poised to greenwash fracking and congratulate companies for extraction that is anything but sustainable. In our region, the boom and bust of the fossil fuel industry has left landscapes poisoned and vacant. The last thing we need is the false hope of sustainable shale development," said a Pittsburgh resident who asked not to be named.
Massive amounts of methane leaks into the atmosphere during the life-cycle of gas production, exacerbating climate change. Fracking is economically unsustainable as well. Communities that focus on extraction, experience boom-bust cycles and are less prosperous in the long term. There are also significant health impacts associated with fracking. A recent study found that risks of cancer were significantly elevated for people who live within half a mile of a fracking well.
Madeleine Dorner, the bride at the mock wedding, said, "The only future that we have is a sustainable one, and there is no room for fossil fuels in it. We have to transition to renewable energy immediately, not just move from one dirty fossil fuel to another."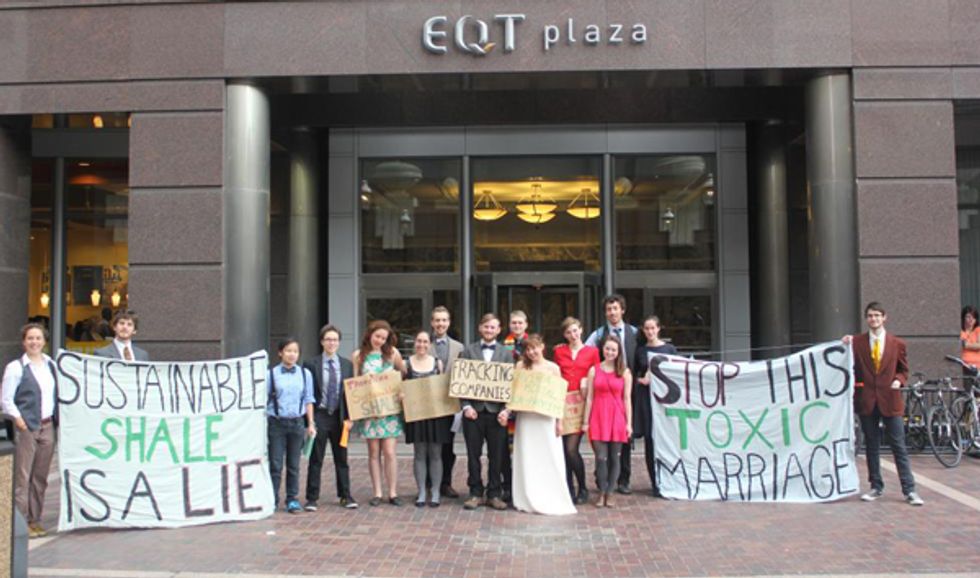 CSSD has created performance standards that rely on the voluntary participation of oil and gas companies. Companies that agree to these standards will receive a certification from CSSD—a paper pat on the back with no legal teeth to ensure compliance. Moreover, the regulations leave many of the most egregious problems unaddressed, " ... including radioactivity, methane migration, drill cuttings, community disruption, forest fragmentation, LNG and compressor stations."
Visit EcoWatch's FRACKING page for more related news on this topic.
——–
Sign the petition today, telling President Obama to enact an immediate fracking moratorium:

EcoWatch Daily Newsletter