This website uses cookies to ensure you get the best experience while browsing it. By clicking 'Got It' you're accepting these terms.
Mix of Arsenic and Estrogen Increases Risk of Prostate Cancer
Jul. 15, 2013 08:32AM EST
Health + Wellness
New research concludes that exposure to a combination of both arsenic and estrogen, at levels the U.S. Environmental Protection Agency (EPA) considers "safe" for humans, can cause cancer in prostate cells. Texas Tech University researchers revealed that humans exposed to a combination of both toxicants were almost twice as likely to develop cancerous cells in their prostate. The study is published in the peer-reviewed journal The Prostate.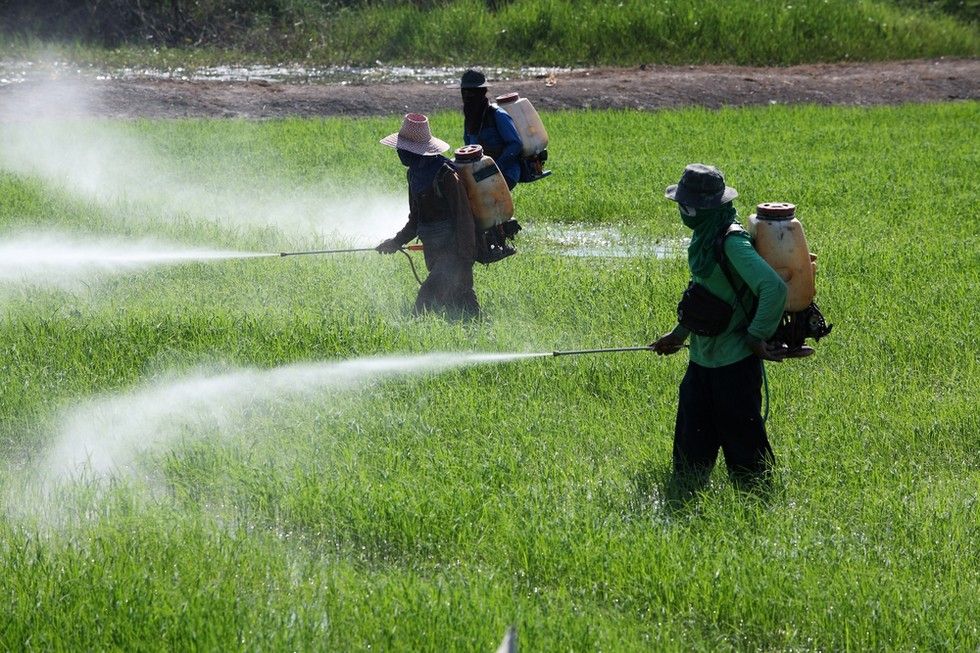 Photo courtesy of Shutterstock
While it is established that both arsenic and estrogen can cause cancer, the research raises concerns about the dangers of chemicals in combination, and the efficacy of regulations that are established by testing one chemical at a time. Kamaleshwar Singh, PhD, is an assistant professor at The Institute of Environmental and Human Health at Texas Tech. "The majority of cancers are caused by environmental influences," Dr. Singh remarked to Texas Tech Today, "Only about 5 to 10 percent of cancers are due to genetic predisposition. Science has looked at these chemicals, such as arsenic, and tested them in a lab to find the amounts that may cause cancer. But that's just a single chemical in a single test. In the real world, we are getting exposed to many chemicals at once."
The study contributes to the growing body of research on the interactive effects of pesticides on human health and the environment. For example, Tyrone Hayes, Ph.D., professor of integrative biology at University of California, Berkeley, conducted research on the interactive effects of atrazine and other pesticides in a study on frogs. His study compared the impact of exposure to realistic combinations of small concentrations of corn pesticides on on frog metamorphosis, concluding that frog tadpoles exposed to mixtures of pesticides took longer to metamorphose to adults and were smaller at metamorphosis than those exposed to single pesticides, with consequences for frog survival. The study revealed that "estimating ecological risk and the impact of pesticides on amphibians using studies that examine only single pesticides at high concentrations may lead to gross underestimations of the role of pesticides in amphibian declines."
Pesticide products available for sale are often chemical mixtures of active ingredients that create a cocktail of toxins, even though studies on pesticide combinations have demonstrated neurological, endocrine and immune effects at low doses. For example, research conducted by Warren Porter, Ph.D., professor of zoology and environmental toxicology at the University of Wisconsin, Madison, examined the effect of fetal exposures to a mixture of 2,4-D, mecoprop and dicamba exposure—frequently used together in lawn products like Weed B Gone Max or and Trillion—on the mother's ability to succesfully bring young to birth and weaning. Researchers began by testing pesticide concentrations diluted to levels that are considered "safe" by the EPA. The results were striking: Dr. Porter found that "this common lawn pesticide mixture is capable of inducing abortions and resorptions of fetuses at very low parts per billion. The greatest effect was at the lowest dose." Dr. Porter's work, Facing Scientific Realities, Debunking the 'Dose Makes the Poison' Myth, published in Pesticides and You, provides more information.

The new study by Texas Tech researchers on arsenic and estrogen confirms that co-exposures have a greater impact on human health, particularly for the development of prostate cancer. Researchers treated human prostate cells with arsenic, estrogen and a combination of the two once a week for six months to determine changes in prostate cells. The results have major implications because estrogen mimics are ubiquitous, such as bisphenol A (BPA) used as a liner in food cans. Similarly, while most arsenate pesticides were banned for use in agriculture in the U.S. in the 1980s, monosodium methanearsonate (MSMA), may still be used legally on cotton crops. Copper sulfate fertilizers have been found to be contaminated with arsenic with implications for human health and the environment. Other sources of exposure to arsenic include rice, an arsenic accumulator, and non-organically produced chicken.
Residues of arsenic pesticides once used to fight cotton boll weevil are still found in soils and are present in foods like rice. Indeed, researchers at the Dartmouth College Toxic Metals Superfund Research Program have found that rice pulls arsenic from the soil in the same way it absorbs the chemically similar silicon, calling it a natural arsenic accumulator. While most of the accumulation is sourced from arsenic that naturally occurs in soil and water, and some from fertilizer (such as chicken manure), some is caused by residual contamination from arsenate pesticides used on cotton.
With exposure to both arsenic and estrogen together showing synergistic impacts on human health, the research also highlights the deficiencies of the EPA's risk assessment process, which fail to look at chemical mixtures, synergistic effects, as well as certain health endpoints such as endocrine disruption. These deficiencies contribute to its severe limitations in defining real world poisoning.
Beyond Pesticides advocates for an alternatives assessment approach which rejects uses and exposures deemed acceptable under risk assessment calculations, but are unnecessary because of the availability of safer alternatives. For example, in agriculture, where data shows clear links between pesticide use and cancer, it would no longer be possible to use hazardous pesticides, as it is with risk assessment-based policy, when there are clearly effective organic systems with competitive yields that, in fact, outperform chemical-intensive agriculture in drought years. Regulatory restrictions that account for synergies and that begin to moves chemicals off the market are necessary for the protection of human health and the environment.
Visit EcoWatch's HEALTH page for more related news on this topic.
——–
SHARE YOUR THOUGHTS BELOW: Should cancer-causing pesticides be banned?
——–

EcoWatch Daily Newsletter
Eduardo Velev cools off in the spray of a fire hydrant during a heatwave on July 1, 2018 in Philadelphia. Jessica Kourkounis / Getty Images
By Adrienne L. Hollis
Because extreme heat is one of the deadliest weather hazards we currently face, Union of Concerned Scientist's Killer Heat Report for the U.S. is the most important document I have read. It is a veritable wake up call for all of us. It is timely, eye-opening, transparent and factual and it deals with the stark reality of our future if we do not make changes quickly (think yesterday). It is important to ensure that we all understand it. Here are 10 terms that really help drive home the messages in the heat report and help us understand the ramifications of inaction.
Senator Graham returns after playing a round of golf with Trump on Oct. 14, 2017 in Washington, DC. Ron Sachs – Pool / Getty Images
Lindsey Graham, the South Carolina Senate Republican who has been a close ally of Donald Trump, did not mince words last week on the climate crisis and what he thinks the president needs to do about it.
Golde Wallingford submitted this photo of "Pure Joy" to EcoWatch's first photo contest. Golde Wallingford
EcoWatch is pleased to announce our third photo contest!

A small Bermuda cedar tree sits atop a rock overlooking the Atlantic Ocean. todaycouldbe / iStock / Getty Images Plus
By Marlene Cimons
Kyle Rosenblad was hiking a steep mountain on the island of Maui in the summer of 2015 when he noticed a ruggedly beautiful tree species scattered around the landscape. Curious, and wondering what they were, he took some photographs and showed them to a friend. They were Bermuda cedars, a species native to the island of Bermuda, first planted on Maui in the early 1900s.
krisanapong detraphiphat / Moment / Getty Images
By Grace Francese
You may know that many conventional oat cereals contain troubling amounts of the carcinogenic pesticide glyphosate. But another toxic pesticide may be contaminating your kids' breakfast. A new study by the Organic Center shows that almost 60 percent of the non-organic milk sampled contains residues of chlorpyrifos, a pesticide scientists say is unsafe at any concentration.
The compound of German chemicals and pharmaceuticals giant Bayer in Berlin. ODD ANDERSEN / AFP / Getty Images
U.S. District Judge Vince Chhabria announced his ruling in San Francisco on Monday.
A Masai giraffe and sunset at Masai Mara National Reserve in Kenya. Ayzenstayn / Moment / Getty Images
Another subspecies of giraffe is now officially endangered, conservation scientists announced Thursday.
Trump shakes hands with EPA Administrator Scott Pruitt after announcing his decision for the U.S. to pull out of the Paris agreement on June 1, 2017. Win McNamee / Getty Images