This website uses cookies to ensure you get the best experience while browsing it. By clicking 'Got It' you're accepting these terms.
MIT Students Win Elon Musk's Hyperloop Design Competition
Feb. 02, 2016 09:28AM EST
Business
A team of student engineers from Massachusetts Institute of Technology won Best Overall Design in SpaceX's competition to design a pod for a Hyperloop system that would transport people through high-speed vacuum tubes.
"The public wants something new," SpaceX CEO Elon Musk told the attendees at this first-ever competition on Saturday at Texas A&M University. "And you're going to give it to them."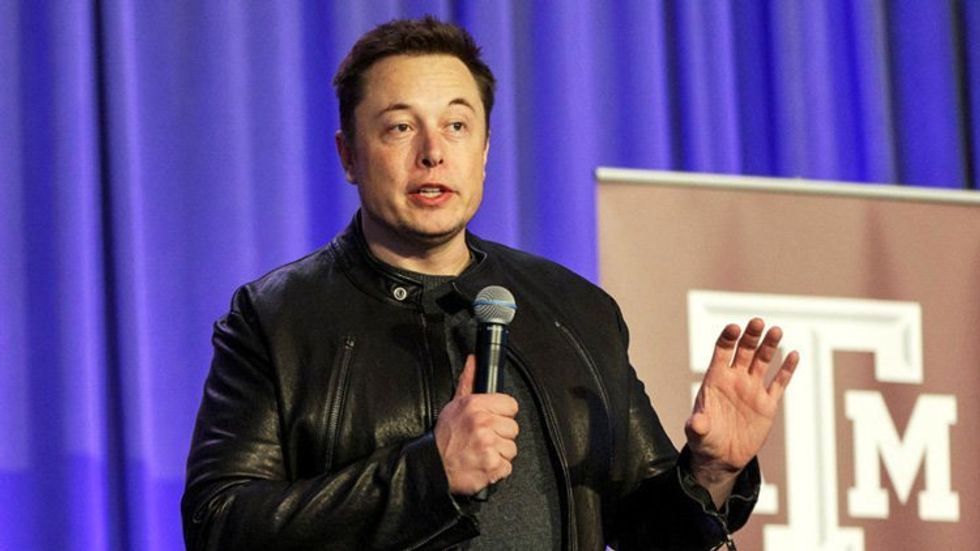 More than 115 student engineering teams representing 27 U.S. states and 20 countries competed. Musk challenged the teams to "design a passenger pod to run in the Hyperloop, a low-pressure tube between LA and San Francisco which will use a railgun to rocket passengers between the two cities at supersonic speeds," according to The Guardian.
Delft University of Technology from the Netherlands finished second, the University of Wisconsin third, Virginia Tech fourth and the University of California, Irvine, fifth.
The top 22 teams will build their pods and test them this summer at what Texas A&M called the "world's first Hyperloop test track"—a one-mile track being built next to SpaceX's headquarters in Hawthorne, California. "The prototype pods would be half the size of the system that Musk envisioned and would not carry people," Phys.org noted.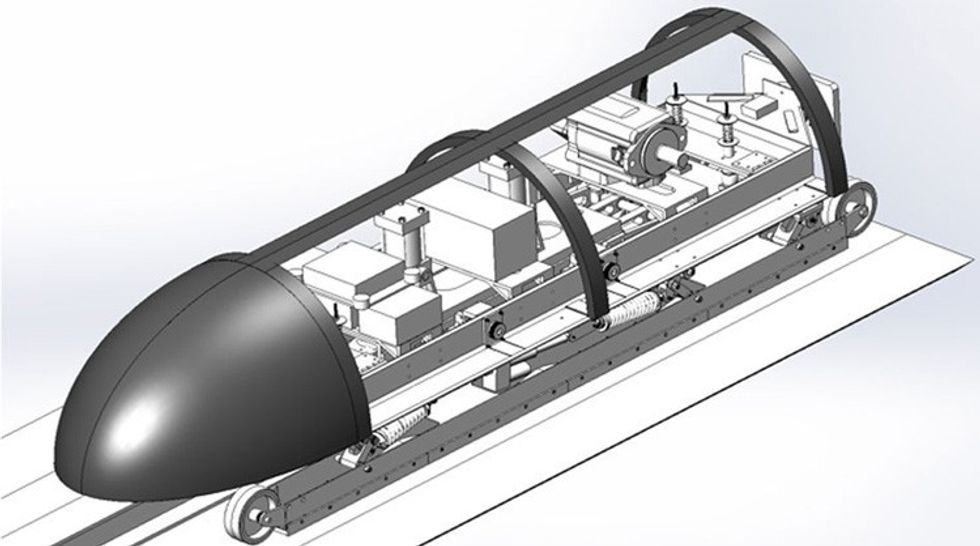 The idea for the Hyperloop was popularized by Musk in a 2013 Tesla blog post, in which the entrepreneur outlined his rough plans of how the system would work.
Musk explained in the post that he was "quite disappointed" with the state of California for approving a "high speed" rail project that was "one of the most expensive per mile and one of the slowest in the world."
He wrote:
The underlying motive for a statewide mass transit system is a good one. It would be great to have an alternative to flying or driving, but obviously only if it is actually better than flying or driving. The train in question would be both slower, more expensive to operate (if unsubsidized) and less safe by two orders of magnitude than flying, so why would anyone use it?
If we are to make a massive investment in a new transportation system, then the return should by rights be equally massive.
Musk went on to explain the technical feasibility of transporting people in pods through a vacuum tube at roughly 700 miles per hour.
"The proposal was quickly criticized by experts in the field, who questioned Musk's figures on the cost of land by a highway, the price of concrete and the thermal expansion of steel," The Guardian said. "But in the following years multiple companies picked up Musk's concept and developed it further."
Various private companies, notably Hyperloop Transportation Technologies and Hyperloop Technologies, have set out to make Musk's vision a reality. Hyperloop Transportation Technologies sought permits last week to build a 5-mile test track along Interstate 5 in Central California. And Hyperloop Technologies has already begun construction on a test track in North Las Vegas, Nevada.
And now it appears the federal government is interested in a Hyperloop system. U.S. Sec. of Transportation Anthony Foxx spoke at the competition on Friday, telling participants that "the idea merits consideration for a public-private partnership to develop it further," Ars Technica reported.
"When I first heard about the Hyperloop, I was less than enthusiastic," Foxx said. "Reflexively, I felt this proposal was impractical. Then I began to think, what if there had been a secretary of transportation when the automobile was first built or the airplane invented with that attitude? I feel that we have in our department a responsibility not just to continue the traditional forms of transportation, but a responsibility to nudge the future of transportation along."
Watch Musk speak at the SpaceX Hyperloop Pod Design Competition awards ceremony at Texas A&M University:
YOU MIGHT ALSO LIKE
This Solar Road Will Provide Power to 5 Million People
Elon Musk vs. Warren Buffett: The Billionaire Battle Over the Future of Solar Power
Elon Musk: 'You Can Easily Power All of China With Solar'
Huge Hydropower Plant to Harness Seawater and Solar Power in South America's Driest Desert
EcoWatch Daily Newsletter
A Starbucks barista prepares a drink at a Starbucks Coffee Shop location in New York. Ramin Talaie / Corbis via Getty Images
By Cathy Cassata
Are you getting your fill of Starbucks' new Almondmilk Honey Flat White, Oatmilk Honey Latte, and Coconutmilk Latte, but wondering just how healthy they are?
By Sharon Kelly
Back in April last year, the Trump administration's Environmental Protection Agency decided it was "not necessary" to update the rules for toxic waste from oil and gas wells. Torrents of wastewater flow daily from the nation's 1.5 million active oil and gas wells and the agency's own research has warned it may pose risks to the country's drinking water supplies.
Swedish climate activist Greta Thunberg takes part in a "Friday for Future" youth demonstration in a street of Davos on Jan. 24, 2020 on the sideline of the World Economic Forum annual meeting. FABRICE COFFRINI / AFP via Getty Images
Treasury Secretary Steven Mnuchin pretended not to know who Greta Thunberg is, and then he told her to get a degree in economics before giving world leaders advice, as The Guardian reported.
The Visible Infrared Imaging Radiometer Suite on the Suomi NPP satellite acquired this image of forest fire smoke hovering over North America on Aug. 15, 2018. NASA Earth Observatory
New York City isn't known for having the cleanest air, but researchers traced recent air pollution spikes there to two surprising sources — fires hundreds of miles away in Canada and the southeastern U.S.
If temperatures continue to rise, the world is at risk from global
sea-level rise
, which will flood many coastal cities as seen above in Bangladesh. NurPhoto / Contributor / Getty Images
The mounting climate emergency may spur the next global financial crisis and the world's central banks are woefully ill equipped to handle the consequences, according to a new book-length report by the Bank for International Settlements (BIS), as S&P Global reported. Located in Basel, Switzerland, the BIS is an umbrella organization for the world's central banks.