This website uses cookies to ensure you get the best experience while browsing it. By clicking 'Got It' you're accepting these terms.
Mining Companies Invade Wisconsin for Frac-Sand
Apr. 27, 2012 06:37AM EST
Energy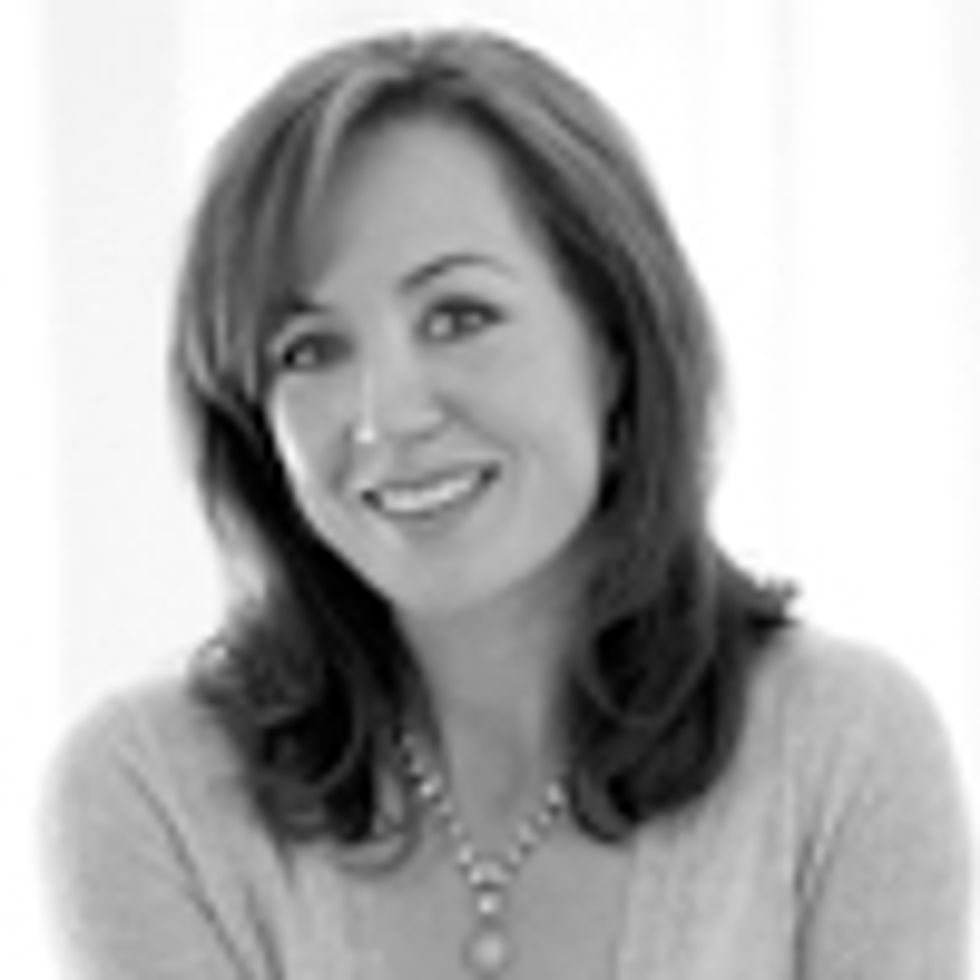 The recent boom in hydrofracking for natural gas and oil has resulted in a little-reported side boom—a sand-rush in western Wisconsin and southeastern Minnesota, where we just happen to have the nation's richest, most accessible supply of the high-quality silica sand required for fracking operations.
Unfortunately, most of that silica sand lies beneath our beautiful wooded hills and fertile farmland, and within agricultural and residential communities, all of which are now being ripped apart by sand mines interests eager to get at the riches below. This open pit mining is, in many respects, similar to the mountaintop removal going on in Appalachian coal country—except that here, it's hilltop and farm field removal. The net effect on our landscape, natural resources and communities is quickly becoming devastating. In the past few months, the sand rush has come to my own rural neighborhood in Dunn County, Wisconsin, which is about an hour east of St. Paul, Minnesota.
Like many residents in Dunn County, I'm concerned about the speed and intensity with which frac-sand mining interests are moving into our area. The proposals and applications for mines and related infrastructure are coming in so fast (our region has seen dozens just in the past few months), most small towns have been totally overwhelmed. Organizations trying to map and report all the activity literally cannot keep up with the incoming data.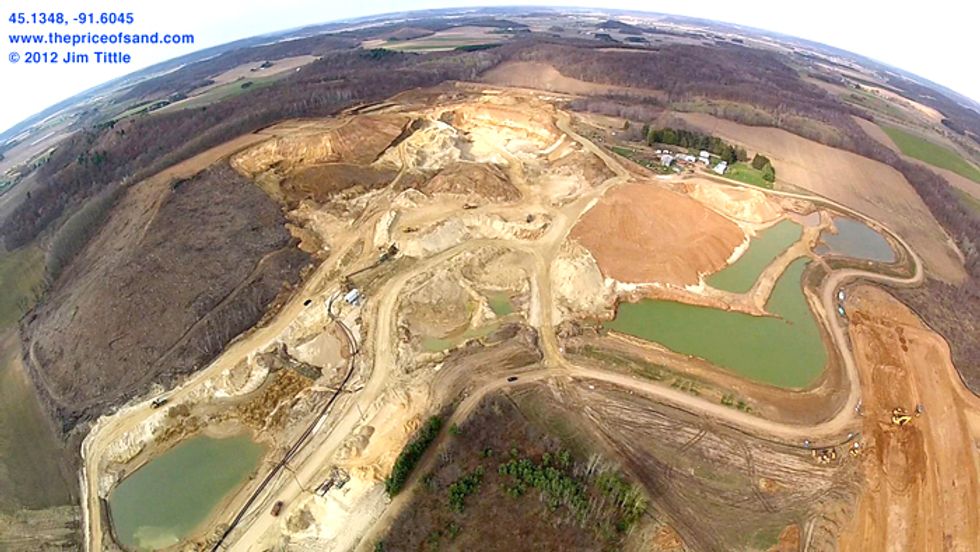 Attend the presentations where these land prospectors and mining-company reps make their case, and you'll hear a lot of vague reassurances. They say that the traffic, noise, water impacts, air pollution and carcinogenic silica-sand dust "won't be a problem." They'll be "good neighbors," they say, and leave everything better than it was before. The open-pit mines will eventually be "reclaimed," they say, and in the meantime, the development will spur job growth and other economic boons.
Those of us who have been researching the industry and looking at similar developments in communities where this activity is underway see plenty of reason to doubt those reassurances. We also question whether this glut of mining-related activity could wind up squelching the kind of economic development that would do our area a lot more good over the long haul.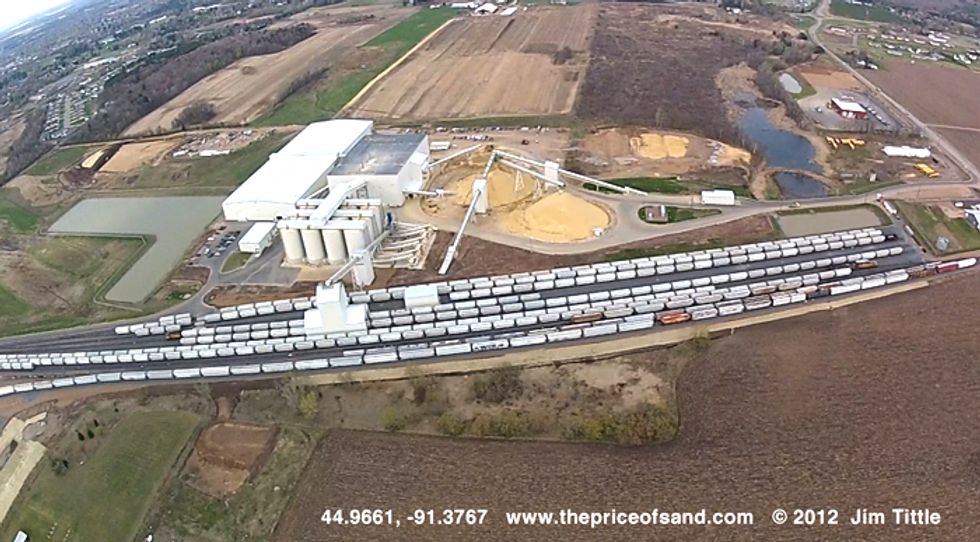 Those who are deeply invested in this community, who made the effort to move to this area, or who gratefully hung onto the land passed on to them by their parents or grandparents, did so primarily for one reason: because this was a beautiful, peaceful, fertile place where they wanted to make a home, raise a family, have a farm or grow a business.
For decades—generations, in many cases—we've all been living and working in this community, paying our taxes, riding out the ups and downs of land values associated with agricultural land. We knew the deal. None of us counted on becoming millionaires. We chose to be here because we loved it, and we had a fairly good sense of what our land might be worth if, for some reason, we ever chose to sell.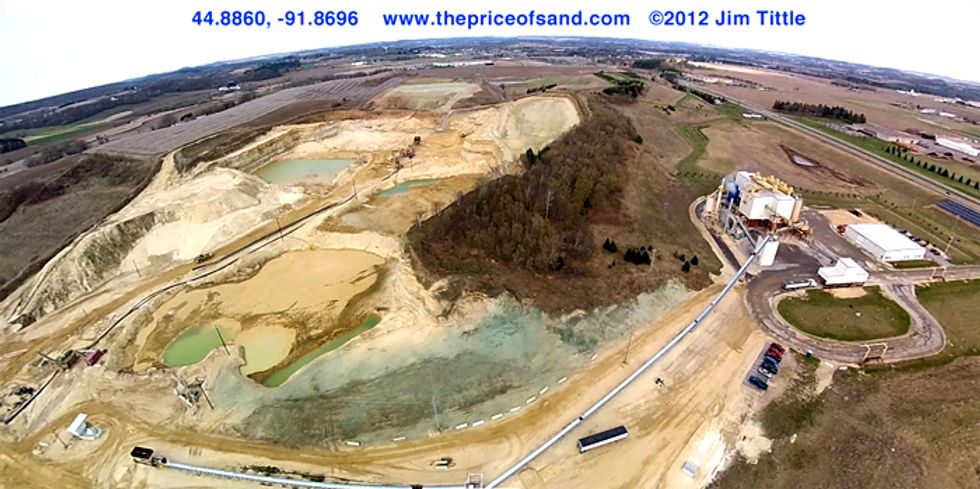 Over the past few years, agricultural land prices have been rising. It's widely predicted that the arable and wooded land in this area will only become more valuable. But now, suddenly, a few landowners are being offered what they see as a better deal—the deal of a lifetime.
Some of them want to sell their land to prospectors and mining moguls who are happy to pay unprecedented prices because they know they'll turn around and profit even more wildly off the spoils. At least while the hydrofracking industry remains hot. Just long enough for them to make their millions or billions, anyway, and then they'll be gone.
And what about the rest of us? Based on the experiences of other communities where this type of mining-related development has taken place—places like Maiden Rock and Town of Dovre—we know that a few property owners' potential windfalls will likely come at the expense of virtually everybody else in the community.
The windfalls will come at the expense of our property values, our quality of life, the future we counted on enjoying here with our kids and grandkids. It may come at the expense of our air, water, health, sleep, peace and quiet—things that can't be fixed or replaced, losses nobody can or will compensate us for.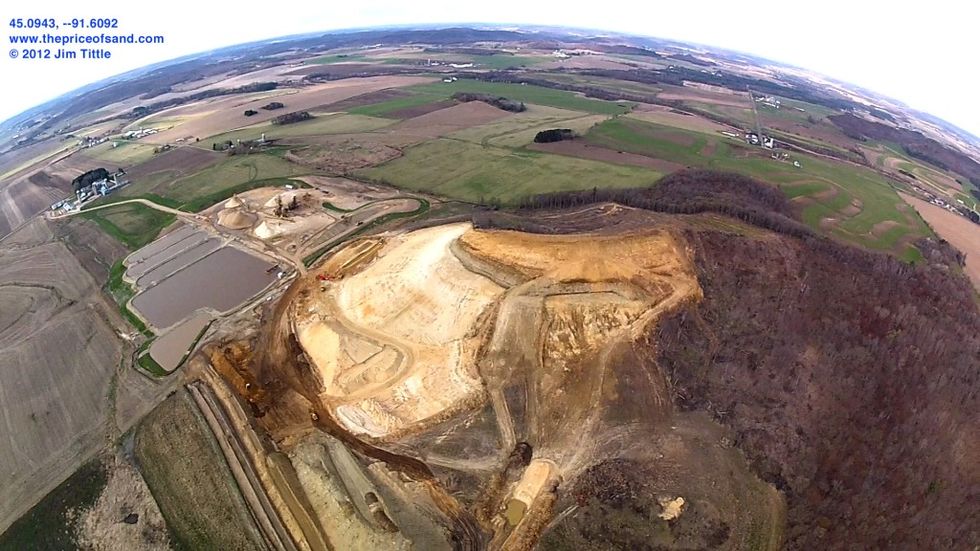 The proposed mining-related developments, whether open-pit sand mines, processing plants or transload facilities and rail spurs, would radically change a great deal of what we all hold dear.
Imagine being confronted with huge, noisy industrial zones right in the midst of the place most of us love for its peace and quiet. Imagine the possibility of 24/7 noise, traffic, dust, air pollution, light-pollution and a visual blight on the horizon we look out on every day.
Already, as close as Downing, Bloomer, New Auburn and Cooks Valley, WI, we're losing the very farm fields and wooded hills that define our landscape. The land itself is being ground up and shipped away, only to become toxic, radioactive waste somewhere else. With an endless stream of trucks and trains rattling both their homes and their nerves, many of those who can afford to leave are already making plans to do so.
What will all this do to our residential tax base? What impact will it have on businesses and agricultural enterprises that might have otherwise invested here? What affect will it have on tourism, on hunting and fishing? On whether our children choose to settle in this area or move away?
Today, sand-industry prospectors are proposing to construct a big transload facility and rail spur on top of nearly two hundred acres of prime agricultural land just north of Hwy 12 in the Town of Menomonie, WI. Their hauling route would send hundreds of heavy, noisy trucks (up to a truck every minute or two) straight through residential communities, bombarding them with non–stop noise, diesel fumes and vibrations 24 hours a day, seven days a week.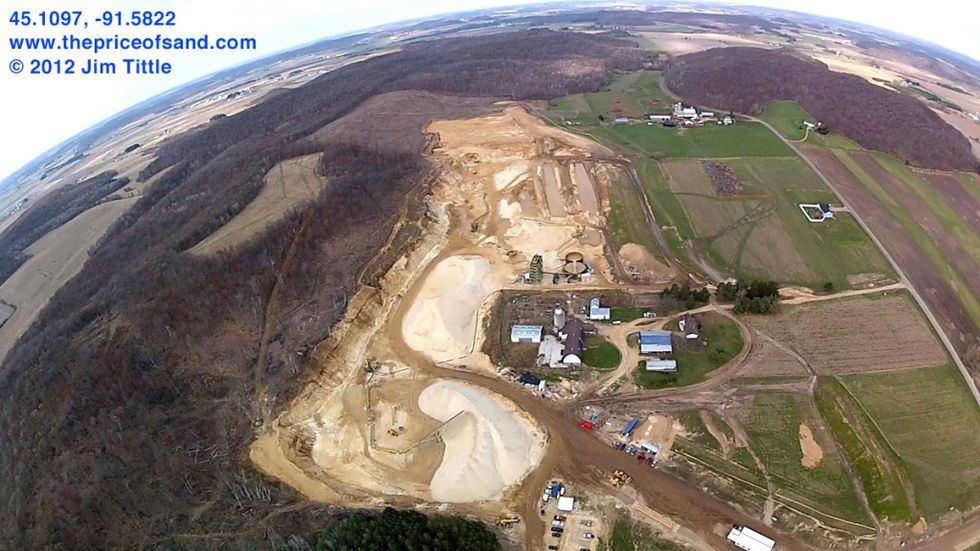 That's alarming on its own, but remember the rail spur being proposed would also become an integral part of a whole network of industrial sand-mining activity proposed for all around that same area, and throughout our region. It would become a magnet for more and bigger mines, and thus more trucks, and more local liabilities.
That rail spur is the foot in the door with a thousand feet tromping up fast right behind it. If we allow that door to open, our neighborhood and community will never be the same. Our landscape—including the hills and valleys that took 400 million years to form and that are now an integral part of our watershed—will become a patchwork of open sand pit mines.
Over the course of a couple of decades, a few people will get very rich. But the rest of us will suffer losses we never even contemplated as possible.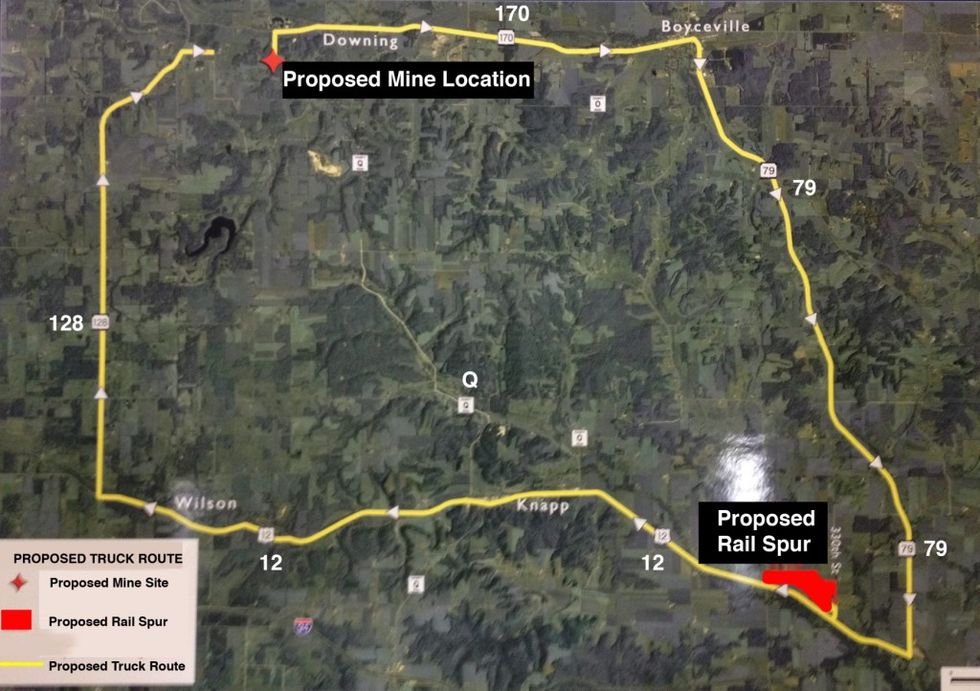 Meanwhile, our tax burdens will likely increase, because the mines pay very little of the way of property taxes, and most of the bills—for things like accelerated damage to county and state roadways; legal, consulting and government staffing costs; regulatory monitoring and more—will be passed on to local residents in the form of higher state income and property tax bills.
And when the sand is gone, when the mining activity moves out, what will be left of this place? Some big empty rail yards, a pockmarked series of "reclaimed" sites no longer suitable for farming, and a bunch of homes nobody wants to live in any more? A post-mining wasteland and an even more depressed economy? That's what's happened in countless other mine-riddled communities.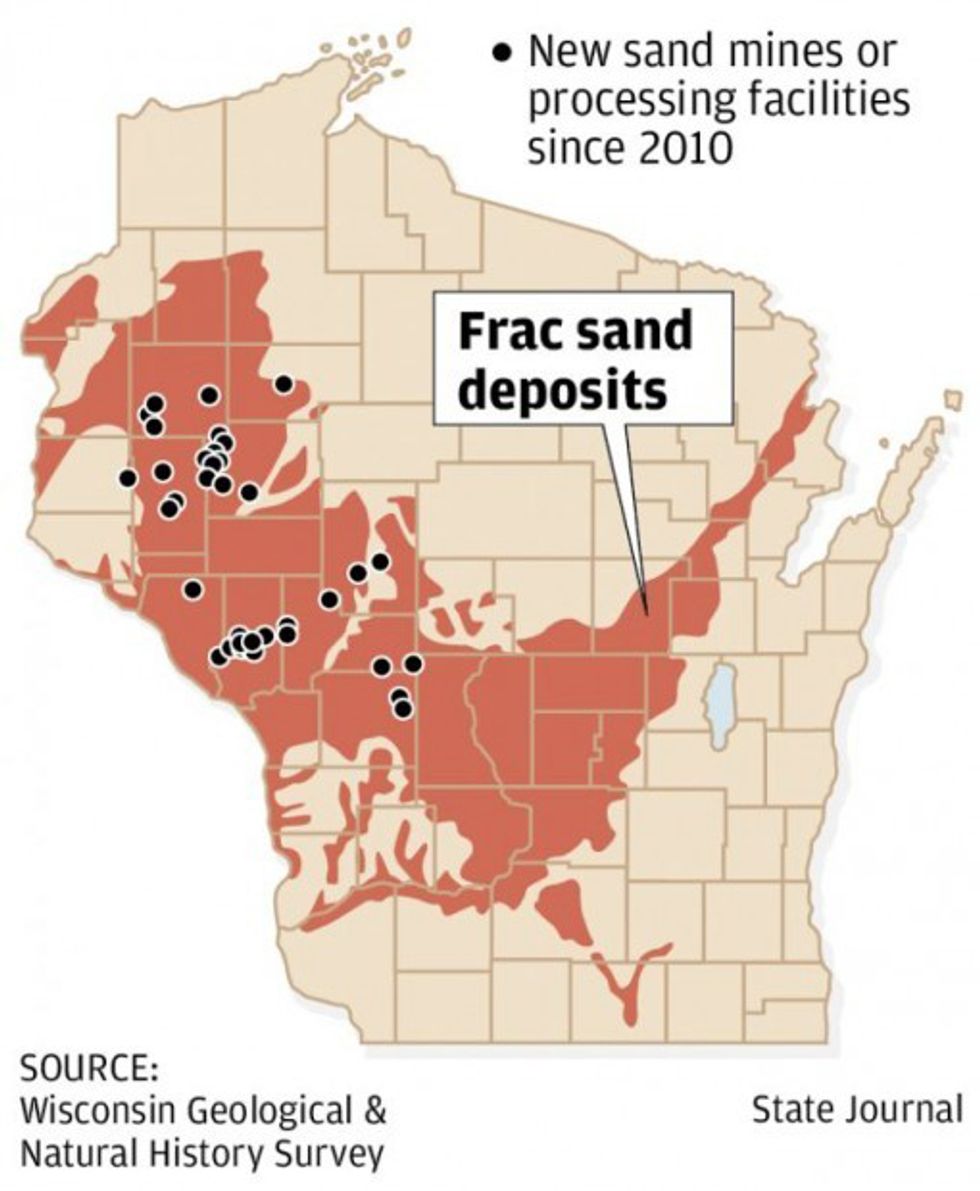 The only upside most of us can see in this scenario is the potential of some new jobs. But in most cases, there winds up being fewer local jobs created than promised, and they only last as long as the mines do—a few years, perhaps or a few decades at most.
The real question is how desperately do we want jobs that come at such a high and permanent expense to our entire populace? Do we really want to see our relatives and neighbors employed in tasks that actively destroy the things we care about most? Do we want them employed by an industry whose disruptive activities and demonstrated negative impacts will drive away far more beneficial, sustainable economic-development initiatives?
This is the equivalent of killing the goose to get the golden eggs. It's like selling off our own body's essential organs to make a quick buck. In short, it is not a good bargain.
There are better ways. Ways to create sustainable jobs that improve our community over the long term, rather than degrading it. Ways to build businesses that respect our natural landscape rather than undermining it. Ways to fuel economic engines that improve our property values, tax base and quality of life rather than eroding them. Ways to encourage industries that provide life-enhancing products and services, and that develop renewable resources rather than shipping our natural resources out of state.
Over the past few years, we've seen a promising uptick in businesses that make sense for this area, from Community Supported Agriculture operations, microbreweries, hops farms and artisanal food producers to sustainable lumber businesses and renewable-energy equipment manufacturers.
We need to be focused on investigating and developing those sorts of smart, sustainable, future-focused businesses, rather than reactively pandering to a dead-end industry that requires sacrificing the things that make us want to live here in the first place.
This is an agricultural and ag-residential community. Intensive, industrial mining-related activities are clearly not compatible land uses within the vast majority of our community. And for the most part, our current zoning and comprehensive planning policies reflect that reality. As residents, we need to insist these protections are wielded properly and strengthened appropriately for the modern-day sand rush we are experiencing now.
It's understandable that landowners approached by these mining prospectors are tempted to sell or lease their land. But that does not necessarily give them the legal or ethical right to do so.
I ask our local officials to remember their primary responsibility in protecting the health and welfare of this whole community. They can do this by upholding our zoning and embracing strong ordinances, by standing up for our farms and our families, and by saying "no" to ill-fated, shortsighted mining developments so that we can all say "yes" to a more promising future.
Video courtesy of:  Jim Tittle, Nice Pictures, thepriceofsand.com
--------
An earlier version of this article first appeared in the Dunn County News, April 22, 2012.
Pilar Gerasimo grew up on a family farm near Menomonie, Wisc. and moved back to the area several years ago with her husband, Zack. A health journalist by trade, she recently served two terms as Chairperson for the Town of Lucas in Dunn County. She is a member of the "Save Our Knapp Hills" Alliance, a citizens group researching and responding to frac-sand mining activity in the region. For more information, visit "Save Our Knapp Hills" Alliance at Facebook page or email saveknapphillsalliance@gmail.com.
EcoWatch Daily Newsletter
Coral restoration in Guam. U.S. Pacific Fleet / CC BY-NC 2.0
By Erica Cirino
Visit a coral reef off the coast of Miami or the Maldives and you may see fields of bleached white instead of a burst of colors.
Cracker Lake, Glacier National Park, Montana. Jacob W. Frank / NPS / Flickr
By Jason Bittel
High up in the mountains of Montana's Glacier National Park, there are two species of insect that only a fly fishermen or entomologist would probably recognize. Known as stoneflies, these aquatic bugs are similar to dragonflies and mayflies in that they spend part of their lives underwater before emerging onto the land, where they transform into winged adults less than a half inch long. However, unlike those other species, stoneflies do their thing only where cold, clean waters flow.
Augusta National / Getty Images
By Bob Curley
The new chicken sandwiches at McDonald's, Popeyes, and Chick-fil-A all contain the MSG flavor enhancement chemical.
Experts say MSG can enhance the so-called umami flavor of a food.
The ingredient is found in everything from Chinese food and pizza to prepackaged sandwiches and table sauces.
McDonald's wants to get in on the chicken sandwich war currently being waged between Popeyes and Chick-fil-A.
Protesters march during a "Friday for future" youth demonstration in a street of Davos on Jan. 24 on the sideline of the World Economic Forum annual meeting. FABRICE COFFRINI / AFP / Getty Images
By Andrea Germanos
Youth climate activists marched through the streets of Davos, Switzerland Friday as the World Economic Forum wrapped up in a Fridays for Future demonstration underscoring their demand that the global elite act swiftly to tackle the climate emergency.
chuchart duangdaw / Moment / Getty Images
By Tim Radford
The year is less than four weeks old, but scientists already know that carbon dioxide emissions will continue to head upwards — as they have every year since measurements began — leading to a continuation of the Earth's rising heat.