This website uses cookies to ensure you get the best experience while browsing it. By clicking 'Got It' you're accepting these terms.
Mining Activist Wins Prestigious Goldman Environmental Prize
Apr. 16, 2012 07:45AM EST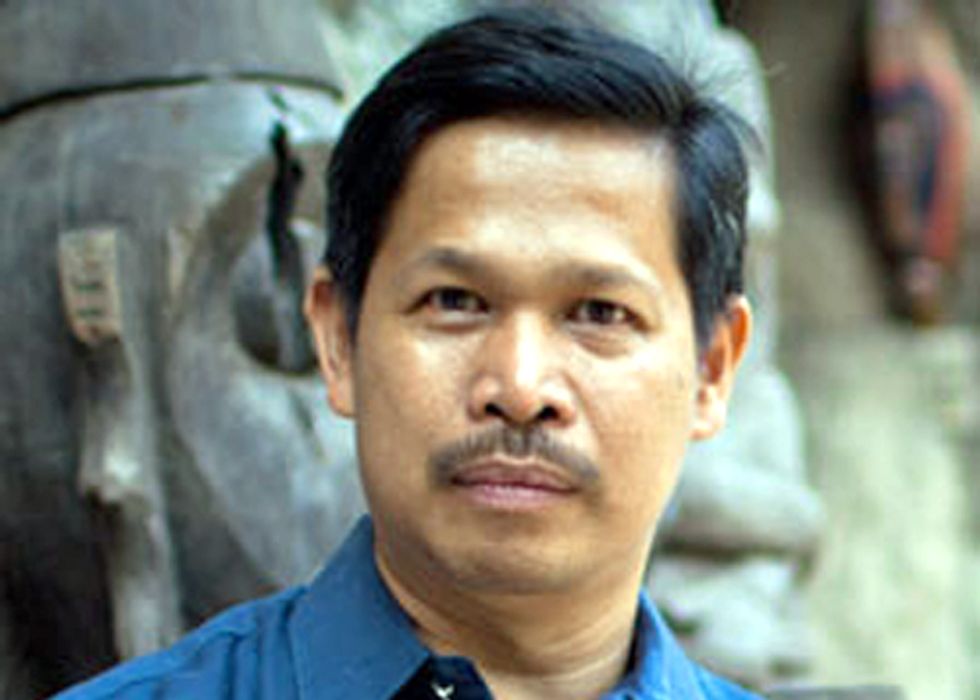 On April 16, Fr. Edwin Gariguez, a Catholic priest and mining activist from the Philippines was awarded the 2012 Goldman Environmental Prize for work to stop irresponsible mining on Mindoro Island in the Philippines. Six recipients from six different regions in the world were recognized by the Goldman Prize—the largest environmental award in the world—for their sustained efforts to protect the environment, often at great personal risk.
"For the indigenous Mangyan people living on Mindoro Island, the struggle to protect our threatened ecology is a matter of survival," said Gariguez, 2012 Goldman Prize winner for Islands and Island Nations. "We should not sacrifice people and the environment for the sake of short term profits by a few," he added.
Fr. Edwin Gariguez is being recognized for his efforts to defend the Indigenous communities and biological diversity of Mindoro from a giant nickel mine that is being proposed by Intex, a Norwegian mining company. The mine would be built in two key biodiversity areas, and within one of Mindoro's major watersheds, which feeds four rivers, and provides drinking and irrigation water to many lowland communities. If developed, the nickel mine would destroy vast swaths of tropical forests, and would produce several million tons of toxic waste, threatening the island's water resources. Mindoro's Mangyan Indigenous communities would also be negatively impacted by the mine, as the proposed mining area is within their ancestral land.
"Earthworks congratulates Fr. Edwin Gariguez for being awarded the 2012 Goldman Environmental Prize for his tireless efforts to protect Mindoro's communities and environment from irresponsible mining development," said Payal Sampat, international campaigns director at Earthworks, a mining reform group that nominates candidates to the Goldman Prize. "Fr. Edu's victory will be celebrated by communities around the world who are facing similar threats from large-scale mining, and by those working to clean up the industry's dirty practices."
For more than a decade, Gariguez worked to develop a diverse, grassroots coalition of Indigenous communities, farmers, residents, religious leaders, students and elected officials opposing the mine. Gariguez and his colleagues have faced considerable personal risks and suffered threats and harassment for their opposition of the mine. His work has brought international attention to the mining project, and resulted in project divestment by major funders. An 11-day hunger strike led by Gariguez persuaded the federal Department of Environment and Natural Resources (DENR) to finally conduct an investigation into the mine's environmental and social violations, which in turn led to DENR indefinitely revoking Intex's permit to mine.  
"Fr. Edwin Gariguez' struggles are the shared struggles of those who fight destructive mining all around the world. His award is a celebration to life and to values that no metal can even consider replacing," said Stephanie Roth, a 2005 Goldman Prize winner, who opposes the proposed Rosia Montana gold mine in Romania.
Gariguez is not opposed to mining per se, but believes measures to safeguard the environment, protect Indigenous communities' rights, and ensure a fair distribution of economic benefits should be required.
The Goldman Environmental Prize, now in its 23rd year, is awarded annually to grassroots environmental heroes from each of the world's six inhabited continental regions. Each winner receives an award of $150,000, the largest award in the world for grassroots environmentalists. The winners will be awarded the prize at an invitation-only ceremony on Monday, April 16, 2012 at the San Francisco Opera House.
For more information, click here.
EcoWatch Daily Newsletter
No longer will the options when we die be a choice between just burial or cremation. Soon it will be possible to compost your remains and leave your loved ones with rich soil, thanks to a new funeral service opening in Seattle in 2021 that will convert humans into soil in just 30 days, as The Independent reported.
You can reduce the footprint of a medium-sized live tree by donating it to elephants at a local zoo, like this African elephant pictured above. eans / iStock / Getty Images
The holiday season is supposed to be about giving and sharing, but often it is actually about throwing away. The U.S. generates 25 percent more garbage between Thanksgiving and New Year's than it does during the rest of the year. That's around one million extra tons per week, according to National Environmental Education Foundation (NEEF) figures reported by The Associated Press.
The Opera House is seen with smoke haze which enveloped Sydney Harbor on Dec. 10 in Sydney, Australia. Smoke haze hangs over the city as the New South Wales fire danger risk is raised from 'very high' to 'severe'. James D. Morgan / Getty Images
The brushfires raging through New South Wales have shrouded Australia's largest city in a blanket of smoke that pushed the air quality index 12 times worse than the hazardous threshold, according to the Australia Broadcast Corporation (ABC).
People walk across the bridge near Little Raven Court in downtown Denver. Younger Americans increasingly prefer to live in walkable neighborhoods. Helen H. Richardson / The Denver Post via Getty Images
By David B. Goldstein
Energy efficiency is the cornerstone of any country's plan to fight the climate crisis. It is the cheapest option available, and one that as often as not comes along with other benefits, such as job creation, comfort and compatibility with other key solutions such as renewable energy. This has been recognized by the International Energy Agency (IEA) for at least a decade.
Activists from Extinction Rebellion New York City engaged in nonviolent direct action to confront climate change outside City Hall on April 17, 2019. Erik McGregor / Pacific Press / LightRocket via Getty Images
By Andrea Germanos

Over 500 groups on Monday rolled out an an action plan for the next president's first days of office to address the climate emergency and set the nation on a transformative path towards zero emissions and a just transition in their first days in office.