Millions of Dead Fish Washing Up on Vietnam's Shores
Vietnam has a fish problem and the government isn't talking about it. Since April, millions of dead fish have been washing up on Vietnam's shores.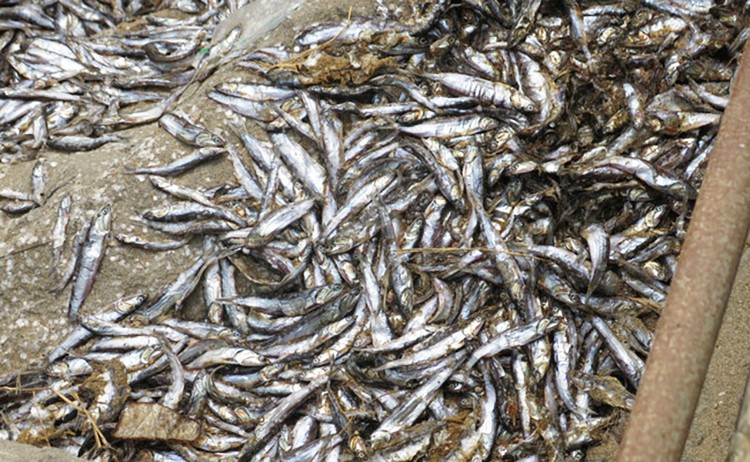 Steel or Fish?
The lifeless fish and clams—along with the odd whale—go on for miles. Researchers hired by Vietnam's government have concluded that "toxic elements" are behind the "unprecedented" deaths, but that's where the answers seem to stop, reports Scott Duke Harris for the Los Angeles Times.
While the government is reluctant to a point any fingers—there's a $10-billion investment on the line—locals, particularly fishermen, blame the environmental catastrophe on Formosa, a steel plant from Taiwan that allegedly pumped untreated steel wastewater into the ecosystem. If that's true, the environmental consequences could be devastating.
According to Satyendra Kumar Sarna, a metallurgist and veteran of the steel industry since 1965, of Ispat Guru, there are several possible environmental effects of untreated wastewater: toxicity, which affects marine life; reduced levels of dissolved oxygen, which also affects marine life and the temperature of the water; silting; and oil slicks.
Unsurprisingly, the folks at Formosa aren't being transparent about the role they did or didn't play in this fishy mess. On one hand, the corporation is screaming that there's (conveniently) no proof that it's to blame. On the other hand, in a really bad PR move, a PR rep "also suggested that Vietnam may have to accept environmental trade-offs for industrial growth—perhaps a choice between steel or fish," reports the Los Angeles Times.
Feel free to join me in a facepalm right about now.
While it sounds horrible, Asia is preoccupied with progress at any price. As Care2′s Steve Williams recently reminded us there's a "coal-fired standoff with Asia" at the moment, despite the recent Paris climate deal where, "Experts warn that the expansion of coal-fired plants in India, China, Indonesia and Vietnam cannot be allowed to move forward if we want any chance to achieve our pollution reduction goals."
Even with so much at stake for our planet, Vietnam is adamant about significantly expanding its coal-fired plants. President of the World Bank Jim Yong Kim made this shocking statement to The Guardian about Vietnam's plans: "If Vietnam goes forward with 40GW of coal, if the entire region implements the coal-based plans right now, I think we are finished. That would spell disaster for us and our planet."
#IChooseFish
Fortunately, the people of Vietnam don't agree with their government's blatant disregard for the environment. In response to Formosa's disconnected ultimatum between steel and fish, many locals choose fish, as the hashtag #ichoosefish illustrates. These locals understand: "No blue, no green."
Many fish supporters took it a step further. This "unprecedented" fish die-off has sparked another unprecedented event in Vietnam: protests. While it may not seem revolutionary to us in the west, keep in mind that Vietnam is a communist state, so standing up to the government is a big no-no. But the price is just too high in this case. You can't really eat steel now can you?
And this tweet illustrates how the government responds to protesters.
YOU MIGHT ALSO LIKE
Video of Drunken Rampage + $15k Reward = 3 Men Identified as the Culprits for Killing the World's Rarest Fish
USDA: Beekeepers Lost 44% of Honey Bee Colonies Last Year
5 Incredible Species That Glow in the Dark
www.youtube.com
Volkswagen is bringing back its hippie-approved minivan but with a 21st century upgrade—the new I.D. Buzz is all-electric.
The concept car was first revealed at the Detroit Auto Show in January and now the German automaker is officially putting its reinvigorated Microbus into production.
Keep reading...
Show less
I have asked repeatedly to have my short interview clip removed from this film. The director refuses. He believes his film is fair and balanced. I do not.

I am often interviewed (see media) and hardly ever quoted incorrectly or out of context. This film is one of those rare exceptions.
Keep reading...
Show less
Top of JPMorgan Chase Tower, Dallas, Texas. Joe Mabel / Wikimedia
Keep reading...
Show less
Cupping symptoms associated with dicamba damage on a cucumber plant. University of Arkansas.
Arkansas farmers filed a class-action lawsuit last week against Monsanto and German chemical company BASF, alleging that the companies' dicamba-based herbicides caused damage to their properties.
The plaintiffs claim that Monsanto and BASF implemented and controlled the dicamba crop system, releasing seed technology without a corresponding, safe and approved herbicide.
Keep reading...
Show less
Cup and bubblegum corals found in Northeast U.S. Canyons, the Atlantic's first marine monument. NOAA
Interior Sec. Ryan Zinke, who recently recommended a reduction in the size of the 1.35 million acre Bears Ears National Monument to President Trump, is advocating for more drilling and mining on public lands and waters.
The former Montana Rep. told Reuters that the development of America's protected federal lands could help the country become a "dominant" global energy force.
Keep reading...
Show less
Gage Skidmore / Flickr (CC BY-SA 2.0)
Dozens of scientists on the U.S. Environmental Protection Agency's (EPA) Board of Scientific Counselors and board subcommittees have been informed that they will not be renewed for their roles advising the agency, the Washington Post reported.
Keep reading...
Show less
www.youtube.com
Worried about the future of the Great Barrier Reef? If so, you're not alone.
Many publications have already written obituaries for the reef, despite the fact that it is not completely dead. Thanks to this video via Vox for sounding the alarm on this critical issue, before it's too late.
Keep reading...
Show less
Mike Mozart
By Olga V. Naidenko, Ph.D.
In a landmark rule with global repercussions, California state scientists are preparing to issue the world's first health guideline for Monsanto's glyphosate herbicide based on its cancer risk. The state's proposed safe level is more than 100 times lower than the U.S. Environmental Protection Agency's (EPA) legal allowance for the average-sized American.
Keep reading...
Show less
www.youtube.com
By Bob Henson
A high risk of life-threatening flooding continues on Wednesday over parts of the central Gulf Coast as Tropical Storm Cindy lumbers toward shore. The greatest flood threat will be across low-lying areas of far southern Mississippi and Alabama, according to the NWS/NOAA Weather Prediction Center. A second area with a moderate flood risk lies across far southeast Texas and southwest Louisiana.
Keep reading...
Show less