This website uses cookies to ensure you get the best experience while browsing it. By clicking 'Got It' you're accepting these terms.
Vietnam has a fish problem and the government isn't talking about it. Since April, millions of dead fish have been washing up on Vietnam's shores.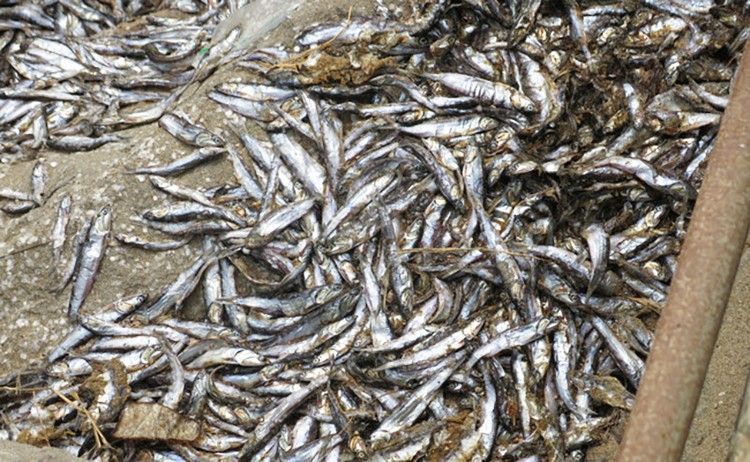 Steel or Fish?
The lifeless fish and clams—along with the odd whale—go on for miles. Researchers hired by Vietnam's government have concluded that "toxic elements" are behind the "unprecedented" deaths, but that's where the answers seem to stop, reports Scott Duke Harris for the Los Angeles Times.
While the government is reluctant to a point any fingers—there's a $10-billion investment on the line—locals, particularly fishermen, blame the environmental catastrophe on Formosa, a steel plant from Taiwan that allegedly pumped untreated steel wastewater into the ecosystem. If that's true, the environmental consequences could be devastating.
According to Satyendra Kumar Sarna, a metallurgist and veteran of the steel industry since 1965, of Ispat Guru, there are several possible environmental effects of untreated wastewater: toxicity, which affects marine life; reduced levels of dissolved oxygen, which also affects marine life and the temperature of the water; silting; and oil slicks.
Unsurprisingly, the folks at Formosa aren't being transparent about the role they did or didn't play in this fishy mess. On one hand, the corporation is screaming that there's (conveniently) no proof that it's to blame. On the other hand, in a really bad PR move, a PR rep "also suggested that Vietnam may have to accept environmental trade-offs for industrial growth—perhaps a choice between steel or fish," reports the Los Angeles Times.
Feel free to join me in a facepalm right about now.
While it sounds horrible, Asia is preoccupied with progress at any price. As Care2′s Steve Williams recently reminded us there's a "coal-fired standoff with Asia" at the moment, despite the recent Paris climate deal where, "Experts warn that the expansion of coal-fired plants in India, China, Indonesia and Vietnam cannot be allowed to move forward if we want any chance to achieve our pollution reduction goals."
Even with so much at stake for our planet, Vietnam is adamant about significantly expanding its coal-fired plants. President of the World Bank Jim Yong Kim made this shocking statement to The Guardian about Vietnam's plans: "If Vietnam goes forward with 40GW of coal, if the entire region implements the coal-based plans right now, I think we are finished. That would spell disaster for us and our planet."
#IChooseFish
Fortunately, the people of Vietnam don't agree with their government's blatant disregard for the environment. In response to Formosa's disconnected ultimatum between steel and fish, many locals choose fish, as the hashtag #ichoosefish illustrates. These locals understand: "No blue, no green."
Many fish supporters took it a step further. This "unprecedented" fish die-off has sparked another unprecedented event in Vietnam: protests. While it may not seem revolutionary to us in the west, keep in mind that Vietnam is a communist state, so standing up to the government is a big no-no. But the price is just too high in this case. You can't really eat steel now can you?
And this tweet illustrates how the government responds to protesters.
YOU MIGHT ALSO LIKE
Video of Drunken Rampage + $15k Reward = 3 Men Identified as the Culprits for Killing the World's Rarest Fish
USDA: Beekeepers Lost 44% of Honey Bee Colonies Last Year
5 Incredible Species That Glow in the Dark
EcoWatch Daily Newsletter
Variety of fermented food korean traditional kimchi cabbage and radish salad. white and red sauerkraut in ceramic plates over grey spotted background. Natasha Breen / REDA&CO / Universal Images Group / Getty Image
Even if you've never taken probiotics, you've probably heard of them.
These supplements provide numerous benefits because they contain live microorganisms, such as bacteria or yeast, which support the healthy bacteria in your gut (1, 2, 3, 4).
Pexels
Singapore will become the first country in the world to place a ban on advertisements for carbonated drinks and juices with high sugar contents, its health ministry announced last week. The law is intended to curb sugar consumption since the country has some of the world's highest diabetes rates per capita, as Reuters reported.
A typical adult takes around 20,000 breaths per day. If you live in a megacity like Beijing, with many of those lungfuls you're likely to inhale a noxious mixture of chemicals and pollutants.
Fred Stone holds his brown swiss cow Lida Rose at his Arundel dairy farm on March 18 after a press conference where he spoke about PFAS chemical contamination in his fields. Gregory Rec / Portland Portland Press Herald via Getty Images
By Susan Cosier
First there was Fred Stone, the third-generation dairy farmer in Maine who discovered that the milk from his cows contained harmful chemicals. Then came Art Schaap, a second-generation dairy farmer in New Mexico, who had to dump 15,000 gallons of contaminated milk a day.
Protesters attend the 32nd annual Fur-Free Friday demonstration on Nov. 23, 2018 in Beverly Hills, California. Ella DeGea / Getty Images
California Governor Gavin Newsom signed into law a bill that that bans the sale and manufacture of fur products in the state. The fur ban, which he signed into law on Saturday, prohibits Californians from selling or making clothing, shoes or handbags with fur starting in 2023, according to the AP.
By Simon Evans
During the three months of July, August and September, renewables generated an estimated total of 29.5 terawatt hours (TWh), compared with just 29.1TWh from fossil fuels, the analysis shows.
A demonstrator waves an Ecuadorian flag during protests against the end of subsidies to gasoline and diesel on Oct. 9 in Quito, Ecuador. Jorge Ivan Castaneira Jaramillo / Getty Images
Protesters block the road outside Mansion House in London during an XR climate change protest. Gareth Fuller / PA Images via Getty Images