This website uses cookies to ensure you get the best experience while browsing it. By clicking 'Got It' you're accepting these terms.
Vietnam has a fish problem and the government isn't talking about it. Since April, millions of dead fish have been washing up on Vietnam's shores.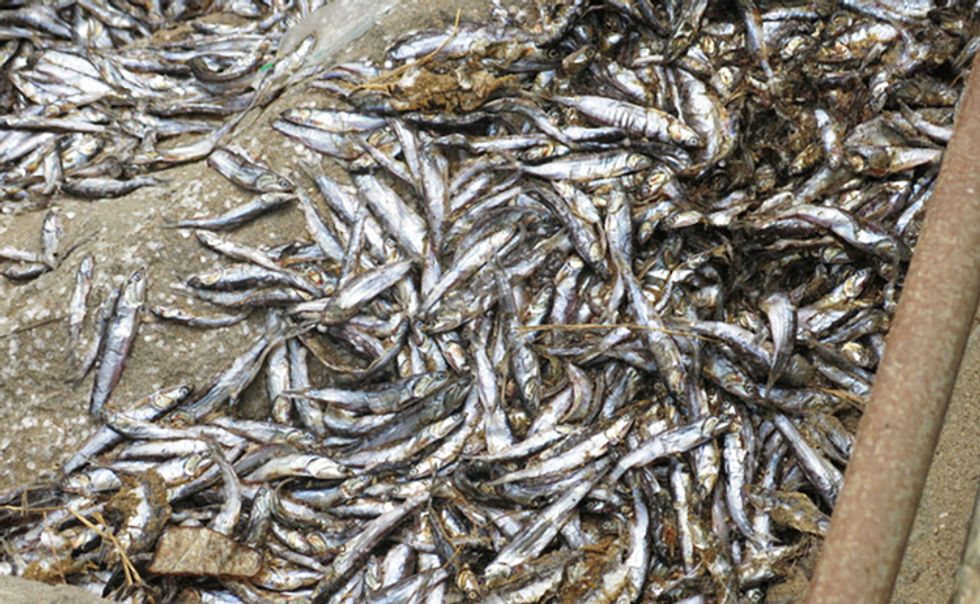 Steel or Fish?
The lifeless fish and clams—along with the odd whale—go on for miles. Researchers hired by Vietnam's government have concluded that "toxic elements" are behind the "unprecedented" deaths, but that's where the answers seem to stop, reports Scott Duke Harris for the Los Angeles Times.
While the government is reluctant to a point any fingers—there's a $10-billion investment on the line—locals, particularly fishermen, blame the environmental catastrophe on Formosa, a steel plant from Taiwan that allegedly pumped untreated steel wastewater into the ecosystem. If that's true, the environmental consequences could be devastating.
According to Satyendra Kumar Sarna, a metallurgist and veteran of the steel industry since 1965, of Ispat Guru, there are several possible environmental effects of untreated wastewater: toxicity, which affects marine life; reduced levels of dissolved oxygen, which also affects marine life and the temperature of the water; silting; and oil slicks.
Unsurprisingly, the folks at Formosa aren't being transparent about the role they did or didn't play in this fishy mess. On one hand, the corporation is screaming that there's (conveniently) no proof that it's to blame. On the other hand, in a really bad PR move, a PR rep "also suggested that Vietnam may have to accept environmental trade-offs for industrial growth—perhaps a choice between steel or fish," reports the Los Angeles Times.
Feel free to join me in a facepalm right about now.
While it sounds horrible, Asia is preoccupied with progress at any price. As Care2′s Steve Williams recently reminded us there's a "coal-fired standoff with Asia" at the moment, despite the recent Paris climate deal where, "Experts warn that the expansion of coal-fired plants in India, China, Indonesia and Vietnam cannot be allowed to move forward if we want any chance to achieve our pollution reduction goals."
Even with so much at stake for our planet, Vietnam is adamant about significantly expanding its coal-fired plants. President of the World Bank Jim Yong Kim made this shocking statement to The Guardian about Vietnam's plans: "If Vietnam goes forward with 40GW of coal, if the entire region implements the coal-based plans right now, I think we are finished. That would spell disaster for us and our planet."
#IChooseFish
Fortunately, the people of Vietnam don't agree with their government's blatant disregard for the environment. In response to Formosa's disconnected ultimatum between steel and fish, many locals choose fish, as the hashtag #ichoosefish illustrates. These locals understand: "No blue, no green."
Many fish supporters took it a step further. This "unprecedented" fish die-off has sparked another unprecedented event in Vietnam: protests. While it may not seem revolutionary to us in the west, keep in mind that Vietnam is a communist state, so standing up to the government is a big no-no. But the price is just too high in this case. You can't really eat steel now can you?
And this tweet illustrates how the government responds to protesters.
YOU MIGHT ALSO LIKE
Video of Drunken Rampage + $15k Reward = 3 Men Identified as the Culprits for Killing the World's Rarest Fish
USDA: Beekeepers Lost 44% of Honey Bee Colonies Last Year
5 Incredible Species That Glow in the Dark
EcoWatch Daily Newsletter
European Commission President Ursula von der Leyen delivers a press statement on the European Green Deal at the EU headquarters in Brussels, Belgium on Dec. 11, 2019. Xinhua / Zheng Huansong via Getty Images
The European Commission introduced a plan to overhaul the bloc's economy to more sustainable, climate-conscious policies and infrastructure, with the goal of being carbon-neutral by 2050, according to CNBC.
Young activists shout slogans on stage after Greta Thunberg (not in the picture) took part in the plenary session during the COP25 Climate Conference on Dec. 11 in Madrid, Spain. Pablo Blazquez Dominguez / Getty Images
By Andrea Germanos
Young activists took over and occupied the main stage at the COP25 climate conference in Madrid, Spain Wednesday and demanded world leaders commit to far more ambitious action to address the ecological emergency.
A NASA image showing the ozone hole at its maximum extent for 2015. NASA Goddard Space Flight Center
The Montreal Protocol, a 1987 international treaty prohibiting the production of chlorofluorocarbons (CFCs) to save the ozone layer, was the first successful multilateral agreement to successfully slow the rate of global warming, according to new research. Now, experts argue that similar measures may lend hope to the climate crisis.
Police in Wales are in the midst of an unusual investigation: the sudden death of more than 200 starlings.
Donald Trump Jr. killed an argali sheep like this one on a hunting trip in Mongolia. powerofforever/ iStock / Getty Images Plus
During a hunting trip in Mongolia this August, Donald Trump Jr. shot and killed an endangered argali sheep, and received a permit only after the fact.