Microsoft Bails on Climate Denier Lobby Group ALEC
The American Legislative Exchange Council—the now infamous ALEC—has lost yet another member.
Microsoft announced this week that it's severing its relationship with the group, which writes and pushes so-called "model legislation" that's very conservative, pro-big business and anti-environment. Microsoft was a member of ALEC's Communications and Technology Task Force, but said it is no longer participating in this group.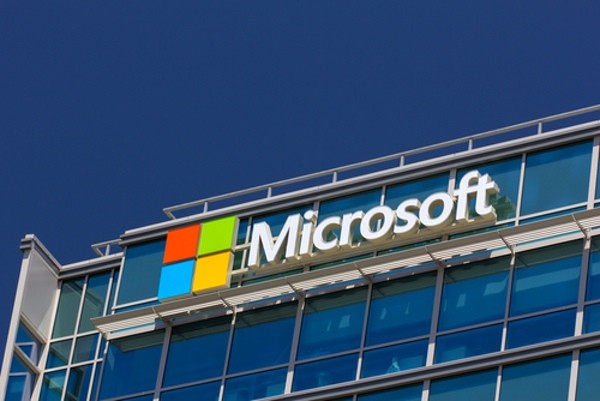 Photo credit: Shutterstock
In a statement published by Common Cause, Microsoft said:
In 2014 Microsoft decided to no longer participate in the American Legislative Exchange Council's Communications and Technology Task Force, which had been our only previous involvement with ALEC. With this decision, we no longer contribute any dues to ALEC...we are no longer members of ALEC and do not provide the organization with financial support of any kind.
The statement was sent to The Sustainability Group of Loring, Wolcott and Coolidge and Walden Asset Management when the Boston-based socially responsible investment group questioned Microsoft's ALEC membership. It wondered why, given Microsoft's support of renewable energy, it belonged to an organization lobbying for such measures as the rollback of renewable energy standard—an initiative which was recently successful in Ohio thanks to ALEC, unregulated fracking, surcharges on solar energy and building the Keystone XL pipeline.
ALEC, which formed in 1973, operated under the radar for almost four decades, signing up businesses, nonprofits and legislators as members. Since its unpopular agenda, which includes voter suppression, privatizing public education, eliminating unions and shredding the social safety net, including Medicare and Social Security, began to attract widespread attention, hundreds of legislators, some nonprofits and at least 80 companies have fled the organization. Some of the major ones include Coca Cola, PepsiCo, McDonald's, Wendy's, Kraft Foods, General Electric, Wells Fargo, Procter & Gamble, Sprint, General Motors, Walgreens, Best Buy, Hewlett-Packard, MillerCoors, Amazon.com and even WalMart.
Other prominent companies, such as Google, Yahoo, eBay and Facebook, are still dues-paying members.
Greenpeace senior IT policy analyst Gary Cook told CNET:
Microsoft deserves praise for living up to its sustainability values by ending its membership in ALEC, an organization which has attacked clean energy and climate policies in nearly all 50 states. Microsoft has demonstrated a commitment in recent years to clean energy and climate action by introducing an internal carbon fee and purchasing large amounts of wind energy to power two of its data centers.
Greenpeace's David Pomerantz is cautiously optimistic about the direction Microsoft is going.
He posted on the Greenpeace blog:
Microsoft remains a member of other groups, like the U.S. Chamber of Commerce, CEI and State Policy Network, that continue to attack clean energy and climate policies, so it still has work to do to ensure that its political activities aren't undermining its carbon and renewable energy goals, but ALEC has led the charge against the clean energy revolution in recent years, so Microsoft's dumping its membership is a big move in the right direction.
YOU ALSO MIGHT LIKE
The Most Dangerous 'Model' Laws Written by ALEC
ALEC Attacks Ohio Renewable Energy Standard
ALEC-Affiliated Legislators Launch Premature Attacks on Carbon Pollution Limits
A coalition of conservation groups and others announced Thursday that a historic number of comments and petitions of support have been submitted to the U.S. Department of the Interior in support of Bears Ears National Monument. Despite the entirely inadequate 15-day comment period ending on May 26, more than 685,000 comments in support of Bears Ears National Monument have been collected.
Keep reading...
Show less
Rink Glacier in western Greenland, with a meltwater lake visible center. NASA/OIB
Scientists have had their eyes on Greenland as its iconic glaciers have begun disappearing due to a warming climate. But, what they didn't expect to see was a whole new type of melting.
Keep reading...
Show less
Mountain View Fire
By Lena Moffitt
An oil tanker in Mead, Colorado exploded, killing one and injuring three on Thursday. Authorities are continuing to investigate the cause of the explosion.
Keep reading...
Show less
Banner created by Alliance for Climate Education
Keep reading...
Show less
Twenty-two GOP senators sent a letter Thursday urging Donald Trump to pull out of the Paris agreement. They argued remaining in the deal could "upend" the administration's ability "to fulfill its goal of rescinding the Clean Power Plan."
Keep reading...
Show less
By Cheryl Johncox
The Federal Energy Regulatory Commission (FERC) rejected on Thursday Energy Transfer Partners' request to resume horizontal directional drilling at two sites for its Rover fracked gas pipeline. This rejection comes after numerous leaks into Ohio's wetlands, and Clean Air and Clean Water act violations. FERC has halted the process at only eight locations of the 32 where drilling is taking place under Ohio's wetlands and streams.
Keep reading...
Show less
By Nadia Prupis
A majority of people in eight countries say they are ready to change their lifestyles if it would prevent climate catastrophe, a survey on global threats released Wednesday found.
Keep reading...
Show less
May. 25, 2017 01:55PM EST
Bill Maher is sick of billionaires' obsession with Mars, more like "Mars-a-Lago," he said.
In a new animation produced by ATTN:, the popular talk show host of Real Time, discusses the perils of our planet, including how "climate change is killing us."
Keep reading...
Show less