This website uses cookies to ensure you get the best experience while browsing it. By clicking 'Got It' you're accepting these terms.
Microbeads: A Sign of Our Plastic Consumer Madness
Apr. 22, 2015 07:45AM EST
Insights + Opinion

How much are whiter teeth and smoother skin worth to you? Are they worth the water and fish in the Great Lakes? The cormorants that nest along the shore? The coral reefs that provide refuge and habitat for so much ocean life? Are they worth the oceans that give us half the oxygen we breathe, or the myriad other creatures the seas support?
If you use personal-care products such as exfoliators, body scrubs and toothpastes containing microbeads, those are the costs you could be paying. The tiny bits of plastic—less than five millimeters in diameter, and usually from one-third to one millimeter—are used as scrubbing agents. Now they're turning up everywhere, especially in oceans, lakes and along shorelines. They aren't biodegradable.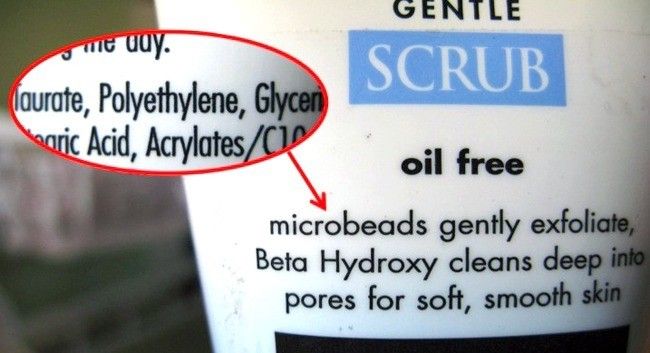 Research by the 5 Gyres Institute found an average of 43,000 beads per square kilometer in the Great Lakes, with concentrations averaging 466,000 near cities. Tests on fish from Lake Erie found an average of 20 pieces of plastic in medium-sized fish and eight in small fish. Cormorants, which eat fish, had an average of 44 pieces of plastic each. Microplastics have been found in the oceans and even under Arctic sea ice. Scientists at Australia's James Cook University found corals starving after eating the tiny beads, their digestive systems blocked.
It's not just the plastic that harms animals; the beads absorb toxic chemicals, making them poisonous to any creature that mistakes them for food or that eats another that has ingested the plastic—all the way up the food chain. Because humans eat fish and other animals, these toxins can end up in our bodies, where they can alter hormones and cause other health problems.
It's a high price to pay for limited benefits from unnecessary personal care products. Exfoliators and scrubs can use any number of harmless natural ingredients, including baking soda, oatmeal, ground seeds, sea salt and even coffee grounds. Microbeads are not only pointless in toothpaste; they can be harmful. Dentists and hygienists are finding plastic particles embedded under people's gum lines, which can cause inflammation and infection.
The folly of producing and marketing products without adequate regulatory oversight and consideration of long-term consequences makes you shake your head. As Great Lakes study researcher Sherri Mason told the Ottawa Citizen, producers haven't given much thought to anything beyond the fact that the beads wouldn't clog drains. "There wasn't that forethought, which is often the trouble with man and the environment," she said.
Microbeads illustrate the excesses of marketing and consumerism, but they're only part of the problem. Most plastics eventually break down into microparticles, often ending up in oceans and other waters, where they're eaten by organisms ranging from tiny plankton to large whales. Some plastic has even started to fuse with rocks, creating a substance new to our planet that scientists call "plastiglomerate."
According to British Antarctic Survey scientist David Barnes, "One of the most ubiquitous and long-lasting recent changes to the surface of our planet is the accumulation and fragmentation of plastics."
That's astounding, considering mass production and widespread use of synthetic, mostly petroleum-based plastics only began in the 1940s. Barnes and other researchers who compiled research from around the world say more plastic was produced in the first decade of this century than in the entire previous hundred years.
Microbeads are among the newer developments in the brief history of our plastic lifestyle. The 5 Gyres Institute launched a campaign asking companies to remove them from products. So far, L'Oreal, The Body Shop, Colgate-Palmolive, Unilever, Johnson & Johnson and Procter & Gamble have agreed to do so. Several U.S. states and European countries are planning to ban the beads, and Environment Canada is studying the problem. The federal NDP has introduced a motion to ban them here.
As consumers, we can avoid products containing microbeads and put pressure on companies and governments to end their use (5 Gyres has an online petition). And, because more than a third of all plastic is disposable packaging, such as bags and bottles, we can and must limit our overall use, and reuse or recycle any that we do use.
Plastic has made life more convenient, but many of us remember a time when we got along fine without it.
YOU MIGHT ALSO LIKE
Adidas Wants to Turn Ocean Plastic Into Sportswear
13 Powerful Murals That Show Human's Impact on the Earth
Surreal Photos Show Impact of Plastic Pollution on One of the World's Most Beautiful Places
EcoWatch Daily Newsletter
Artist's conception of solar islands in the open ocean. PNAS
Millions of solar panels clustered together to form an island could convert carbon dioxide in seawater into methanol, which can fuel airplanes and trucks, according to new research from Norway and Switzerland and published in the Proceedings of the National Academy of Sciences journal, PNAS, as NBC News reported. The floating islands could drastically reduce greenhouse gas emissions and dependence on fossil fuels.
Marcos Alves / Moment Open / Getty Images
More than 40 percent of insects could go extinct globally in the next few decades. So why did the U.S. Environmental Protection Agency (EPA) last week OK the 'emergency' use of the bee-killing pesticide sulfoxaflor on 13.9 million acres?
EcoWatch teamed up with Center for Biological Diversity via EcoWatch Live on Facebook to find out why. Environmental Health Director and Senior Attorney Lori Ann Burd explained how there is a loophole in the The Federal Insecticide, Fungicide, and Rodenticide Act under section 18, "that allows for entities and states to request emergency exemptions to spraying pesticides where they otherwise wouldn't be allowed to spray."
Simple swaps that cut down on kitchen trash.
Sponsored
By Kayla Robbins
Along with the bathroom, the kitchen is one of the most daunting areas to try and make zero waste.
View of downtown Miami, Florida from Hobie Island on Feb. 2, 2019.
Michael Muraz / Flickr
The Democratic candidates for president descended upon Miami for a two-night debate on Wednesday and Thursday. Any candidate hoping to carry the state will have to make the climate crisis central to their campaign, as The New York Times reported.
By Sharon Kelly
On Monday, the Wall Street Journal featured a profile of Scott Sheffield, CEO of Pioneer Natural Resources, whose company is known among investors for its emphasis on drawing oil and gas from the Permian basin in Texas using horizontal drilling and hydraulic fracturing, or fracking.
Pexels
By Craig K. Chandler
The federal government has available to it, should it choose to use them, a wide range of potential climate change management tools, going well beyond the traditional pollution control regulatory options. And, in some cases (not all), without new legislative authorization.
Denis Poroy / Getty Images
By Dan Gray
Processed foods, in their many delicious forms, are an American favorite.
But new research shows that despite increasing evidence on just how unhealthy processed foods are, Americans have continued to eat the products at the same rate.
By Sarah Steffen
With a profound understanding of their environmental surroundings, indigenous communities around the world are often cited as being pivotal to tackling climate change.