This website uses cookies to ensure you get the best experience while browsing it. By clicking 'Got It' you're accepting these terms.
Microbeads: A Sign of Our Plastic Consumer Madness
Apr. 22, 2015 07:45AM EST

How much are whiter teeth and smoother skin worth to you? Are they worth the water and fish in the Great Lakes? The cormorants that nest along the shore? The coral reefs that provide refuge and habitat for so much ocean life? Are they worth the oceans that give us half the oxygen we breathe, or the myriad other creatures the seas support?
If you use personal-care products such as exfoliators, body scrubs and toothpastes containing microbeads, those are the costs you could be paying. The tiny bits of plastic—less than five millimeters in diameter, and usually from one-third to one millimeter—are used as scrubbing agents. Now they're turning up everywhere, especially in oceans, lakes and along shorelines. They aren't biodegradable.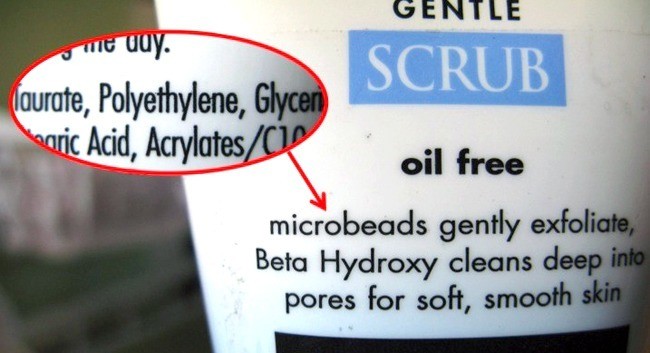 Research by the 5 Gyres Institute found an average of 43,000 beads per square kilometer in the Great Lakes, with concentrations averaging 466,000 near cities. Tests on fish from Lake Erie found an average of 20 pieces of plastic in medium-sized fish and eight in small fish. Cormorants, which eat fish, had an average of 44 pieces of plastic each. Microplastics have been found in the oceans and even under Arctic sea ice. Scientists at Australia's James Cook University found corals starving after eating the tiny beads, their digestive systems blocked.
It's not just the plastic that harms animals; the beads absorb toxic chemicals, making them poisonous to any creature that mistakes them for food or that eats another that has ingested the plastic—all the way up the food chain. Because humans eat fish and other animals, these toxins can end up in our bodies, where they can alter hormones and cause other health problems.
It's a high price to pay for limited benefits from unnecessary personal care products. Exfoliators and scrubs can use any number of harmless natural ingredients, including baking soda, oatmeal, ground seeds, sea salt and even coffee grounds. Microbeads are not only pointless in toothpaste; they can be harmful. Dentists and hygienists are finding plastic particles embedded under people's gum lines, which can cause inflammation and infection.
The folly of producing and marketing products without adequate regulatory oversight and consideration of long-term consequences makes you shake your head. As Great Lakes study researcher Sherri Mason told the Ottawa Citizen, producers haven't given much thought to anything beyond the fact that the beads wouldn't clog drains. "There wasn't that forethought, which is often the trouble with man and the environment," she said.
Microbeads illustrate the excesses of marketing and consumerism, but they're only part of the problem. Most plastics eventually break down into microparticles, often ending up in oceans and other waters, where they're eaten by organisms ranging from tiny plankton to large whales. Some plastic has even started to fuse with rocks, creating a substance new to our planet that scientists call "plastiglomerate."
According to British Antarctic Survey scientist David Barnes, "One of the most ubiquitous and long-lasting recent changes to the surface of our planet is the accumulation and fragmentation of plastics."
That's astounding, considering mass production and widespread use of synthetic, mostly petroleum-based plastics only began in the 1940s. Barnes and other researchers who compiled research from around the world say more plastic was produced in the first decade of this century than in the entire previous hundred years.
Microbeads are among the newer developments in the brief history of our plastic lifestyle. The 5 Gyres Institute launched a campaign asking companies to remove them from products. So far, L'Oreal, The Body Shop, Colgate-Palmolive, Unilever, Johnson & Johnson and Procter & Gamble have agreed to do so. Several U.S. states and European countries are planning to ban the beads, and Environment Canada is studying the problem. The federal NDP has introduced a motion to ban them here.
As consumers, we can avoid products containing microbeads and put pressure on companies and governments to end their use (5 Gyres has an online petition). And, because more than a third of all plastic is disposable packaging, such as bags and bottles, we can and must limit our overall use, and reuse or recycle any that we do use.
Plastic has made life more convenient, but many of us remember a time when we got along fine without it.
YOU MIGHT ALSO LIKE
Adidas Wants to Turn Ocean Plastic Into Sportswear
13 Powerful Murals That Show Human's Impact on the Earth
Surreal Photos Show Impact of Plastic Pollution on One of the World's Most Beautiful Places
Climate activist Greta Thunberg addresses the European Commission on Feb. 21 in Brussels, Belgium. Sylvain Lefevre / Getty Images
By Julia Conley
Sixteen-year-old climate action leader Greta Thunberg stood alongside European Commission President Jean-Claude Juncker Thursday in Brussels as he indicated—after weeks of climate strikes around the world inspired by the Swedish teenager—that the European Union has heard the demands of young people and pledged more than $1 trillion over the next seven years to address the crisis of a rapidly heating planet.

In the financial period beginning in 2021, Juncker said, the EU will devote a quarter of its budget to solving the crisis.
A new study reveals the health risks posed by the making, use and disposal of plastics. Jeffrey Phelps / Getty Images
With eight million metric tons of plastic entering the world's oceans every year, there is growing concern about the proliferation of plastics in the environment. Despite this, surprisingly little is known about the full impact of plastic pollution on human health.
But a first-of-its-kind study released Tuesday sets out to change that. The study, Plastic & Health: The Hidden Costs of a Plastic Planet, is especially groundbreaking because it looks at the health impacts of every stage in the life cycle of plastics, from the extraction of the fossil fuels that make them to their permanence in the environment. While previous studies have focused on particular products, manufacturing processes or moments in the creation and use of plastics, this study shows that plastics pose serious health risks at every stage in their production, use and disposal.
IKEA is working on a specially-designed, air-purifying curtain called the GUNRID. IKEA
Air pollution within the home causes 3.8 million deaths a year, according to the World Health Organization. A recent University of Colorado in Boulder study reported by The Guardian found that cooking a full Thanksgiving meal could raise levels of particulate matter 2.5 in the house higher than the levels averaged in New Delhi, the world's sixth most polluted city.
But soon, you will be able to shop for a solution in the same place you buy your budget roasting pans. IKEA is working on a specially-designed, air-purifying curtain called the GUNRID.
The first member of the giant tortoise species Chelonoidis phantasticus to be seen in more than 100 years. RODRIGO BUENDIA / AFP / Getty Images
A rare species of giant tortoise, feared extinct for more than 100 years, was sighted on the Galápagos island of Fernandina Sunday, the Ecuadorian government announced.