Michigan's Common Ground Against Fracking
May. 31, 2013 01:10PM EST
Energy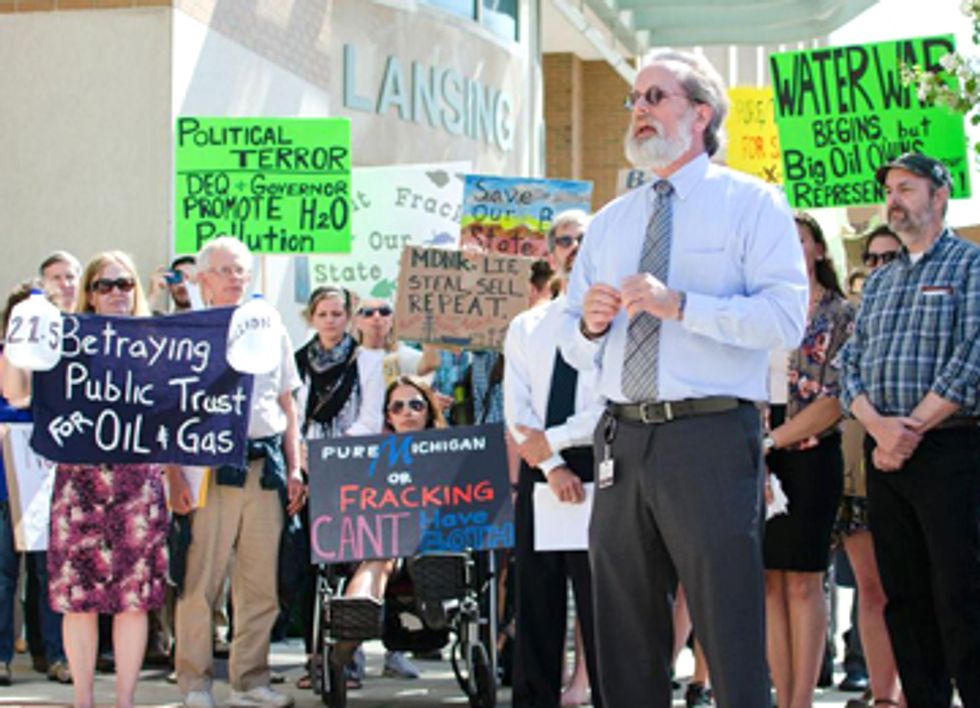 Maryann Lesert
In May of 2012, when more than 108,000 acres of Michigan's state land went up for bid, including unprecedented offerings of state game and recreation areas for oil and gas leasing, members of the public crowded into a 60-seat room (and lined the hallway outside) as 15 protestors rose from the public seats that rimmed the bidder's tables, standing to voice their opposition to oil and gas development—particularly to fracking—on state land.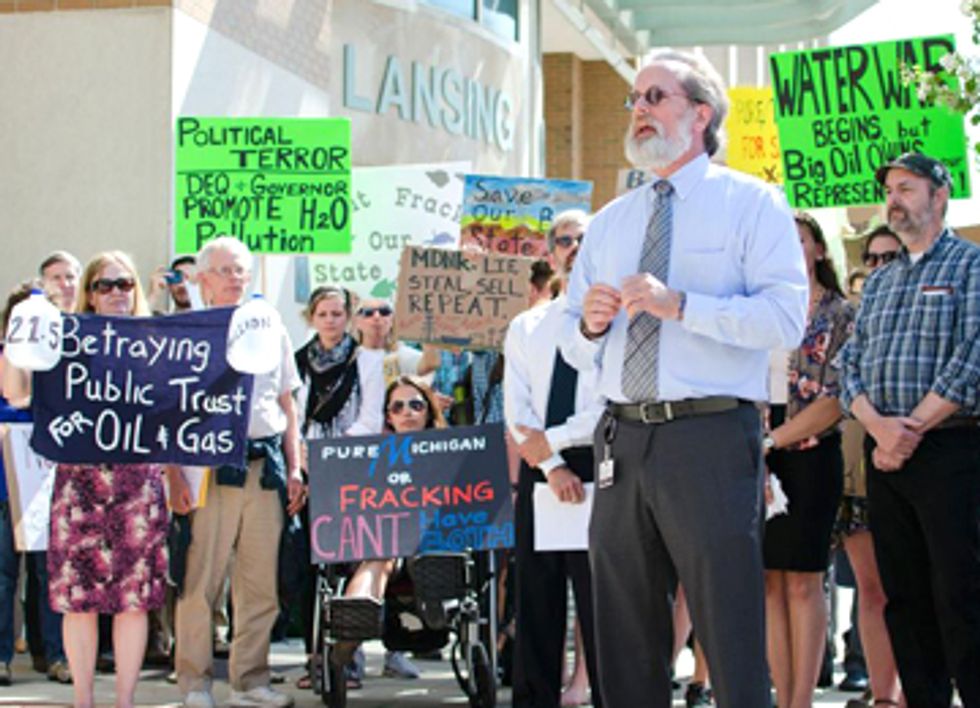 Six months later, when another 193,000 acres went up for bid, 40 of the more than 100 protestors present rose from the public seating area at the back of the Lansing Center's larger meeting room and proclaimed their opposition to bidders seated at tables up front. Seven protestors—including three who attempted a lock-down to stop the auction—were arrested.
What the Michigan public was waking up to was a quiet leasing frenzy that peaked with the record-setting auction of 2010, when industry speculation over Michigan's oil and gas rich deep shale layers brought in $178 million dollars—more than $1,500 per acre. By the time protestors began showing up at the Michigan Department of Natural Resource (MDNR) auctions, much of the state's forest and park lands were going for minimum, unopposed bids of $10 per acre, and the Attorney General's office was investigating charges of collusion between Chesapeake and Encana.
Protestors at the May 2013 auction, many back for a third time, decided to "voice" their opposition to what they view as the state's silencing of the public with a visual symbol. Instead of shouting comments about the sacredness of water or the toxicity of flowback, protestors entered the auction room with duct tape stretched across their mouths.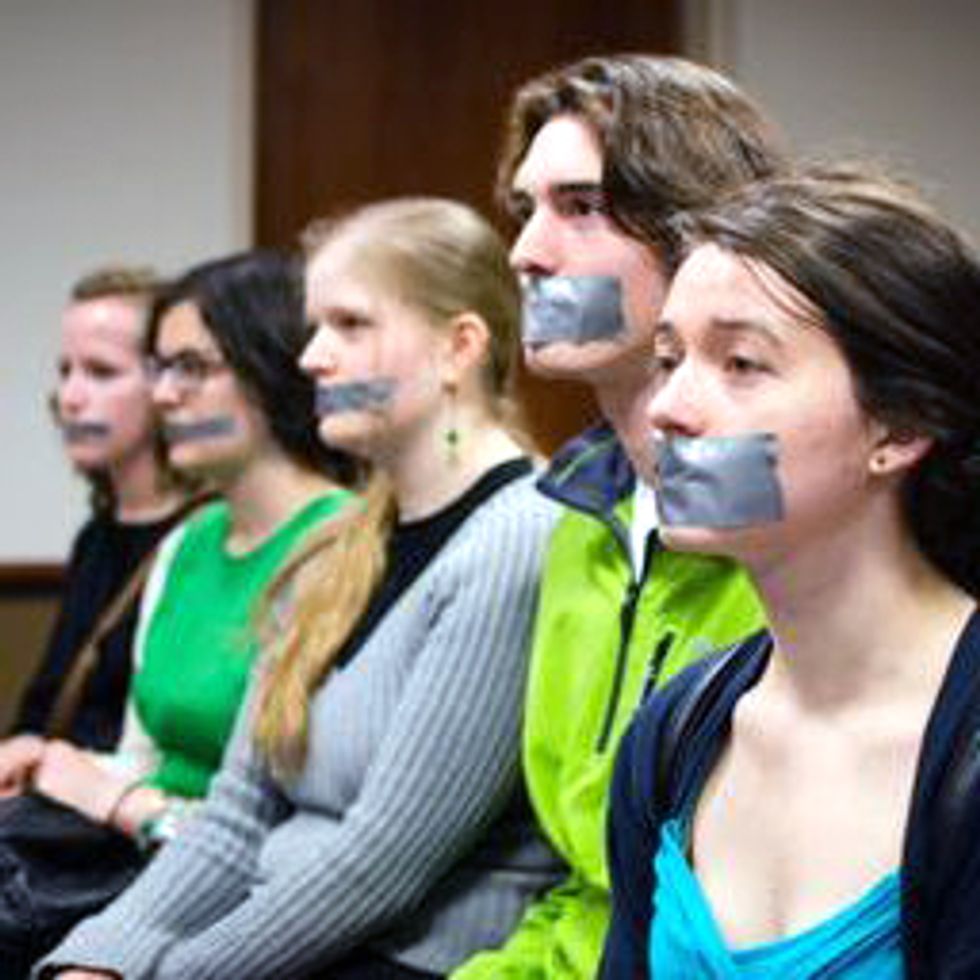 Lieutenant Steve Burton, in charge of a dozen armed MDNR conservation officers who lined the public seating area and an additional 12-15 Lansing police officers who stood guard in the hallway or rode bicycles around the Lansing Center, said just before the auction began, "We just want to keep everyone safe. To make sure everyone attending feels safe."
Protestors, however, seemed united in the feeling that oil and gas industry bidders and their right to extract minerals and water from state land was what the state was protecting.
Nicole Berens-Capizzi, a crisis worker from the Holland, MI area, commented on the now-familiar "No Public Comment Allowed" sign and the ratio of armed guards (25) to members of the public (50 protestors in the auction room) of about 1:2. "Why are we being treated as a threat while conservation officers smile and treat with respect and dignity the representatives from the oil and gas industry, those who pose a real threat to public health and safety?"
As the auctioneer prattled through the first few parcels at 9 a.m., it was clear that speaking out wasn't what protestors had in mind. Instead, they created a steady barrage of annoyances: cell phones rang for an hour and a duck quack brought a chuckle. Armed conservation officers roamed the seating area, leaning in to locate the offending ring tones and escorting out any noisemakers. By 10 a.m., most of the silent protestors holding "People before Profits" and "What the Frack?" signs had been escorted out.
One tense moment came when a young man videotaping was pulled up from his seat, suspected of possessing a ringing phone. Kathy Roper, a retired teacher from Douglas,MI, reacted verbally, asking the conservation officer, "What are you conserving?" Roper was escorted out, continually asking the officer, "Why can't you answer my question? What are you conserving?"
At 11 a.m., representatives of several citizen action groups gathered for a press conference. Mariah Urueta of Citizens Against Drilling on Public Land reviewed the group's organization of public comment sessions and protests regarding the MDNR's failure to protect public land.

Dr. Phil Bellfy, a retired Michigan State professor representing the indigenous land rights movement Idle No More, outlined tribal rights associated with the 1836 Land Cessation Treaty, 2007 Inland Consent Decree and 2012 United Nations Declaration on the Rights of Indigenous People, which together, says Bellfy, grant Upper Great Lakes region tribes the right to "protect the resources" of ceded lands, meaning oil and gas development should not be occurring on most northern Michigan frack well sites without tribal consent.

Ellis Boal of the Committee to Ban Fracking in Michigan gave an overview of the committee's ballot initiative to prohibit horizontal fracking and frack wastes in Michigan, and the all-volunteer effort to collect 258,088 valid signatures by Oct. 1.
Tia Lebherz of Food & Water Watch, Steve Losher of Michigan Land Air Water Defense and Jim Nash, Oakland County Water Resource commissioner also spoke. 
Nash referred to the state's rush toward fracking as more than backward. "Fracking isn't a step backwards," he said, "it's a U-turn in terms of water use, the chemicals used, the destruction caused by a highly industrialized process." 
Protestors then moved to the Lansing Public Library for three concurrent workshops.
Deep Water Earth First! facilitated a workshop on direct action, using a "Spectrum of Allies" chart to illustrate how movements for social change don't suddenly swing supporters from the "actively supportive" end to the "active opponents" at the other end. Movements tend to gain the most momentum where ideological slices of the pie touch—at points of common concern.
Brian Keeley and Stephanie Mabes of Kent County Water Conservation gave attendees an overview of their experiences building relationships with decision makers in the townships north of Grand Rapids, MI, where the Rogue River Recreation area and the banks of the Grand River were auctioned for oil and gas development in October of 2012. They announced some success: with the help of Flow for Water, a Michigan policy team providing townships with example ordinances and resolutions, including Cannon Township that drafted a moratorium on fracking based on a similar moratorium passed by West Bloomfield Township in Oakland county. 
Michigan Student Sustainability Coalition's Caitlin Richards offered counter points attendees might use when the public is presented, in the typical oil and gas leasing meetings, with "safe fracking" information which she noted the Michigan Department of Environmental Quality uses to "minimize of the dangers and the chemicals used."
As workshop participants convened for a final discussion, Lebherz debunked the industry's claim (and now, the Michigan Chamber of Commerce's suggestion too) that people opposed to fracking are "fringe groups" who do not represent the public. "In truth," she said, "we are a diverse collection of compassionate, intelligent and informed citizens who have deep concerns based on the best available science and the experiences of people living with fracking."
From May 31 to June 2, Michiganders representing citizen-led organizations around the state will meet for a second time this year to share research, skills and their unique points of effectiveness at Circle Pines, a cooperative peace, justice and environmental education center surrounded by state land that has been leased for oil and gas development. The goal of this second Common Ground Against Fracking retreat is to create a statewide strategic action plan.
"Not to tie anyone's hands in terms of dictating methods," says Rachel Zegerius of Circle Pines, "but to strengthen our growing network of support, to map out what each of us is doing and how we can each contribute to protecting our communities" from what she calls an "irresponsible method of gas and oil extraction."
Visit EcoWatch's FRACKING page for more related news on this topic.
——–
Sign the petition today, telling President Obama to enact an immediate fracking moratorium:

EcoWatch Daily Newsletter