Michigan Groups Rally to Stop Fracking on Public Lands
May. 10, 2013 02:53PM EST
Energy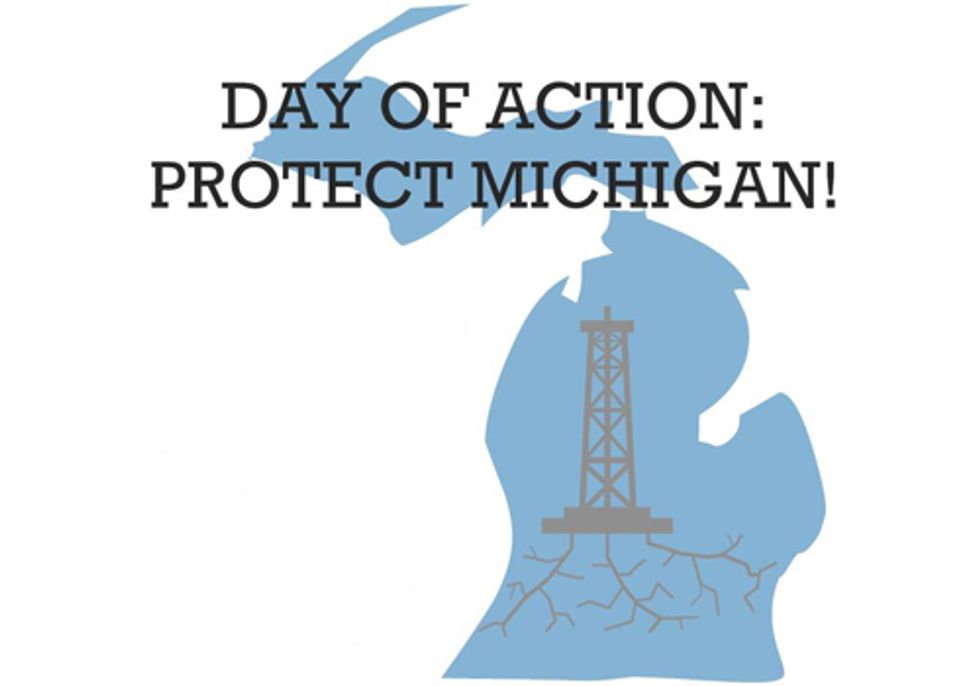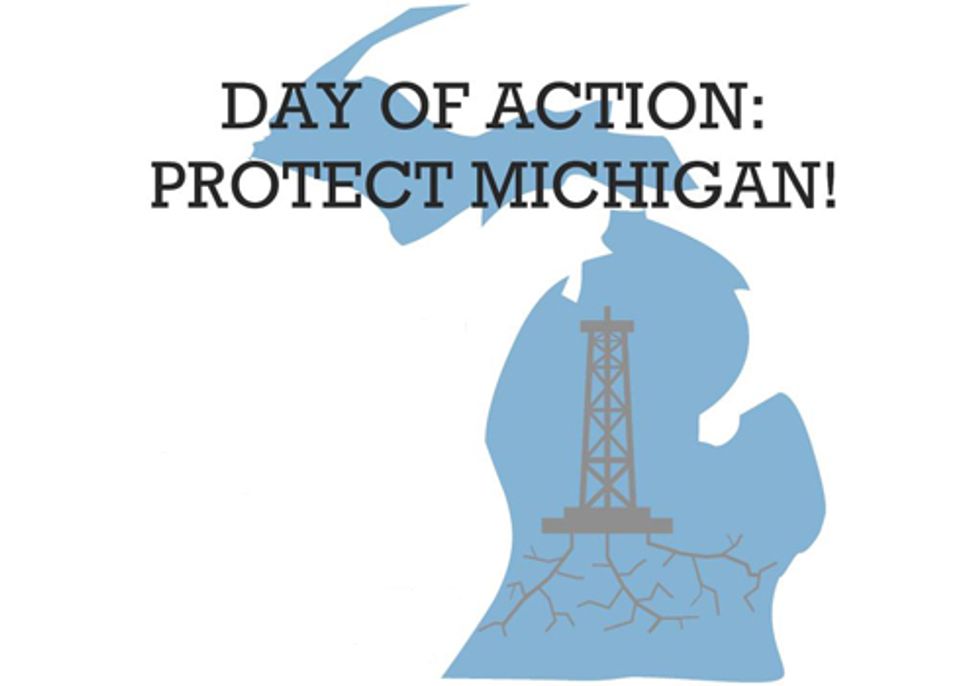 Yesterday, organizations and citizens from across Michigan came together for a day of action in opposition to the bi-annual auction of publicly-owned mineral rights to oil and natural gas companies for fracking.
Last October, the Michigan Department of Natural Resources (MDNR) leased more than 190,000 acres of mineral rights from counties across the state. The average parcel sold for around $18 an acre. During the rally, a diverse group of students, elected officials, indigenous peoples, mothers and activists came together to protest the auction and participate in trainings to take back to their local communities as fracking operations continue to expand across the state.
 
"Fracking threatens the air we breathe, the water we drink, the communities we love and the climate upon which we all depend," said Tia Lebherz, Michigan organizer with Food & Water Watch. "Today's actions illustrate the rapidly growing movement of concerned Michiganders who believe long-term stewardship should come before short-term profit."
 
Fracking uses high volumes of water mixed with sand and chemicals to access natural gas that is bound in deep, tight shale formations. The chemicals used in the process include known carcinogens and endocrine disruptors as well as chemicals known to cause cardiovascular and respiratory problems. In states where fracking and drilling for natural gas and oil are more prevalent, over 1,000 cases of water contamination have been document near fracking sites since 2008.
 
"Public lands belong to the citizens of Michigan, yet we've been completely shut out of the decision-making process that decides what is done with them," said Mariah Urueta, co-founder of Citizens Against Drilling on Public Lands. "Instead, the DNR has chosen to constituently ignore pubic outcry and has allowed these mineral rights to be sold to private industry bidders at devastatingly low costs."
 
To date, more than 350 municipalities in the U.S. have taken action against fracking. In Michigan, 15 municipalities have passed local legislation to keep fracking out of their communities, including enacting moratoriums. Orangeville Township recently passed an ordinance to regulate the truck traffic associated with the highly intensive drilling practices.
 
"In the absence of state and federal intervention, local communities including elected officials and citizens must take action to protect our natural resources and our well being," said Jim Nash, Oakland County water resource commissioner. "In Oakland County, publicly owned mineral rights have been leased in places like Indian Springs. Oil and gas drilling operations are already underway in highly residential areas close to lakes and streams, putting our communities at risk. "
 
Michigan Land Air Water Defense (MLAWD), a grassroots group located in Allegan and Barry County was formed in response to these auctions and is currently involved in a lawsuit against the MDNR arguing previous leases by the agency in Allegan and Barry County violate the public trust doctrine.
 
"This litigation has the potential to be precedent setting, with implications for the entire state," said Steve Losher, president of MLAWD. "Our ultimate goal is to have all park, game and recreation land designated 'non-leasable' and off limits to horizontal hydraulic fracturing on, under or near them."
 
Further, Phil Bellfy with Article32.org a project of Idle No More has visited fracking operations across the state to post public notices indicating such sites are a violation of the United Nations Declaration of the Rights of Indigenous People.
 
The MDNR is tasked with protecting the state's treasured resources. Groups contend that the inherent risks associated with fracking including groundwater contamination, air pollution and that the clearing of forests for drilling operations is contrary to what the department has been established to accomplish.
Visit EcoWatch's FRACKING page for more related news on this topic.
——–
Sign the petition today, telling President Obama to enact an immediate fracking moratorium:

EcoWatch Daily Newsletter
Recent Stories from EcoWatch