This website uses cookies to ensure you get the best experience while browsing it. By clicking 'Got It' you're accepting these terms.
Michigan Action Camp Hosts Anti-Fossil Fuel Flash Mob at State Capitol
May. 20, 2014 03:19PM EST
Energy
On Monday, May 19, participants in the Backbone Campaign's first Midwest action camp spread out a river of tie-dyed blue sheets stained with sticky black fingers of oil on the capitol lawn. They donned masks depicting Enbridge executives and state representatives who have invited all sorts of unconventional oil and gas development into the state, as others led a "Pet Coke" mascot around on a leash and singers sang a song they called "Restore Pure Michigan," replacing lyrics to the tune of Lorde's "Royals" with a more pertinent chorus: "No more dirty oil!"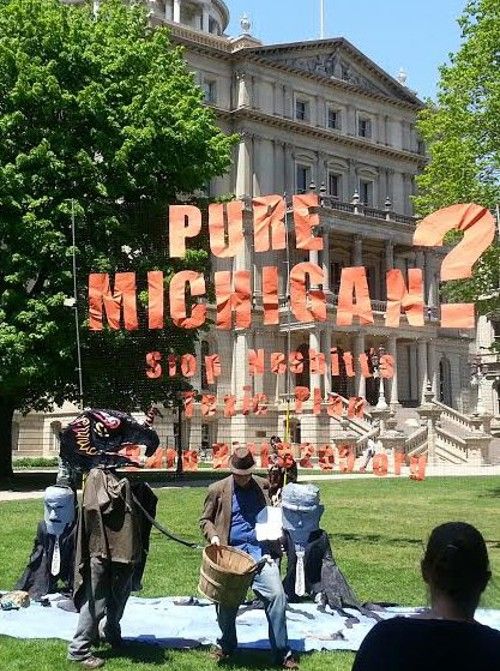 Theatre Demonstration in front of sign reading "Pure Michigan? Stop Nesbitt's Toxic Plan." Photo credit: Backbone Campaign
The lawn action and the flash mob in the Lansing capitol rotunda demonstrated what the Backbone Campaign has come to be known for: artful activism. The goal, as Backbone's executive director Bill Moyer explained, was to expose the absurdity of the Michigan legislature welcoming all manner of unconventional fossil fuel extraction methods while the state's tourism office carries out its "Pure Michigan" campaign. The juxtaposition of bold sunsets and pristine beaches with sand mines in the dunes, frack wells in the state forests, petroleum (pet) coke piles in Detroit, and the 2010 Kalamazoo River tar sands oil spill that still hasn't been cleaned up, presented a smorgasbord of absurdity that was originally tossed about camp as "Pure Michigan my ass!"
The week long action camp brought 75 participants to the grounds of Circle Pines Center, a 75-year-old cooperative based on peace, environmental education and social justice that is surrounded by state land where mineral rights, ironically, were auctioned off for oil and gas development in 2012 by the state's Department of Natural Resources.
People attending the Localize This! Great Lakes Basin Action Camp identified with a myriad of affinity groups: the Chicago Light Brigade, Earth First!, Greenpeace, the Meta Peace Team, MI CATS (Michigan Coalition Against Tar Sands) and System Change Not Climate Change. They attended and led workshops on artful activism, nonviolent direct action, climbing, kayaking, blockades, messaging, fundraising and community organizing.
A late-week workshop on jail support seemed to embody what an early workshop on nonviolent direct action stated up front: the D in Direct represents actions taken "when other avenues have been exhausted." The presence of two of the jail support panelists, Lisa Leggio and Jessica Clark, both MI CATS members, affirmed another point from the early nonviolent direct action workshop: "the action isn't over until all of your members are free."
Both recently served jail time related to separate actions. Leggio was part of the "MI CATS 3" lockdown at an Enbridge pipeline construction site. Clark participated in a tree sit that also disrupted the expansion of the infamous 6B—the Enbridge pipeline that ruptured and spilled 1.2 million gallons of tar sands oil into the Kalamazoo River in 2010.
As discussions throughout the week revealed, Enbridge's clean-up of the spill is still not complete. "It never will be," said Kurt Gleichman. Kurt and Chloe Gleichman, father and daughter members of MI CATS, pointed out that Enbridge is just beginning another dredging operation. But signs along the river, while notifying swimmers of the presence of tar (soap will remove the sticky grit from hair, though it may take days), also claim that the water is safe to swim in. Beyond the permanent damage done to the ecosystem, people in river communities are worried about the toxicity of oil dispersants used in the clean-up process.
Leggio and Clark talked about the importance of the letters they received while in jail, and the attention all those letters garnered from other inmates. Vicci Hamlin, a grandmother and another one of the MI CATS 3 talked about the relationships she formed with other female inmates, most of them much younger. They looked forward to her daily sharing of her letters, drawing on the strong sense of community.
At the same time, participants shared their concern regarding an increase in felony charges and the use of "R and O" (resisting and obstructing) in response to nonviolent acts of disobedience. As one participant said, "We need to talk about this more, we need everyone who participates to understand that risk. Otherwise, if we present all the heroics, we're no different than the Marine Corps."
The day leading up to the action looked like the end-phase of any production. After immersing themselves in climbing, in image theatre, in discussions about the expansion of the tar sands pipelines through the state and under the straits of Mackinac, about the push for liquid natural gas export plants and the fast tracking of oil to rails, Circle Pines Center became a flurry of creative activity: people constructing props, writing song lyrics, rehearsing rotating theatrical scenes, putting it all together with the spectacle of masks and a "Pet Coke" gargoyle.
The music highlighted the relative absurdity of the state's "Pure Michigan" campaign, while Rep. Aric Nesbitt (R-MI), chair of the Michigan House Energy & Technology Committee, sponsored House Bill 5205, an amendment to the Clean, Renewable and Efficient Energy Act, which appears to redefine "advanced cleaner energy systems" involved in the production of electricity as "any system using advanced thermal technology." Such edits in the original language led protestors to believe that the petroleum (pet) coke piles they successfully "moved out" of Detroit might be back—maybe even deemed eligible for renewable energy credits, subsidies paid for by Michigan taxpayers.
And so they sang:
            Cuz everyday it's like oil spills, pet coke, animal extinction,
            Benzene, toluene, poisoning our bloodstreams …
            But all the people want:
            Clean air, fresh water, healthy soil hell yeah,
            Justice, no tricks, money out of politics,
            It's not fair, we ain't caught up in your dark affair.
Calling attention to the ultimate dishonesty of any part of the fossil fuel extraction and refinement process being redefined as renewable—all under the state's imagery of purity—the last line of the Localize This! song called out:
            And baby it's time, it's time, it's time,
             To restore Pure Michigan.
——–
YOU MIGHT ALSO LIKE
Tar Sands Activists Facing Felony Charges Have Their Day in Court
10 Most Toxic Ingredients Used In Coal, Oil and Gas Production
How One State Can Triple Its Renewable Energy Use at No Additional Cost
——–
EcoWatch Daily Newsletter
Volunteers participate in 2018's International Coastal Cleanup in (clockwise from top left) the Dominican Republic, Ghana, Norway and Washington, DC. Ocean Conservancy / Gabriel Ortiz, David Kwaku Sakyi, Kristin Folsland Olsen, Emily Brauner
This coming Saturday, Sept. 21 is the International Coastal Cleanup (ICC), the annual Ocean Conservancy event that mobilizes volunteers in more than 100 countries to collect litter from beaches and waterways and record what they find.
Students hold a Youth Strike for Climate Change Protest in London, UK on May 24. Dinendra Haria / SOPA Images / LightRocket via Getty Images
The 16-year-old Swede Greta Thunberg speaks during her protest action for more climate protection with a reporter. Steffen Trumpf / picture alliance / Getty Images
By Mark Hertsgaard and Kyle Pope
It's been 30 years since Bill McKibben rang the warning bells about the threat of man-made climate change — first in a piece in The New Yorker, and then in his book, The End of Nature.
Thousands of protestors marched in front of Frankfurt's International Motor Show (IAA) on Saturday to show their disgust with the auto industry's role in the climate crisis. The protestors demanded an end to combustion engines and a shift to more environmentally friendly emissions-free vehicles, as Reuters reported.
Setting and testing the line protections for Siemens SF6 gas insulated switchgear in 2007.
Xaf / Flickr /
CC BY-NC 2.0
Ella Olsson / Pexels
By Elizabeth Streit, MS, RDN, LD
Sweet and regular potatoes are both tuberous root vegetables, but they differ in appearance and taste.
They come from separate plant families, offer different nutrients, and affect your blood sugar differently.
Scientists in Saskatchewan found that consuming small amounts of neonicotinoids led white-crowned sparrows to lose significant amounts of weight and delay migration, threatening their ability to reproduce. Jen Goellnitz / Flickr
By Julia Conley
In addition to devastating effects on bee populations and the pollination needed to feed humans and other species, widely-used pesticides chemically related to nicotine may be deadly to birds and linked to some species' declines, according to a new study.

German Chancellor Angela Merkel's government is set to unveil a package of measures on Friday, Sept. 20, to ensure that the country cuts its greenhouse gas emissions 55% by 2030, compared with the 1990 levels.