This website uses cookies to ensure you get the best experience while browsing it. By clicking 'Got It' you're accepting these terms.
Michael Pollan's New Food Rule: Take Control of Your Plate
Nov. 19, 2014 02:59PM EST
Food
Just in time for Thanksgiving, Michael Pollan has come out with a brand new food rule, which if followed would do wonders for wasting less food: Michael Pollan's Food Rule #84: Take Back Control of Your Plate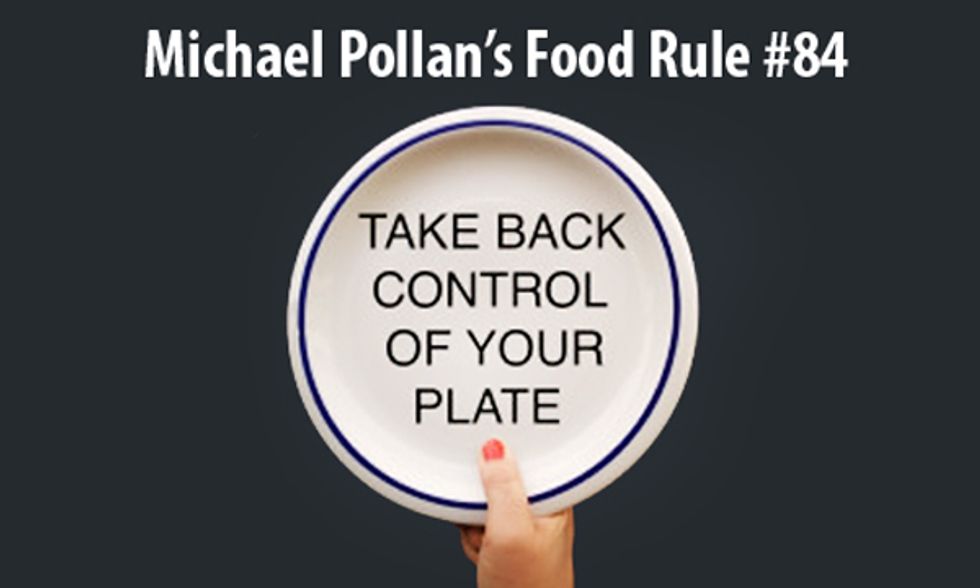 Bravo, Mr. Pollan! This is a fitting rule for Thanksgiving time when our plates do seem to get completely out of control. So out of control, in fact, that last year approximately $277 million of turkey was thrown away over the Thanksgiving holiday alone! You can be sure that those pilgrims we are celebrating were truly grateful for the food before them, but are we? Or, has the abundance on our plates gotten a little out of hand?
As with his other rules, Pollan goes on to explain just what he means and why this rule is important:
Supersized portions have become the bane of both our health and the health of the planet. Most of us eat what's put in front of us, ignoring signals of satiety; the only possible outcomes are either overeating or food waste. Gluttony is never pretty, but when a billion people in the world are hungry, it becomes unconscionable. So if you're serving yourself, take no more than you know you can finish; err on the side of serving yourself too little, since you can always go back for seconds. When you're at a restaurant that serves Brobdingnagian portions, tell your server you'd prefer a modest serving and the option of asking for more if it doesn't satisfy. To let others manipulate you by overfilling your plate is a wasteful concession to marketing and the very opposite of conscious eating. We need a movement to make reasonable portions and "seconds" the norm in restaurants. That way, the restaurant can still offer the perceived value of "all you can eat" but without the inevitable waste.
Besides the fact that he uses the word Brobdingnagian (which, as a reminder if you haven't read Gulliver's Travels lately, means "of colossal size"), what I like about this rule is that it is empowering. We can take this situation into our own hands, people! Portion sizes have grown tremendously—the average cookie, in fact, has quadrupled in calories since the 1980s—but we don't have to sit idly. We can be thankful for our food, and we can not take too much of it.
The amount of turkey wasted over Thanksgiving—about 204 million pounds—is enough to provide 46 four-ounce servings of turkey for every American household that is food insecure. Forty-six per household! Instead, it lands in our garbage can, as do all the resources it took to grow and nurture those birds: enough water to supply New York City for 100 days and the greenhouse gas equivalent to 800,000 car trips from San Francisco to New York.
This Thanksgiving, I invite you to truly be thankful for the feast before you and to take control of your plate and portions. Stop for a moment and reflect on everything it takes to bring that brilliant feast to your table—the grains that were grown to feed your turkey, the bog that nurtured your cranberries, the land that allowed your pumpkin to spread its big leaves all over, and the hands that worked tirelessly to grow our food. Then fill your plate with just what you can actually eat, and dig in!
YOU MIGHT ALSO LIKE
Pledge to Eat Local and Organic on Thanksgiving
Top 10 Superfoods Ranked by Experts
EcoWatch Daily Newsletter
A view of a washed out road near Utuado, Puerto Rico, after a Coast Guard Air Station Borinquen MH-65 Dolphin helicopter crew dropped relief supplies to residents Tuesday, Oct. 3, 2017. The locals were stranded after Hurricane Maria by washed out roads and mudslides. U.S. Coast Guard photo by Petty Officer 3rd Class Eric D. Woodall /
CC BY-NC-ND 2.0
By Coral Natalie Negrón Almodóvar
The Earth began to shake as Tamar Hernández drove to visit her mother in Yauco, Puerto Rico, on Dec. 28, 2019. She did not feel that first tremor — she felt only the ensuing aftershocks — but she worried because her mother had an ankle injury and could not walk. Then Hernández thought, "What if something worse is coming our way?"
Flooded battery park tunnel is seen after Hurricane Sandy in 2012.
CC BY 2.0
President Trump has long touted the efficacy of walls, funneling billions of Defense Department dollars to build a wall on the southern border. However, when the U.S. Army Corps of Engineers (USACE) released a study that included plans for a sea wall to protect New Yorkers from sea-level rise and catastrophic storms like Hurricane Sandy, Trump mocked it as ineffective and unsightly.
A general view of fire damaged country in the The Greater Blue Mountains World Heritage Area near the town of Blackheath on Feb. 21, 2020 in Blackheath, Australia. Brook Mitchell / Getty Images
In a post-mortem of the Australian bushfires, which raged for five months, scientists have concluded that their intensity and duration far surpassed what climate models had predicted, according to a study published yesterday in Nature Climate Change.
Sea level rise causes water to spill over from the Lafayette River onto Llewellyn Ave in Norfolk, Virginia just after high tide on Aug. 5, 2017. This road floods often, even when there is no rain.
Skyler Ballard / Chesapeake Bay Program
By Tim Radford
The Texan city of Houston is about to grow in unexpected ways, thanks to the rising tides. So will Dallas. Real estate agents in Atlanta, Georgia; Denver, Colorado; and Las Vegas, Nevada could expect to do roaring business.
Malala Yousafzai (left) and Greta Thunberg (right) met in Oxford University Tuesday. Wikimedia Commons /
CC BY 2.0
What happens when a famous school striker meets a renowned campaigner for education rights?