This website uses cookies to ensure you get the best experience while browsing it. By clicking 'Got It' you're accepting these terms.
Michael Pollan's Illustrated Food Rules Now Available
Nov. 03, 2011 08:30AM EST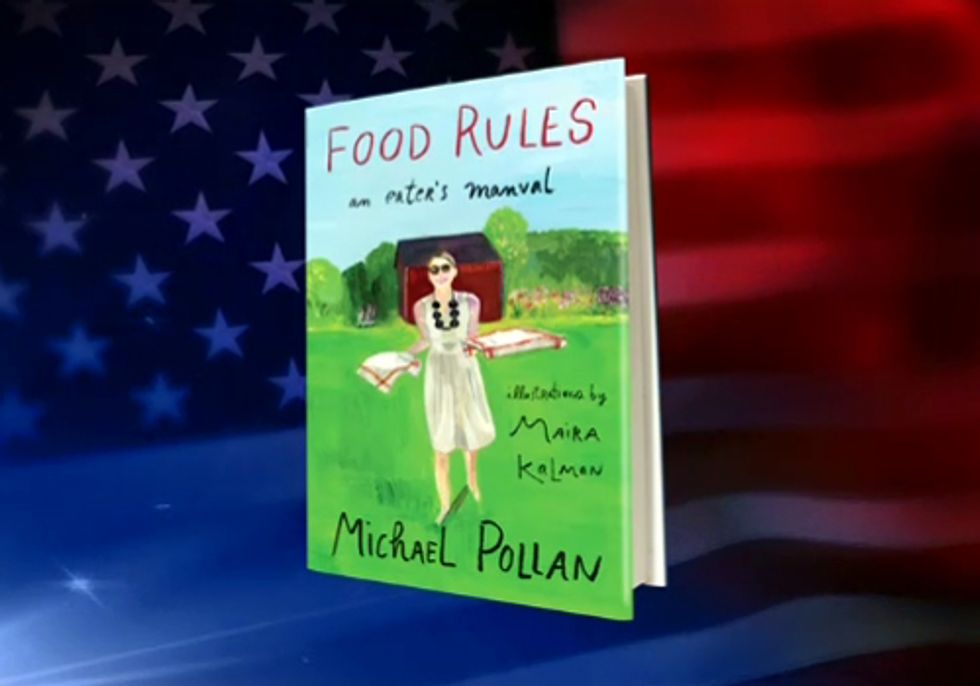 Michael Pollan's Food Rules began with his hunch that the wisdom of our grandparents might have more helpful things to say about how to eat well than the recommendations of science or industry or government. The result was a slim volume of food wisdom that has forever changed how we think about food. Now in a new edition illustrated by artist Maira Kalman, and expanded with a new introduction and nineteen additional food rules, this hardcover volume marks an advance in the national dialogue that Food Rules inspired.
The impetus for this new edition came from readers. Many chimed in with personal policies they had found useful in navigating the supermarket, or rules they recalled hearing from their mothers and grandmothers. Several of the new rules—Place a bouquet of flowers on the table and everything will taste twice as good; If you're not hungry enough to eat an apple, you're probably not hungry; When you eat real food, you don't need rules—underscore the central teaching of the original Food Rules, which is that eating doesn't have to be so complicated, and food is as much about pleasure and communion as it is about nutrition and health. Maira Kalman illustrates that simple truth with her paintings, bringing color, life and wit to Pollan's philosophy.
A collaboration between our foremost food authority and one of our most celebrated artists, as well as between an author and his readers, Food Rules has prompted a national discussion that is helping to change the way Americans approach their eating. A beautiful book to cherish and share, Food Rules guides us with humor, joy and common sense toward a happier, healthier relationship to food.
Excerpt from Food Rules:
74 | Don't Get Your Fuel from the Same Place Your Car Does
American gas stations now make more money inside selling food (and cigarettes) than they do outside selling gasoline. But consider what kind of food this is: Except perhaps for the milk and water, it's all highly processed, imperishable snack foods and extravagantly sweetened soft drinks in hefty twenty-ounce bottles. Gas stations have become "processed corn stations": ethanol outside for your car and high-fructose corn syrup inside for you. Don't eat here.
For more information, click here.
EcoWatch Daily Newsletter
Penguins are seen near the Great Wall station in Antarctica, Feb. 9, days after the continent measured its hottest temperature on record at nearly 65 degrees Fahrenheit. Xinhua / Liu Shiping / Getty Images
By Richard Connor
Scientists have recorded Antarctica's first documented heat wave, warning that animal and plant life on the isolated continent could be drastically affected by climate change.
The Athos I tanker was carrying crude oil from Venezuela when a collision caused oil to begin gushing into the Delaware River.
U.S. Department of the Interior
A case that has bounced around the lower courts for 13 years was finally settled yesterday when the U.S. Supreme Court upheld a lower court decision, finding oil giant Citgo liable for a clean up of a 2004 oil spill in the Delaware River, according to Reuters.
The buildings of downtown Los Angeles are partially obscured in the late afternoon on Nov. 5, 2019, as seen from Pasadena, California, a day when air quality for Los Angeles was predicted to be "unhealthy for sensitive groups." Mario Tama / Getty Images
The evidence continues to build that breathing dirty air is bad for your brain.
Wave power in Portugal. The oceans' energy potential is immense. Luis Ascenso, via Wikimedia Commons
By Paul Brown
The amount of energy generated by tides and waves in the last decade has increased tenfold. Now governments around the world are planning to scale up these ventures to tap into the oceans' vast store of blue energy.
Yellowstone National Park closed to visitors on March 24, 2020 because of the Covid-19 virus threat. William Campbell-Corbis via Getty Images
When the novel coronavirus started to sweep across the country, the National Park Service started to waive entrance fees. The idea was that as we started to practice social distancing, Americans should have unfettered access to the outdoors. Then the parking lots and the visitor centers started to fill up, worrying park employees.