Michael Pollan: It's Time to Put Carbon Back Into the Soil
Dec. 16, 2015 10:57AM EST
Climate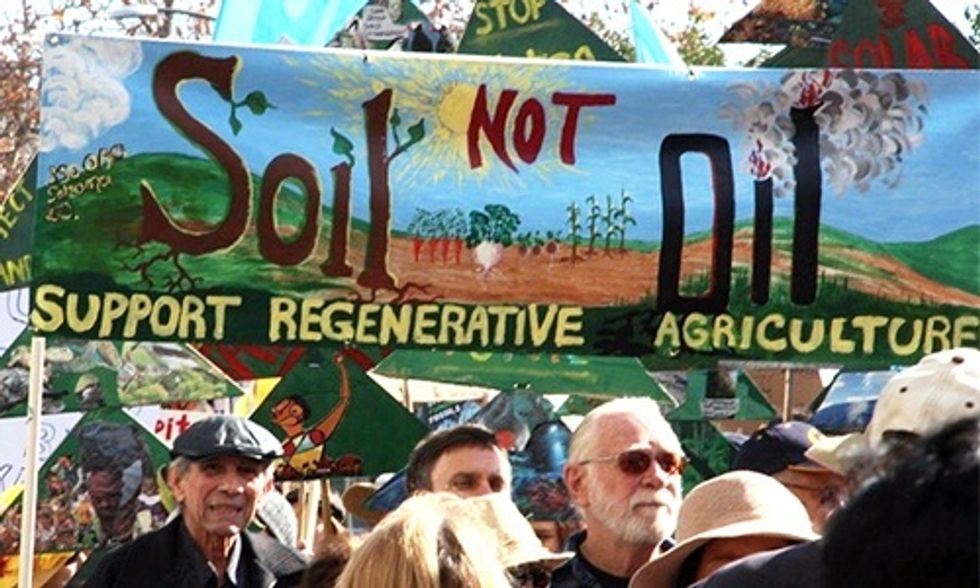 As the climate talks in Paris concluded, climate activists took note: soil restoration is our ally in the fight against global warming. It is inexpensive, effective and easy to implement, and it yields multiple benefits. Besides capturing carbon and reversing desertification caused by severe drought, soil restoration enhances regional cooling, strengthens resilience against droughts and floods, and improves food quality. It is a necessary second front in our battle against the heating up of Earth's atmosphere.
World Soil Day Champs- Untapped Resource to Solve Climate Crisis https://t.co/s268ltrrJq #COP21 #soilnotoil https://t.co/EVMBuLKAZH

— AgFunder (@AgFunder)1449675310.0
How so? Soil holds carbon—lots of it. Other than the oceans and fossil fuel deposits, soils are the largest reservoirs of carbon on the planet, holding approximately two times the amount in the atmosphere and vegetation combined. The dark color of fertile soil comes from the presence of organic carbon compounds.
Unfortunately, over the centuries, a great deal of carbon has been released from soils through both primitive and modern agriculture. The Intergovernmental Panel on Climate Change recognizes that reducing emissions alone will not stop global warming. Disruptions, it says, are "irreversible" unless there is a "large net removal of CO2 from the atmosphere over a sustained period."
The good news is that what has been lost can be returned. The excess atmospheric carbon creating anxiety would be far more content in cozy soil. Photosynthesis is how it will get there, through the process whereby plants convert carbon in the air into organic molecules exuded by roots to feed hungry microbes underground.
Ohio State University Scientist Rattan Lal referred to soil restoration as "low hanging fruit" and says it can serve as a "bridge" to climate safety during the transition to a non-fossil fuel economy. In a 2014 white paper, the Rodale Institute showed that regenerative organic farming could capture carbon dioxide in quantities exceeding global emissions.
Indeed, soils are the only suitable reservoir for the excess carbon in the atmosphere.
#Soil is home to an amazing array of life! Learn more: https://t.co/gwHBfT0bxM @CFSTrueFood #WorldSoilDay #COP21 https://t.co/G91fjPXHKP

— Soil Solutions (@Soil Solutions)1449312135.0
Politicians are also taking note. France's Minister of Agriculture Stéphane Le Foll has introduced a program, 4 per 1000, calling for a yearly increase of 0.4 percent in the amount of organic matter in the world's agricultural soils. Scientific Director for the Environment of the French National Institute for Agronomical Research Jean-François Soussana claims this modest increase in soil carbon globally would be sufficient to offset global greenhouse gas emissions. Depending on how quickly the agricultural community responds, the atmospheric level of CO2 could be kept from rising to levels uniformly viewed as disastrous. At last count, 25 countries, including Australia and the U.K., have announced their commitment to this campaign.
We can have our conservation and eat it too: https://t.co/CzUko7TkIS #4pour1000 #agroecology #permaculture https://t.co/CClWnxHSIy

— Daimen Hardie (@Daimen Hardie)1450013162.0
Michael Pollan, author of New York Times best seller, The Omnivore's Dilemma, calls on his faithful to heed this message. In a powerful new video, Soil Solutions to Climate Problems, he says, "When soil is damaged, it releases carbon dioxide into the atmosphere and this has had serious consequences for the climate." He then offers the "good news: we now know how to put carbon back in the soil where it belongs … What had been atmospheric carbon, a problem, becomes soil carbon, a solution."
Michael Pollan is right. Soil is a fix, but not just for climate. Restoring soil also ameliorates desertification, a factor that can destabilize already volatile regions. Consider the unprecedented drought—perhaps exacerbated by global warming—that precipitated civil unrest in Syria before the outbreak of civil war there.
We need look no further than the ground beneath our feet in our quest for a more verdant, peaceful world. Let's embrace this convenient truth.
YOU MIGHT ALSO LIKE
Neil Young, Willie Nelson, Dave Matthews, John Mellencamp: Help Us Stop the DARK Act
Town Rejects Solar Farm Amid Fears it Would 'Suck Up All the Energy From the Sun'
The End of Fossil Fuels is Near
How World Leaders Can Solve Global Warming With Regenerative Farming
Air France airplanes parked at the Charles de Gaulle/Roissy airport on March 24, 2020. SAMSON / AFP via Getty Images
France moved one step closer this weekend to banning short-haul flights in an attempt to fight the climate crisis.
A bill prohibiting regional flights that could be replaced with an existing train journey of less than two and a half hours passed the country's National Assembly late on Saturday, as Reuters reported.
"We know that aviation is a contributor of carbon dioxide and that because of climate change we must reduce emissions," Industry Minister Agnes Pannier-Runacher told Europe 1 radio, according to Reuters.
The measure now has to pass the French Senate, then return to the lower house for a final vote. It would end regional flights between Paris's Orly airport and cities like Nantes and Bordeaux, The Guardian explained. It would not, however, impact connecting flights through Paris's Charles de Gaulle/Roissy airport.
The bill is part of a legislative package which aims to reduce France's emissions by 40 percent of 1990 levels by 2030, Reuters reported. It is a watered-down version of a proposal suggested by France's Citizens' Convention on Climate, BBC News explained. This group, which was formed by President Emmanuel Macron in 2019 and included 150 ordinary citizens, had put forward a ban on flights that could be replaced with an existing train journey of under four hours.
However, the journey length was lowered after protests from KLM-Air France, which had suffered heavy losses due to the coronavirus pandemic, and regions who were concerned about being left out of national transit networks, as The Guardian explained.
"We have chosen two and a half hours because four hours risks isolating landlocked territories including the greater Massif Central, which would be iniquitous," transport minister Jean-Baptiste Djebbari said, as The Guardian reported.
However, some environmental and consumer groups objected to the changes. The organization UFC-Que Choisir compared plane routes with equivalent train journeys of under four hours and found that the plane trips emitted an average of 77 times more carbon dioxide per passenger than the train journeys. At the same time, the train alternatives were cheaper and only as much as 40 minutes longer.
"[T]he government's choice actually aims to empty the measure of its substance," the group said, according to The Guardian.
The new measure also opens the French government to charges of hypocrisy. It bailed out Air France-KLM to the tune of a seven-billion euro loan last year, though it did require the airline to drop some domestic routes as a condition. Then, days before the measure passed, it more than doubled its stake in the airline, BBC News reported. However, Pannier-Runacher insisted to Europe 1 radio that it was possible to balance fighting climate change and supporting struggling businesses.
"Equally, we must support our companies and not let them fall by the wayside," she said, as Reuters reported.
This is not the first time that climate measures and aviation bailouts have coincided in the wake of the coronavirus pandemic. Austrian Airlines replaced its Vienna-Salzburg flight with additional train service after it received government money dependent on cutting greenhouse gas emissions, BBC News reported.
The number of flights worldwide declined almost 42 percent in 2020 when compared with 2019. It is expected that global aviation may not fully recover until 2024, according to Reuters.
EcoWatch Daily Newsletter
A woman looks at a dead gray whale on the beach in the SF Bay area on May 23, 2019; a new spate of gray whales have been turning up dead near San Francisco. Justin Sullivan / Getty Images
Four gray whales have washed up dead near San Francisco within nine days, and at least one cause of death has been attributed to a ship strike.
A small tourist town has borne the brunt of a cyclone which swept across the West Australian coast.
ABC News (Australia) / YouTube
A general view shows the remains of a dam along a river in Tapovan, India, on February 10, 2021, following a flash flood caused by a glacier break on February 7. Sajjad Hussain / AFP / Getty Images
By Rishika Pardikar
Search operations are still underway to find those declared missing following the Uttarakhand disaster on 7 February 2021.
This story originally appeared in Eos and is republished here as part of Covering Climate Now, a global journalism collaboration strengthening coverage of the climate story.
Indigenous youth, organizers with the Dakota Access and Line 3 pipeline fights and climate activists march to the White House to protest against pipeline projects on April 1, 2021. Bill Clark / CQ-Roll Call, Inc via Getty Images
By Jessica Corbett
Indigenous leaders and climate campaigners on Friday blasted President Joe Biden's refusal to shut down the Dakota Access Pipeline during a court-ordered environmental review, which critics framed as a betrayal of his campaign promises to improve tribal relations and transition the country to clean energy.