This website uses cookies to ensure you get the best experience while browsing it. By clicking 'Got It' you're accepting these terms.
Michael Moore: My New Movie Will Change America
Feb. 12, 2016 08:56AM EST
Politics
Filmmaker Michael Moore is launching the national release of his new documentary today, which is said to be both his happiest and "most subversive" movie yet.
In the film, Where to Invade Next, Moore travels to countries throughout Europe and also Tunisia to "pry loose from them the tools they've been using to make their countries happy, shiny places," he writes, with the goal of "show[ing] millions of Americans what these countries have been hiding from us." Such tools range from eight weeks paid vacation in Italy to a year of paid maternity leave in Scandinavia to women with "true equality and power" in Tunisia to trusting prisons in Norway.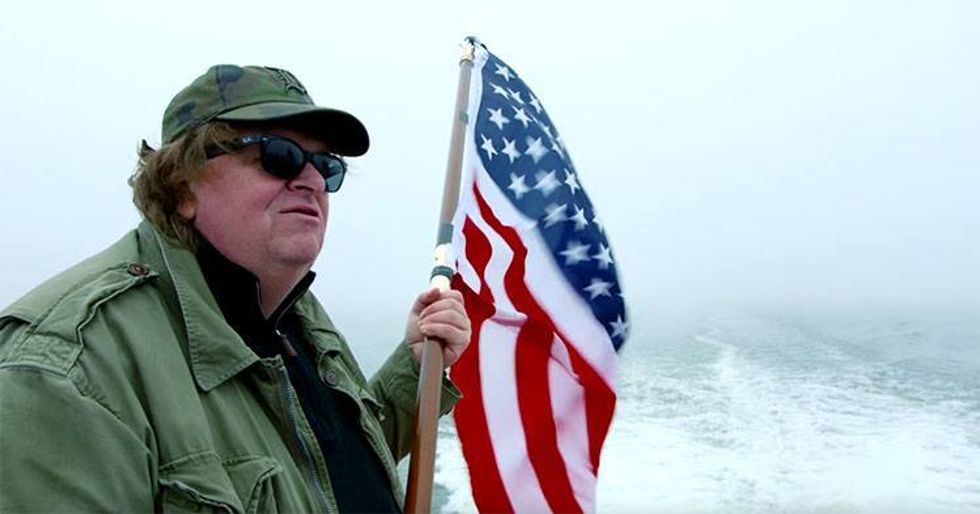 Moore, who is known for such works as Bowling for Columbine and Capitalism: A Love Story, penned an open letter to supporters last week explaining how a recent bout of pneumonia and subsequent hospital stay forced him to cancel all television appearances promoting the film.
"I have to be honest," Moore writes. "I'm now worried about my film's release. I can't fly, I have to recover and [on Feb. 12] this great movie I've put so much of my life into is going to open in theaters—with little or no assistance from me."
Then, in a direct appeal to his fans, Moore then calls for a "cobbled-together 'army' of grassroots foot soldiers" to help spread the word about the new movie, which he says "will inspire people to think about things in a different way."
He continues:
"Last week, laying in the hospital, I watched one presidential candidate attack the candidate from Vermont for his ideas being 'unrealistic,' 'pie in the sky' and 'ideas that sound good on paper, but aren't going to happen.' The truth is, all these great 'ideas'—free universal health care, free university, free day care, taxing and policing hedge fund millionaires—have already happened in nearly every other industrialized country in the world! And I have the evidence—and the film—to prove it!"
"You are going to be seriously f***ed up by this film," Moore adds. "It's unlike anything I've ever done."
Intercept columnist Jon Schwarz, who previously worked with Moore, argues that Where it Invade Next is the filmmaker's "most subversive movie" yet.
"On its surface, Where to Invade Next seems to be a cheerful travelogue as Moore enjoys an extended vacation, 'invading' a passel of European countries plus Tunisia to steal their best ideas and bring them back home to America," Schwarz writes.
But, he adds, by the end of the film, "after seeing working-class Italians with two months paid vacation, Finnish schools with no homework and the world's best test scores, Slovenians going to college for free and women seizing unprecedented power in Tunisia and Iceland—you may realize that the entire movie is about how other countries have dismantled the prisons in which Americans live: prison-like schools and workplaces, debtor's prisons in order to pay for college, prisons of social roles for women and the mental prison of refusing to face our own history."
Schwarz continues:
"You'll also perceive clearly why we've built these prisons. It's because the core ideology of the United States isn't capitalism or American exceptionalism, but something even deeper: People are bad. People are so bad that they have to be constantly controlled and threatened with punishment and if they get a moment of freedom they'll go crazy and ruin everything.
"The secret message of Where to Invade Next is that America's had it wrong all along about human beings. You and I aren't bad. All the people around us aren't bad. It's okay to get high or get sick or for teenagers to spend every waking moment trying to figure out how to bonk each other. If regular people get control over their own lives, they'll use it wisely rather than burning the country down in a festival of mindless debauchery."
Tickets and showtime information are available here. Watch the trailer here:
YOU MIGHT ALSO LIKE 
Gov. Brown's Cozy Ties to Oil & Gas Is a Threat to California's Coast and Democracy
Noam Chomsky: The Biggest Problem We Face, Destruction of the Environment
Michael Moore: 10 Things They Won't Tell You About the Flint Water Tragedy, But I Will
Poisoned Kids in Flint Are Just the Tip of the Toxic Iceberg
EcoWatch Daily Newsletter
The Opera House is seen with smoke haze which enveloped Sydney Harbor on Dec. 10 in Sydney, Australia. Smoke haze hangs over the city as the New South Wales fire danger risk is raised from 'very high' to 'severe'. James D. Morgan / Getty Images
The brushfires raging through New South Wales have shrouded Australia's largest city in a blanket of smoke that pushed the air quality index 12 times worse than the hazardous threshold, according to the Australia Broadcast Corporation (ABC).
People walk across the bridge near Little Raven Court in downtown Denver. Younger Americans increasingly prefer to live in walkable neighborhoods. Helen H. Richardson / The Denver Post via Getty Images
By David B. Goldstein
Energy efficiency is the cornerstone of any country's plan to fight the climate crisis. It is the cheapest option available, and one that as often as not comes along with other benefits, such as job creation, comfort and compatibility with other key solutions such as renewable energy. This has been recognized by the International Energy Agency (IEA) for at least a decade.
Activists from Extinction Rebellion New York City engaged in nonviolent direct action to confront climate change outside City Hall on April 17, 2019. Erik McGregor / Pacific Press / LightRocket via Getty Images
By Andrea Germanos

Over 500 groups on Monday rolled out an an action plan for the next president's first days of office to address the climate emergency and set the nation on a transformative path towards zero emissions and a just transition in their first days in office.

The Ladakh region of India, pictured above, is a part of the Himalayan mountain region of the upper Indus Valley which is the most vulnerable water tower, according to researchers. Suttipong Sutiratanachai / Moment / Getty Images
Jet stream triggered heat waves could threaten food production in several important breadbaskets, including central North America.
Carl Wycoff /
CC BY 2.0
Researchers have pinpointed a previously underexamined threat to global food production, and they warn it will only get worse as the climate crisis intensifies.