Politics
12 February 2016
Michael Moore: My New Movie Will Change America
Filmmaker Michael Moore is launching the national release of his new documentary today, which is said to be both his happiest and "most subversive" movie yet.
In the film, Where to Invade Next, Moore travels to countries throughout Europe and also Tunisia to "pry loose from them the tools they've been using to make their countries happy, shiny places," he writes, with the goal of "show[ing] millions of Americans what these countries have been hiding from us." Such tools range from eight weeks paid vacation in Italy to a year of paid maternity leave in Scandinavia to women with "true equality and power" in Tunisia to trusting prisons in Norway.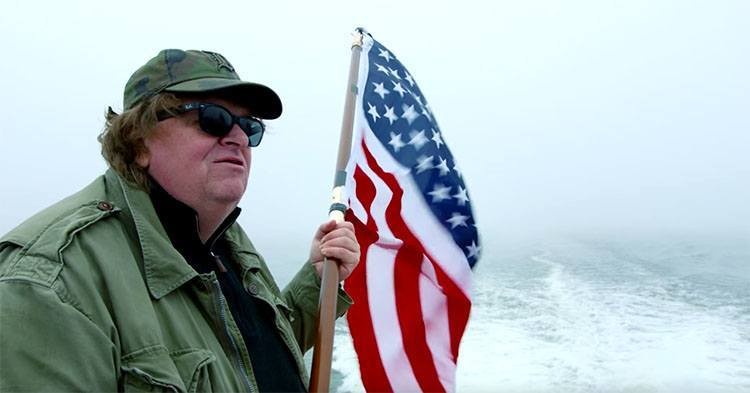 Moore, who is known for such works as Bowling for Columbine and Capitalism: A Love Story, penned an open letter to supporters last week explaining how a recent bout of pneumonia and subsequent hospital stay forced him to cancel all television appearances promoting the film.
"I have to be honest," Moore writes. "I'm now worried about my film's release. I can't fly, I have to recover and [on Feb. 12] this great movie I've put so much of my life into is going to open in theaters—with little or no assistance from me."
Then, in a direct appeal to his fans, Moore then calls for a "cobbled-together 'army' of grassroots foot soldiers" to help spread the word about the new movie, which he says "will inspire people to think about things in a different way."
He continues:
"Last week, laying in the hospital, I watched one presidential candidate attack the candidate from Vermont for his ideas being 'unrealistic,' 'pie in the sky' and 'ideas that sound good on paper, but aren't going to happen.' The truth is, all these great 'ideas'—free universal health care, free university, free day care, taxing and policing hedge fund millionaires—have already happened in nearly every other industrialized country in the world! And I have the evidence—and the film—to prove it!"
"You are going to be seriously f***ed up by this film," Moore adds. "It's unlike anything I've ever done."
Intercept columnist Jon Schwarz, who previously worked with Moore, argues that Where it Invade Next is the filmmaker's "most subversive movie" yet.
"On its surface, Where to Invade Next seems to be a cheerful travelogue as Moore enjoys an extended vacation, 'invading' a passel of European countries plus Tunisia to steal their best ideas and bring them back home to America," Schwarz writes.
But, he adds, by the end of the film, "after seeing working-class Italians with two months paid vacation, Finnish schools with no homework and the world's best test scores, Slovenians going to college for free and women seizing unprecedented power in Tunisia and Iceland—you may realize that the entire movie is about how other countries have dismantled the prisons in which Americans live: prison-like schools and workplaces, debtor's prisons in order to pay for college, prisons of social roles for women and the mental prison of refusing to face our own history."
Schwarz continues:
"You'll also perceive clearly why we've built these prisons. It's because the core ideology of the United States isn't capitalism or American exceptionalism, but something even deeper: People are bad. People are so bad that they have to be constantly controlled and threatened with punishment and if they get a moment of freedom they'll go crazy and ruin everything.
"The secret message of Where to Invade Next is that America's had it wrong all along about human beings. You and I aren't bad. All the people around us aren't bad. It's okay to get high or get sick or for teenagers to spend every waking moment trying to figure out how to bonk each other. If regular people get control over their own lives, they'll use it wisely rather than burning the country down in a festival of mindless debauchery."
Tickets and showtime information are available here. Watch the trailer here:
YOU MIGHT ALSO LIKE 
Gov. Brown's Cozy Ties to Oil & Gas Is a Threat to California's Coast and Democracy
Noam Chomsky: The Biggest Problem We Face, Destruction of the Environment
Michael Moore: 10 Things They Won't Tell You About the Flint Water Tragedy, But I Will
Poisoned Kids in Flint Are Just the Tip of the Toxic Iceberg
Bill Maher is sick of billionaires' obsession with Mars, more like "Mars-a-Lago," he said.
In a new animation produced by ATTN:, the popular talk show host of Real Time, discusses the perils of our planet, including how "climate change is killing us."
Keep reading...
Show less
Dr. Benjamin D. Santer, research scientist
A group of prominent climate scientists have written a study explicitly refuting statements made by the U.S. Environmental Protection Agency Administrator Scott Pruitt on climate data. During his Senate confirmation hearing, Pruitt claimed in a written response that satellite data shows a "leveling off" of warming over the past two decades.
Keep reading...
Show less
By David Pomerantz
The Nevada Assembly passed a bill Wednesday that would dramatically increase the growth of renewable energy in the state, but Sheldon Adelson, the casino magnate and major donor to Donald Trump, is attempting to prevent the bill from becoming law.
Keep reading...
Show less
Matt Crossick
By Yosola Olorunshola
Whether it's through fashion or protest, Vivienne Westwood is not a woman afraid of making a statement.
On May 23, she rocked up to the residence of the Archbishop of Canterbury in London with a special guest—the Grim Reaper—to issue a strong statement on the Church of England's position on fracking.
Keep reading...
Show less
Military veterans from across Virginia released a letter Thursday opposing two proposed fracked-gas pipelines: Dominion Energy's Atlantic Coast Pipeline and EQT's Mountain Valley Pipeline. These pipelines would cross through pristine areas of Virginia, taking private property by use of eminent domain, removing mountain ridgetops and threatening valuable drinking water resources. The veterans view this as contrary to their service to protect and defend the freedom and security of American citizens.

Keep reading...
Show less
By Paul Brown
The food industry and big agricultural concerns are driving climate change and at the same time threatening to undermine efforts to feed the world's growing population, according to GRAIN, an organization that supports small farmers.
Particularly singled out for criticism are the large chemical fertilizer producers that have gained access to the United Nations talks on climate change. GRAIN accuses them of behaving like the fossil fuel companies did in the 1990s, pushing false information in the hope of delaying real action on climate change.
Keep reading...
Show less
May. 24, 2017 06:55PM EST
By Sydney Robinson
President Trump has no doubt been given a long list of extravagant, elaborate gifts in his lifetime, but the gift given to him today by Pope Francis may not make it on his most favorite list.
Keep reading...
Show less
May. 24, 2017 07:17PM EST
By John Rogers
Maybe it's because I first started working on clean energy while serving in the Peace Corps he founded, or maybe it's my years of working on these issues from his home state. But I can't help thinking about the 100th anniversary of John F. Kennedy's birth, and connecting his stirring rhetoric to the energy challenges of our times.
Here's what our 35th president might have said about the challenges of energy transition and the opportunities in clean energy:
"Change is the law of life. And those who look only to the past or present are certain to miss the future."
Keep reading...
Show less


Get EcoWatch in your inbox