Michael Moore: 'Do Not Send Us Bottles of Water. Instead, Join Us in a Revolt'
Jan. 28, 2016 10:09AM EST
Health + Wellness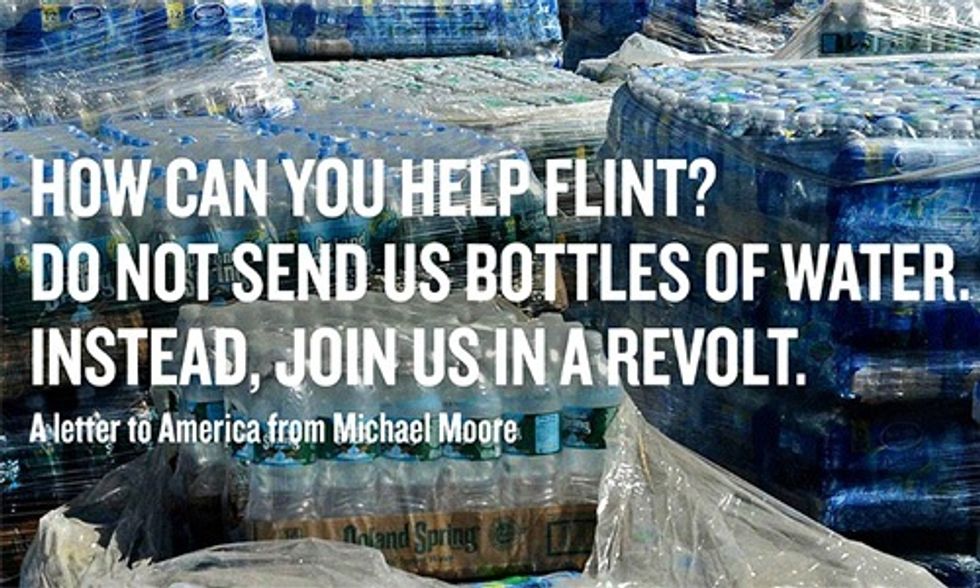 Many of you have contacted me wanting to know how you can help the people of Flint with the two-year long tragedy of drinking water contaminated by the radical decisions made by the Governor of Michigan. The offer is much appreciated by those who are suffering through this and who have not drank a glass of unpoisoned water since April of 2014.
Unfortunately, the honest answer to your offer of help is, sadly, you can't.
My NEW letter on Flint. "Do Not Send Us Bottles Of Water. Instead, Join Us In A Revolt." https://t.co/hfvJFk6p9Y RT! https://t.co/9iwIYSpzmV

— Michael Moore (@Michael Moore)1453907609.0
You can't help.
The reason you can't help is that you cannot reverse the irreversible brain damage that has been inflicted upon every single child in Flint. The damage is permanent. There is no medicine you can send, no doctor or scientist who has any way to undo the harm done to thousands of babies, toddlers and children (not to mention their parents). They are ruined for life and someone needs to tell you the truth about that. They will, forever, suffer from various neurological impediments, their IQs will be lowered by at least 20 points, they will not do as well in school and, by the time they reach adolescence, they will exhibit various behavioral problems that will land a number of them in trouble and some of them in jail.
That is what we know about the history of lead poisoning when you inflict it upon a child. It is a life sentence. In Flint, they've already ingested it for these two years and the toll has already been taken on their developing brains. No check you write, no truckloads of Fiji Water or Poland Spring, will bring their innocence or their health back to normal.
It's done. And it was done knowingly, enacted by a political decision from a governor and a political party charged by the majority of Michigan's citizens who elected them to cut taxes for the rich, take over majority-black cities by replacing the elected mayors and city councils, cut costs, cut services, cut more taxes for the rich, increase taxes on retired teachers and public employees and, ultimately, try to decimate their one line of defense against all this, this thing we used to call a union.
The amount of generosity since the national media finally started to cover this story has been tremendous. Pearl Jam sent 100,000 bottles of water. The next day the Detroit Lions showed up with a truck and 100,000 bottles of water. Yesterday, Puff Daddy and Mark Wahlberg donated 1,000,000 bottles of water! Unbelievably amazing. They acknowledged it's a very short-term fix and that it is.
Flint has 102,000 residents, each in need of an average of 50 gallons of water a day for cooking, bathing, washing clothes, doing the dishes and drinking (I'm not counting toilet flushes, watering plants or washing the car). But 100,000 bottles of water is enough for just one bottle per person—in other words, just enough to cover brushing one's teeth for one day.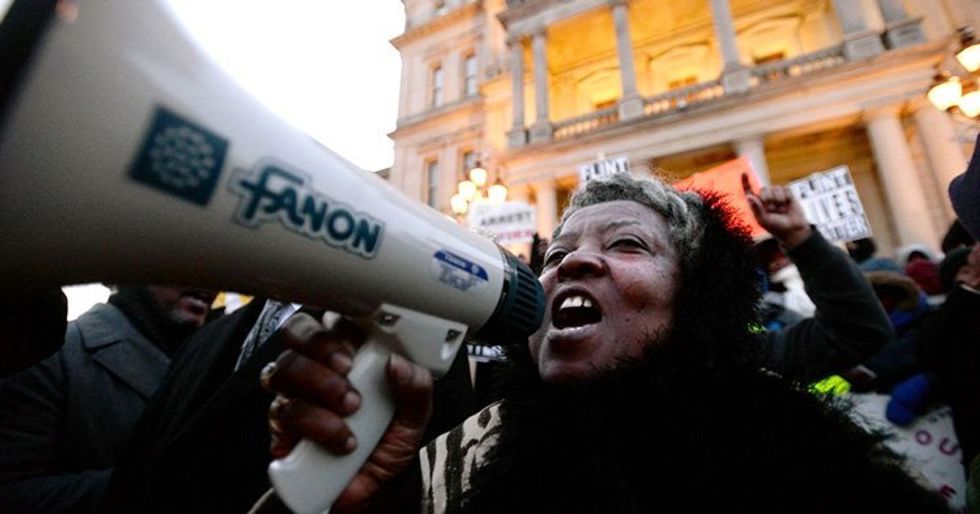 You would have to send 200 bottles a day, per person, to cover what the average American (we are Americans in Flint) needs each day. That's 102,000 citizens times 200 bottles of water—which equals 20.4 million 16oz. bottles of water per day, every day, for the next year or two until this problem is fixed (oh and we'll need to find a landfill in Flint big enough for all those hundreds of millions of plastic water bottles, thus degrading the local environment even further). Anybody want to pony up for that? Because that is the reality.
This is a catastrophe of unimaginable proportions. There is not a terrorist organization on Earth that has yet to figure out how to poison 100,000 people every day for two years—and get away with it. That took a governor who subscribes to an American political ideology hell-bent on widening the income inequality gap and conducting various versions of voter and electoral suppression against people of color and the poor. It was those actions that led Michigan's Republican governor to try out his economic and racial experiment in Flint (and please don't tell me this has nothing to do with race or class; he has removed the mayors of a number of black cities.
This and the water crisis in Flint, never would have been visited upon the residents of Bloomfield Hills or Grosse Pointe—and everyone here knows that). We have now seen the ultimate disastrous consequences of late-20th century, neo-conservative, trickle down public policy. That word "trickle," a water-based metaphor, was used to justify this economic theory—well, it's no longer a metaphor, is it? Because now we're talking about how actual water has been used to institute these twisted economic beliefs in destroying the lives of the black and the poor in Flint, Michigan.
So, do you still want to help? Really help? Because what we need in Flint—and across the country—right now, tonight, is a nonviolent army of people who are willing to stand up for this nation and go to bat for the forgotten of Flint.
Here's what you and I need to do:
1. Demand the removal and arrest of Rick Snyder, the Governor of Michigan.
When the police have an "active shooter" situation in a building, they must first stop the shooter before they can bring aid to the victims. The perp who allowed the poisoning to continue once he knew something was wrong—and his minions who cooked the evidence so the public and the feds wouldn't find out—must be removed from office ASAP. Whether it's via resignation, recall or prosecution, this must happen now because he is still refusing to take the aggressive and immediate action needed. His office, as recently as this past Thursday, was claiming the Environmental Protection Agency (EPA) had no legal authority to tell him what to do. You know the EPA—that federal agency every Republican politician wants eliminated? Governor Snyder is not going to obey the law. He has covered up the crime and I submit he has committed an act of voluntary or involuntary manslaughter. Last month I posted a meme of me holding a pair of handcuffs with the hashtag #ArrestGovSnyder:
Attorney General needs to arrest Gov. Rick Snyder for poisoning Flint. https://t.co/thcWQWmJlw #ArrestGovSnyder https://t.co/DFnbxrwn6l

— Michael Moore (@Michael Moore)1452127724.0
It went viral, so I posted a petition (link) to U.S. Attorney General Loretta Lynch asking her to arrest the governor—and asking President Obama to send help to Flint immediately. As each day brought a new revelation of the Governor's corruption or incompetence and with Rachel Maddow on a nightly tear, the momentum built. MoveOn.org and Democracy For America joined me in circulating our petition. We are now on our way to having a half-million signatures! Then Bernie Sanders became the first candidate to call for the Governor's removal. That same day, President Obama issued his first emergency order for Flint. The next night, Hillary Clinton fiercely called out the racist actions of the Governor.
You want to help? Sign the petition—and get everyone you know to sign it. Now. Another half-million signatures could become the tipping point we need. All eyes are on Flint.
2. Make the State of Michigan pay for the disaster that the State of Michigan created.
The governor wants the president to declare Flint a federal disaster zone and have him send federal money to fix the problem. Not so fast. All relief aid for Flint currently coming from the federal government to Michigan is going through the Governor's office to disburse. That is literally paying the fox to fix the chicken coop he destroyed.
As a Michigan resident and voter, I think that the people who elected Gov. Snyder must show some of that personal responsibility they're always lecturing about to the poor. The majority of my fellow Michiganders wanted this kind of government (they elected him twice), so now they should have to pay for it. This year the state treasury posted nearly a $600 million surplus. There is also another $600 million in the state's "rainy day fund." That's $1.2 billion—just about what Flint's congressman, Dan Kildee, estimates it will cost to replace the water infrastructure and care for the thousands of poisoned children throughout their growing years.
And before there is any talk of federal tax dollars being used (and, yes, they will be needed), the state legislature must remove the billion-dollars' worth of tax cuts the Snyder administration gave the wealthy when he took office. That will go a long way to helping not just Flint but Michigan's other destitute cities and school districts.
3. The federal government must then be placed in charge.
The state government cannot be trusted to get this right. So, instead of declaring a federal disaster zone, President Obama must declare the same version of martial law that Gov. Snyder declared over the cities of Flint and Detroit. He must step in and appoint a federal emergency manager in the state capitol to direct the resources of both the state and federal government in saving Flint.
This means immediately sending in Federal Emergency Management Agency (FEMA) in full force. It means sending in the Center for Disease Control (CDC) to determine the true extent of not just the lead poisoning in the water, but also the latest outbreak that has been discovered in Flint—a tenfold increase in the number of Flint people who've contracted Legionnaires Disease. There have now been 87 cases since the switch to the Flint River water and ten people have died. The local hospital has also noted sharp increases in a half-dozen other toxins found in people's bodies.
We need the CDC. The EPA must take over the testing of the water and the Army Corps of Engineers must be sent in to begin replacing the underground pipes. Like the levees in New Orleans, this will be a massive undertaking. If it is turned over to for-profit businesses, it will take a decade and cost billions. This needs to happen right now and Obama must be in charge.
4. Evacuate any and all Flint residents who want to leave now.
They've suffered long enough and, until the water is truly safe, no one should have to stay there who doesn't want to. The state and FEMA should move people into nearby white townships that are still hooked up to Lake Huron water.
5. For those who choose to stay in Flint, FEMA must create a temporary water system in each home.
One idea that has been suggested is to deliver two 55-gallon drums to every home in Flint. Each day water trucks will arrive to fill them with fresh clean glacial water from Lake Huron. The drums will have taps attached to them. People can't be expected to carry jugs of water from buildings that are miles away.
In the end, we will need to create a new economy and bring new employment to this town that created the middle class, that elected the first black mayor and that believed in and created the American Dream. They deserved more than to be poisoned by their own Governor—a Governor who thought that, because the people in the town were politically weak, he could get away with this unnoticed and without a fight. He figured wrong.
A crime against humanity has been committed against the people of Flint, making them refugees in their own homes. Tell me honestly: if you were living in Flint right now and you learned that your children had been drinking lead-filled water for two years and then you discovered that the Governor knew this and the state lied about it—tell me, just how fast would your head be spinning? With your children now poisoned and with the poisoning continuing ... is the word "nonviolence" dominating your thoughts right now? Are you absolutely, stunningly amazed how peaceful the people in Flint have remained? Are you curious how much longer that can last? I hope it does.
If you want to help Flint, sign the petition, demand that the federal government take action and then get involved yourself, wherever you live, so that this doesn't happen to you—and so that the people we elect know they can no longer break the law as they rule by fiat or indifference. We deserve much better than this.
YOU MIGHT ALSO LIKE
Seattle Sues Monsanto Over PCB Contamination, Becomes 6th City to Do So
Another Lead Water Poisoning Scandal Has Erupted, This Time in Ohio
Opposition Grows to Fracking and Fracking Infrastructure Projects
Matt Damon Slams Michigan Governor Over Flint Water Crisis: 'At the Very Least He Should Resign!'
Recycling and general waste plastic wheelie bins awaiting collection for disposal in Newport, Rhode Island. Tim Graham / Getty Images
Reduce. Reuse. Recycle. According to The National Museum of American History, this popular slogan, with its iconic three arrows forming a triangle, embodied a national call to action to save the environment in the 1970s. In that same decade, the first Earth Day happened, the EPA was formed and Congress passed the Resource Conservation and Recovery Act, encouraging recycling and conservation of resources, Enviro Inc. reported.
According to Forbes, the Three R's sustainability catch-phrase, and the recycling cause it bolstered, remain synonymous with the U.S. environmental movement itself. There's only one problem: despite being touted as one of the most important personal actions that individuals can take to help the planet, "recycling" – as currently carried out in the U.S. – doesn't work and doesn't help.
Turns out, there is a vast divide between the misleading, popular notion of recycling as a "solution" to the American overconsumption problem and the darker reality of recycling as a failing business model.
Tiffany Duong is an avid ocean advocate. She holds degrees from UCLA and the University of Pennsylvania Carey Law School and is an Al Gore Climate Reality Leader and student member of The Explorer's Club.
She spent years as a renewable energy lawyer in L.A. before moving to the Amazon to conduct conservation fieldwork (and revamp her life). She eventually landed in the Florida Keys as a scientific scuba diver and field reporter and writes about the oceans, climate, and the environment from her slice of paradise. Follow her on Twitter/Instagram @lilicedt.
EcoWatch Daily Newsletter
The coal-fired Huaneng Power Plant in Huai 'an City, Jiangsu Province, China on Sept. 13, 2020. Costfoto / Barcroft Media via Getty Images
Overall energy demand is expected to rise 4.6 percent this year compared to 2020 and 0.5 percent compared to 2019, according to the IEA's Global Energy Review 2021. Demand for fossil fuels is expected to jump to such an extent that emissions will rise by nearly five percent in 2021. This will reverse 80 percent of the emissions decline reported in 2020, to end emissions just 1.2 percent below 2019 emissions levels. Because the lockdown saw the biggest drop in energy demand since World War II, the projected increase in carbon dioxide emissions will still be the second-highest on record, BBC News pointed out.
"This is a dire warning that the economic recovery from the COVID crisis is currently anything but sustainable for our climate," IEA Executive Director Fatih Birol said in a statement reported by AFP.
Birol said much of that increase was being driven by the resurgence of coal use. In fact, coal demand is expected to increase by 60 percent more than all forms of renewable energy, according to the report. Overall coal demand is expected to increase by 4.5 percent in 2021. More than 80 percent of that growth is in Asia, and more than 50 percent is in China. While coal use is expected to increase in the U.S. and Europe as well, it will remain far below pre-pandemic levels. Still, global coal use is expected to rise to nearly its 2014 peak, BBC News reported.
Natural gas demand is also expected to rise by 3.2 percent in 2021, to put it more than one percent above 2019 levels, according to the report.
There are, however, two bright spots in the report from a climate perspective. The first is that oil demand, while up 6.2 percent from 2020, is still expected to remain around 3 percent below 2019 levels. This is because oil use for ground transportation is not expected to recover until the end of 2021, and oil use for air travel is expected to remain at 20 percent below 2019 levels by December of 2021.
"A full return to pre-crisis oil demand levels would have pushed up CO2 emissions a further 1.5%, putting them well above 2019 levels," the report authors wrote.
The second bright spot is that renewable energy demand is set to rise in all sectors in 2021. In power, where its rise is the greatest, it is set to increase by more than eight percent. This is "the largest year-on-year growth on record in absolute terms," the report authors wrote.
Renewable energy will provide 30 percent of electricity overall, BBC News reported, which is the highest percentage since the industrial revolution. The problem is that the increase in renewables is running parallel to an increase in fossil fuels in some places. China, for example, is also expected to account for almost half of the rise in renewable electricity.
"As we have seen at the country-level in the past 15 years, the countries that succeed to cut their emissions are those where renewable energy replaces fossil energy," energy expert and University of East Anglia professor Corinne Le Quéré told BBC News. "What seems to be happening now is that we have a massive deployment of renewable energy, which is good for tackling climate change, but this is occurring alongside massive investments in coal and gas. Stimulus spending post-Covid-19 worldwide is still largely funding activities that lock us into high CO2 emissions for decades."
To address this issue, Birol called on the world leaders gathering for U.S. President Joe Biden's climate summit Thursday and Friday to pledge additional action before November's UN Climate Change Conference, according to AFP.
"Unless governments around the world move rapidly to start cutting emissions, we are likely to face an even worse situation in 2022," said Birol.
From Your Site Articles
Related Articles Around the Web
A grizzly bear killed an outdoor guide in a rare attack near Yellowstone Park. William Campbell / Corbis / Getty Images
Representative Alexandria Ocasio-Cortez (D-NY) re-introduces the Green New Deal in Washington, D.C. on April 20, 2021. Mandel Ngan / AFP / Getty Images
By Brett Wilkins
In the latest of a flurry of proposed Green New Deal legislation, Reps. Cori Bush and Alexandria Ocasio-Cortez on Monday introduced the Green New Deal for Cities Act of 2021, a $1 trillion plan to "tackle the environmental injustices that are making us and our children sick, costing us our homes, and destroying our planet."
Offshore oil and gas drillers have left more than 18,000 miles of pipelines at the bottom of the Gulf of Mexico. Drew Angerer / Getty Images
Offshore oil and gas drillers have discarded and abandoned more than 18,000 miles of pipelines on the floor of the Gulf of Mexico since the 1960s, a report from the Government Accountability Office says.
The industry has essentially recovered none of the pipelines laid in the Gulf in the last six decades; the abandoned infrastructure accounts for more than 97% of all of the decommissioned pipelines in the Gulf.
The pipelines pose a threat to the habitat around them, as maritime commerce and hurricanes and erosion can move sections of pipeline.
The Bureau of Safety and Environmental Enforcement does not conduct undersea inspections even though surface monitoring is "not always reliable for detecting ruptures," according to the GAO.
For a deeper dive:
For more climate change and clean energy news, you can follow Climate Nexus on Twitter and Facebook, sign up for daily Hot News, and visit their news site, Nexus Media News.