This website uses cookies to ensure you get the best experience while browsing it. By clicking 'Got It' you're accepting these terms.


The best of EcoWatch, right in your inbox. Sign up for our email newsletter!
Michael Moore: 10 Things They Won't Tell You About the Flint Water Tragedy, But I Will
Jan. 30, 2016 09:05AM EST
Popular
News of the poisoned water crisis in Flint has reached a wide audience around the world. The basics are now known: the Republican governor, Rick Snyder, nullified the free elections in Flint, deposed the mayor and city council, then appointed his own man to run the city. To save money, they decided to unhook the people of Flint from their fresh water drinking source, Lake Huron, and instead, make the public drink from the toxic Flint River.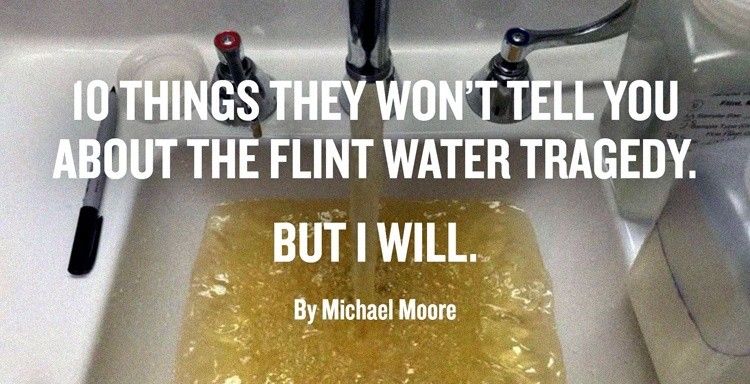 When the governor's office discovered just how toxic the water was, they decided to keep quiet about it and covered up the extent of the damage being done to Flint's residents, most notably the lead affecting the children, causing irreversible and permanent brain damage. Citizen activists uncovered these actions, and the governor now faces growing cries to resign or be arrested.
Here are 10 things that you probably don't know about this crisis because the media, having come to the story so late, can only process so much. But if you live in Flint or the State of Michigan as I do, you know all to well that what the greater public has been told only scratches the surface.
1. While the Children in Flint Were Given Poisoned Water to Drink, General Motors Was Given a Special Hookup to the Clean Water.
A few months after Gov. Snyder removed Flint from the clean fresh water we had been drinking for decades, the brass from General Motors went to him and complained that the Flint River water was causing their car parts to corrode when being washed on the assembly line. The governor was appalled to hear that GM property was being damaged, so he jumped through a number of hoops and quietly spent $440,000 to hook GM back up to the Lake Huron water, while keeping the rest of Flint on the Flint River water. Which means that while the children in Flint were drinking lead-filled water, there was one—and only one—address in Flint that got clean water: the GM factory.
2. For Just $100 a Day, This Crisis Could've Been Prevented.
Federal law requires that water systems which are sent through lead pipes must contain an additive that seals the lead into the pipe and prevents it from leaching into the water. Someone at the beginning suggested to the governor that they add this anti-corrosive element to the water coming out of the Flint River. "How much would that cost?" came the question. "$100 a day for three months," was the answer. I guess that was too much, so, in order to save $9,000, the state government said f*** it—and as a result the State may now end up having to pay upwards of $1.5 billion to fix the mess.
3. There's More Than the Lead in Flint's Water.
In addition to exposing every child in the city of Flint to lead poisoning on a daily basis, there appears to be a number of other diseases we may be hearing about in the months ahead. The number of cases in Flint of Legionnaires Disease has increased tenfold since the switch to the river water. Eighty-seven people have come down with it, and at least ten have died. In the five years before the river water, not a single person in Flint had died of Legionnaires Disease. Doctors are now discovering that another half-dozen toxins are being found in the blood of Flint's citizens, causing concern that there are other health catastrophes which may soon come to light.
4. People's Homes in Flint Are Now Worth Nothing Because They Cant Be Sold.
Would you buy a house in Flint right now? Who would? So every homeowner in Flint is stuck with a house that's now worth nothing. That's a total home value of $2.4 billion down the economic drain. People in Flint, one of the poorest cities in the U.S., don't have much to their name, and for many their only asset is their home. So, in addition to being poisoned, they have now a net worth of zero. (And as for employment, who is going to move jobs or start a company in Flint under these conditions? No one.) Has Flint's future just been flushed down that river?
5. While They Were Being Poisoned, They Were Also Being Bombed.
Here's a story which has received little or no coverage outside of Flint. During these two years of water contamination, residents in Flint have had to contend with a decision made by the Pentagon to use Flint for target practice. Literally. Actual unannounced military exercises—complete with live ammo and explosives – were conducted last year inside the city of Flint. The army decided to practice urban warfare on Flint, making use of the thousands of abandoned homes which they could drop bombs on. Streets with dilapidated homes had rocket-propelled grenades fired upon them. For weeks, an undisclosed number of army troops pretended Flint was Baghdad or Damascus and basically had at it. It sounded as if the city was under attack from an invading army or from terrorists. People were shocked this could be going on in their neighborhoods. Wait—did I say "people?" I meant, Flint people. As with the governor, it was OK to abuse a community that held no political power or money to fight back. BOOM!
EcoWatch Daily Newsletter
Activists in North Dakota confront pipeline construction activities. A Texas bill would impose steep penalties for such protests. Speak Freely / ACLU
By Eoin Higgins
A bill making its way through the Texas legislature would make protesting pipelines a third-degree felony, the same as attempted murder.
An Australian flag flutters in the wind in a dry drought-ridden landscape. Virginia Star / Moment / Getty Images
Australia re-elected its conservative governing Liberal-National coalition Saturday, despite the fact that it has refused to cut down significantly on greenhouse gas emissions or coal during its time in power, The New York Times reported.
Tree lined street, UK. Richard Newstead / Moment / Getty Images
A tropical storm above Bangkok on Aug. 04, 2016. Hristo Rusev/ NurPhoto / Getty Images
By Jeff Turrentine
First off: Bangkok Wakes to Rain, the intricately wrought, elegantly crafted debut novel by the Thai-American author Pitchaya Sudbanthad, isn't really about climate change. This tale set in the sprawling subtropical Thai capital is ultimately a kind of family saga — although its interconnected characters aren't necessarily linked by a bloodline. What binds them is their relationship to a small parcel of urban land on which has variously stood a Christian mission, an upper-class family house, and a towering condominium. All of the characters have either called this place home or had some other significant connection to it.
orn_france / iStock / Getty Images
Dioscorea alata is a species of yam commonly referred to as purple yam, ube, violet yam, or water yam.
Left: MirageC / Moment / Getty Images Right: Pongsak Tawansaeng / EyeEm / Getty Images
People march to TCF Bank Stadium to protest against the mascot for the Washington Redskins before the game against the Minnesota Vikings on Nov. 2, 2014 at TCF Bank Stadium in Minneapolis, Minnesota. Hannah Foslien / Getty Images
Maine Gov. Janet Mills signed a bill into law Thursday banning public schools or universities in the state from using Native American mascots, names or imagery. Mills' action will make Maine the first state in the nation with such a ban once it goes into effect later this year, The Bangor Daily News reported.
A man protests against the use of disposable plastics outside the Houses of Parliament on March 28 in London. John Keeble / Getty Images