This website uses cookies to ensure you get the best experience while browsing it. By clicking 'Got It' you're accepting these terms.
Michael Moore: 10 Things They Won't Tell You About the Flint Water Tragedy, But I Will
Jan. 30, 2016 09:05AM EST
Popular
News of the poisoned water crisis in Flint has reached a wide audience around the world. The basics are now known: the Republican governor, Rick Snyder, nullified the free elections in Flint, deposed the mayor and city council, then appointed his own man to run the city. To save money, they decided to unhook the people of Flint from their fresh water drinking source, Lake Huron, and instead, make the public drink from the toxic Flint River.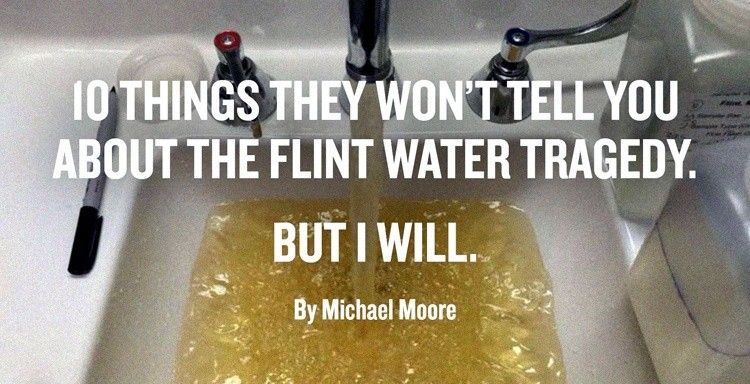 When the governor's office discovered just how toxic the water was, they decided to keep quiet about it and covered up the extent of the damage being done to Flint's residents, most notably the lead affecting the children, causing irreversible and permanent brain damage. Citizen activists uncovered these actions, and the governor now faces growing cries to resign or be arrested.
Here are 10 things that you probably don't know about this crisis because the media, having come to the story so late, can only process so much. But if you live in Flint or the State of Michigan as I do, you know all to well that what the greater public has been told only scratches the surface.
1. While the Children in Flint Were Given Poisoned Water to Drink, General Motors Was Given a Special Hookup to the Clean Water.
A few months after Gov. Snyder removed Flint from the clean fresh water we had been drinking for decades, the brass from General Motors went to him and complained that the Flint River water was causing their car parts to corrode when being washed on the assembly line. The governor was appalled to hear that GM property was being damaged, so he jumped through a number of hoops and quietly spent $440,000 to hook GM back up to the Lake Huron water, while keeping the rest of Flint on the Flint River water. Which means that while the children in Flint were drinking lead-filled water, there was one—and only one—address in Flint that got clean water: the GM factory.
2. For Just $100 a Day, This Crisis Could've Been Prevented.
Federal law requires that water systems which are sent through lead pipes must contain an additive that seals the lead into the pipe and prevents it from leaching into the water. Someone at the beginning suggested to the governor that they add this anti-corrosive element to the water coming out of the Flint River. "How much would that cost?" came the question. "$100 a day for three months," was the answer. I guess that was too much, so, in order to save $9,000, the state government said f*** it—and as a result the State may now end up having to pay upwards of $1.5 billion to fix the mess.
3. There's More Than the Lead in Flint's Water.
In addition to exposing every child in the city of Flint to lead poisoning on a daily basis, there appears to be a number of other diseases we may be hearing about in the months ahead. The number of cases in Flint of Legionnaires Disease has increased tenfold since the switch to the river water. Eighty-seven people have come down with it, and at least ten have died. In the five years before the river water, not a single person in Flint had died of Legionnaires Disease. Doctors are now discovering that another half-dozen toxins are being found in the blood of Flint's citizens, causing concern that there are other health catastrophes which may soon come to light.
4. People's Homes in Flint Are Now Worth Nothing Because They Cant Be Sold.
Would you buy a house in Flint right now? Who would? So every homeowner in Flint is stuck with a house that's now worth nothing. That's a total home value of $2.4 billion down the economic drain. People in Flint, one of the poorest cities in the U.S., don't have much to their name, and for many their only asset is their home. So, in addition to being poisoned, they have now a net worth of zero. (And as for employment, who is going to move jobs or start a company in Flint under these conditions? No one.) Has Flint's future just been flushed down that river?
5. While They Were Being Poisoned, They Were Also Being Bombed.
Here's a story which has received little or no coverage outside of Flint. During these two years of water contamination, residents in Flint have had to contend with a decision made by the Pentagon to use Flint for target practice. Literally. Actual unannounced military exercises—complete with live ammo and explosives – were conducted last year inside the city of Flint. The army decided to practice urban warfare on Flint, making use of the thousands of abandoned homes which they could drop bombs on. Streets with dilapidated homes had rocket-propelled grenades fired upon them. For weeks, an undisclosed number of army troops pretended Flint was Baghdad or Damascus and basically had at it. It sounded as if the city was under attack from an invading army or from terrorists. People were shocked this could be going on in their neighborhoods. Wait—did I say "people?" I meant, Flint people. As with the governor, it was OK to abuse a community that held no political power or money to fight back. BOOM!
EcoWatch Daily Newsletter
Artist's conception of solar islands in the open ocean. PNAS
Millions of solar panels clustered together to form an island could convert carbon dioxide in seawater into methanol, which can fuel airplanes and trucks, according to new research from Norway and Switzerland and published in the Proceedings of the National Academy of Sciences journal, PNAS, as NBC News reported. The floating islands could drastically reduce greenhouse gas emissions and dependence on fossil fuels.
Marcos Alves / Moment Open / Getty Images
More than 40 percent of insects could go extinct globally in the next few decades. So why did the U.S. Environmental Protection Agency (EPA) last week OK the 'emergency' use of the bee-killing pesticide sulfoxaflor on 13.9 million acres?
EcoWatch teamed up with Center for Biological Diversity via EcoWatch Live on Facebook to find out why. Environmental Health Director and Senior Attorney Lori Ann Burd explained how there is a loophole in the The Federal Insecticide, Fungicide, and Rodenticide Act under section 18, "that allows for entities and states to request emergency exemptions to spraying pesticides where they otherwise wouldn't be allowed to spray."
Simple swaps that cut down on kitchen trash.
Sponsored
By Kayla Robbins
Along with the bathroom, the kitchen is one of the most daunting areas to try and make zero waste.
View of downtown Miami, Florida from Hobie Island on Feb. 2, 2019.
Michael Muraz / Flickr
The Democratic candidates for president descended upon Miami for a two-night debate on Wednesday and Thursday. Any candidate hoping to carry the state will have to make the climate crisis central to their campaign, as The New York Times reported.
By Sharon Kelly
On Monday, the Wall Street Journal featured a profile of Scott Sheffield, CEO of Pioneer Natural Resources, whose company is known among investors for its emphasis on drawing oil and gas from the Permian basin in Texas using horizontal drilling and hydraulic fracturing, or fracking.
Pexels
By Craig K. Chandler
The federal government has available to it, should it choose to use them, a wide range of potential climate change management tools, going well beyond the traditional pollution control regulatory options. And, in some cases (not all), without new legislative authorization.
Denis Poroy / Getty Images
By Dan Gray
Processed foods, in their many delicious forms, are an American favorite.
But new research shows that despite increasing evidence on just how unhealthy processed foods are, Americans have continued to eat the products at the same rate.
By Sarah Steffen
With a profound understanding of their environmental surroundings, indigenous communities around the world are often cited as being pivotal to tackling climate change.