This website uses cookies to ensure you get the best experience while browsing it. By clicking 'Got It' you're accepting these terms.
Michael Mann: How Close Are We to 'Dangerous' Planetary Warming?
Dec. 24, 2015 09:02AM EST
Insights + Opinion
In the wake of the COP 21 UN climate summit in Paris, a number of important questions still remain unanswered. Take for example the commitment reached by the 197 participating nations to limit warming below the "dangerous" level of 2C relative to pre-industrial time (neglecting for the time being the aspirational goal of a substantially lower 1.5C limit acknowledged in recognition of the danger posed to low-lying island nations). The question immediately arises: How much time do we have until we reach the danger zone? How close are we to the 2C warming limit?
It has been widely reported that 2015 will be the first year where temperatures climbed to 1C above the pre-industrial. That might make it seem like we've got quite a ways to go until we breach the 2C limit. But the claim is wrong. We exceeded 1C warming more than a decade ago. The problem is that here, and elsewhere, an inappropriate baseline has been invoked for defining the "pre-industrial." The warming was measured relative to the average over the latter half of the 19th century (1850-1900). In other words, the base year implicitly used to define "pre-industrial" conditions is 1875, the mid-point of that interval. Yet the industrial revolution and the rise in atmospheric CO2 concentrations associated with it, began more than a century earlier.
Unfortunately, even the Intergovernmental Panel on Climate Change (IPCC) has fallen victim to this problematic convention in their latest (5th) assessment report. The key graphic (Fig. 1 below) in the Summary for Policy Makers ("SPM") of the report measures net anthropogenic (i.e. human-generated) carbon emissions and the resulting warming that can be expected. Both the emissions and warming and measured relative to an 1870 baseline.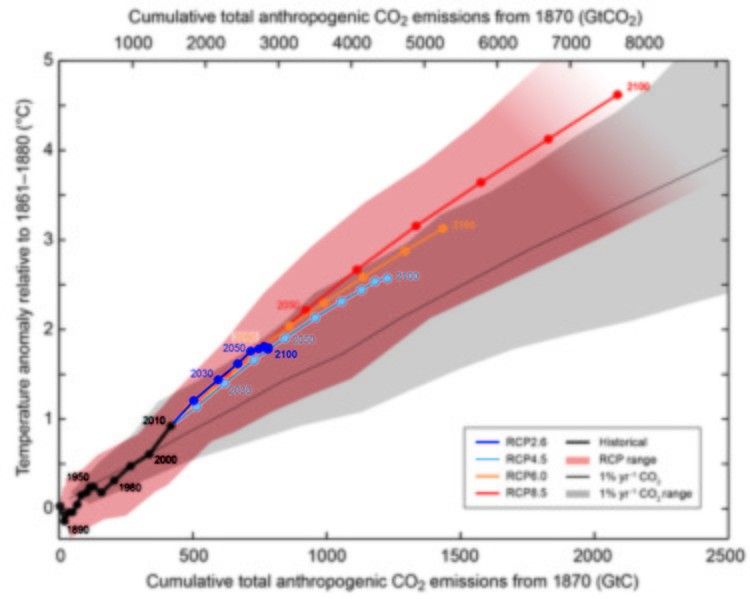 The various future emissions scenarios are called "RCP"s (for "Representative Concentration Pathways") and they reflect varying assumptions regarding our future efforts to limit carbon emissions. The "RCP 2.6" scenario (dark blue), the most aggressive of the scenarios (from the standpoint of ramping down carbon emissions), corresponds to limiting net carbon emissions to about 3000 Gigatons (3 trillion tons) of CO2. We've already burned through about 2,000 Gigatons, i.e. we have expended two thirds of our apparent "carbon budget."
Achieving those limits in emissions would in turn limit maximum atmospheric CO2 concentrations to just under 450 parts per million ("ppm"). Pre-industrial levels were about 280 ppm. Current levels are just above 400 ppm and increasing by about 2.1 ppm per year. At that rate, we'll reach 450 ppm in a little over two decades. So obviously we need to reduce our carbon emissions rather rapidly if we are to avoid crossing the 450 ppm threshold.
The IPCC graphic suggests that keeping net CO2 emissions below 3 trillion tons—and thereby stabilizing maximum CO2 concentrations below 450 ppm—would likely keep warming below the "dangerous" 2C limit. Unfortunately, that conclusion is overly optimistic because, once again, it relies on the use of an artificially warm, too-recent baseline for defining the pre-industrial period.
To better understand the problem, consider this graph (Fig. 2 below) from an article my colleagues and I published in the American Meteorological Society's Journal of Climate back in 2013.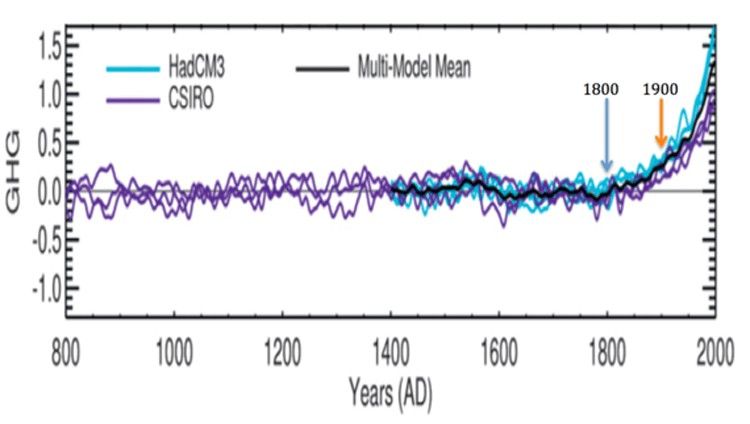 Source: Schurer et al (2013)
The graph shows the warming of the Northern Hemisphere (in degrees C) due to human-generated greenhouse gases ("GHG") alone, as estimated by the various climate models used in the IPCC 5th assessment report (the black curve—the "multimodel mean" is the average over all of the climate model simulations that were done). The graph has been annotated to indicate the warming observed by 1800 and 1900. It is evident that roughly 0.3C greenhouse warming had already taken place by 1900, and roughly 0.2C warming by 1870. While that might seem like a minor amount of warming, it has significant implications for the challenge we face in stabilizing warming below 2C, let alone 1.5C, as we shall see below.
EcoWatch Daily Newsletter
Simple swaps that cut down on kitchen trash.
Sponsored
By Kayla Robbins
Along with the bathroom, the kitchen is one of the most daunting areas to try and make zero waste.
Protestors and police stand on ether side of railway tracks. dpa / picture-alliance
Police have cleared 250 climate activists who stayed overnight at the Garzweiler brown coal mine in western Germany, officials said Sunday.
Cecilie_Arcurs / E+ / Getty Images
By Megan Jones and Jennifer Solomon
The #MeToo movement has caused profound shake-ups at organizations across the U.S. in the last two years. So far, however, it has left many unresolved questions about how workplaces can be more inclusive and equitable for women and other diverse groups.

Cigarette butts are the most-littered item found at beach clean ups. John R. Platt
By Tara Lohan
By now it's no secret that plastic waste in our oceans is a global epidemic. When some of it washes ashore — plastic bottles, plastic bags, food wrappers — we get a stark reminder. And lately one part of this problem has been most glaring to volunteers who comb beaches picking up trash: cigarette butts.

Andrea Rodgers, second from the right, takes notes during a hearing in the Juliana v. U.S. case before the 9th Circuit Court of Appeals in Portland, Oregon on June 4. Colleague Elizabeth Brown sits to her left, while colleague Julia Olson sits on her right, with co-council Philip Gregory on Julia's right. Robin Loznak / Our Children's Trust
By Fran Korten
On June 4, Andrea Rodgers was in the front row of attorneys sitting before a three-judge panel of the 9th Circuit Court. The court session, held in Portland, Oregon, was to determine whether the climate change lawsuit (Juliana v. United States) brought by 21 young plaintiffs should be dismissed, as requested by the U.S. government, or go on to trial.
Seventy Extinction Rebellion protesters were arrested outside The New York Times building Saturday.
SCOOTERCASTER / YouTube screenshot
Explosions and a blaze at the Philadelphia Energy Solutions Refining Complex on June 21.
VOA News / YouTube screenshot
A fire broke out at a Philadelphia oil refinery Friday morning, starting with an explosion so massive it was felt as far away as South Jersey and Delaware County, Pennsylvania, CNN reported.