This website uses cookies to ensure you get the best experience while browsing it. By clicking 'Got It' you're accepting these terms.
Michael Mann: How Close Are We to 'Dangerous' Planetary Warming?
Dec. 24, 2015 09:02AM EST
Climate
In the wake of the COP 21 UN climate summit in Paris, a number of important questions still remain unanswered. Take for example the commitment reached by the 197 participating nations to limit warming below the "dangerous" level of 2C relative to pre-industrial time (neglecting for the time being the aspirational goal of a substantially lower 1.5C limit acknowledged in recognition of the danger posed to low-lying island nations). The question immediately arises: How much time do we have until we reach the danger zone? How close are we to the 2C warming limit?
It has been widely reported that 2015 will be the first year where temperatures climbed to 1C above the pre-industrial. That might make it seem like we've got quite a ways to go until we breach the 2C limit. But the claim is wrong. We exceeded 1C warming more than a decade ago. The problem is that here, and elsewhere, an inappropriate baseline has been invoked for defining the "pre-industrial." The warming was measured relative to the average over the latter half of the 19th century (1850-1900). In other words, the base year implicitly used to define "pre-industrial" conditions is 1875, the mid-point of that interval. Yet the industrial revolution and the rise in atmospheric CO2 concentrations associated with it, began more than a century earlier.
Unfortunately, even the Intergovernmental Panel on Climate Change (IPCC) has fallen victim to this problematic convention in their latest (5th) assessment report. The key graphic (Fig. 1 below) in the Summary for Policy Makers ("SPM") of the report measures net anthropogenic (i.e. human-generated) carbon emissions and the resulting warming that can be expected. Both the emissions and warming and measured relative to an 1870 baseline.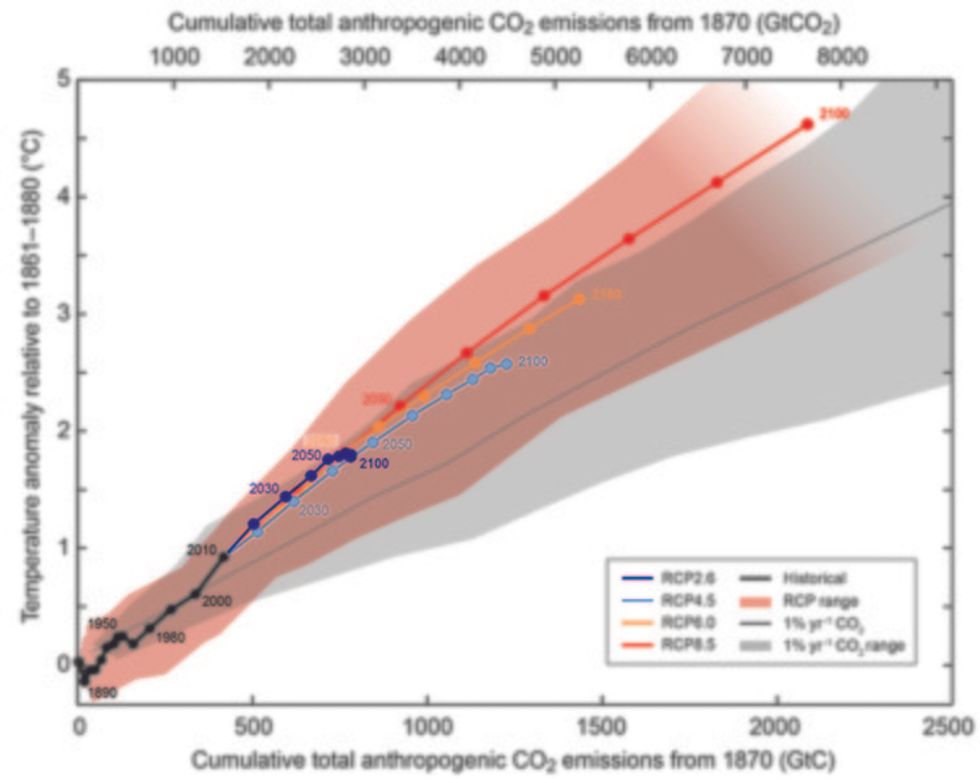 The various future emissions scenarios are called "RCP"s (for "Representative Concentration Pathways") and they reflect varying assumptions regarding our future efforts to limit carbon emissions. The "RCP 2.6" scenario (dark blue), the most aggressive of the scenarios (from the standpoint of ramping down carbon emissions), corresponds to limiting net carbon emissions to about 3000 Gigatons (3 trillion tons) of CO2. We've already burned through about 2,000 Gigatons, i.e. we have expended two thirds of our apparent "carbon budget."
Achieving those limits in emissions would in turn limit maximum atmospheric CO2 concentrations to just under 450 parts per million ("ppm"). Pre-industrial levels were about 280 ppm. Current levels are just above 400 ppm and increasing by about 2.1 ppm per year. At that rate, we'll reach 450 ppm in a little over two decades. So obviously we need to reduce our carbon emissions rather rapidly if we are to avoid crossing the 450 ppm threshold.
The IPCC graphic suggests that keeping net CO2 emissions below 3 trillion tons—and thereby stabilizing maximum CO2 concentrations below 450 ppm—would likely keep warming below the "dangerous" 2C limit. Unfortunately, that conclusion is overly optimistic because, once again, it relies on the use of an artificially warm, too-recent baseline for defining the pre-industrial period.
To better understand the problem, consider this graph (Fig. 2 below) from an article my colleagues and I published in the American Meteorological Society's Journal of Climate back in 2013.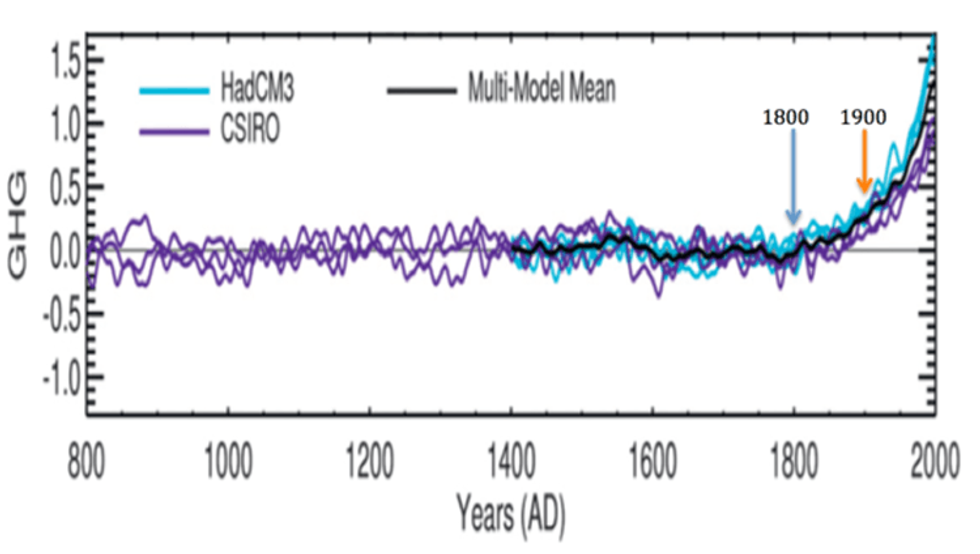 Source: Schurer et al (2013)
The graph shows the warming of the Northern Hemisphere (in degrees C) due to human-generated greenhouse gases ("GHG") alone, as estimated by the various climate models used in the IPCC 5th assessment report (the black curve—the "multimodel mean" is the average over all of the climate model simulations that were done). The graph has been annotated to indicate the warming observed by 1800 and 1900. It is evident that roughly 0.3C greenhouse warming had already taken place by 1900, and roughly 0.2C warming by 1870. While that might seem like a minor amount of warming, it has significant implications for the challenge we face in stabilizing warming below 2C, let alone 1.5C, as we shall see below.
EcoWatch Daily Newsletter
Fresno, California, seen above, is receiving $66 million for walking trails, sidewalks, bike lanes, and more. DenisTangneyJr / iStock / Getty Images
Grecia Elenes grew up in Fresno, California. She says some parts of the city have been neglected for decades. When she moved back after college she realized nothing has changed.
People are seen embracing at Numeralla Rural Fire Brigade near the scene of a water tanker plane crash on Jan. 23 in Cooma, Australia. Three American firefighters have have died after their C-130 water tanker plane crashed while battling a bushfire near Cooma in southern NSW this afternoon. Jenny Evans / Getty Images
Three U.S. firefighters gave their lives battling Australia's historic wildfires Thursday when their airborne water tanker crashed.
The Doomsday Clock is now at 100 seconds to midnight. EVA HAMBACH / AFP via Getty Images
The Doomsday Clock is now 100 seconds to midnight, partly because of the
climate crisis
.
A new report spotlights a U.N. estimate that at least 275 million people rely on healthy coral reefs. A sea turtle near the Heron Island in the Great Barrier Reef is seen above. THE OCEAN AGENCY / XL CATLIN SEAVIEW SURVEY
In a new report about how the world's coral reefs face "the combined threats of climate change, pollution, and overfishing" — endangering the future of marine biodiversity — a London-based nonprofit calls for greater global efforts to end the climate crisis and ensure the survival of these vital underwater ecosystems.
Half of the extracted resources used were sand, clay, gravel and cement, seen above, for building, along with the other minerals that produce fertilizer. Cavan Images / Cavan / Getty Images
The world is using up more and more resources and global recycling is falling. That's the grim takeaway from a new report by the Circle Economy think tank, which found that the world used up more than 110 billion tons, or 100.6 billion metric tons, of natural resources, as Agence France-Presse (AFP) reported.