Michael Bloomberg: It's Time to Ramp Up Local Climate Efforts
Sep. 29, 2015 08:36AM EST
Climate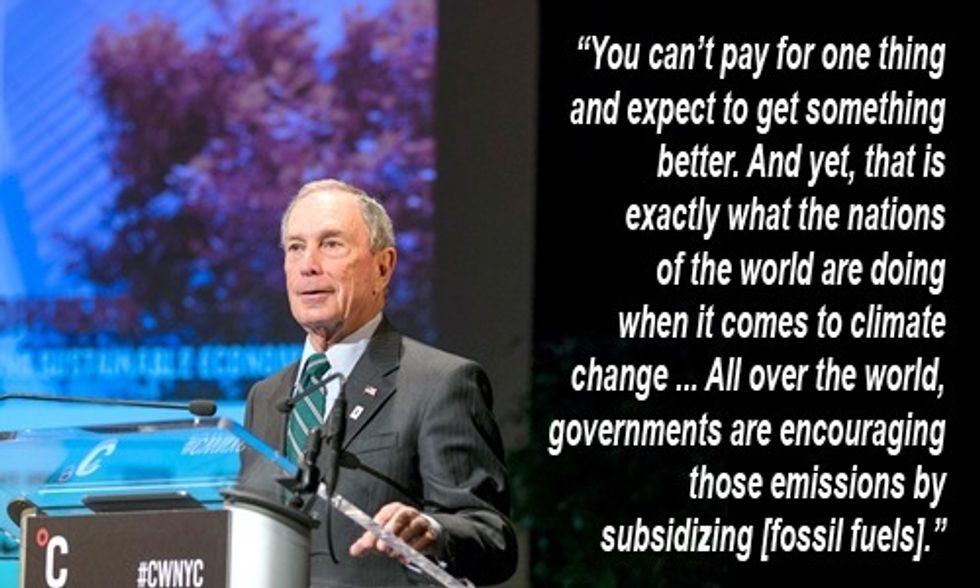 [Editor's note: Michael R. Bloomberg, UN Secretary-General's Special Envoy for Cities and Climate Change, delivered the keynote address Monday at Climate Week NYC's Signature Event. Bloomberg announced a partnership between two sub-national coalitions—the Compact of Mayors and the Compact of States and Regions. The two compacts will join together in a plea to cities, states and regions around the world to ramp up their local climate efforts and pledge to climate targets in the final weeks leading up to COP21. Below is an excerpt from Bloomberg's keynote.]
In several very important ways, the Paris climate change summit—which is still a few months away—has already been successful. It has pushed national governments around the world to set higher goals for reducing carbon. I has showed that international cooperation on climate change really is possible. And it has focused the world's attention on just how much work remains to be done.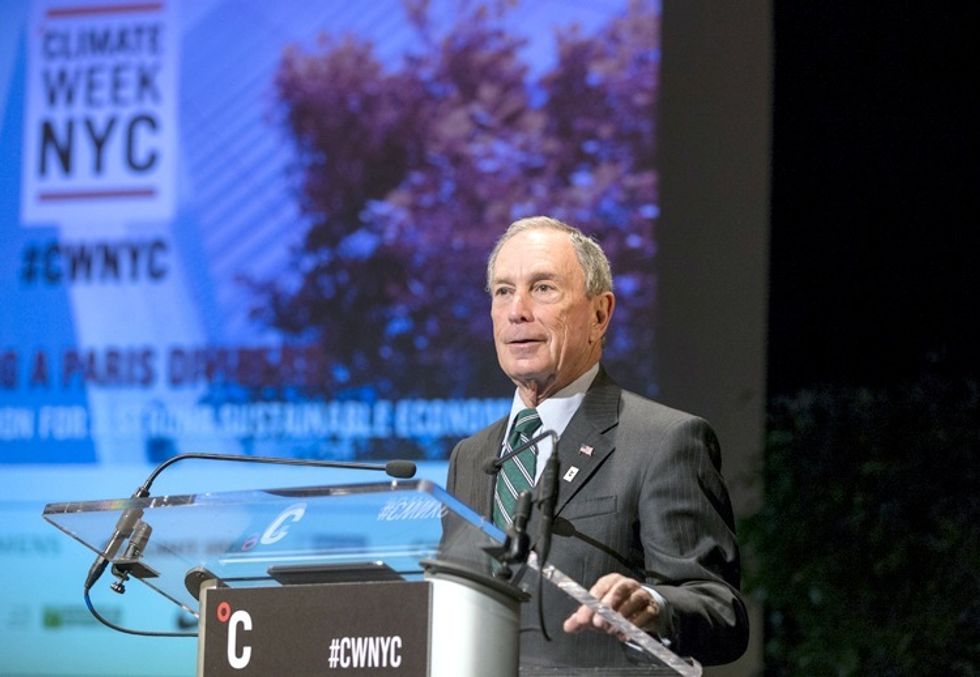 There is an old expression in the English language that I think sums up the challenge before us today: You get what you pay for. It means, in short: You can't pay for one thing and expect to get something better. And yet, that is exactly what the nations of the world are doing when it comes to climate change.
Government leaders will soon gather in Paris to discuss how to reduce greenhouse gas emissions. And yet all over the world, governments are encouraging those emissions by subsidizing them. The International Energy Association has estimated that governments are providing $550 billion in subsidies to fossil fuel companies every year.
At the same time, countries are providing renewable energy companies with only about $120 billion in subsidies. So for every dollar that governments use to encourage the development and use of renewable energy, they are spending four and a half dollars to encourage the development and use of fossil fuels.
You get what you pay for. And right now, we are paying for a hotter planet. If we are serious about slowing climate change, that has to change. We have to start—to use another American expression—putting our money where our mouth is.
At the Copenhagen climate change conference in 2009, Organisation for Economic Co-operation and Development (OECD) countries committed to delivering $100 billion per year to developing countries to help them transition to cleaner energy, and adapt to the changing climate. That commitment has not yet been honored. And it must be.
By using public dollars to attract private investment, OECD countries could meet their commitment by providing about $60 billion. As it turns out, the OECD released a report last week finding that OECD countries are spending more than $60 billion in fossil fuel subsidies every year.
So the math is clear: OECD countries could honor our commitment to the rest of the world by redirecting that $60 billion away from fossil fuels—and toward clean energy and modern infrastructure for the global south.
There's another reason to take this step—and it may be the most important reason of all: Governments, NGOs and philanthropists spend billions of dollars in the developing world to improve public health and save lives.
There may be no single action that would do more to improve people's lives—by giving them cleaner air to breathe—than honoring the commitment we made in Copenhagen. This is a piece of unfinished business that OECD countries must take care of, preferably before arriving in Paris—but certainly before leaving it.
Now, that's not to let the rest of the world off the hook. Brazil, China, India, Russia and South Africa—and the entire global community—should join in this effort to begin phasing out fossil fuel subsidies. But the OECD must lead by example.
YOU MIGHT ALSO LIKE
Students Across America Demand Climate Action Oct. 2
This Country Is Already Carbon Neutral and Now Plans to Go 100% Organic and Zero-Waste
​Sweden to Become One of World's First Fossil Fuel-Free Nation​
EcoWatch Daily Newsletter
Related Articles from EcoWatch
Recent Stories from EcoWatch