Mercury Treaty Negotiations Begin in Geneva, Switzerland
Jan. 13, 2013 08:07PM EST
Climate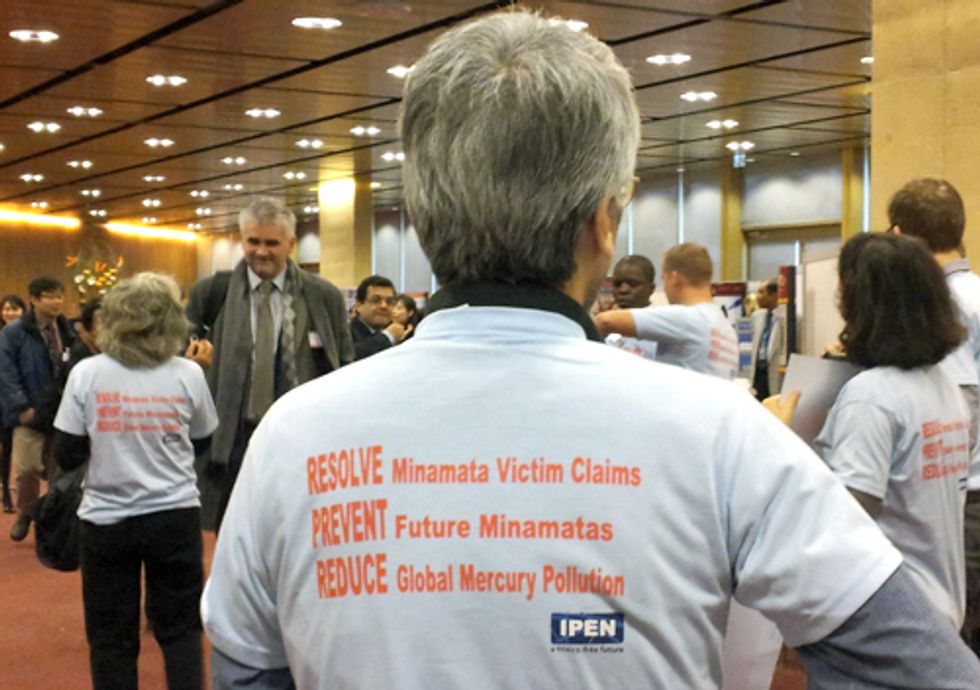 By Sharon Khan
[Editor's note: Waterkeeper Alliance's International Director Sharon Khan is attending the mercury treaty negotiations in Geneva, Switzerland, and is providing live updates from the conference. For information regarding the mercury treaty negotiations, read Mercury Rising, Political Will Falling by Robert F. Kennedy, Jr. and Marc Yaggi, and the report Global Mercury Hotspots.]
BLOG POST II
(Read Blog Post I, Blog Post III)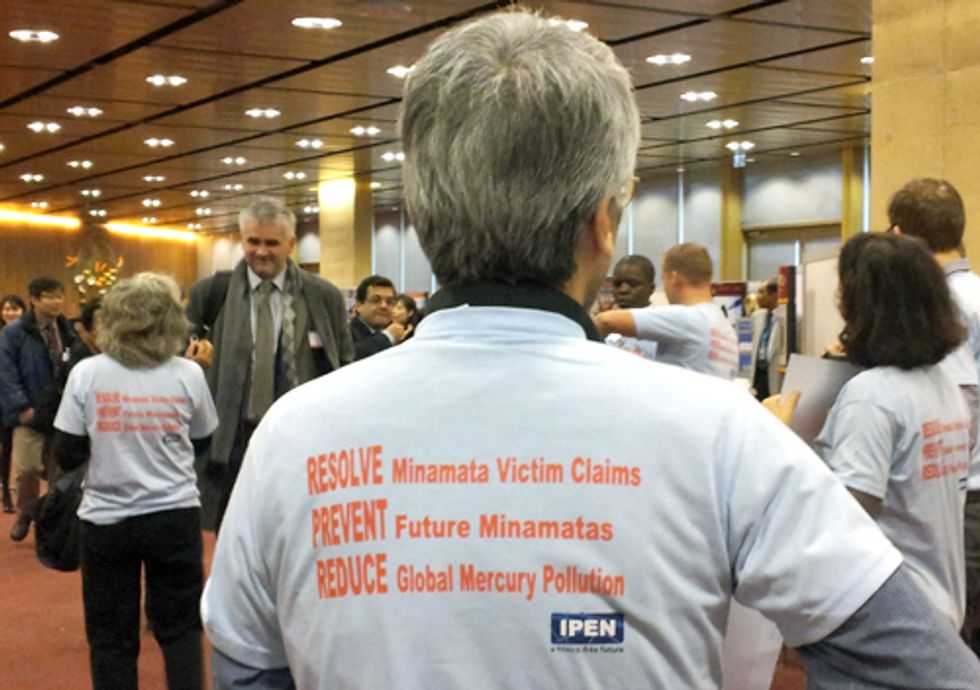 IPEN "Honor Minamata" action as delegates arrive for the opening ceremonies for the mercury treaty negotiations in Geneva, Switzerland.
Waterkeeper Alliance joined other IPEN members from around the world to greet delegates as they arrived for the opening ceremonies of the mercury treaty negotiations. IPEN greeted delegates with a commemorative ribbon and the message to "Honor Minamata" with a treaty to "Resolve Minamata Claims," "Prevent Future Minamatas" and "Reduce Global Mercury Pollution."
After welcomes from our Swiss hosts, the United Nations Environment Programme (UNEP) secretariat, the chair of the negotiations, and a heart wrenching film on the suffering of Mimamata victims, representatives for each region presented their opening statements. All reconfirmed their commitment to work collaboratively to agree to a treaty and reach a speedy conclusion to the negotiations this week. The Swiss delegate said he hopes to be dancing to "heavy metal" music on Friday evening.
Puns and hopes aside, delegates also noted many items to address, including financing for developing countries and small island states that may not have the capacity to implement and enforce the treaty. Other concerns heard repeatedly include the listing of sources of mercury emissions to land and water, with needs and suggestions for clear evidence. There were quite a few more items noted for attention. But will they get the attention they deserve?
At least after only two days here, I am confident that after this week Waterkeeper Alliance will continue to work with even more grassroots advocates around the world for swimmable, drinkable and fishable waters. We share the same strong feelings and commitments to take actions in our local communities. Stay tuned for introductions and more insights into the mercury treaty negotiations.
Here's a statement by Yoichi Tani from the Collaboration Center for Minamata Disease Victims: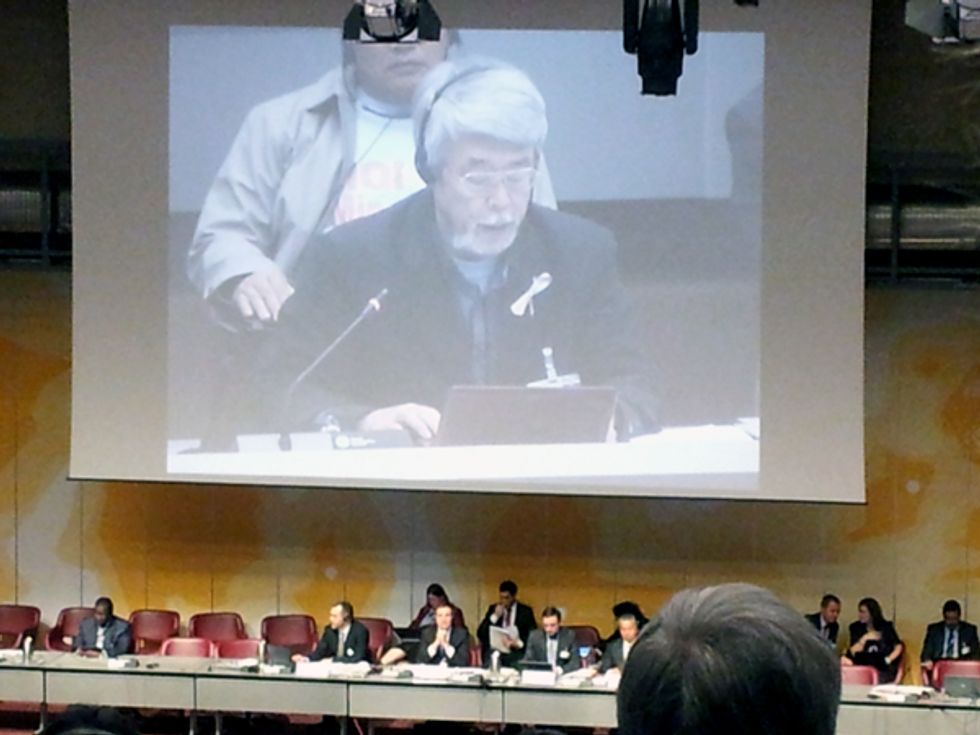 IPEN member Yoichi Tani from the Collaboration Center for Minamata Disease Victims delivering keynote address. He said Minamata disease is not over. There have been 65,000 compensation claims filed to date.
Good morning. It is my pleasure to be with you today to talk about the plight of Minamata victims in Japan and my concern about the proposed name for the treaty.
My name is Yoichi Tani from the Collaboration Center for Minamata Disease Victims in Minamata, Japan. My work has been to provide support to Minamata victims and their families for more than 40 years. You may be surprised to know that the tragedy is still happening. In fact, two months ago more than 65,000 victims have applied to the government for compensation under the Minamata Relief Law.
Many Minamata victims are opposed to the proposed name of the Minamata Convention. I also want to inform you that the local authorities from the Minamata City Council have asked that the treaty be given another name. 
Minamata victims oppose the name for several reasons. Many authentic victims have been denied recognition. A comprehensive health study of the disaster was never performed. Currently, there is 1.5 million m3 of mercury-contaminated sludge still at the site. How can we in good conscience accept the name Minamata Convention when mercury-related injustices continue to plague Minamata?
The treaty is very weak in addressing contaminated sites. It ignores critical provisions on victim compensation and environmental remediation. This makes it ironic to call it the Minamata Convention. We could simply follow the example of The Biodiversity Convention and the Desertification and Land degradation Convention, and just name it the Mercury Convention.
Finally I want to express my strong support for the GRULAC proposal to have an article 20 Bis on health aspects to ensure a stronger treaty.
We appeal to you at the GRULAC to choose a different name for the treaty. We would like you to consider naming it, the Mercury Convention.
Thank you for your attention. I would be pleased to answer any questions.
 Visit EcoWatch's BIODIVERSITY page for more related news on this topic.
EcoWatch Daily Newsletter