This website uses cookies to ensure you get the best experience while browsing it. By clicking 'Got It' you're accepting these terms.
Mercury Treaty Finalized: Will it Reduce Global Emissions?
Jan. 20, 2013 11:15AM EST
By Sharon Khan
[Editor's note: Waterkeeper Alliance's International Director Sharon Khan attended the mercury treaty negotiations in Geneva, Switzerland, and provided live updates from the conference. For information regarding the mercury treaty negotiations, read Mercury Rising, Political Will Falling by Robert F. Kennedy, Jr. and Marc Yaggi, and the report Global Mercury Hotspots.]
BLOG POST V
(Read Blog Post I, Blog Post II, Blog Post III, Blog Post IV)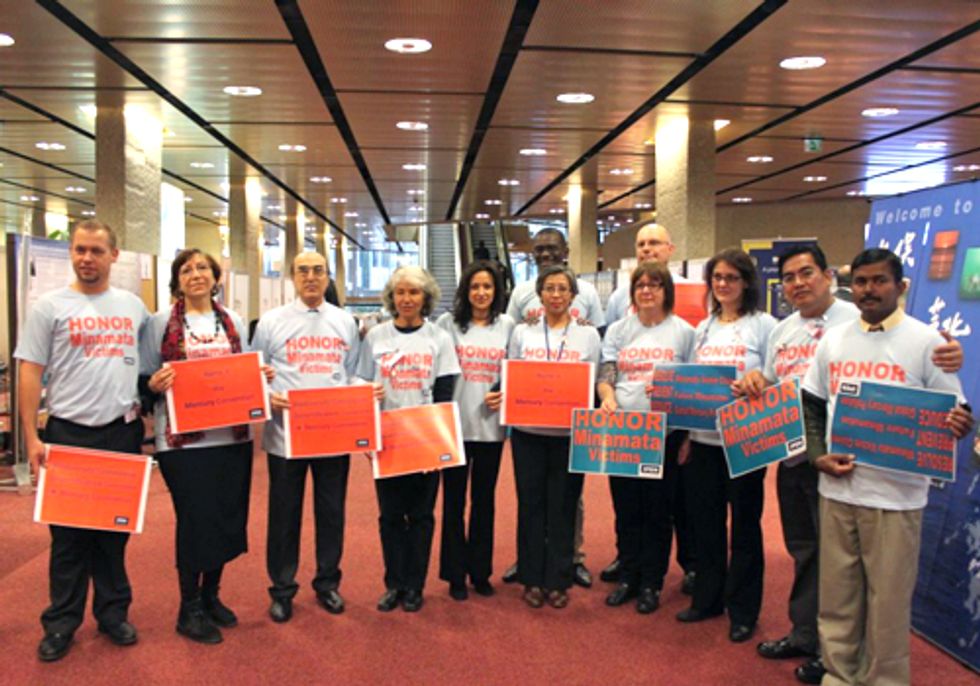 On Jan. 19 in Geneva, Switzerland, the text for a global mercury treaty was agreed and finalized. But many environmental advocates remain concerned that the treaty is not likely to reduce global releases of mercury into the environment and may even result in increased mercury pollution.
On Jan. 19 in Geneva, Switzerland, the text for a global mercury treaty was agreed and finalized. But many environmental advocates remain concerned that the treaty is not likely to reduce global releases of mercury into the environment and may even result in increased mercury pollution.
"Some will say that some treaty is better than no treaty, but we say that if the treaty does not result in less mercury pollution, then the job is not done," said Manny Calonzo, co-chair of International POPs Elimination Network (IPEN), a coalition of non-governmental organizations representing 700 public-interest organizations in 116 countries.
Even with many delegates privately voicing their dissatisfaction over the naming of the treaty, the proposal for naming the Minamata Convention stands. "This treaty should be called the Mercury Convention, not the Minamata Convention," said Takeshi Yasuma, of Citizens Against Chemical Pollution in Japan. "Water pollution resulting in contaminated sediment and fish caused the Minamata tragedy but the treaty contains no obligations to reduce mercury releases to water and no obligations to clean up contaminated sites. Calling that kind of agreement the Minamata Convention dishonours the victims."
IPEN noted in its press release yesterday that although the United Nations Environment Programme (UNEP) identified artisanal and small-scale gold mining (ASGM) as the largest source of mercury emission to air, countries decided to make ASGM an "allowed use" under the treaty. This will permit mercury import, export and use without any clear phase-out date. The treaty also creates no obligation to identify or clean up contaminated ASGM sites. "No phase-out date, no limit to mercury imports, no clean up of the mess it leaves behind," said Yuyun Ismawati, Balifokus, Indonesia. "These weak measures guarantee a new generation of suffering among those who work in this industry."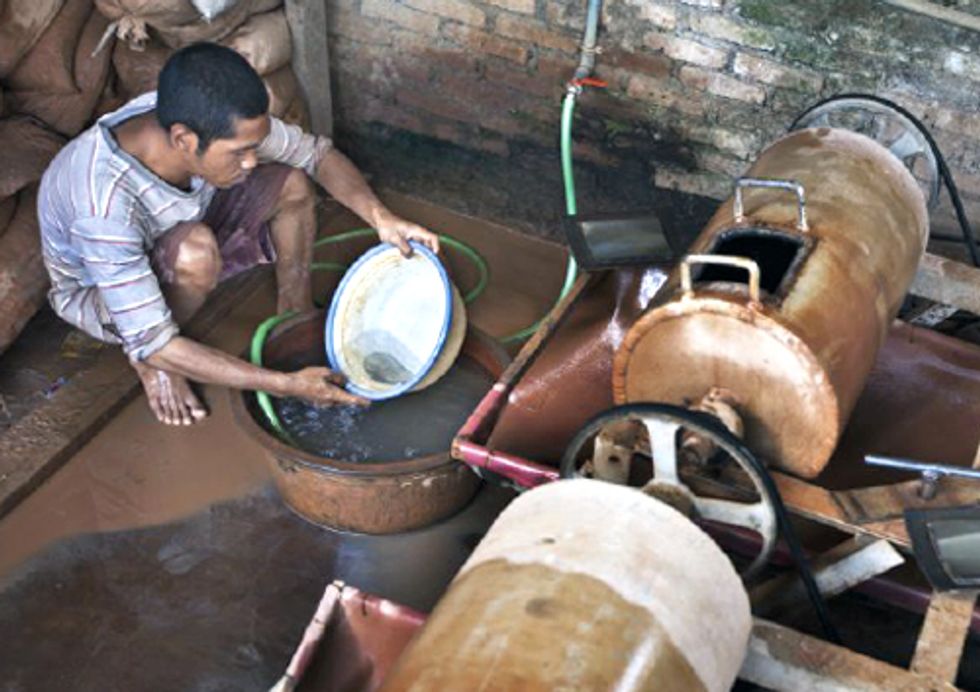 To extract gold dust from the earth, artisanal miners add mercury to the silt. This can be done in an apparatus known as a ball-mill (mercury is poured into large drums that contain silt). The gold particles attach to the mercury, which acts like a magnet to the precious metal. The result is a solid mercury-gold amalgam that can be separated out by screening the silt.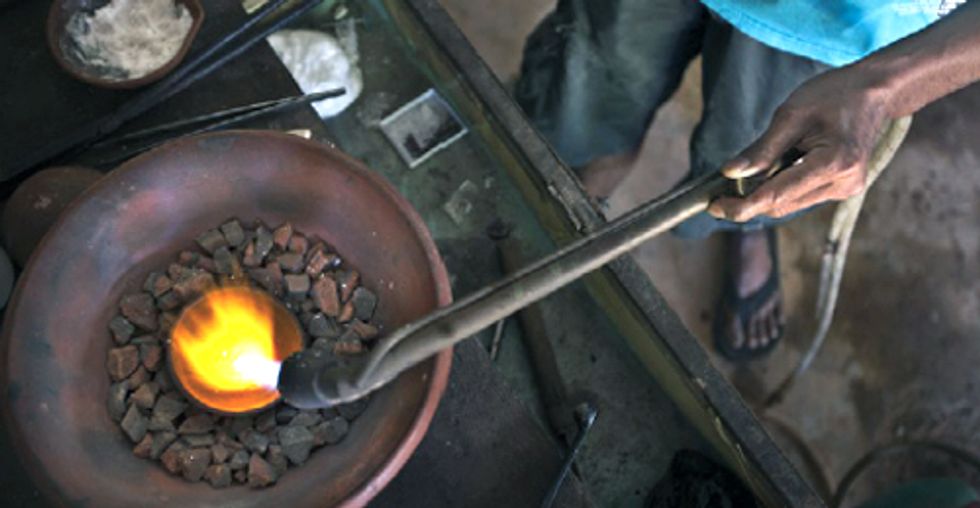 The mercury-gold amalgam is heated to vaporize the mercury, leaving the gold nuggets behind. Because this process is often conducted in the open air, usually close to family dwellings, anyone in the near vicinity is at risk of inhaling the airborne mercury. Excess mercury that is left in the silt (known as mine tailings) finds its way into local waterways during disposal.
IPEN notes that the treaty creates an "obligation" to reduce emissions at existing coal-fired power plants, but reductions are only required "where feasible." There is no obligation for industry to reduce releases of mercury to land and water, but that countries should try to act, "where feasible." The treaty makes no specific mention of reducing releases to the water from mercury cell chlor-alkali plants or to the land from large-scale mining. Furthermore, the current treaty text does not require the identification and cleanup of contaminated sites. 
"If implemented, the new mercury treaty might slow the rate of increasing mercury levels but greater political commitment will be needed to actually reduce mercury pollution," said Joe DiGangi, IPEN senior science and technical advisor. "Mercury is a large and serious global threat to human health that requires a robust and ambitious global response. This treaty does not do that."
In a press release issued by the United Nations Environment Programme, David Lennett from the Natural Resources Defense Council and representing the Zero Mercury Working Group, a global coalition of environmental NGOs, said: "This treaty will not bring immediate reductions of mercury emissions. It will need to be improved and strengthened, to make all fish safe to eat."
The treaty, which has been in negotiation for four years, will be open for signature at a special meeting in Japan in October. Initial funding to fast track action until the new treaty is adopted in three to five years has been pledged by Japan, Norway and Switzerland.
The dangers of mercury poisoning have been known for centuries. Exposure to high levels of mercury can permanently damage the brain and kidneys. Mercury can also be passed from a mother to her developing foetus and this can result in brain damage, reduced intelligence and mental retardation. With or without a robust mercury treaty, Waterkeepers around the world are taking action at the grassroots level to keep our waterways and communities free from mercury poisoning.
Visit EcoWatch's BIODIVERSITY page for more related news on this topic.
EcoWatch Daily Newsletter
One of the 25 new Long Beach Transit hybrid gasoline-electric buses on April 23, 2009. Jeff Gritchen / Digital First Media / Orange County Register / Getty Images
In Long Beach, California, some electric buses can charge along their route without cords or wires.
When a bus reaches the Pine Avenue station, it parks over a special charging pad. While passengers get on and off, the charger transfers energy to a receiver on the bottom of the bus.
Semi trucks travel along I94 on June 21 near Lake forest, Illinois. Scott Olson / Getty Images
The Trump administration pushed through an exemption to clean air rules, effectively freeing heavy polluting, super-cargo trucks from following clean air rules. It rushed the rule without conducting a federally mandated study on how it would impact public health, especially children, said the Environmental Protection Agency (EPA) Inspector General Charles J. Sheehan in a report released yesterday, as the AP reported.

A time-restricted eating plan provides a new way to fight obesity and metabolic diseases that affect millions of people worldwide. RossHelen / iStock / Getty Images Plus
By Satchin Panda and Pam Taub
People with obesity, high blood sugar, high blood pressure or high cholesterol are often advised to eat less and move more, but our new research suggests there is now another simple tool to fight off these diseases: restricting your eating time to a daily 10-hour window.
Kunhui Chih / iStock / Getty Images Plus
A man and his dog walk past an H&M store in Stockholm, Sweden on March 11, 2014. Melanie Stetson Freeman / The Christian Science Monitor via Getty Images
By Ashutosh Pandey
H&M's flagship store at the Sergels Torg square in Stockholm is back in business after a months-long refurbishment. But it's not exactly business as usual here.