This website uses cookies to ensure you get the best experience while browsing it. By clicking 'Got It' you're accepting these terms.
Mercury Rising, Political Will Falling
Jan. 11, 2013 04:02PM EST
Climate
[Editor's note: Waterkeeper Alliance's International Director Sharon Khan is attending the mercury treaty negotiations in Geneva, Switzerland, and is providing live updates from the conference. For information regarding the mercury treaty negotiations, read the report Global Mercury Hotspots, and the first and second blog posts by Khan.]


Next week, diplomats from around the world will gather in Geneva to negotiate a treaty on global emissions of mercury—a lethal neurotoxin that includes, among an inventory of grim effects, brain damage and the loss of IQ points in unborn children, injuries to kidneys and heart, and results in tens of billions of dollars in healthcare costs every year in the U.S. alone. The Geneva conference is the final of five meetings, with a treaty expected soon thereafter.
While global mercury emissions are on the rise, negotiators, unfortunately, appear to be leaning towards a treaty with soft measures unlikely to prevent continued catastrophic impacts from this deadly and debilitating poison. Ironically, signatories propose to ink their treaty in Minamata, Japan, a town that famously suffered widespread mercury poisoning.
Health experts first described mercury poisoning, then called "Minamata disease," in Minamata city, in Japan, in 1956. Mercury discharges from the Chisso chemical plant contaminated finfish and shellfish, devastating the community's human and animal population for decades. Many of the region's citizens died and tens of thousands of people suffered mercury-related illnesses.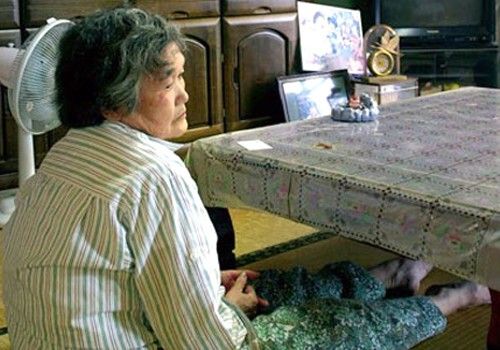 Minamata sufferer Suemi Uemura, with benumbed legs stretched out, in her home in Izumi, Japan. Minamata disease is caused by industrial mercury pollution. Photograph: Katsumi Kasahara/AP
A former Japanese prime minister proposed naming the treaty the "Minamata Convention" to inspire delegates to reach an agreement that would prevent future mercury poisoning. Sadly, the treaty does not require identification or remediation of contaminated sites, does not require polluters to pay for health damages or environmental clean-up, or provide for protection from similar disasters occurring anywhere in the world. In fact, the treaty is not expected to reduce global levels of mercury in fish and seafood at all.
Poisonous mercury raining down from coal-fired power plants has contaminated fish in every U.S. state. Now, a new report from the Biodiversity Research Institute (BRI) in Maine and IPEN, a network of 700 public interest organizations in 116 countries, shows the devastating global impacts of mercury pollution from coal-burning power plants and other mercury sources. The IPEN-BRI Global Hotspots report finds that coal-fired power plants, artisanal small-scale gold mining, chlor-alkali plants, and other industrial sources contaminate humans and fish around the world with mercury levels that exceed health advisory levels.
Mercury levels in fish from sites in Japan and Uruguay were so high that no consumption is recommended, according to U.S. Environmental Protection Agency (EPA) guidelines, and 95 percent of the human hair samples taken from individuals tested in Tokyo, Japan exceeded the U.S. EPA reference dose. The report demonstrates the need for a treaty that effectively addresses mercury releases.
The U.S. is only now starting to see progress in reducing mercury emissions. In America, citizen action forced EPA to adopt the first ever mercury and air toxics rule in 2012. This rule will prevent 90 percent of the mercury in coal burned at power plants from being emitted into the air. Experts estimate the rule will, among other things, prevent annually up to 6,000 heart attacks, 130,000 asthma attacks, 3,000 cases of chronic bronchitis, and 4,000-11,000 premature deaths.
Moreover, experts predict the rule will save $40-70bn in healthcare costs annually. Imagine the benefits if these reductions were implemented globally.
Coal barons and mining magnates are profiting from poisoning the rest of us. As coal consumption dwindles in the U.S., these companies are exporting their deadly product to the rest of world. A recent report from World Resources Institute estimates that almost 1,200 additional coal-fired plants are planned for development around the world.
But the mercury treaty is likely to call simply for reductions on a per facility basis, rather than an overall reduction in mercury emissions to air and water. As a result, the treaty could legitimize increased mercury pollution as the number of coal-fired power plants increases globally. Moreover, there is no agreement that the treaty should even require existing facilities to apply the best available techniques to reduce mercury releases.
We need a mercury treaty that actually reduces global mercury pollution. A treaty that fails to include mandatory mercury reductions overall will dishonor the victims of Minamata disease and accelerate mercury poisoning across the globe.
Those of us who care about public health and clean water, must stand strong and shame the spineless diplomats in Geneva into crafting a treaty that truly prevents the devastating environmental and public health impacts of mercury.
--------
This column first appeared at Guardian.co.uk.
EcoWatch Daily Newsletter
Actress Jane Fonda (C) and actor Sam Waterston (L) participate in a protest in front of the U.S. Capitol during a "Fire Drill Fridays" climate change protest and rally on Capitol Hill, Oct. 18. Mark Wilson / Getty Images News
Visitors look at the Aletsch glacier above Bettmeralp, in the Swiss Alps, on Oct. 1. The mighty Aletsch — the largest glacier in the Alps — could completely disappear by the end of this century if nothing is done to rein in climate change, a study showed on Sept. 12. FABRICE COFFRINI / AFP via Getty Images
Switzerland's two Green parties made historic gains in the country's parliamentary elections Sunday, according to projections based on preliminary results reported by The New York Times.
A mural in Richwood, West Virginia, a once booming Appalachia coal town, honors the community's history. Jeff Greenberg / Universal Images Group / Getty Images
By Jeff Turrentine
The coal industry is dying. But we can't allow the communities that have been dependent on coal to die along with it.
ThitareeSarmkasat / iStock / Getty Images
Every fruit lover has their go-to favorites. Bananas, apples, and melons are popular choices worldwide and can be purchased almost anywhere.
belchonock / iStock / Getty Images Plus
Wesley Martinez Da Costa / EyeEm / Getty Images
By David R. Montgomery
Would it sound too good to be true if I was to say that there was a simple, profitable and underused agricultural method to help feed everybody, cool the planet, and revitalize rural America? I used to think so, until I started visiting farmers who are restoring fertility to their land, stashing a lot of carbon in their soil, and returning healthy profitability to family farms. Now I've come to see how restoring soil health would prove as good for farmers and rural economies as it would for the environment.
skaman306 / Moment / Getty Images
Radish (Raphanus sativus) is a cruciferous vegetable that originated in Asia and Europe (1Trusted Source).