Mercury in Seafood: How Much Is Too Much?
Toxicologists have a saying: "The dose makes the poison." In other words, there is no such thing as "toxic" or "non-toxic"—it always depends on how much of a substance you consume.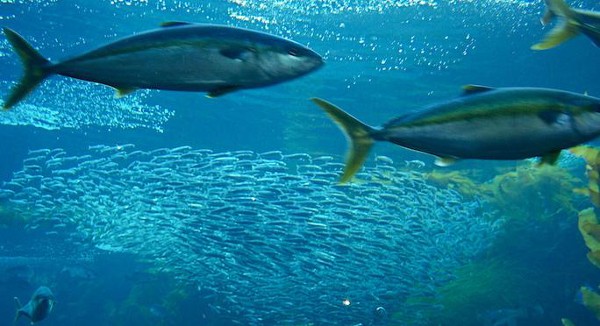 Methylmercury travels up the food chain, collecting in animal tissue in larger and larger amounts. Photo credit: lisa_eglinton/Flickr
So what's a toxic level of mercury in your diet? This has long been a concern, because many fish contain measurable levels of mercury, which can cause profound neurological disease and death if consumed in sufficient amounts. The issue gained new urgency last week when a study in the journal Nature showed that mercury concentration at the ocean surface has tripled since the beginning of the industrial era.
How does mercury get into fish, anyway?
In the 19th and 20th centuries, factories dumped massive amounts of methylmercury—the most dangerous form of mercury, bonded to carbon and hydrogen—directly into waterways. The most infamous example occurred in Japan in the 1950s and '60s, when industrial mercury poisoned more than 2,000 people who ate fish from Minamata Bay. (The neurological syndrome caused by severe mercury poisoning is called "Minamata disease" after the tragedy.)
Mercury dumping has been a problem in the U.S., too. I grew up a few miles from New York's Onondaga Lake, where the Allied Chemical Company disposed of as much as 20 pounds of mercury per day in the mid-2oth century. "America's most polluted lake" is still recovering.
Mercury can also take a less direct route to the sea. Burning fossil fuels releases mercury into the air—around 160 tons per year in the U.S. The mercury settles to the ground, where rains eventually wash it to the ocean. There, elemental mercury turns into methylmercury. Scientists aren't quite sure how this conversion occurs, but it probably involves the metabolism of a small but abundant living creature. When that creature is eaten by bigger creatures, the methylmercury travels up the food chain, collecting in animal tissue in larger and larger amounts. That's why predators like tuna have troubling levels of mercury—they eat a lot.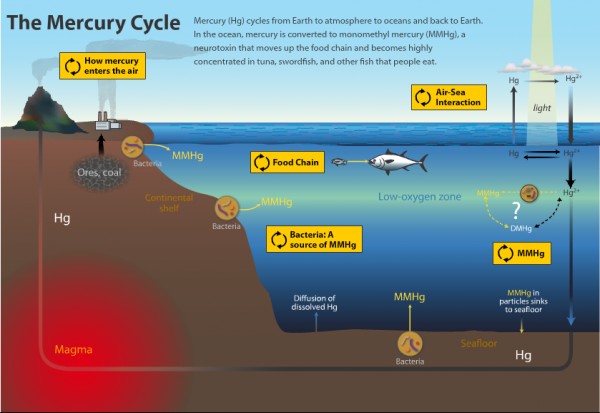 Credit: Woods Hole Oceanographic Institutution
What are the effects of mercury exposure?
Cases of mercury poisoning go back thousands of years. Mercury probably killed the first Chinese emperor, Qin Shi Huang, in 210 B.C.E. at the age of 39. He believed mercury pills would grant him immortality (oops). But Mercury doesn't just kill. It can first drive a victim to insanity. The phrase "as mad as a hatter" harkens back to Victorian England, where mercury was used in haberdasheries. (Mercury inhalation is still a problem in many workplaces.)
Mercury's notoriety as a poison derives from these instances of acute exposure. Diagnosing these cases is clinical child's play. The symptoms—like numbness in the extremities, weakness, and a narrowing of the field of vision—are well known, and they appear soon after exposure. The challenge for toxicologists is sussing out the more subtle effects of lower doses of mercury, like the ones you might get from eating fish.
Fetuses and small children, for example, are extremely sensitive to mercury. Exposure to mercury in the womb can affect cognitive development, impair memory and attention, and slow language acquisition, even when the doses are too low to cause any observable symptoms in the mother.
Chronic, low-dose exposure in adults could also be a concern. Some doctors believe that trace levels of mercury contribute to heart disease and high blood pressure, though the evidence for this is currently inconclusive. These claims are based on a small number of studies conducted on discrete populations living in remote areas. In addition, the precise mechanism that would link low-dose mercury to heart disease isn't fully understood.
So how much is too much?
The U.S. Environmental Protection Agency (EPA) recommends consuming a daily maximum of 0.1 micrograms of mercury for each kilogram of your body weight. That would limit a 176-pound adult (the national average) to 8 micrograms of mercury each day.
What does that mean in terms of cans of tuna or pieces of sashimi? Well, you'll need a species-by-species chart of mercury concentration to figure that out. The amount of mercury in certain types of fish varies greatly. For instance, the average adult could eat 13 ounces of fresh salmon per day while staying under the EPA recommended maximum. You should avoid swordfish, though—eating just 0.14 ounces, a mere forkful, would put you over the limit.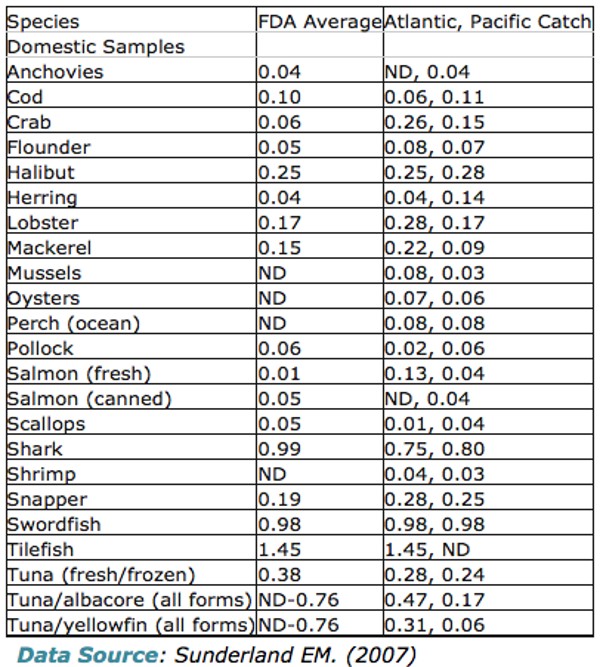 If you don't want to break out your calculator and metric system conversion charts, use this handy seafood calculator from Natural Resources Defense Council (which publishes OnEarth) for an estimate of your weekly mercury consumption.
These calculations can be helpful, but there are caveats. Not all scientists agree with the EPA's mercury limits, and many more would add the proviso that they represent an extremely rough guess at what constitutes a safe level. In addition, the recent Nature study shows that oceanic mercury levels are on the rise, and existing research suggests that trend may continue for centuries. As increasing mercury concentrations travel up the food chain, the amount of fish you'll be able to consume while staying within the EPA's "safe zone" will decrease over time.
The federal government (and the fishing industry, naturally) don't recommend avoiding fish altogether. Almost immediately after I received notification of the Nature study, the U.S. Food and Drug Administration Twitter account recommended increased fish consumption for pregnant women. (My colleague Jason Bittel has more details about the new federal fish-eating guidelines.) It's tough, with all the conflicting advice, to know for sure what to do.
Promising developments?
But there's hope! Last November, the U.S. joined the Minamata Convention on mercury. If enacted, this international agreement would prohibit new mercury mines, regulate the industrial use of mercury and reduce mercury emissions from coal-fired power plants.
Now for the bad news. Although 100 countries have signed on, the U.S. is the only nation that has gone through the official legal processes required to accept the convention. It will take 49 others before the agreement goes into force. So after budgeting a few years for that, plus a century or two before ocean mercury levels actually begin to drop, maybe you should leave the swordfish to your distant descendants.
This article was originally posted in Natural Resources Defense Council's OnEarth.
You Might Also Like
The Legacy of Mercury Pollution in California's Bay Area
Seafood Mercury Levels Trigger Federal Lawsuit Against FDA
Laurie Woolever
By James O'Hare
There are 20 million people in the world facing famine in South Sudan, Somalia, Nigeria and Yemen. In developed nations, too, people go hungry. Venezuela, for instance, is enduring food insecurity on a national level as a result of economic crisis and political corruption. In the U.S., the land of supposed excess, 12.7 percent of households were food insecure in 2015, meaning they didn't know where their next meal would come from.
Keep reading...
Show less
Melwater, Greenland ice sheet. Diane Tuft
Artists are taking the climate crisis into frame and the results are emotional, beautiful and stirring.
So you've seen the best climate change cartoons and shared them with your friends. You've showed your family the infographics on climate change and health, infographics on how the grid works and infographics about clean, renewable energy. You've even forwarded these official National Oceanic and Atmospheric Administration graphs that explain the 10 clear indicators of climate change to your colleagues at the office.
Keep reading...
Show less
May. 27, 2017 01:11PM EST
As the Trump administration moves full speed ahead on boosting the oil and fossil fuel industry, opposition to increased pipeline construction is cropping up in different communities around the country.
Keep reading...
Show less
May. 27, 2017 01:02PM EST
Minke whale stranding near Havergate Island in Suffolk. MCGA.
By Simon Evans
Last Saturday, two dead whales washed up on the coast of Suffolk, in eastern England, and a third was spotted floating at sea.
What happened next illustrates how news can spread and evolve into misinformation, when reported by journalists rushing to publish before confirming basic facts or sourcing their own quotes.
Keep reading...
Show less
May. 27, 2017 01:22PM EST
By Monica Amarelo and Paul Pestano
Sun safety is a crucial part of any outdoor activity for kids, and sunscreen can help protect children's skin from harmful ultraviolet rays. Kids often get sunburned when they're outside unprotected for longer than expected. Parents need to plan ahead and keep sun protection handy in their cars or bags.
Keep reading...
Show less
May. 27, 2017 01:02PM EST
By Joe McCarthy
A lot of people take part in community clean-up efforts—spending a Saturday morning picking up litter in a park, mowing an overgrown field or painting a fence.
Keep reading...
Show less
May. 26, 2017 03:22PM EST
Rink Glacier in western Greenland, with a meltwater lake visible center. NASA/OIB
Scientists have had their eyes on Greenland as its iconic glaciers have begun disappearing due to a warming climate. But, what they didn't expect to see was a whole new type of melting.
Keep reading...
Show less
May. 26, 2017 03:40PM EST
A coalition of conservation groups and others announced Thursday that a historic number of comments and petitions of support have been submitted to the U.S. Department of the Interior in support of Bears Ears National Monument. Despite the entirely inadequate 15-day comment period ending on May 26, more than 685,000 comments in support of Bears Ears National Monument have been collected.
Keep reading...
Show less


Get EcoWatch in your inbox