This website uses cookies to ensure you get the best experience while browsing it. By clicking 'Got It' you're accepting these terms.
Melting Arctic Ice Could Unlock Massive Amounts of Frozen Microplastics
May. 30, 2014 11:36AM EST
Out of the nearly 300 million tons of plastic created in 2012, 10 percent of it ended up in oceans, according to Phys.org. That trash has to go somewhere—washing onto coastlines and estuaries, or floating in the vast ocean. You may have heard of the Great Pacific Garbage Patch, an area within the North Pacific Subtropical Gyre where an enormous amount of trash circulates. Now, however, it looks like the Great Pacific Garbage Patch has an unassuming competitor in trapping marine debris: the Arctic.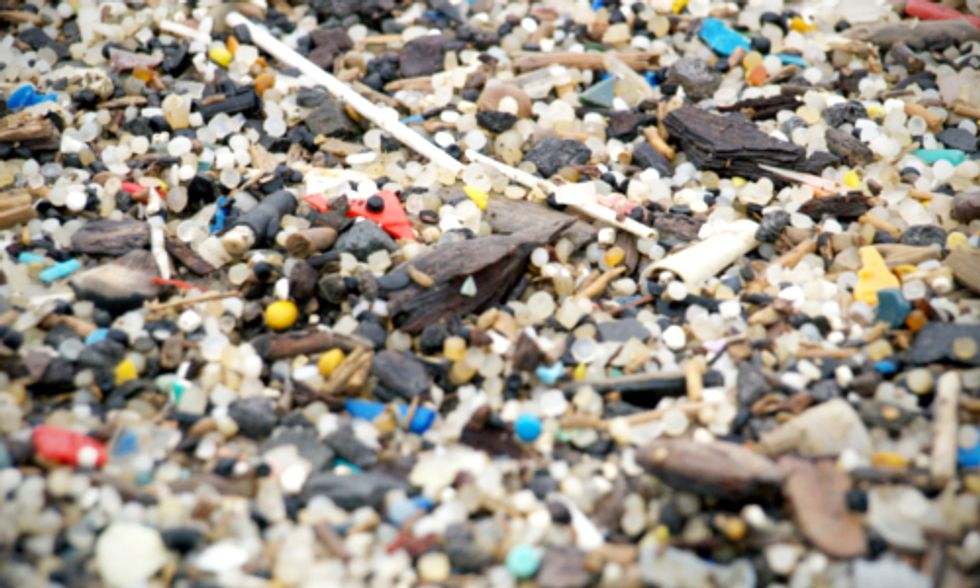 A recently published study in Earth's Future found that a significant amount of microplastics, sub-millimeter broken down pieces of plastic, sit frozen in Arctic sea ice—enough to designate the Arctic as a major global sink for these tiny plastic particles. If melting trends continue at their current rate, explain the authors, the sea ice could unlock over one trillion pieces of microplastics over the next decade alone.
"The abundance of microplastics was substantial, ranging from 38 to 234 particles per cubic meter of ice," the report said. "Although litter has been reported in northern Europe including the Arctic, this is the first report of microplastic in the Arctic and the microplastic concentrations we found are at least two orders of magnitude greater than those reported in Atlantic waters north of Scotland or in waters of the North Pacific Subtropical Gyre."
The authors hypothesized that the particles entered the Arctic from the Pacific Ocean, where both marine debris and microplastics are common. Microplastics accumulate in the oceans from three main sources: microbeads in cosmetics, breaking down of plastic debris and fibers from washing machines, according to the paper.
Ironically, the authors did not intend to study microplastics; instead, they set out to search for sediments and diatoms in sea ice cores from two different National Science Foundation (NSF) and NASA studies, and unintentionally discovered these synthetic particles in varying locations throughout the Arctic Ocean. Their prevalence encouraged the researchers to examine the remaining ice cores, adhering to strict sampling and handling protocols as to not introduce their own plastic particles into the samples. The pieces observed were mostly blue, black, green and red in color, with rayon being the most prevalent material (which the authors point out is technically not a plastic, but a manmade semi-synthetic material used in cigarette filters and hygiene products). Other materials included polyester, nylon, polypropylene, polystyrene, acrylic and polyethylene, according to the study.
So, how do these particulates impact marine life?
Marine organisms ingest these particulates, and there's evidence that the chemicals in these plastics build-up in the organism. A 2013 study found that a species of marine worm, for example, became affected by the toxins, and some even died. Another study, published that same year, found that these plastics and toxins accumulate in the food chain.
And larger marine debris poses additional threats: Fishing nets, plastic bags and tires can sink to the ocean floor and smother coral reefs, while fishing gear can entangle marine mammals and other animals, according to the U.S. Environmental Protection Agency (EPA). Other marine life, like sea turtles and birds, can forsake plastics for food, which can lead to malnutrition or starvation.
Sea ice melt already has a range of consequences, including rising sea levels, disruption to food chains, and habitat loss for many species, but this study points out that climate change has unexpected consequences for the oceans—like Arctic ice unlocking these plastics. The authors suggest that their findings indicate a need to sample Antarctic ice to determine the presence of microplastics there too, and that further studies need to be undertaken to fully understand the environmental impacts of these particulates in the marine environment.
This article was originally published on Oceana's blog.
--------
YOU MIGHT ALSO LIKE
Find Out if Your Facial Scrub Has Plastic Microbeads With New App
Plastic Debris in Oceans Spawn 'Plastisphere' of Microbes 
Study Shows Plastic Microbeads in Facial Scrubs Pollute the Great Lakes
--------
EcoWatch Daily Newsletter
A Starbucks barista prepares a drink at a Starbucks Coffee Shop location in New York. Ramin Talaie / Corbis via Getty Images
By Cathy Cassata
Are you getting your fill of Starbucks' new Almondmilk Honey Flat White, Oatmilk Honey Latte, and Coconutmilk Latte, but wondering just how healthy they are?
By Sharon Kelly
Back in April last year, the Trump administration's Environmental Protection Agency decided it was "not necessary" to update the rules for toxic waste from oil and gas wells. Torrents of wastewater flow daily from the nation's 1.5 million active oil and gas wells and the agency's own research has warned it may pose risks to the country's drinking water supplies.
Swedish climate activist Greta Thunberg takes part in a "Friday for Future" youth demonstration in a street of Davos on Jan. 24, 2020 on the sideline of the World Economic Forum annual meeting. FABRICE COFFRINI / AFP via Getty Images
Treasury Secretary Steven Mnuchin pretended not to know who Greta Thunberg is, and then he told her to get a degree in economics before giving world leaders advice, as The Guardian reported.
The Visible Infrared Imaging Radiometer Suite on the Suomi NPP satellite acquired this image of forest fire smoke hovering over North America on Aug. 15, 2018. NASA Earth Observatory
New York City isn't known for having the cleanest air, but researchers traced recent air pollution spikes there to two surprising sources — fires hundreds of miles away in Canada and the southeastern U.S.
If temperatures continue to rise, the world is at risk from global
sea-level rise
, which will flood many coastal cities as seen above in Bangladesh. NurPhoto / Contributor / Getty Images
The mounting climate emergency may spur the next global financial crisis and the world's central banks are woefully ill equipped to handle the consequences, according to a new book-length report by the Bank for International Settlements (BIS), as S&P Global reported. Located in Basel, Switzerland, the BIS is an umbrella organization for the world's central banks.