This website uses cookies to ensure you get the best experience while browsing it. By clicking 'Got It' you're accepting these terms.
Melting Antarctic Glacier Unstoppable, Global Sea Level Could Rise by 4 Feet
May. 13, 2014 11:55AM EST
Climate
A rapidly melting section of the West Antarctic Ice Sheet appears to be in irreversible decline, with nothing to stop the entire glacial basin from disappearing into the sea, according to researchers at University of California Irvine and NASA.
The new study presents multiple lines of evidence—incorporating 40 years of observations that six massive glaciers in the Amundsen Sea sector "have passed the point of no return," according to glaciologist Eric Rignot, a University of California Irvine Earth system science professor who is also with NASA's Jet Propulsion Laboratory. The new study has been accepted for publication in Geophysical Research Letters, a journal of the American Geophysical Union.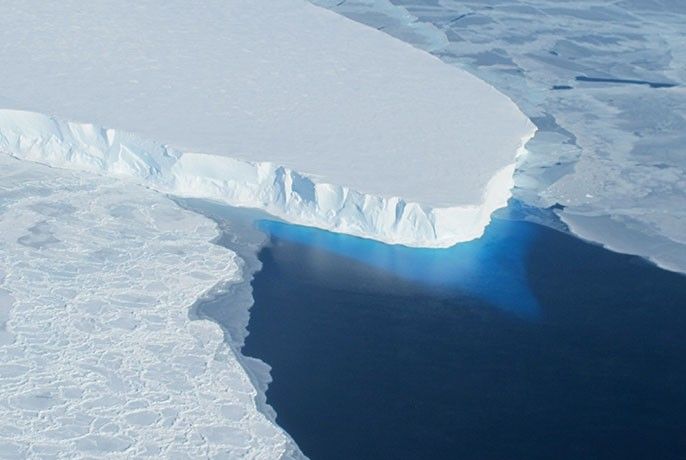 These glaciers already contribute significantly to sea level rise, releasing as much ice into the ocean each year as the entire Greenland Ice Sheet does. They contain enough ice to boost the global sea level by four feet (1.2 meters) and are melting faster than most scientists had expected. Rignot said the findings will require that current predictions of sea level rise be revised upward.
"This sector will be a major contributor to sea level rise in the decades and centuries to come," Rignot said. "A conservative estimate is that it could take several centuries for all of the ice to flow into the sea."
Three Lines of Evidence
Three major lines of evidence point to the glaciers' eventual demise: changes in their flow speeds, how much of each glacier floats on seawater, and the slope and depth below sea level of the terrain they're flowing over. In a paper published last month, the research group showed that the speed at which the glaciers are moving has accelerated steadily for four decades, increasing the amount of ice draining from them by 77 percent from 1973 to 2013. This new study focuses on the other two lines of evidence.
The West Antarctic glaciers flow out from land over the ocean, with their front edges afloat. The point at which they lose contact with land is called the grounding line. Virtually all glacial melting occurs on the undersides of their floating sections—beyond the grounding line.
Just as a boat that's run aground can float again if its cargo is unloaded, a glacier can float over an area where it used to be grounded if it becomes lighter, which it does by melting or by stretching out and thinning. The Antarctic glaciers studied by Rignot's group have shrunk so much that they're now floating above places where they used to sit solidly on land, which means the grounding lines are retreating inland.
They're "buried under a thousand or more meters of ice, so it's incredibly challenging for a human observer on the ice sheet surface to figure out exactly where the transition is," Rignot said. "This analysis is best done via satellite techniques."
The team used radar observations from the European Remote Sensing satellites (ERS-1 and ERS-2) between 1992 and 2011 to map the grounding lines' inland creep. The satellites employ a method called radar interferometry that enables scientists to measure very precisely— within a quarter of an inch—how Earth's surface is moving. Glaciers shift horizontally as they flow downstream, but their floating portions also rise and fall with changes in the tides. Rignot and his group mapped how far inland these vertical motions extend to locate the grounding lines.
Vicious Cycle
The accelerating flow speeds and retreating grounding lines reinforce each other in a recurring loop. As glaciers move faster, they stretch out and thin, which decreases their weight and lifts them farther off the bedrock. As the grounding line retreats and more of the glacier becomes waterborne, there's less resistance underneath, so the flow accelerates, and so on—with each action intensifying the next.
Slowing or stopping these changes requires "pinning points"—bumps or hills rising from the glacier bed that snag the ice from below. To locate them, researchers produced a more accurate map of bed elevation that combines ice velocity data from ERS-1 and ERS-2 and ice thickness data from NASA's Operation IceBridge mission and other airborne campaigns. The results confirmed that just one pinning point remains upstream of the current grounding lines. Only Haynes Glacier has major bedrock obstructions upstream, but it drains a small sector and is retreating as rapidly as the other glaciers.
Bed topography is another key to the fate of the ice in this basin. All the glacier beds slope deeper below sea level as they extend inland. As they retreat, they cannot escape the ocean's reach, and the relatively warm water melts them even more rapidly.
The accelerating flow rates, lack of pinning points and sloping bedrock all point to one conclusion, Rignot said:
"The collapse of this sector of West Antarctica appears to be unstoppable. The fact that the retreat is happening simultaneously over a large sector suggests it was triggered by a common cause, such as an increase in the amount of ocean heat beneath the floating parts of the glaciers. At this point, the end appears to be inevitable."
--------
YOU MIGHT ALSO LIKE
Will White House Climate Report Spark Action on Global Warming?
Major Antarctic Glacier Melting Irreversibly, Reaching Tipping Point
Researchers Discover Arctic Warmer Than Anytime in Last 44,000 Years 
--------
EcoWatch Daily Newsletter
Pick one of these nine activism styles, and you can start making change. YES! Illustrations by Delphine Lee
By Cathy Brown
Most of us have heard about UN researchers warning that we need to make dramatic changes in the next 12 years to limit our risk of extreme heat, drought, floods and poverty caused by climate change. Report after report about a bleak climate future can leave people in despair.
Jamie Grill Photography / Getty Images
Losing weight, improving heart health and decreasing your chances for metabolic diseases like diabetes may be as simple as cutting back on a handful of Oreos or saying no to a side of fries, according to a new study published in the journal The Lancet Diabetes & Endocrinology.
Golde Wallingford submitted this photo of "Pure Joy" to EcoWatch's first photo contest. Golde Wallingford
EcoWatch is pleased to announce our third photo contest!

A boy gives an impromptu speech about him not wanting to die in the next 10 years during the protest on July 15. The Scottish wing of the Extinction Rebellion environmental group of Scotland locked down Glasgow's Trongate for 12 hours in protest of climate change. Stewart Kirby / SOPA Images / LightRocket / Getty Images
It's important to remember that one person can make a difference. From teenagers to world-renowned scientists, individuals are inspiring positive shifts around the world. Maybe you won't become a hard-core activist, but this list of people below can inspire simple ways to kickstart better habits. Here are seven people advocating for a better planet.
A group of wind turbines in a field in Banffshire, Northeast Scotland. Universal Images Group / Getty Images
Scotland produced enough power from wind turbines in the first half of 2019, that it could power Scotland twice over. Put another way, it's enough energy to power all of Scotland and most of Northern England, according to the BBC — an impressive step for the United Kingdom, which pledged to be carbon neutral in 30 years.
Beekeeper Jeff Anderson works with members of his family in this photo from 2014. He once employed all of his adult children but can no longer afford to do so. CHRIS JORDAN-BLOCH / EARTHJUSTICE

tommaso79 / iStock / Getty Images Plus
By Rachel Licker
As a new mom, I've had to think about heat safety in many new ways since pregnant women and young children are among the most vulnerable to extreme heat.
Pexels
It's easy to get confused about which foods are healthy and which aren't.