This website uses cookies to ensure you get the best experience while browsing it. By clicking 'Got It' you're accepting these terms.


The best of EcoWatch, right in your inbox. Sign up for our email newsletter!
Meet the World's First Climate Refugees
Jan. 05, 2016 12:40PM EST
"This is a story about people who stand to lose everything—people who may need to flee their native home and never come back. These people are refugees, but they're not running from war or an oppressive government. They're seeking asylum from climate change," the narrator of the Seeker Stories episode below explained.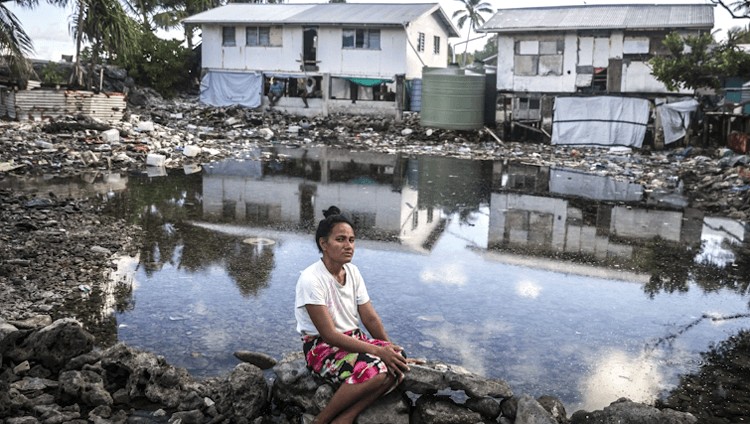 Rising seas and increasingly violent storms have wreaked havoc on small island nations like Tuvalu. Photo credit: Vlad Sokhin
Climate refugees are those displaced from their homes due to climate change-induced disasters such as flooding or drought, as well as slow-creeping crises such as sea level rise.
There are a growing number of communities that are on the "frontlines of climate change," including Native Alaskans and the low-lying island nations of Oceania. These communities are already facing the impacts of climate change, and their unique locations and more traditional livelihoods make them particularly vulnerable to the consequences of a warming world.
Photographer and filmmaker Vlad Sokhin partnered with Seeker to produce the video to document how rising seas and increasingly violent storms have already decimated Pacific island communities like Tuvalu.
"I have seen villages completely destroyed by strong winds and huge storm surges," Sokhin said in the video. "People have lost their lives and communities have been displaced from places where their families have lived for generations."
According to the UN Intergovernmental Panel on Climate Change's assessment, we're in for at least one to three feet of sea level rise by the end of the century. NASA scientists, however, warn that sea level is rising much faster than expected, and James Hansen and 16 other prominent climate researchers warned this summer that we could see as much as a 10 foot sea-level rise in as little as 50 years.
That spells disaster for Tuvaluans. Its population of 11,000 is clustered together on nine islands, comprising a total land area of 10 square kilometers. Its highest elevation is just 15 feet above sea level. One-fifth of Tuvalu's population has already left their homes to seek refuge on larger islands. And Tuvalu's not alone. The South Pacific islands of Kiribati, Vanuatu and the Maldives are among those facing imminent danger.
But it's not just low-lying island nations that will deal with the impacts of climate change. Amsterdam, Hamburg and Lisbon, Portugal, are a few of the cities that will face the impacts of rising seas before the end of the century, according to Sokhin. And research published in October 2015 found that 414 cities and towns in the U.S. "have already passed their lock-in date [for sea level rise], or the point at which it's guaranteed that more than half the city's populated land will eventually be underwater no matter how much humans decrease carbon emissions; it's just a matter of when."
Watch Seeker Stories episode, The World's First Climate Refugees, here:
EcoWatch Daily Newsletter
A metal fence marked with the U.S. Border Patrol sign prevents people to get close to the barbed/concertina wire covering the U.S./Mexico border fence, in Nogales, Arizona, on Feb. 9. ARIANA DREHSLER / AFP / Getty Images
D'Bone Collector Museum head Darrell Blatchley shows plastic found inside the stomach of a Cuvier's beaked whale in the Philippines this weekend. - / AFP / Getty Images
Yet another whale has died after ingesting plastic bags. A young male Cuvier's beaked whale was found washed up in Mabini, Compostela Valley in the Philippines Friday, CNN reported. When scientists from the D' Bone Collector Museum in Davao investigated the dead whale, they found it had died of "dehydration and starvation" after swallowing plastic bags―40 kilograms (approximately 88 pounds) worth of them!
Pexels
By Jeff Turrentine
"Be careful what you wish for; you just might get it." This is something that everybody has to learn at some point. Lately, the lesson has hit home for a group of American automakers.
Art direction: Georgie Johnson. Illustrations: Freya Morgan
By Joe Sandler Clarke
"Don't expect us to continue buying European products," Malaysia's former plantations minister Mah Siew Keong told reporters in January last year. His comments came just after he had accused the EU of "practising a form of crop apartheid."

A few months later Luhut Pandjaitan, an Indonesian government minister close to President Joko 'Jokowi' Widodo, warned his country would retaliate if it was "cornered" by the EU.
Torres and his parents walk along the Rio Grande. Luis Torres / Earthjustice
By Luis Torres
For some people who live along the U.S.-Mexico border, President Trump's attempt to declare a national emergency and extend the border wall is worse than a wasteful, unconstitutional stunt. It's an attack on their way of life that threatens to desecrate their loved ones' graves.
Flooding caused by last week's bomb cyclone storm has broken records in 17 places across the state of Nebraska, CNN reported Sunday. Around nine million people in 14 states along the Mississippi and Missouri Rivers were under a flood watch, CNN meteorologist Karen Maginnis said.
A car destroyed by Cyclone Idai in Beira, Mozambique. ADRIEN BARBIER / AFP / Getty Images
At least 150 people have died in a cyclone that devastated parts of Mozambique, Zimbabwe and Malawi over the weekend, The Associated Press reported Sunday. Cyclone Idai has affected more than 1.5 million people since it hit Mozambique's port city of Beira late Thursday, then traveled west to Zimbabwe and Malawi. Hundreds are still missing and tens of thousands are without access to roads or telephones.
"I think this is the biggest natural disaster Mozambique has ever faced. Everything is destroyed. Our priority now is to save human lives," Mozambique's Environment Minister Celso Correia said, as AFP reported.