Meet the World's First Climate Refugees
"This is a story about people who stand to lose everything—people who may need to flee their native home and never come back. These people are refugees, but they're not running from war or an oppressive government. They're seeking asylum from climate change," the narrator of the Seeker Stories episode below explained.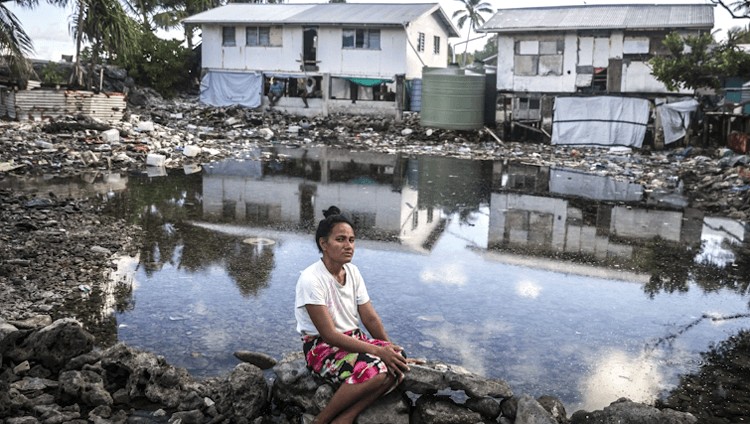 Rising seas and increasingly violent storms have wreaked havoc on small island nations like Tuvalu. Photo credit: Vlad Sokhin
Climate refugees are those displaced from their homes due to climate change-induced disasters such as flooding or drought, as well as slow-creeping crises such as sea level rise.
There are a growing number of communities that are on the "frontlines of climate change," including Native Alaskans and the low-lying island nations of Oceania. These communities are already facing the impacts of climate change, and their unique locations and more traditional livelihoods make them particularly vulnerable to the consequences of a warming world.
Photographer and filmmaker Vlad Sokhin partnered with Seeker to produce the video to document how rising seas and increasingly violent storms have already decimated Pacific island communities like Tuvalu.
"I have seen villages completely destroyed by strong winds and huge storm surges," Sokhin said in the video. "People have lost their lives and communities have been displaced from places where their families have lived for generations."
According to the UN Intergovernmental Panel on Climate Change's assessment, we're in for at least one to three feet of sea level rise by the end of the century. NASA scientists, however, warn that sea level is rising much faster than expected, and James Hansen and 16 other prominent climate researchers warned this summer that we could see as much as a 10 foot sea-level rise in as little as 50 years.
That spells disaster for Tuvaluans. Its population of 11,000 is clustered together on nine islands, comprising a total land area of 10 square kilometers. Its highest elevation is just 15 feet above sea level. One-fifth of Tuvalu's population has already left their homes to seek refuge on larger islands. And Tuvalu's not alone. The South Pacific islands of Kiribati, Vanuatu and the Maldives are among those facing imminent danger.
But it's not just low-lying island nations that will deal with the impacts of climate change. Amsterdam, Hamburg and Lisbon, Portugal, are a few of the cities that will face the impacts of rising seas before the end of the century, according to Sokhin. And research published in October 2015 found that 414 cities and towns in the U.S. "have already passed their lock-in date [for sea level rise], or the point at which it's guaranteed that more than half the city's populated land will eventually be underwater no matter how much humans decrease carbon emissions; it's just a matter of when."
Watch Seeker Stories episode, The World's First Climate Refugees, here:
A coalition of conservation groups and others announced Thursday that a historic number of comments and petitions of support have been submitted to the U.S. Department of the Interior in support of Bears Ears National Monument. Despite the entirely inadequate 15-day comment period ending on May 26, more than 685,000 comments in support of Bears Ears National Monument have been collected.
Keep reading...
Show less
Rink Glacier in western Greenland, with a meltwater lake visible center. NASA/OIB
Scientists have had their eyes on Greenland as its iconic glaciers have begun disappearing due to a warming climate. But, what they didn't expect to see was a whole new type of melting.
Keep reading...
Show less
Mountain View Fire
By Lena Moffitt
An oil tanker in Mead, Colorado exploded, killing one and injuring three on Thursday. Authorities are continuing to investigate the cause of the explosion.
Keep reading...
Show less
Banner created by Alliance for Climate Education
Keep reading...
Show less
Twenty-two GOP senators sent a letter Thursday urging Donald Trump to pull out of the Paris agreement. They argued remaining in the deal could "upend" the administration's ability "to fulfill its goal of rescinding the Clean Power Plan."
Keep reading...
Show less
By Cheryl Johncox
The Federal Energy Regulatory Commission (FERC) rejected on Thursday Energy Transfer Partners' request to resume horizontal directional drilling at two sites for its Rover fracked gas pipeline. This rejection comes after numerous leaks into Ohio's wetlands, and Clean Air and Clean Water act violations. FERC has halted the process at only eight locations of the 32 where drilling is taking place under Ohio's wetlands and streams.
Keep reading...
Show less
By Nadia Prupis
A majority of people in eight countries say they are ready to change their lifestyles if it would prevent climate catastrophe, a survey on global threats released Wednesday found.
Keep reading...
Show less
May. 25, 2017 01:55PM EST
Bill Maher is sick of billionaires' obsession with Mars, more like "Mars-a-Lago," he said.
In a new animation produced by ATTN:, the popular talk show host of Real Time, discusses the perils of our planet, including how "climate change is killing us."
Keep reading...
Show less