This website uses cookies to ensure you get the best experience while browsing it. By clicking 'Got It' you're accepting these terms.
Meet the World's First Climate Refugees
Jan. 05, 2016 12:40PM EST
Climate
"This is a story about people who stand to lose everything—people who may need to flee their native home and never come back. These people are refugees, but they're not running from war or an oppressive government. They're seeking asylum from climate change," the narrator of the Seeker Stories episode below explained.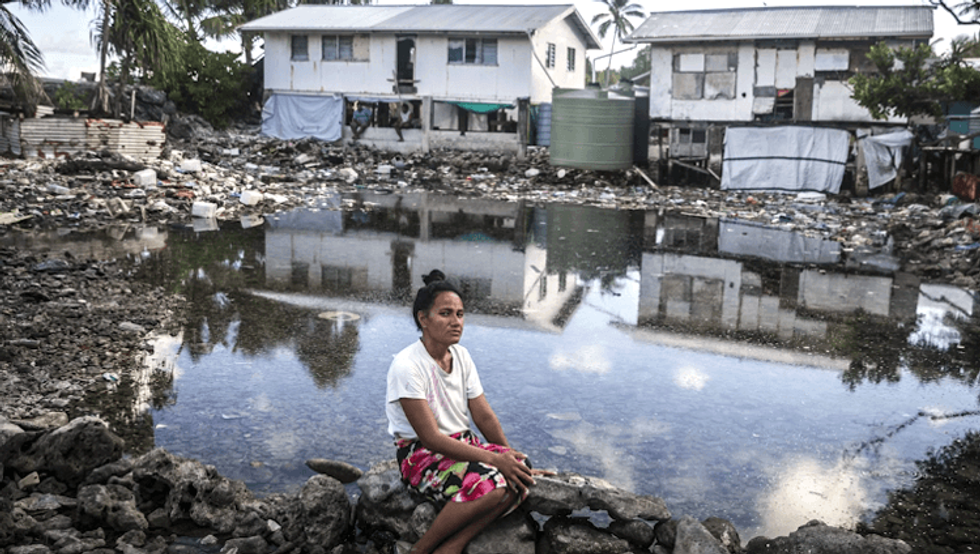 Rising seas and increasingly violent storms have wreaked havoc on small island nations like Tuvalu. Photo credit: Vlad Sokhin
Climate refugees are those displaced from their homes due to climate change-induced disasters such as flooding or drought, as well as slow-creeping crises such as sea level rise.
There are a growing number of communities that are on the "frontlines of climate change," including Native Alaskans and the low-lying island nations of Oceania. These communities are already facing the impacts of climate change, and their unique locations and more traditional livelihoods make them particularly vulnerable to the consequences of a warming world.
Photographer and filmmaker Vlad Sokhin partnered with Seeker to produce the video to document how rising seas and increasingly violent storms have already decimated Pacific island communities like Tuvalu.
"I have seen villages completely destroyed by strong winds and huge storm surges," Sokhin said in the video. "People have lost their lives and communities have been displaced from places where their families have lived for generations."
According to the UN Intergovernmental Panel on Climate Change's assessment, we're in for at least one to three feet of sea level rise by the end of the century. NASA scientists, however, warn that sea level is rising much faster than expected, and James Hansen and 16 other prominent climate researchers warned this summer that we could see as much as a 10 foot sea-level rise in as little as 50 years.
That spells disaster for Tuvaluans. Its population of 11,000 is clustered together on nine islands, comprising a total land area of 10 square kilometers. Its highest elevation is just 15 feet above sea level. One-fifth of Tuvalu's population has already left their homes to seek refuge on larger islands. And Tuvalu's not alone. The South Pacific islands of Kiribati, Vanuatu and the Maldives are among those facing imminent danger.
But it's not just low-lying island nations that will deal with the impacts of climate change. Amsterdam, Hamburg and Lisbon, Portugal, are a few of the cities that will face the impacts of rising seas before the end of the century, according to Sokhin. And research published in October 2015 found that 414 cities and towns in the U.S. "have already passed their lock-in date [for sea level rise], or the point at which it's guaranteed that more than half the city's populated land will eventually be underwater no matter how much humans decrease carbon emissions; it's just a matter of when."
Watch Seeker Stories episode, The World's First Climate Refugees, here:
EcoWatch Daily Newsletter
A harbour seal on an ice floe in Glacier Bay, Alaska. A new study shows that the climate crisis has warmed waters, changing ecosystems and crippling sea ice growth. Janette Hill / robertharding / Getty Images Plus
Doctors report that only 1 in 4 children are getting the recommended 60 minutes of physical activity per day. Ronnie Kaufman / DigitalVision / Getty Images
By Dan Gray
Pediatricians are being urged to start writing "exercise prescriptions" for the children they see in their office.
A First Nations protester walks in front of a train blockade in Tyendinaga, near Belleville, Ontario, Canada on Feb. 21, 2020. LARS HAGBERG / AFP via Getty Images
An indigenous rail blockade that snarled train travel in Canada for more than two weeks came to an end Monday when police moved in to clear protesters acting in solidarity with another indigenous community in British Columbia (B.C.), which is fighting to keep a natural gas pipeline off its land.
A rainbow snake, a rare reptile spotted in a Florida county for the first time in more than 50 years, seen here on July 5, 2013.
Kevin Enge / FWC Fish and Wildlife Research Institute / Flickr
A Florida hiker recently stumbled across a slithering surprise — a rare snake that hadn't been spotted in the area for more than 50 years.
We need our government to do everything it can to stop PFAS contamination and exposure from wreaking havoc in communities across the country. LuAnn Hun /
Unsplash
By Genna Reed
The EPA announced last week that it is issuing a preliminary regulatory determination for public comment to set an enforceable drinking water standard to two of the most common and well-studied PFAS, PFOA and PFOS.
This decision is based on three criteria:
PFOA and PFOS have an adverse effect on public health
PFOA and PFOS occur in drinking water often enough and at levels of public health concern;
regulation of PFOA and PFOS is a meaningful opportunity for reducing the health risk to those served by public water systems.