Meet the Governor Who Crippled His State's Solar Energy Future
The future of solar energy in Maine was left in the hands of Gov. Paul LePage this month, but he decided to drop it.
LePage vetoed L.D. 1252, a bill that would have helped create more than 1,250 new solar panel and hot water projects at homes and businesses across the state. Those additions would have come at a tax that he deemed to expensive to pay—0.011 cents per kilowatt-hour.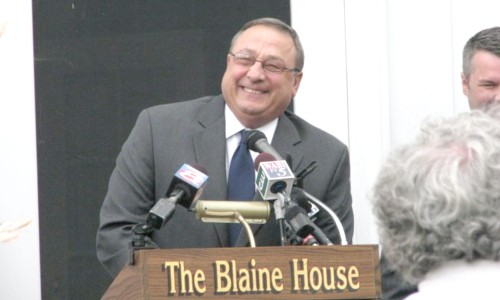 "This is a particularly painful time to impose an additional tax on electricity," LePage wrote in a veto message uploaded by Bangor Daily News. "Energy taxes are regressive and disproportionately hurt our low-income households. This bill would impose the tax on thousands of hardworking families just to provide the few who have the means to purchase a $20,000 solar system with a rebate of an estimated $2,000."
In the eyes of renewable energy advocates, LePage's veto also means passing on the private investments that usually follow after government shows confidence in a burgeoning technology. Dylan Voorhees, clean energy director of the Natural Resources Council of Maine, estimates that the bill would have fostered nearly $25 million in private investments in the state over time.
"The governor's rhetoric on this bill does not match reality," Voorhees said in a statement. "If high electric rates are a concern, then it is essential that we change course from building an increasingly expensive transmission grid only to meet summer peak demand (and boost utility profits). Rooftop solar can help cut that demand and reduce costs borne by all ratepayers.
"The governor and his allies used the tiny, immediate cost of this bill to justify a do-nothing strategy that will cost Maine far more."
Voorhees added that Maine is behind other states when it comes to solar energy. According to a Vote Solar and the Interstate Renewable Energy Council report on net metering and interconnection, Maine achieved a 'B' grade, thought report accounts for other renewable forms, too.
"Solar is booming in states around us, and why Maine is now at real risk of continuing to pay more in rates," Voorhees said. "If heating oil costs are a concern, then solar is part of the solution, too.
"Main street companies like the Bucksport Motor Inn have used solar to slash their oil consumption for hot water heating."
The bill was sponsored by State Rep. Terry Morrison, D-South Portland, and passed by wide margins in the state Senate (21-12) and House (109-30).
"We simply can't afford to ignore solar energy, which is renewable, clean and helps keep down electricity bills that are rising because of the expansion of transmission and distribution lines," Morrison said. "This veto is even more baffling because a Republican amendment improved the bill by adding heat pump rebates for low-income Mainers."
Earlier this year, Politico declared LePage "the country's craziest governor," citing crude sexual remarks about a state senator, the sabotage of a wind energy project and publicly telling President Barack Obama to "go to hell."
——–
YOU ALSO MIGHT LIKE
10 States That Led Solar Energy to a Monumental Year
What Is Your State's Renewable Energy Grade?
Future of Offshore Wind Could Be Shaped By Key Approval in Maine
——–
By Itai Vardi
A recent intensification in protests against Williams Partners' planned Atlantic Sunrise pipeline in Pennsylvania prompted a state senator to propose legislation aimed at limiting demonstrations.
Last month, Pennsylvania Sen. Scott Martin (R-Norman) announced his intention to introduce legislation that would pass the costs of law enforcement responding to protests onto the demonstrators. Martin also helped introduce a different bill that would criminalize protests at natural gas facilities.
Keep reading...
Show less
Black Shogun / iStock
The Federal Energy Regulatory Commission (FERC) released its Final Environmental Impact Statement Friday for the Mountain Valley Pipeline, a controversial 303-mile pipeline that would carry two billion cubic feet of fracked gas per day from West Virginia through Virginia.
Keep reading...
Show less
Falcon PEV
The so-called "first and last mile" problem is one of the biggest hurdles with public transportation. How do you encourage more people to take Earth-friendlier commutes when their homes are miles away from the train or bus station?
One solution, as this Estonian electric scooter company proposes, is to simply take your commute with you—literally. Tallinn-based Stigo has developed a compact e-scooter that folds to the size of a rolling suitcase in about two seconds.
Keep reading...
Show less
Connect4Climate
[Editor's note: I'm still in shock after hearing the news that Lucia Grenna passed away in her sleep last week. When we first met in April of 2014 at a Copenhagen hotel, I was immediately taken by here powerful presence. We spent the next couple days participating in a Sustainia climate change event where Lucia presented her audacious plans to connect people to the climate issue. I had the chance to partner with Lucia on several other projects throughout the years and work with her incredible Connect4Climate team. I was always in awe of her ability to "make the impossible possible." Her spirit will live on forever. — Stefanie Spear]
It is with a heavy heart that Connect4Climate announces the passing of its founder and leading light, Lucia Grenna. Lucia passed peacefully in her sleep on June 15, well before her time. We remember her for her leadership and extraordinary ability to motivate people to take on some of the greatest challenges of our time, not least climate change.
Keep reading...
Show less
Jun. 23, 2017 07:29PM EST
Wikimedia Commons
By Stacy Malkan
Neil deGrasse Tyson has inspired millions of people to care about science and imagine themselves as participants in the scientific process. What a hopeful sign it is to see young girls wearing t-shirts emblazoned with the words, "Forget princess, I want to be an astrophysicist."
Keep reading...
Show less
Jun. 23, 2017 01:57PM EST
www.youtube.com
By Andy Rowell
Any day now we will truly witness climate change in action. Within days at worst, maybe weeks at best, scientists predict that a huge section of the Larsen C ice shelf in Antarctica will break off into the ocean, in what is called a major "carving" event.
Keep reading...
Show less
Jun. 23, 2017 02:27PM EST
www.youtube.com
President Trump visited Cedar Rapids, Iowa on June 21 to speak to a large crowd in the U.S. Cellular Center at a political rally organized by his campaign.
As Trevor Noah noted during The Daily Show episode last night (starts at 2:25), the real reason Trump has these rallies is to "get back in front of his loyal crowds and feed of their energy." Noah believes that "Trump supporters are so on board with their dude he can say anything and they'll come along for the ride."
Keep reading...
Show less
Jun. 23, 2017 07:50PM EST
The Kamuthi solar plant in the southern Indian state of Tamil Nadu.
The rapid growth in renewable energy continues to put a dent in the demand for coal.
Coal India, the world's biggest coal mining company and producer of 82 percent of the country's coal, announced the closure of 37 mines that are financially "unviable."
Keep reading...
Show less
Jun. 23, 2017 06:42PM EST
www.youtube.com
By Katie O'Reilly
Two years ago—long before coal became one of the most dominant and controversial symbols of the 2016 presidential election—Bloomberg Philanthropies approached production company RadicalMedia with the idea of creating a documentary exploring the U.S. coal mining industry. Last spring, they brought on Emmy-nominated director Michael Bonfiglio, tasked with forging a compelling story out of the multitudes of facts, statistics and narratives underlying the declining industry.
Keep reading...
Show less