Meet the Farmer Who's Helping Chipotle Go Beyond Non-GMO to Organic

Chipotle Mexican Grill made news in April when the "fast casual" restaurant chain announced it was serving only foods made with non-GMO ingredients.
A farmer in Missouri is helping Chipotle take its "food with integrity" commitment one step further—to organic.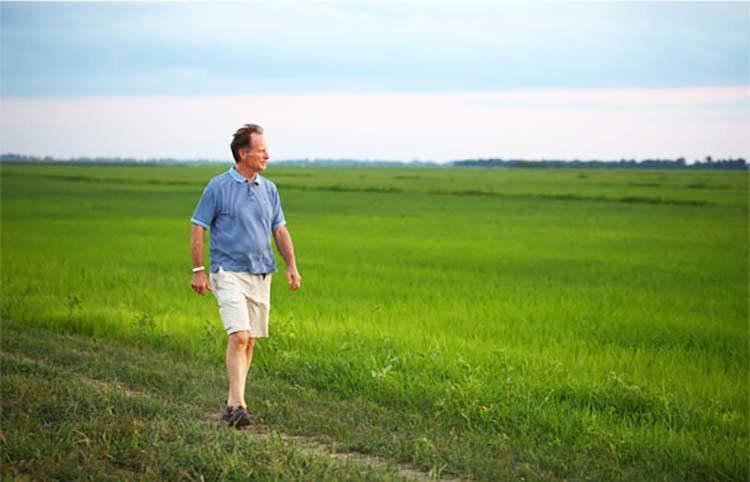 Steve McKaskle inspects his organic rice. Photo credit: The Organic & Non-GMO Report
Steve McKaskle, owner of McKaskle Family Farm, the only organic rice farm in Missouri, supplies a growing number of Chipotle restaurants in his region with organic long grain white and brown rice.
Tornado Destroyed His Farm
Based in Braggadocio in Missouri's southernmost Bootheel region, the seven-generation McKaskle Family Farm offers an excellent example of how a bad event can bring a blessing in disguise. In the early 2000s, Steve and his wife Kaye grew organic cotton, which they supplied to companies like Patagonia, Ecosport, and Nike. But in 2006 an F4 tornado destroyed the McKaskles' farm headquarters, tractors, barns, grain bins, cotton harvesters and cotton gin.
"We lost our entire farming operation and three-fourths of our home," Steve McKaskle says. "We barely survived."
But like the proverbial phoenix rising from the ashes, the McKaskles rebuilt their farm. Without the cotton harvesters and gin, they switched to growing organic rice and found greater success. Today, their farm is thriving more than ever, as they supply organic rice to Chipotle restaurants in Missouri, Tennessee and Arkansas.
"We're rebounders," McKaskle says.
Along with rice, McKaskle Family Farm grows organic popcorn, soybeans, winter wheat and oats on about 2,000 acres.
They also package and sell their own Braggadocio brand organic rice and popcorn to Whole Foods store, Hy-Vee supermarkets, and natural food stores in Missouri and surrounding states.
Mill Expands Capacity
To better serve Chipotle's needs, McKaskle Family Farm recently expanded with a new rice processing facility that was partially funded by state income tax credits from the Missouri Department of Agriculture. Construction of the mill was completed in November 2014.
The mill features state-of-the-art equipment from Taiwan and Japan. A grain bin loop system moves rice through the mill building where it is cleaned and hulls, the hard protective covering of rice grains, are removed. A grader separates broken rice grains from grains that are the required length. Then a color sorter uses infrared light to detect discolored rice grains and uses a stream of air to remove them.
The mill is partially powered by solar energy. Nine 15-feet by 10-feet solar panels generate 44 kilowatts of energy to power the grain bins, farmhouse, fans, irrigation pump and well.
Aims to Supply 50 - 75 Chipotle Restaurants
Before building the mill, McKaskle delivered rice to seven Chipotle restaurants in Little Rock, Memphis and Nashville.
"Now a distribution center picks up several thousand pounds of rice to deliver to 11 restaurants in Missouri and two in Arkansas and we deliver to seven," he says.
McKaskle plans to supply more Chipotle restaurants by this fall. Chipotle wants McKaskle to supply 50 - 75 restaurants in the next few years. That will take some work.
"Before we can supply a lot of restaurants, we have to be sure we can grow 20 percent more than what we need to supply those restaurants. It takes planning and putting in infrastructure," he says.
Seventy five restaurants is still just a fraction of Chipotle's more than 1,600—and counting—restaurants nationwide.
"Rice Whisperer"
McKaskle has been the only organic rice farmer in Missouri but that is about to change. He is encouraging other farmers in his area to grow organic rice.
"We hope to make it attractive to them so that they will join us," McKaskle says.
In fact, two Missouri farmers approached McKaskle about growing organic rice, and one will start the three-year transition to organic this year.
McKaskle is also experimenting with growing organic black and pinto beans for Chipotle.
"We need to find a (bean) maturity that will work in our area," McKaskle says.
Chipotle is promoting their partnership with McKaskle. The company filmed a short video at McKaskle's farm and featured him as the "Rice Whisperer" on a coupon card offering a free burrito.
"We have high standards for all of the ingredients we use, and having like-minded farm partners like McKaskle is a key component in helping us change the way people think about and eat fast food," said Chris Arnold, Chipotle's communications director. "Quite simply, we can't run our business without having strong ties to our farm partners."
If Chipotle can find more resourceful organic farmers like Steve McKaskle they will be well on their way to serving more organic foods—foods with the most integrity—in their restaurants across the U.S.
YOU MIGHT ALSO LIKE
Processed Meats Linked to Cancer, WHO Report Says
Cheese Really Is 'Daily Crack': New Study Reveals It's as Addictive as Drugs
Exclusive Interview: Top Chef's Tom Colicchio Shares Importance of Eating Sustainable Fish
Study Exposes AquaBounty's Bogus Growth Claims on GMO Salmon
By Melissa Hellmann
When her eldest son was in elementary school in the Oakland Unified School District, Ruth Woodruff became alarmed by the meals he was being served at school. A lot of it was frozen, processed foods, packed with preservatives. At home, she was feeding her children locally sourced, organic foods.
Keep reading...
Show less
Laurie Woolever
By James O'Hare
There are 20 million people in the world facing famine in South Sudan, Somalia, Nigeria and Yemen. In developed nations, too, people go hungry. Venezuela, for instance, is enduring food insecurity on a national level as a result of economic crisis and political corruption. In the U.S., the land of supposed excess, 12.7 percent of households were food insecure in 2015, meaning they didn't know where their next meal would come from.
Keep reading...
Show less
Melwater, Greenland ice sheet. Diane Tuft
Artists are taking the climate crisis into frame and the results are emotional, beautiful and stirring.
So you've seen the best climate change cartoons and shared them with your friends. You've showed your family the infographics on climate change and health, infographics on how the grid works and infographics about clean, renewable energy. You've even forwarded these official National Oceanic and Atmospheric Administration graphs that explain the 10 clear indicators of climate change to your colleagues at the office.
Keep reading...
Show less
May. 27, 2017 01:11PM EST
As the Trump administration moves full speed ahead on boosting the oil and fossil fuel industry, opposition to increased pipeline construction is cropping up in different communities around the country.
Keep reading...
Show less
May. 27, 2017 01:02PM EST
Minke whale stranding near Havergate Island in Suffolk. MCGA.
By Simon Evans
Last Saturday, two dead whales washed up on the coast of Suffolk, in eastern England, and a third was spotted floating at sea.
What happened next illustrates how news can spread and evolve into misinformation, when reported by journalists rushing to publish before confirming basic facts or sourcing their own quotes.
Keep reading...
Show less
May. 27, 2017 01:22PM EST
By Monica Amarelo and Paul Pestano
Sun safety is a crucial part of any outdoor activity for kids, and sunscreen can help protect children's skin from harmful ultraviolet rays. Kids often get sunburned when they're outside unprotected for longer than expected. Parents need to plan ahead and keep sun protection handy in their cars or bags.
Keep reading...
Show less
May. 27, 2017 01:02PM EST
By Joe McCarthy
A lot of people take part in community clean-up efforts—spending a Saturday morning picking up litter in a park, mowing an overgrown field or painting a fence.
Keep reading...
Show less
May. 26, 2017 03:22PM EST
Rink Glacier in western Greenland, with a meltwater lake visible center. NASA/OIB
Scientists have had their eyes on Greenland as its iconic glaciers have begun disappearing due to a warming climate. But, what they didn't expect to see was a whole new type of melting.
Keep reading...
Show less


Get EcoWatch in your inbox