This website uses cookies to ensure you get the best experience while browsing it. By clicking 'Got It' you're accepting these terms.


The best of EcoWatch, right in your inbox. Sign up for our email newsletter!
Meet the Farmer Who's Helping Chipotle Go Beyond Non-GMO to Organic
Oct. 27, 2015 02:40PM EST
Insights + Opinion

Chipotle Mexican Grill made news in April when the "fast casual" restaurant chain announced it was serving only foods made with non-GMO ingredients.
A farmer in Missouri is helping Chipotle take its "food with integrity" commitment one step further—to organic.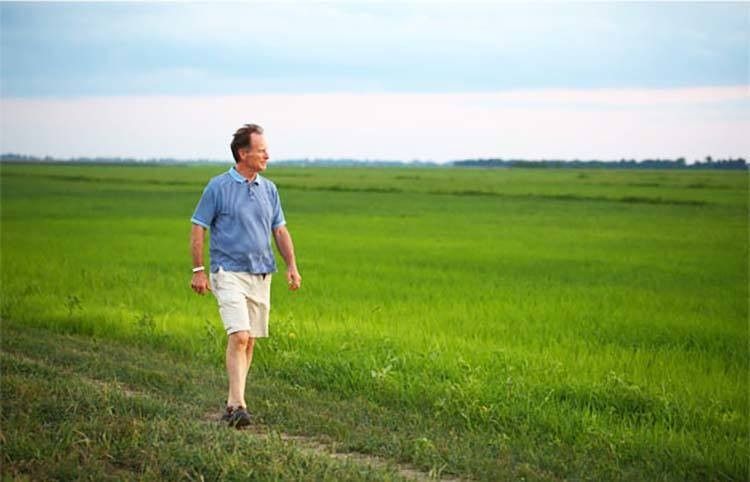 Steve McKaskle inspects his organic rice. Photo credit: The Organic & Non-GMO Report
Steve McKaskle, owner of McKaskle Family Farm, the only organic rice farm in Missouri, supplies a growing number of Chipotle restaurants in his region with organic long grain white and brown rice.
Tornado Destroyed His Farm
Based in Braggadocio in Missouri's southernmost Bootheel region, the seven-generation McKaskle Family Farm offers an excellent example of how a bad event can bring a blessing in disguise. In the early 2000s, Steve and his wife Kaye grew organic cotton, which they supplied to companies like Patagonia, Ecosport, and Nike. But in 2006 an F4 tornado destroyed the McKaskles' farm headquarters, tractors, barns, grain bins, cotton harvesters and cotton gin.
"We lost our entire farming operation and three-fourths of our home," Steve McKaskle says. "We barely survived."
But like the proverbial phoenix rising from the ashes, the McKaskles rebuilt their farm. Without the cotton harvesters and gin, they switched to growing organic rice and found greater success. Today, their farm is thriving more than ever, as they supply organic rice to Chipotle restaurants in Missouri, Tennessee and Arkansas.
"We're rebounders," McKaskle says.
Along with rice, McKaskle Family Farm grows organic popcorn, soybeans, winter wheat and oats on about 2,000 acres.
They also package and sell their own Braggadocio brand organic rice and popcorn to Whole Foods store, Hy-Vee supermarkets, and natural food stores in Missouri and surrounding states.
Mill Expands Capacity
To better serve Chipotle's needs, McKaskle Family Farm recently expanded with a new rice processing facility that was partially funded by state income tax credits from the Missouri Department of Agriculture. Construction of the mill was completed in November 2014.
The mill features state-of-the-art equipment from Taiwan and Japan. A grain bin loop system moves rice through the mill building where it is cleaned and hulls, the hard protective covering of rice grains, are removed. A grader separates broken rice grains from grains that are the required length. Then a color sorter uses infrared light to detect discolored rice grains and uses a stream of air to remove them.
The mill is partially powered by solar energy. Nine 15-feet by 10-feet solar panels generate 44 kilowatts of energy to power the grain bins, farmhouse, fans, irrigation pump and well.
Aims to Supply 50 - 75 Chipotle Restaurants
Before building the mill, McKaskle delivered rice to seven Chipotle restaurants in Little Rock, Memphis and Nashville.
"Now a distribution center picks up several thousand pounds of rice to deliver to 11 restaurants in Missouri and two in Arkansas and we deliver to seven," he says.
McKaskle plans to supply more Chipotle restaurants by this fall. Chipotle wants McKaskle to supply 50 - 75 restaurants in the next few years. That will take some work.
"Before we can supply a lot of restaurants, we have to be sure we can grow 20 percent more than what we need to supply those restaurants. It takes planning and putting in infrastructure," he says.
Seventy five restaurants is still just a fraction of Chipotle's more than 1,600—and counting—restaurants nationwide.
"Rice Whisperer"
McKaskle has been the only organic rice farmer in Missouri but that is about to change. He is encouraging other farmers in his area to grow organic rice.
"We hope to make it attractive to them so that they will join us," McKaskle says.
In fact, two Missouri farmers approached McKaskle about growing organic rice, and one will start the three-year transition to organic this year.
McKaskle is also experimenting with growing organic black and pinto beans for Chipotle.
"We need to find a (bean) maturity that will work in our area," McKaskle says.
Chipotle is promoting their partnership with McKaskle. The company filmed a short video at McKaskle's farm and featured him as the "Rice Whisperer" on a coupon card offering a free burrito.
"We have high standards for all of the ingredients we use, and having like-minded farm partners like McKaskle is a key component in helping us change the way people think about and eat fast food," said Chris Arnold, Chipotle's communications director. "Quite simply, we can't run our business without having strong ties to our farm partners."
If Chipotle can find more resourceful organic farmers like Steve McKaskle they will be well on their way to serving more organic foods—foods with the most integrity—in their restaurants across the U.S.
YOU MIGHT ALSO LIKE
Processed Meats Linked to Cancer, WHO Report Says
Cheese Really Is 'Daily Crack': New Study Reveals It's as Addictive as Drugs
Exclusive Interview: Top Chef's Tom Colicchio Shares Importance of Eating Sustainable Fish
Study Exposes AquaBounty's Bogus Growth Claims on GMO Salmon
EcoWatch Daily Newsletter
arinahabich / Stock / Getty Images
By Sydney Swanson
With April hopping along and Easter just around the corner, it's time for dyeing eggs (and inadvertently, dyeing hands.) It's easy to grab an egg-dyeing kit at the local supermarket or drug store, but those dye ingredients are not pretty.
Aerial of farmland and mountains near Seaward Kaikoura Range in New Zealand. David Wall Photo / Lonely Planet Images / Getty Images Plus
By Jordan Davidson
New Zealand's pristine image as a haven of untouched forests and landscapes was tarnished this week by a brand new government report. The Environment Aotearoa 2019 painted a bleak image of the island nation's environment and its future prospects.
heshphoto / Image Source / Getty Images
Mike Taube / Getty Images
A new EPA rule on asbestos does not say anything about the asbestos currently in the environment. Bob Allen / Getty Images
A mountain woodland caribou bull in the Muskwa-Kechika Wilderness area in northern British Columbia, Canada. John E Marriott / All Canada Photos / Getty Images
It's heartening, in the midst of the human-caused sixth mass extinction, to find good wildlife recovery news. As plant and animal species disappear faster than they have for millions of years, Russia's Siberian, or Amur, tigers are making a comeback. After falling to a low of just a few dozen in the mid-20th century, the tigers now number around 500, with close to 100 cubs — thanks to conservation measures that include habitat restoration and an illegal hunting crackdown.