Meet New York's Newest Groundskeeping Crew
New York's newest landscaping crew are certainly unusual hires. They are charged with weeding Brooklyn, New York's last remaining greenspace. They walk on four legs. They eat everything. And they are covered in fur. Yep, they're goats.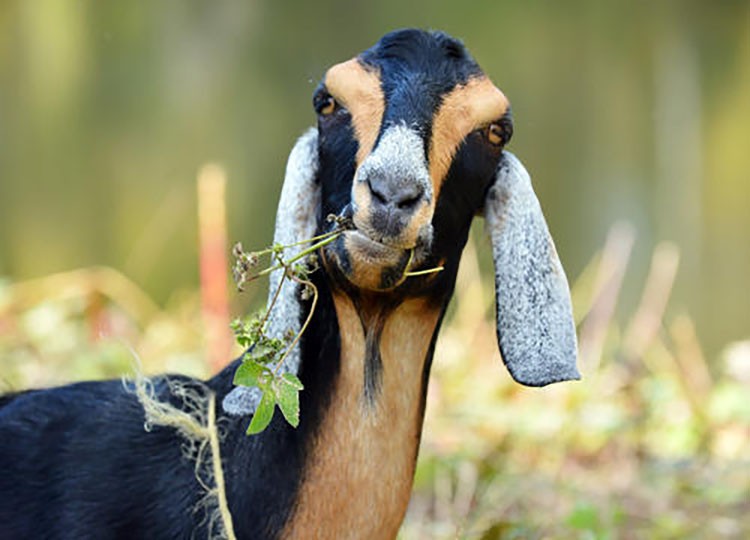 Mozart of Green Goats works at Hugh Moore Park in Easton, Pennsylvania. Photo credit: Green Goats
The Prospect Park Alliance hired eight goats to help weed Prospect Park in Brooklyn. The goats—Zoya, Olivia, Max, Charlie Brown, Diego, Raptor, Skittles and Reese—will work through the summer to clean up the park that has been rattled by a tornado and hurricanes Irene and Katrina, according to the New York Times. The job is expected to be completed by September.
Zoya and crew will leave their home in Rhinebeck, New York, and take up residency in Prospect Park, working on fenced-off sections that need the most help. Larry and Ann Cihanek, the goats' owners and owners of Green Goats, will check on the herd twice a week. Ann told The Guardian that goats love weeds such as poison ivy and will eat those plants first.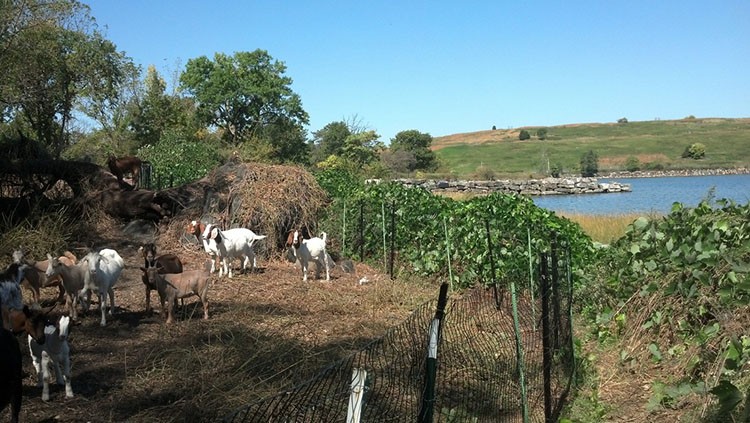 Green Goats work at Pelham Park in Bronx, New York. Photo credit: Green Goats
"They're a bit like children," Larry told the New York Times. "They will eat their favorite foods first, and one of their top foods is poison ivy. They love it."
A single goat can eat up to 25 pounds in one day.
The Prospect Park project isn't unusual for the Cihaneks and their goats. Green Goats, which houses 170 goats, has been sending goat herds out on assignment for nine years. The four-legged weed-eaters have worked with the National Park Service, cemeteries, colleges and more, according to Green Goats' website.
"Goats have been used to control undesirable vegetation throughout history," states the website. "They've eaten grass, and cleared brush on slopes, woodlots and hedge rows long before brush cutters and herbicides were invented."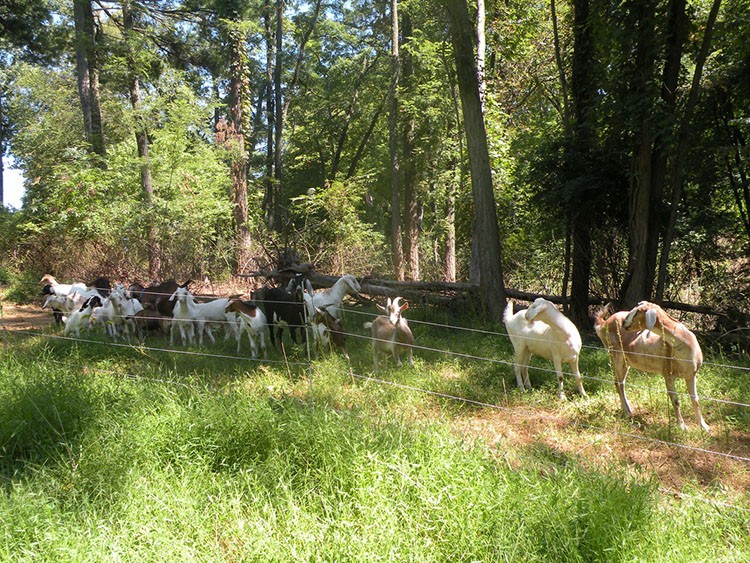 Green Goats work on weeding the grounds of Wilderstein Historic Site in Rhinebeck, New York. Photo credit: Green Goats
Other than being a natural, chemical-free method of weed removal, using goats has saved past customers anywhere from 50 to 75 percent compared to other methods, the website says.
"Its good for the goats, good for the environment and good for park's budgets," Green Goats boasts.
The goats begin work today.
YOU MIGHT ALSO LIKE
Monsanto's Glyphosate Most Heavily Used Weed Killer in History
World Farmers Need to Do More to Stop Catastrophic Climate Change
EU Delays Approval of Glyphosate, Again
iStock
By Robert Coleman
The Environmental Working Group's (EWG) just-released Tap Water Database shows that a startling number of cancer-causing chemicals contaminate the nation's drinking water. Of 250 different contaminants detected in tests by local utilities, 93 are linked to an increased risk of developing cancer.
Keep reading...
Show less
Aaron Teasdale
By Aaron Teasdale
"How much moon do we have tonight?" I yelled to my friend Greg, trying to make myself heard over the sounds of wind and surging water. The sun was sinking toward the mountains all too quickly and our float-in campsite lay somewhere down the river's bends in darkening forest.
Greg shrugged. He had no clue of the moon's cycle either, which showed just how tragically pasty and over-civilized we'd turned. Our days had become filled with computer screens, not forest scenes; our nights capped with ceilings, not stars. All of which made this journey on standup paddleboards so sweet—or at least we hoped it would be sweet, if the pesky headwind would let up before we had to risk disfiguring ourselves while navigating boulder-strewn waters by headlamp and whatever light the moon might spare.
Keep reading...
Show less
By Rebekah Wilce
The world of independent chemical testing has a shiny veneer. The public is reassured that chemicals they're exposed to on a daily basis are certified by technicians in spotless white lab coats who carefully conduct scientific studies, including on animals in neat rows of cages.
But a federal grand jury investigation that ended with convictions in the early 1980s discovered that Industrial Bio-Test Laboratories (IBT), the largest such lab in the U.S., conducted trials with mice that regularly drowned in their feeding troughs. The dead animals would decompose so quickly that "their bodies oozed through wire cage bottoms and lay in purple puddles on the dropping trays." IBT even invented an acronym "TBD/TDA" for its raw safety data, later discovered to mean "too badly decomposed."
Keep reading...
Show less
iStock
Roman officials are considering shutting off the water supply to one-third of the city's residents for eight hours per day as early as this weekend, according to reports.
Keep reading...
Show less
Ararat Rock Solar farm in Mount Airy, North Carolina. NARENCO
North Carolina Gov. Roy Cooper signed a bill into law Thursday that will boost solar production but curb wind energy in the state.
House Bill 589, the result of months of arduous negotiations between utilities and the solar industry, is intended to encourage the continued growth of solar in the state, but it includes a moratorium on new wind projects for the next 18 months.
Keep reading...
Show less
Algal blooms in Lake St. Clair and in western Lake Erie in 2015. NASA Earth Observatory
Heavier rainfall linked to rising temperatures could substantially increase the volume of agricultural runoff flowing into waterways, triggering toxic algal blooms, according to new research.
A study published Thursday in the journal Science finds that heavier rainfall could increase nitrogen runoff in U.S. lakes, rivers and streams by 19 percent by the end of this century.
Keep reading...
Show less
iStock
By Jen Sawada
Sharks have been around for 400 million years, before the time of the dinosaurs, but there's much more to them than big teeth and summer blockbusters. Consider these facts, which will change what you think about sharks.
Keep reading...
Show less
Felix Kramer / Wikimedia
By Jason Mathers
The high level of confidence that automotive industry leaders have in the future of electric vehicles (EVs) has been on full display recently.
Keep reading...
Show less


Get EcoWatch in your inbox